Part 14: Deceit
Deceit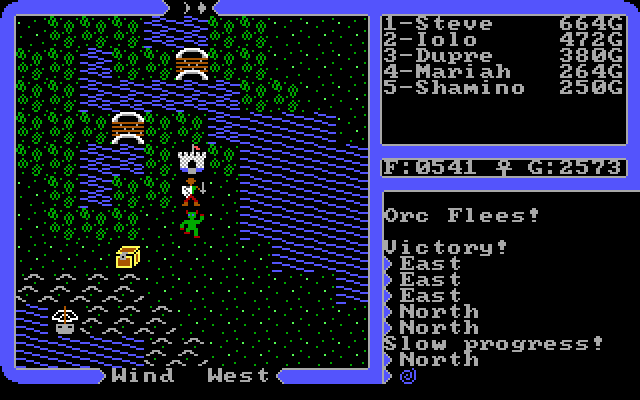 Alright. Dumb talky good guy part done, now it's time to whip some ass in puke-colored dungeons where three dimensions are but a cruel illusion.
But first, we're going to Serpent Hold. Why?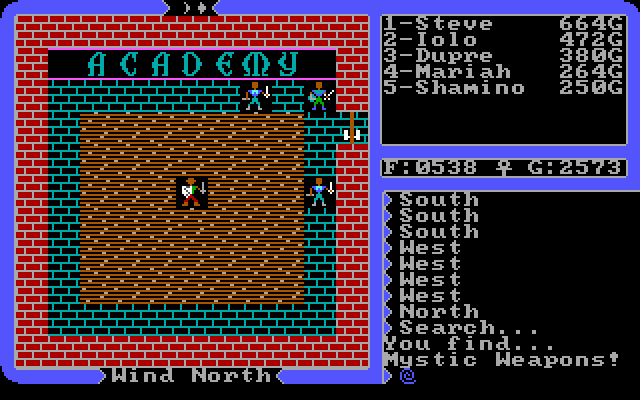 To pick up some Mystic Swords.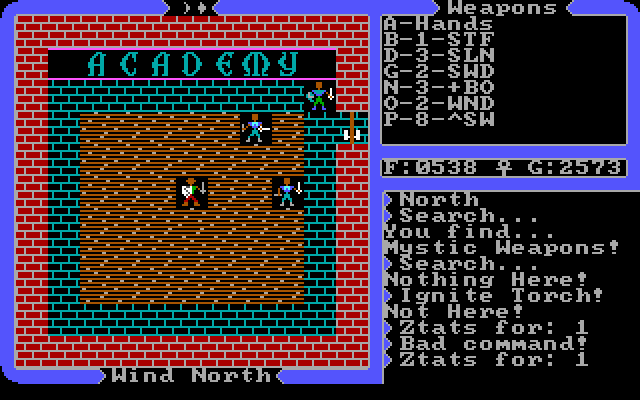 What the hell are eight mystic weapons of fantastic power doing here? I don't really know. They're damn good weapons, but as you might have noticed they are
swords
. Swords have very short range, and range is what we need more than just about anything right now, so I'm not going to use them much. Come to think of it, they're not very useful in Ultima V either, since they're two-handers... but I get ahead of myself. Dupre might find one handy now and then.
Oh, and apparently you can sell all of them, then go back to this spot and find eight more.
That
is more like it. :3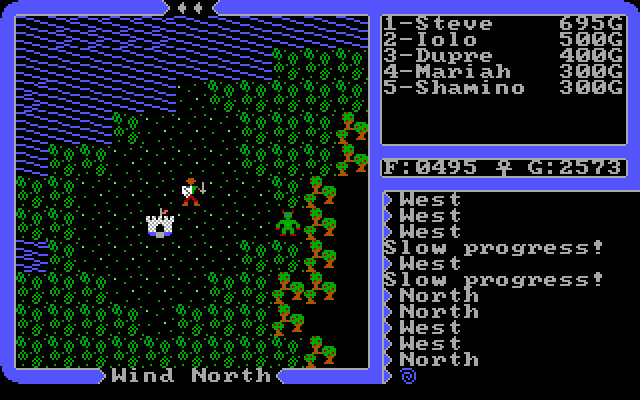 And if there are Mystic Weapons at Serpent Hold, then over at Empath Abbey there must be...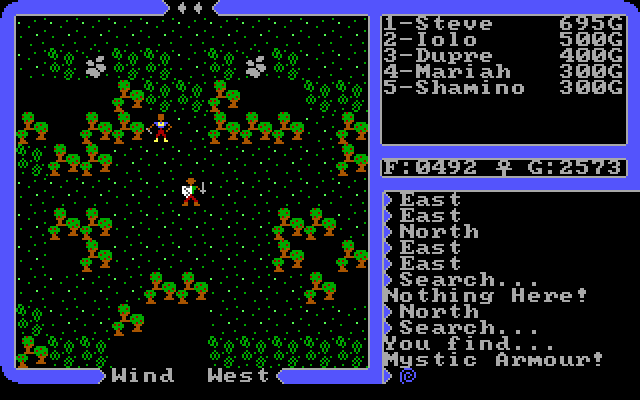 Mystic Armor! Unlike the weapons, the Mystic Armor is actually useful, because it basically offers the best defense possible and all character classes can use it. Even Shepherds and Druids! And defense is one thing I'm going to need (along with blind woman robbing levels of spells and backup reagents, plus torches and food) because our next stop...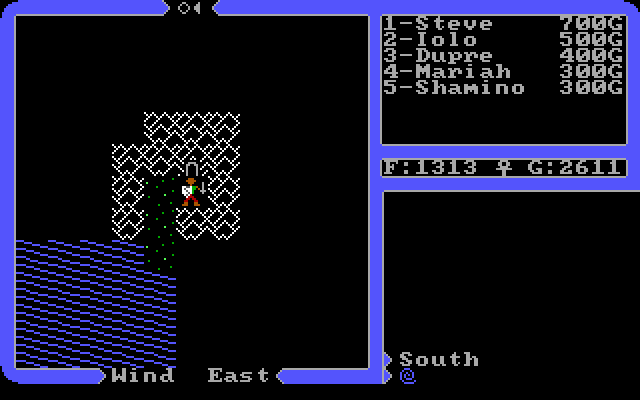 Is a dungeon! And no, there's nothing mystic or interesting at the Lyceum. Oh well. This dungeon is near Moonglow, town of Honesty, so it must be...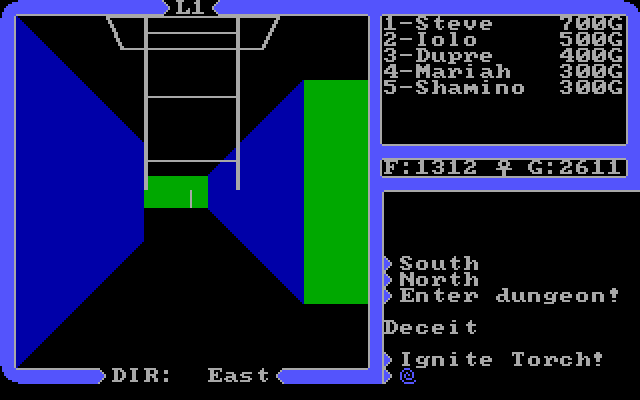 Deceit. Despite the name, it's one of the more straightforward dungeons.
Some things to notice: The dungeons are in 3D. You saw that briefly in Hythloth (which I won't be entering again really since there's nothing there), but here it is now. It's reasonably easy to make out where stuff is; you can see a door at the far end there, a turn to the left far ahead, a turn to the right beside us. And of course the ladder going up.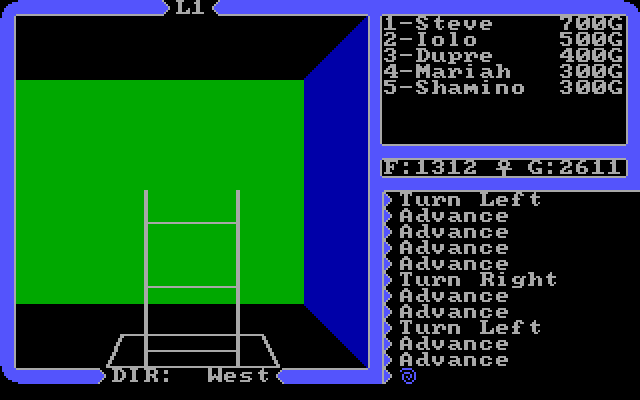 Basically, you wander around the dungeons until you find a ladder going down, and keep going down until you find what you're looking for. There are two reasons to go through the dungeons, the stones and the three part key. The key is easiest to get when we already have all the stones, so I'm just going to do all six of them one by one.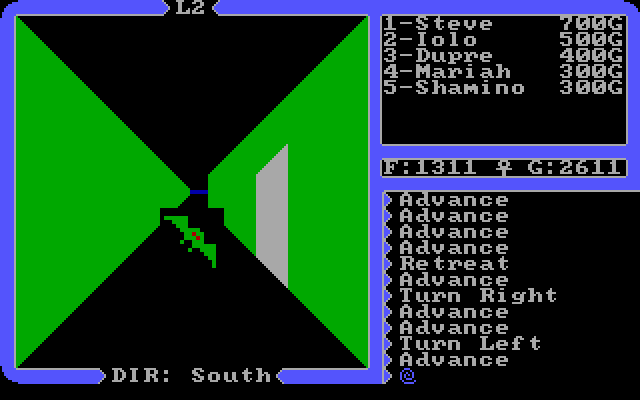 Downstairs, a random monster wandering about. It was a harsh time in the 1980s, long before the advent of image transparency.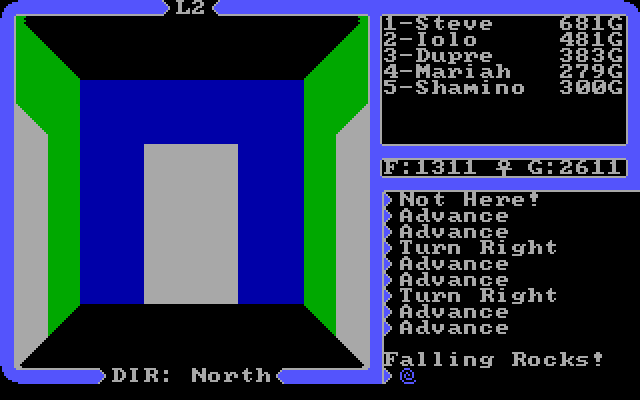 There are also traps. Most of them just do damage to your party, which sucks, but there's not much you can do about it. Some squares are also trapped with "winds," which blow your torch out. Just move past them and reignite it, unless you're on one floor of one dungeon where every square is windy. And no, you can't do anything to disarm the traps.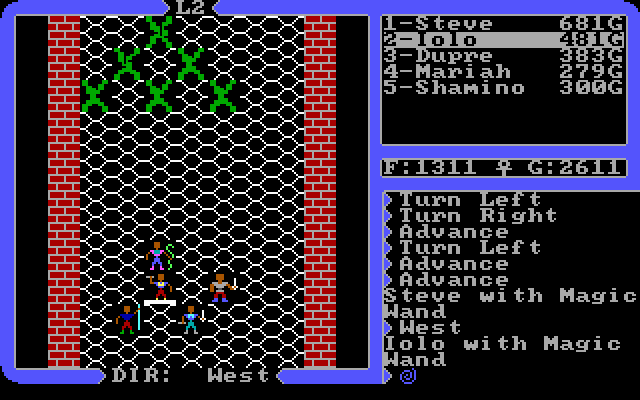 A dungeon random encounter. Not much cover, not many places to go. I seem to be fighting chromosomes, although the game calls them slimes. I've seen better enemy identification in Nethack to be honest.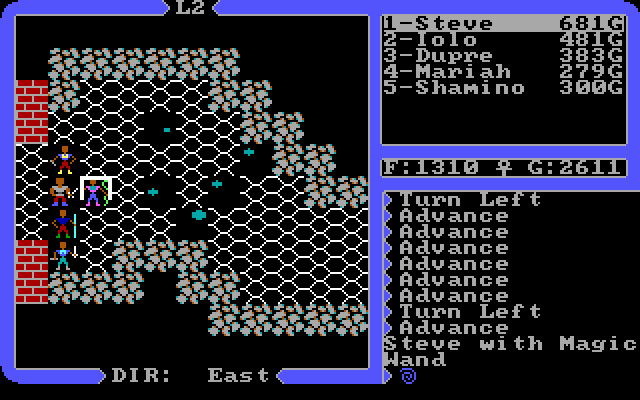 Now, this is the real meat of the dungeons. While the 3D sequences are nice ("nice" he says), every so often you enter a room that is a 2D one with monsters and puzzles. The only way to continue through the dungeon is to leave across the screen. You usually don't even need to kill all the monsters, but it's a good idea. Also there are often puzzles, which we'll see.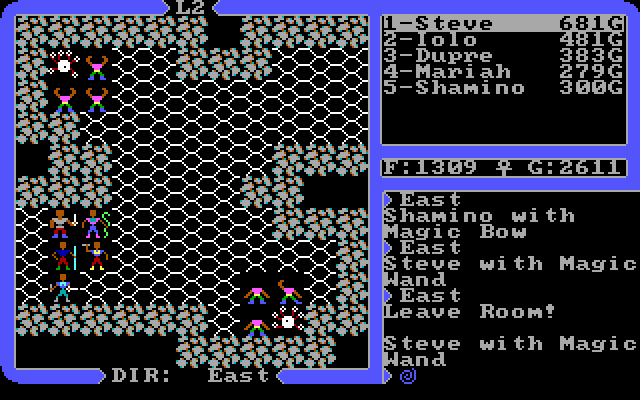 That first room connects to this one, which is full of Headless and Gazers. Headless are just okay at melee but really stupid; basically the fodder of dungeons. Gazers are dangerous because they have ranged attacks and can cast Sleep, which puts
everyone
to sleep. Fortunately they're bad shots and don't move in close so even if they do sleep everyone over and over they rarely can take advantage of the situation. Since my entire party is ranged, I can snipe things. The spell Tremor is also priceless in some dungeons because it can clear half the screen sometimes, which is essential against Sleep-casting monsters like Balrons, Gazers, and Reapers, since they'll chain-cast it and keep your party asleep for eighteen years.
Like all things, there is a cheat to get around this, but I refuse to use it right now.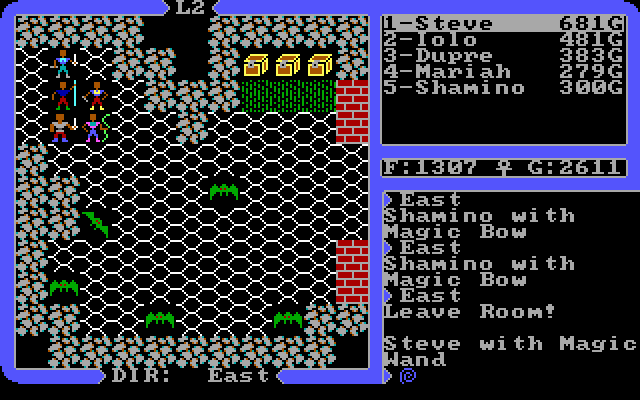 Third room along. Bats. Despite being green, they're not poisonous. Those green fields, on the other hand, are. The chests aren't worth bothering.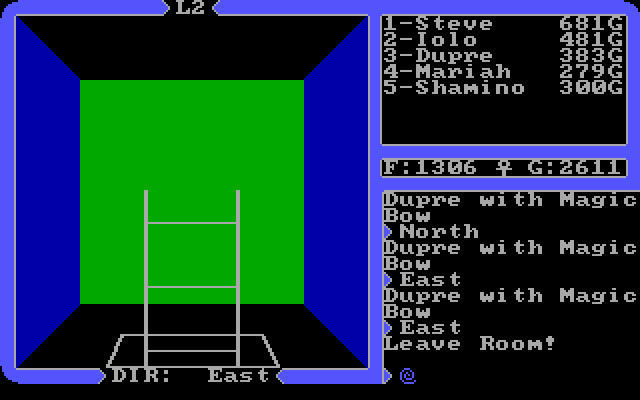 After all that, the ladder to another floor. Get used to room crawls because they're pretty long and nasty.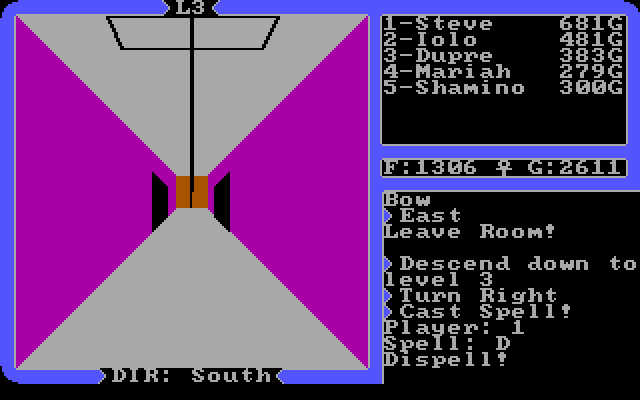 Of course, only a sucker does dungeons unless they're
forced
to. Let's just cast a Down spell and...
...oh, right, D is Dispell, not Down. Z is Down.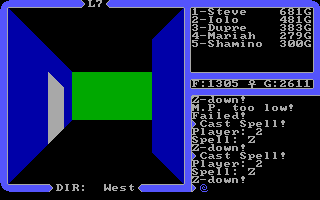 Which takes us all the way down to L7, which I believe is where the stone is.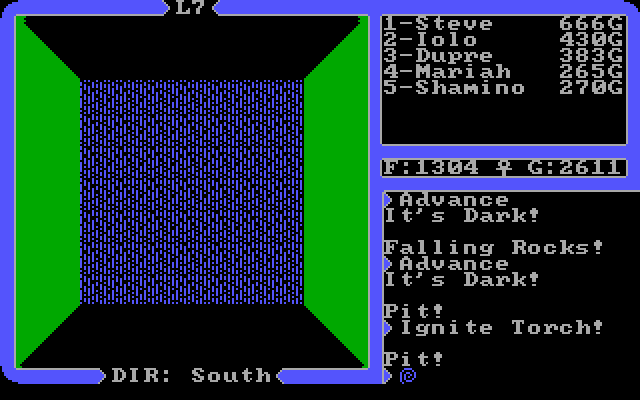 It's right behind a series of forcewalls and the like. So I start dispelling...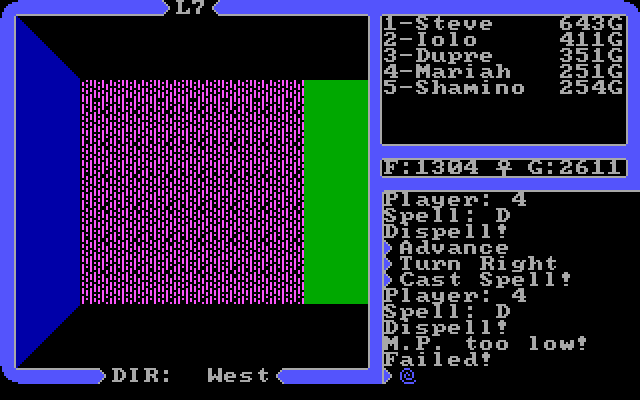 ...only to run out of magic points for the entire party halfway through. I could probably just walk through the remaining fields since they're mostly Sleep and Fire, but I won't do that because I can just sleep it off!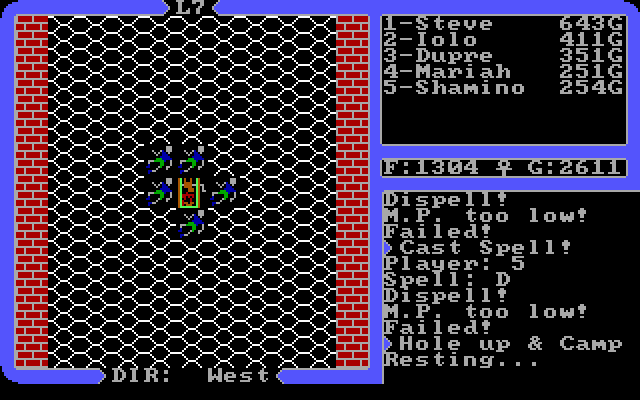 Oddly, holing up and camping in a dungeon is about as safe as camping in the overworld. Maybe even safer. I think I've been attacked all of once by some bats.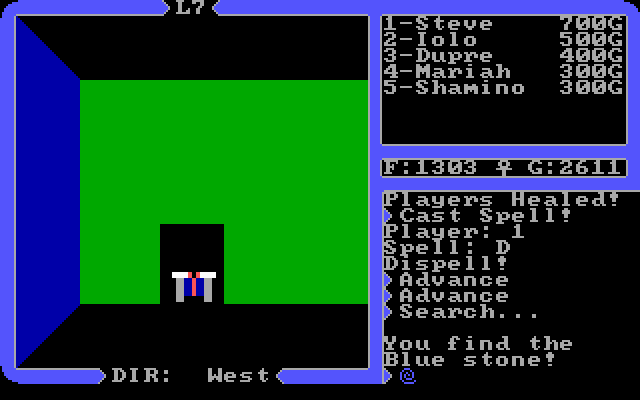 At the altar, the blue stone of honesty! And now to get the hell out of here.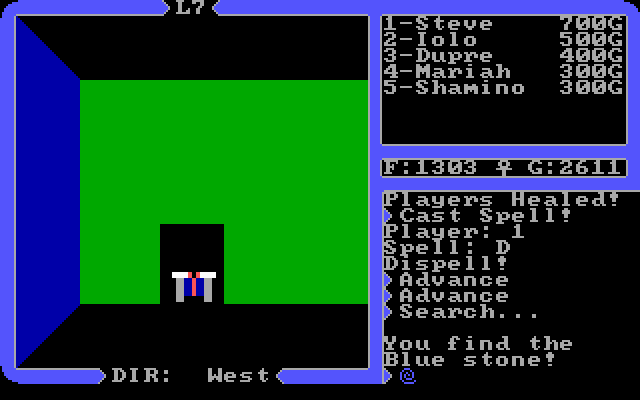 X is for Exit! I remembered that much at least. Anyway counting the two stones that aren't in dungeons I now have 3 of 8. I still don't have enough to get one of the Three Part Keys and I don't have enough to get through the Abyss, so our next trip will be to Despise to pick up another. Then another. Then another. Anyway, you get the picture.