Part 7
#5
I couldn't wait to tell everyone about the good news!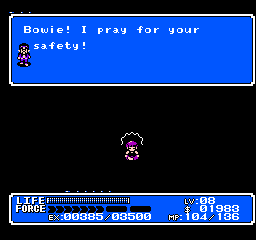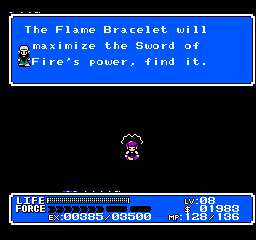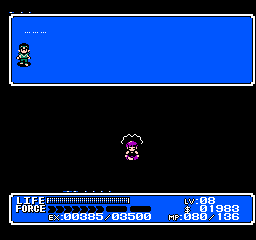 As it turns out, none of them give a fuck.
One thing I forgot to show you all before - remember in Brynmaer when that girl told us there was a route to Mt. Sabre in the north?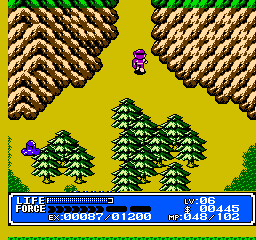 Here it is. Thanks to the power of old save files, here's what happened if we tried to come here first.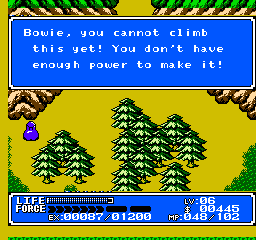 I can only assume this is Xebu talking, since no one else cuts in in the middle of my shit to give me advice. I can't understand why he's bothering to stop me; if I wasn't strong enough up the way, I would just end up dinging the enemies up there. Shrug. Oh well, time warp!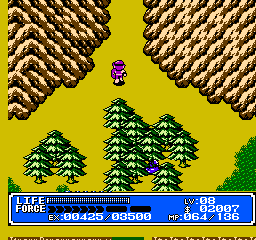 That's better. Here we go!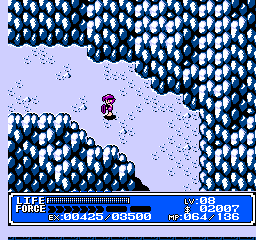 It looks exactly the same as the southern portion of Mt. Sabre.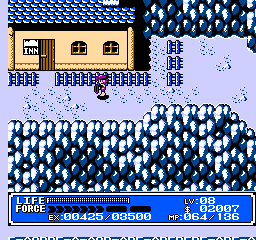 As I walked along though, I came across a lovely little inn!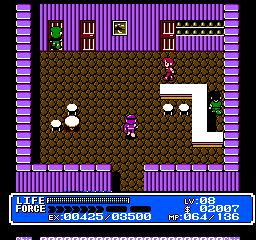 [

] This wallpaper is fucking with my eyes. It matches my hair even.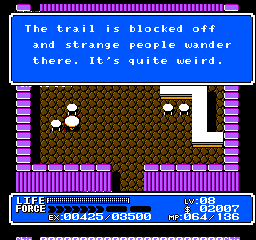 [

] This is important information, thank you.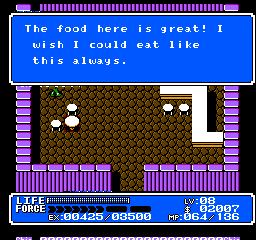 [

] This is also very good to know I am in a room full of fucking scholars here.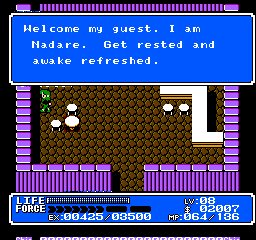 [

] Nadare did you know that your other guests are fucking morons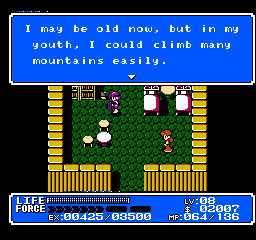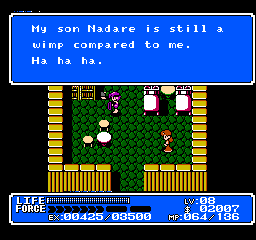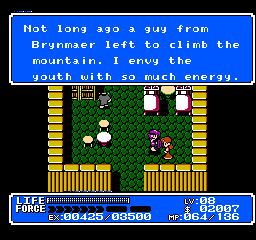 [

] Oh man, I remember him! I hope he's made his fortune.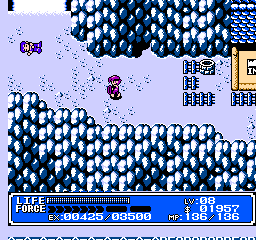 [

] I guess not.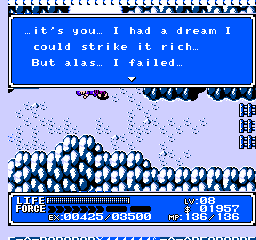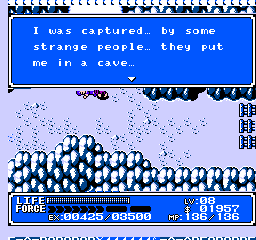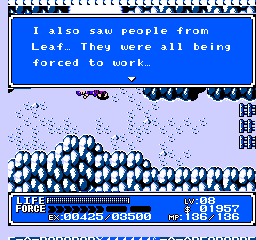 [

] WOAH WOAH TIME OUT. THOSE LEAF FUCKERS ARE
HERE?
FUCKING HELL.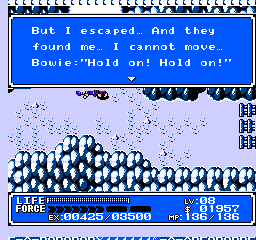 [

] HOLD ON TELL ME WHERE THEY'RE AT. I WANT TO SEE THEM BEING FORCED INTO SLAVERY. WOULD YOU HAPPEN TO HAVE A CAMERA ON YOU?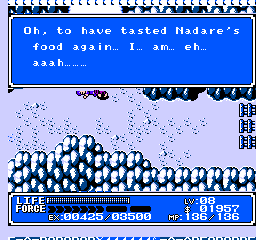 I sure wish my dying words are this poetic.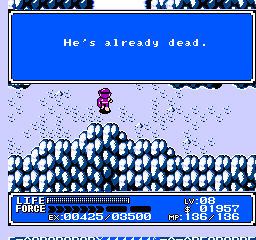 [

]

Oh well. Guess I've got to find out where they are for myself.
We walked a little ways along the path...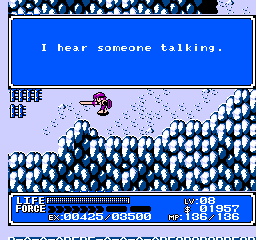 This is an almost-exact replica of my old laptop's wallpaper. There's just something about it that I find amusing.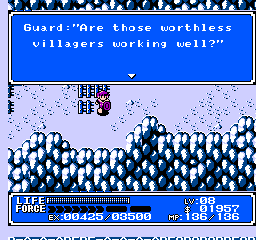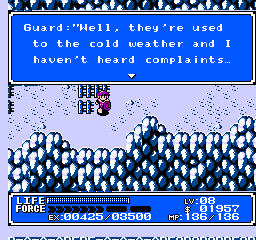 "Used to the cold weather"? That's Leaf all right. It's like they say, "The wind here is always cold but we're used to it." It's their town motto!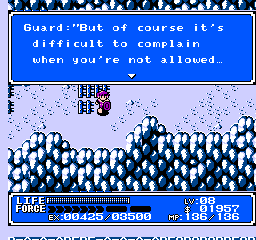 I love these guys already.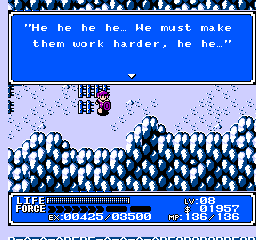 This is an awesome idea. I must congratulate them on their work ethic.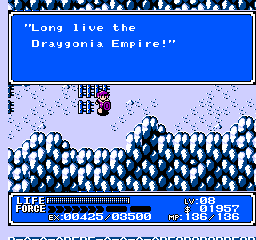 [

] ...for some reason, that name sounds familiar. Shrug.
[

] Hey guys, awesome work with the whole "let's make them work harder" thing. I hope you work them to death. They sure are a bunch of dumb fuc-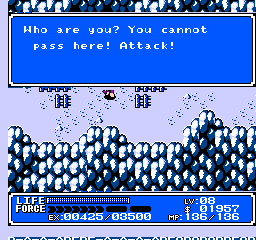 [

] oh now wait a minute come on. We can be pals. ):
With no other alternative, Bowie blows them away.
lol get it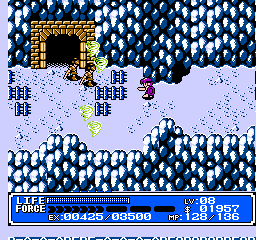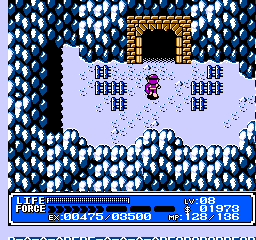 Now, let's get to it!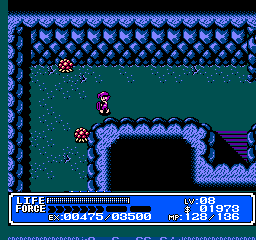 This cave pretty much reuses enemies from the south portion of Mt. Sabre, with a few subtle additions.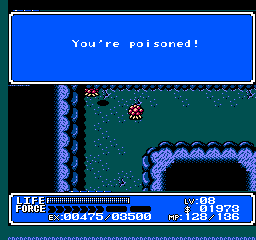 I get poisoned right off the bat. God, I hate poison so much.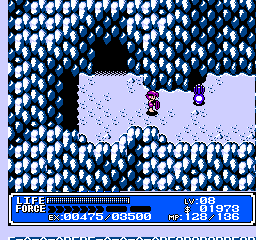 Here's one of the exceptions. It's a ball with spines coming out the top. Like almost everything else in this cave, it causes poison.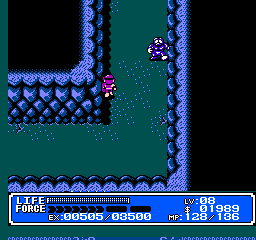 Here's another addition. It's like the gorilla in the first cave, but it's blue. Also, it takes at least 10 hits from the Sword of Fire to destroy it. The Sword of Wind doesn't work at all on it. This cave is full of these damn things.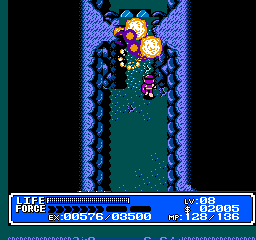 Ice wall troubles are a thing of the past.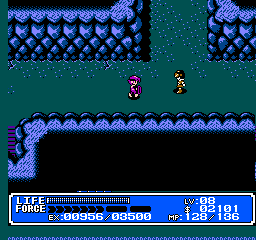 Here's another soldier. They run around in here too, but their only weakness is the Sword of Wind.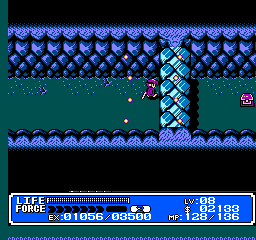 I only screenshotted this because it's a side view of the ice wall. The chest is a medical herb.

Out of the blue, I decided to check if the wisemen had anything important to say.
[

] Oh, okay. Thanks, Tormel. You get cooler every time I see you.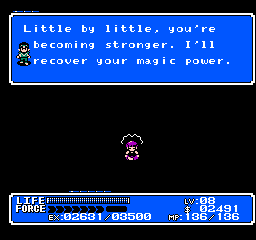 [

] Thanks, Kensu. Ok, this spell isn't ENTIRELY useless.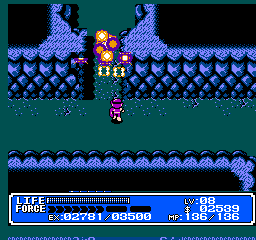 Damn, there are a lot of ice walls in this cave.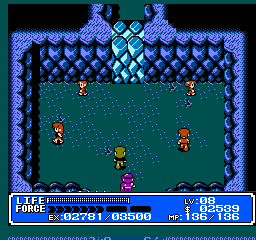 [

] ...

HA HA. SLAVES. YOU GUYS ARE FUCKING SLAVES. WAY TO GO GUYS. ARE THEY WHIPPING YOU ENOUGH? I SEE SOME HAPPY FACES, I GUESS THE ANSWER IS NO. HOW'S THE WIND UP HERE, BITCH? STILL COLD? AH HA HAHAHA.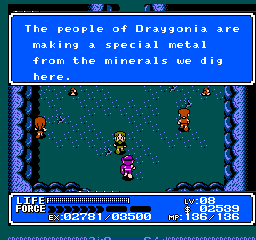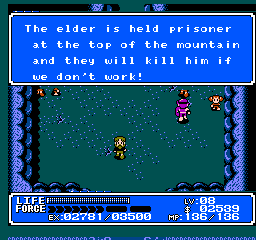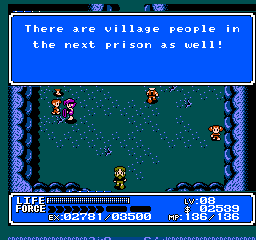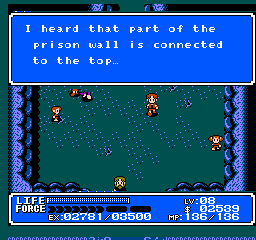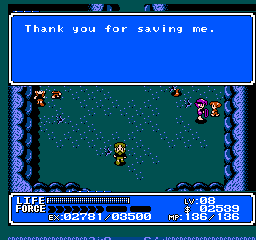 [

]

Oh you are so very, very mistaken about my intentions, little girl. I just wanted to see you all work to death. This is just about the coolest damn thing I've ever seen. I wanted to get a camera from that one guy, but he didn't have one and he just up and died. Oh well, at least this will be a memory I can cherish forever. (: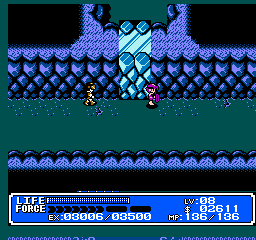 And here's the cell next door. I can't help but wonder why exactly they lock their prison doors with gigantic blocks of ice. Wouldn't it be a hastle to move the prisoners in and out? Besides, does that mean they have their own Sword of Fire or what?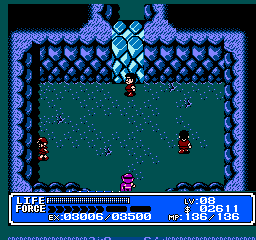 Every single time I play through Crystalis, I forget who these guys are.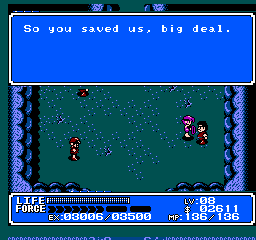 And each and every time I remember, "oh yeah, these are the shopkeeps".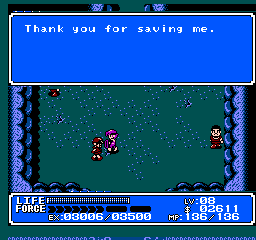 The shopkeeps are the only cool people in Leaf. Well, besides the bunny.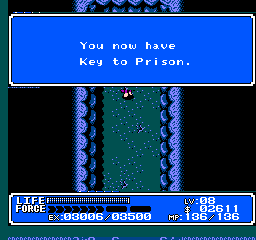 Wait, why is there a key? The doors are all giant blocks of ice.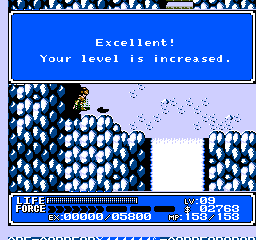 My motto for Crystalis is this: "Whenever you get to an area where the exp jumps dramatically, it's probably time to grind at least one level."
And up those stairs...
Dun - dun dun - dun dun - dun dun dunnn
I honestly didn't expect to beat him that quickly, that's why I shot through the last time he talked. Here's what he said.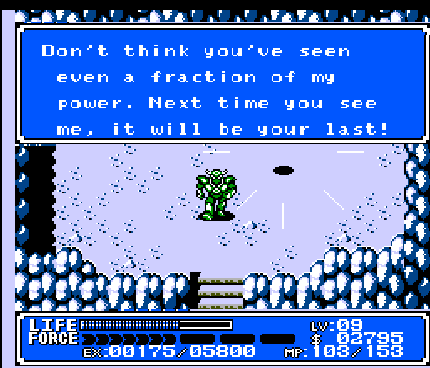 Right. So anyways...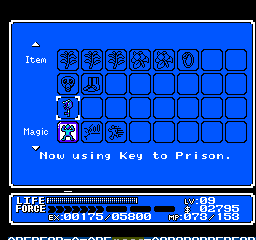 Key goes in slot...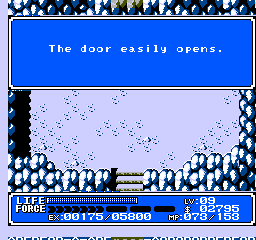 and door easily opens. Fun times. Now I can finally get out of here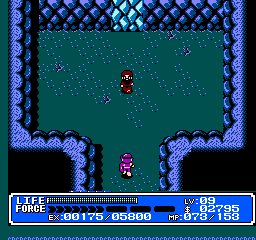 Oh yeah. I forgot about you. You and the general been havin' fun?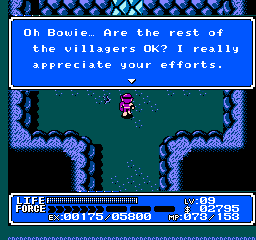 [

] I didn't do jack shit. Remember what I said about you guys needing to fuck off? That still stands. I hope you die in this icebox.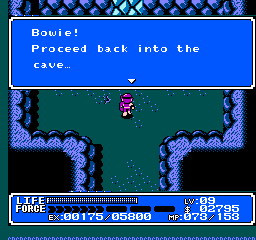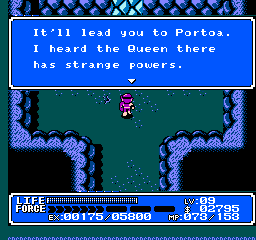 [

] How the hell would you know that? You're in a prison cell, with a huge block of ice and a large gate blocking your exits. You couldn't possibly know where the hell you are.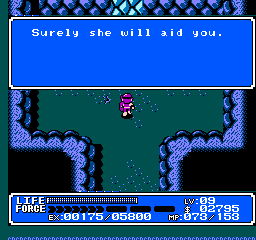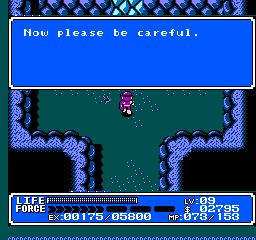 Fuck off, general's bitch.
Around a corner or two...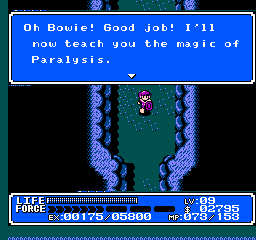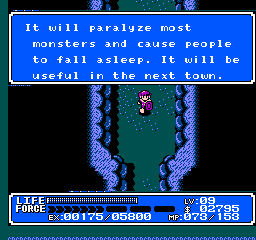 And here is who I'm assuming is Xebu, who is giving me a spell for no real reason.
As a side note, if you use the second-controller warp, you can get this spell almost immediately. But cheating is not Bowie's way. Besides, Paralysis isn't all that useful.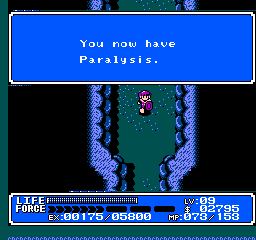 But I'll be damned if I'm not happy to get it.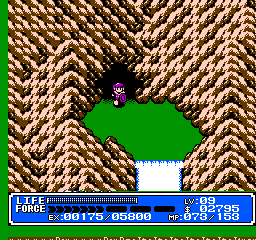 And here we are outside Protoa. Let's end here - ...wait, did I forgot to close that prison gate?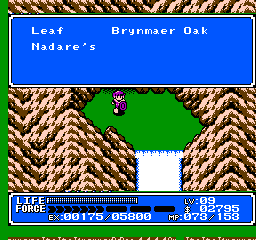 [

]
no no no no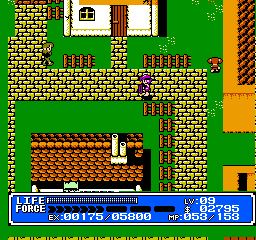 [

] NO. GOD NO. OH GOD NO NO NO. THEY COULD HAVE BEEN TRAPPED THERE FOREVER. I AM SUCH A FUCKING IDIOT. FUCK FUCK FUCK. SHIT FUCK.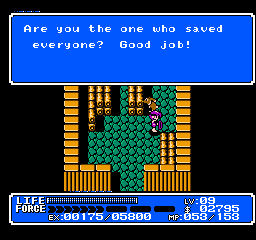 [

]
IT WAS AN ACCIDENT.
I WANTED THEM TO SUFFER. FUCK YOU RABBIT. YOU'RE OFF THE "LEAF COOL LIST", OKAY. FUCK YOU.