Part 20: A Sad, Lonely Man and a Prison Sequence
Chapter 17:A Sad, Lonely Man and a Prison Sequence
(Kidd) Now, to the icy reaches of Greenlad!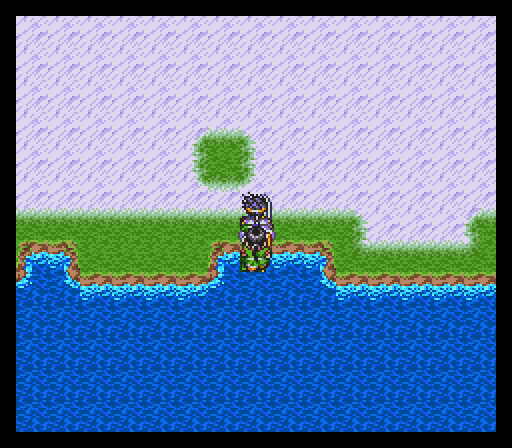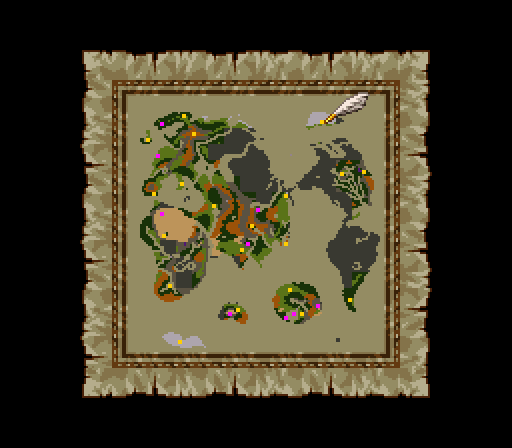 (JOKEBOT) GUY DETECTED ON GREENLAD. SANTA POSSIBILITY....22%.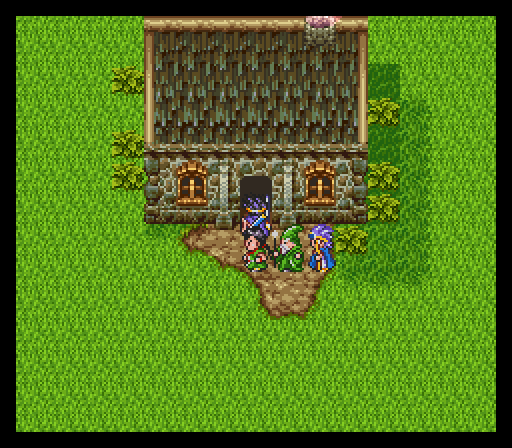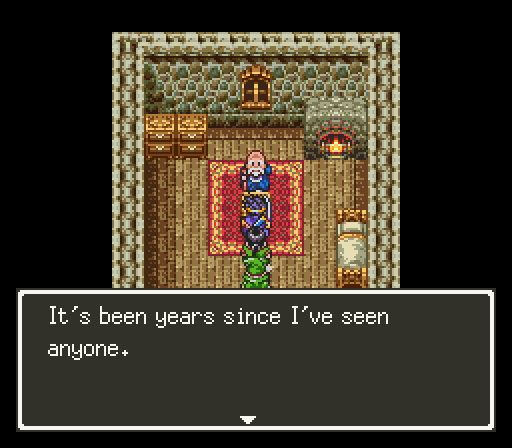 When was it last? It must've been when the pirates came here. They left a strange bone with me... By the way, have you ever heard about the Change Staff?
(Magal) Sure! It's a staff that alters the appearance of the users. It's been lost for some time, though...

I heard that the King of Samanosa had something like it. You could reach Samanosa through a travelers door... But unfortunately, the portal is behind a locked door that only the Final Key can open.
(Kidd) Nifty as that is, what does that have to do with us?

I've wanted it for such a long time.
(Kidd) Why?

Do you really want to know what horrible things I would want to do on this lonely island with a staff that changes what I look like?
(Kidd) On second thought, no. But which travel door could it be in?
(JOKEBOT) ANALYZING TRAVEL DOORS FOR YOUR LAZY ASS...BING. IT'S RIGHT OVER THERE, YOU ASS. LIKE 10 SQUARES AWAY BY BOAT.
(Kidd) Then onward!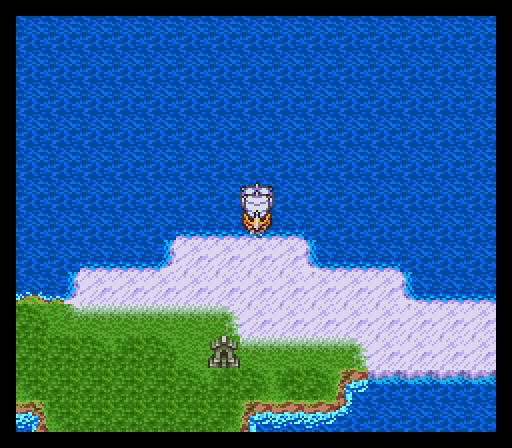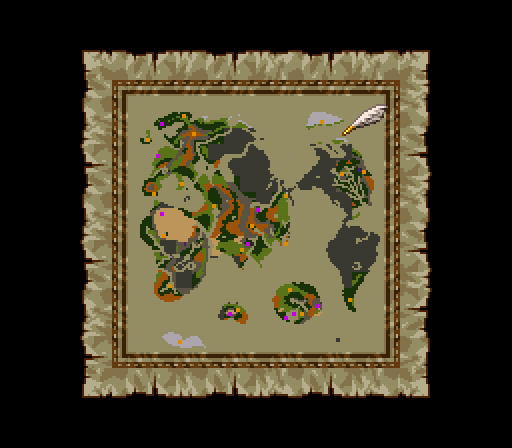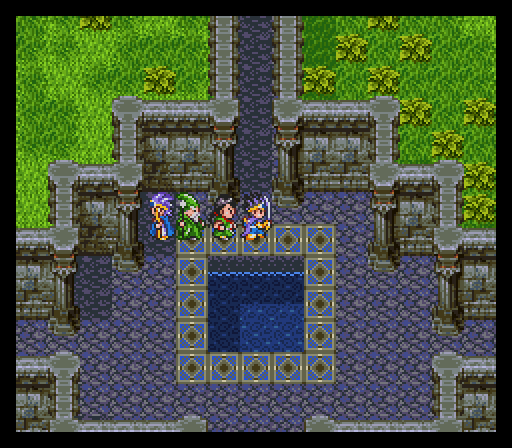 (JOKEBOT) BEEP BEEP BLIP BEEP. YOU GUYS ARE LAZY.
(Kidd) And you're getting sassy.
(Max) There's no need to abuse him in such a fashion, he is being very helpful, after all.
(Kidd) Would you please be so kind as to tell me which of the three gates here that we should take?
(JOKEBOT) WOULD YOU LIKE TO HEAR A JOKE?
(Magal) *sighs* Sure. Why not?
(JOKEBOT) WHAT DO YOU CALL A SLIME WITH THREE EYES?
(Magal) What?
(JOKEBOT) A SLIIIME.
(Kidd) That's... less terrible that your usual jokes. Good job!
(JOKEBOT) TAKE THE EAST GATE IN HERE.
(Max) Thank you.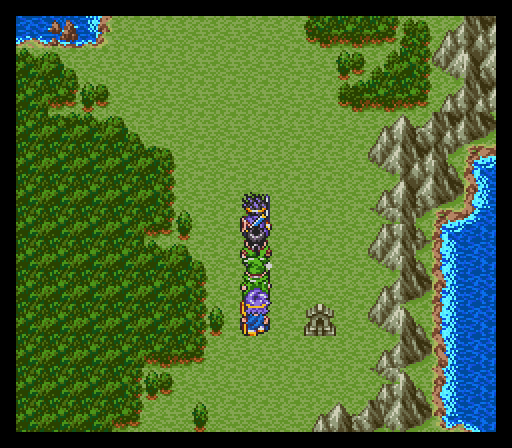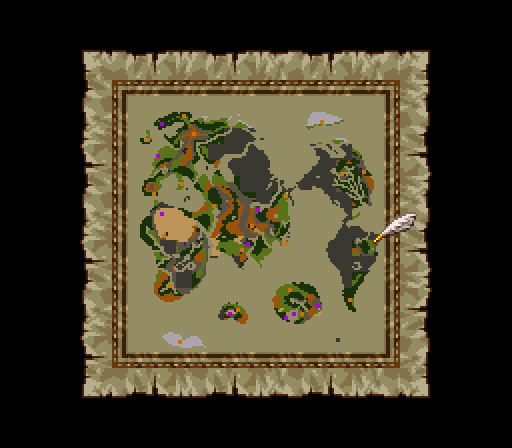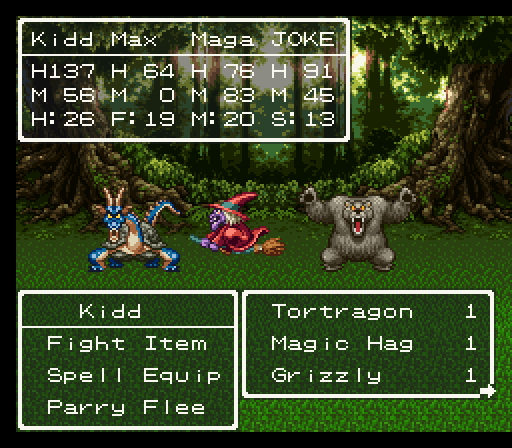 (Max) The Grizzly is an extra-powerful bear, which is to be expected, really. But be careful of them, as they can mess you up - sometimes, they can do as much at 120 damage in one attack! The Magic Hag is a tough little monster who (surprise surprise!) casts a lot of magic. The Tortragon is a high-defense enemy with a few breath attacks, and can sometimes Ram a party member out of the party. When that happens, all you can do is go back to Ruida's and pick them back up.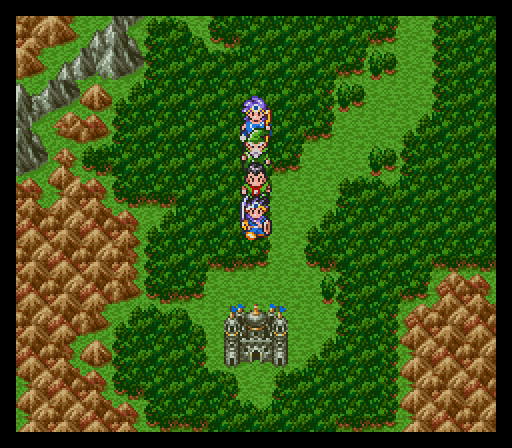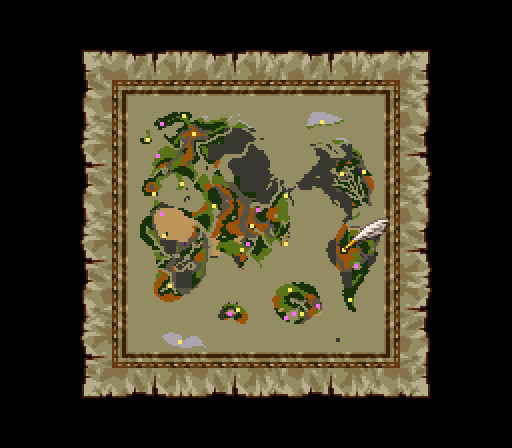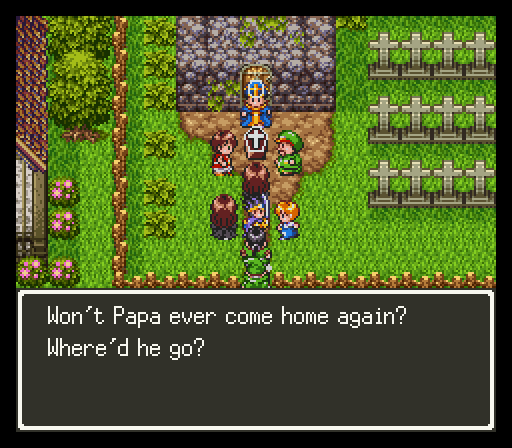 Oh, Brennan! He was such a good man.
He was executed for bad-mouthing the king! How absurd! We can't live like this!

Oh God! Let Brennan rest in peace...
(Kidd) The King is resorting to such methods to keep his people from rebelling? It's time to act!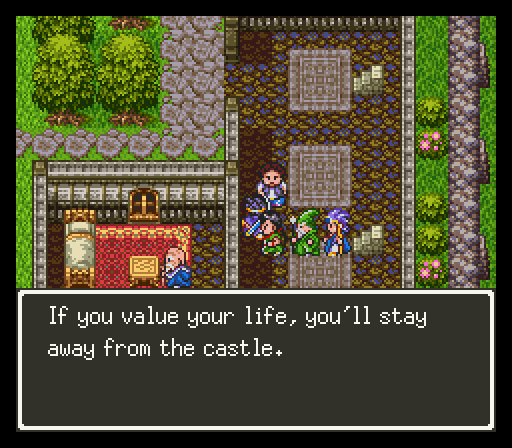 They say Baramos plans on destroying the world, so I guess there's no reason to live anymore.
(Kidd) Just you wait, old man. When we kill Baramos, you're going to be so pissed that you're dead and haunt the earth as a ghost.

The king sleeps alone on the second floor. That castle's a dangerous place though...
(Kidd) I'm going to go and talk to him right now!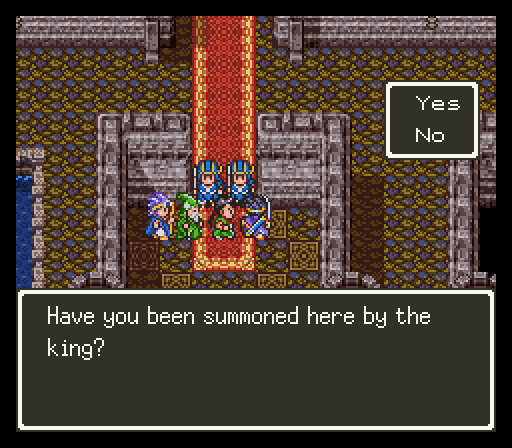 (Kidd) Well, we've been 'summoned' by his poor attitude toward his people and seek to put an end to his reign of terror!

Don't lie to me! I wasn't told about you!
(Kidd) Well, okay. We'll go in the back way.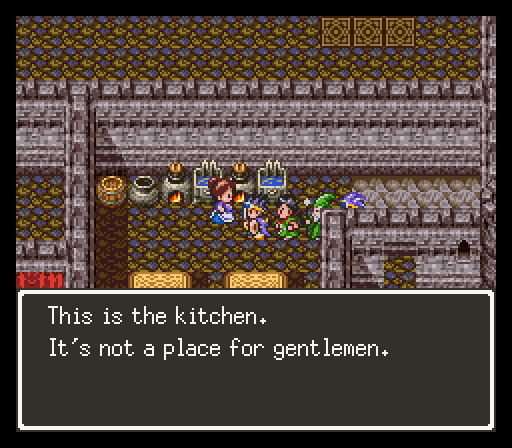 (Kidd) Then it's a good thing that none of us are really gentlemen, isn't it?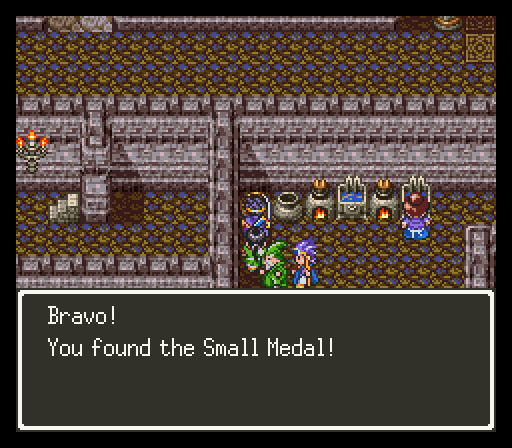 (Kidd) Medal #27-In a barrel within the kitchen of Samanosa Castle. But on to the king! He will be unable to stop us in the face of our righteous fury!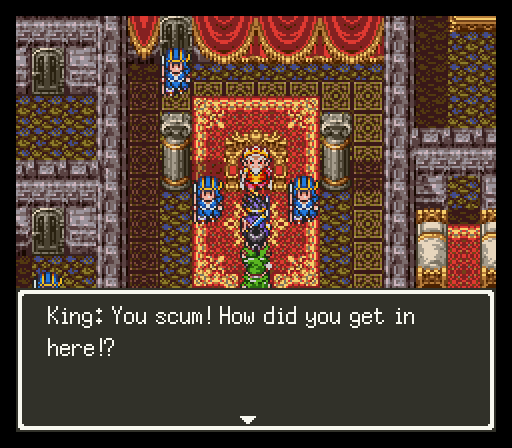 Throw them in prison immediately!

Okay! Move it!!
(Max) This was unexpected.
(Kidd) I know! We're heroes! We aren't supposed to be imprisoned by kings!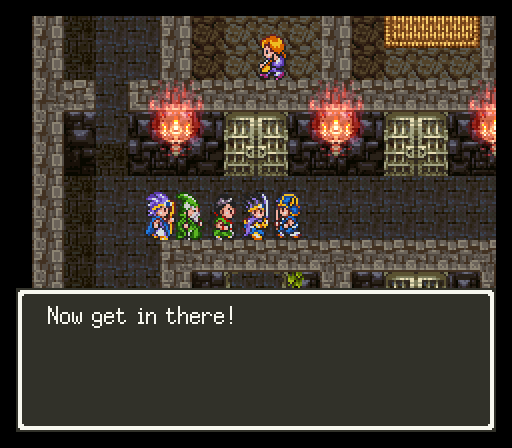 And shut the hell up!
(Kidd) Oh no, how will we escape.
(Magal) I have a plan... I'll kill... Max. Then we'll call for the guards to check on him, since he's dead. From there, I'll snap their necks, get the keys, and leave.
(Max) I'm not the biggest fan of this plan. And how would you go about snapping my neck, anyway? I've got greasy-fast speed and the strength of ten men.
(Magal) We'll see about that...
(Kidd) Or we can just take our Final Key, which can open *this kind of door*, and walk away.
(Magal) Or we could just do that.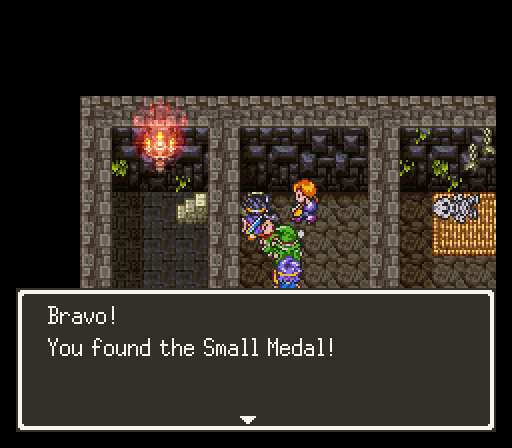 (Kidd) Being in prison doesn't obviate the need to loot everything! Small Medals (of which this is the 28th we've found), are still vital!

I'm a wandering bard. A man named Simon died in the jail of a lake shrine far notheast of Romaly. I wonder if I'll die in prison like he did...

Monsters are haunting people. It's really scary...

Supposedly, the Mirror of Ra shows ones true self in its reflection. It's in a cave south of here. I was put in jail for talking about this. I don't see what the big deal is though!
(Kidd) Let's take this other passage... wait... what's this?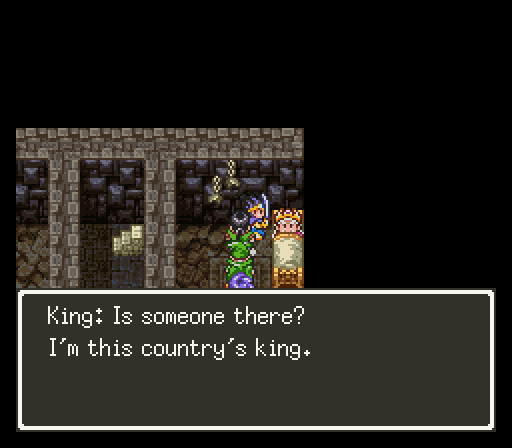 Someone stole my Change Staff and has assumed my form...
(Kidd) What an unexpected twist! Well, time to leave. We'll come back here at night...
(Max) Actually... remember how I had family in Tedanki?
(Kidd) Yeah...
(Max) They had a thing in their attic that might be useful for killing time.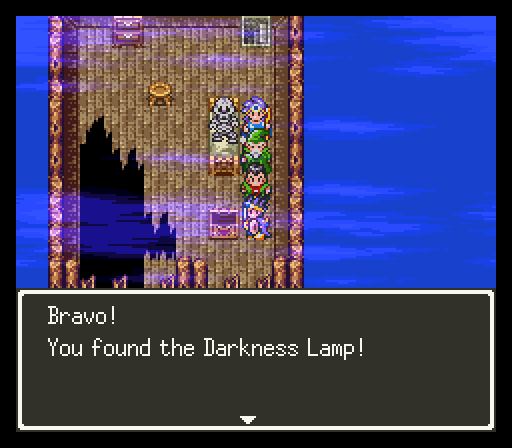 (Magal) This... this is a Lamp of Darkness! Lighting it makes it night-time, somehow. It's convenient if you need to wait until nighttime for some skulduggery.
(Max) But what do you do if it's already night and you need it to be daytime?
(Kidd) Sleep at an inn, obviously. But back to Samanosa!
(Max) What's the point in that? We can't do anything about the 'king' until we can prove he's a monster. We need to go get that Mirror of Ra!
(Kidd) Then let's do this!
Next time:Dungeon-busting again! Hurrah!
# of In-Game Days:98
# of Small Medals:28