Part 22: Not the Necrogond yet!
Chapter 19:Not the Necrogond yet!

(Kidd) Okay, let's look into the few unexplored areas remaining, shall we?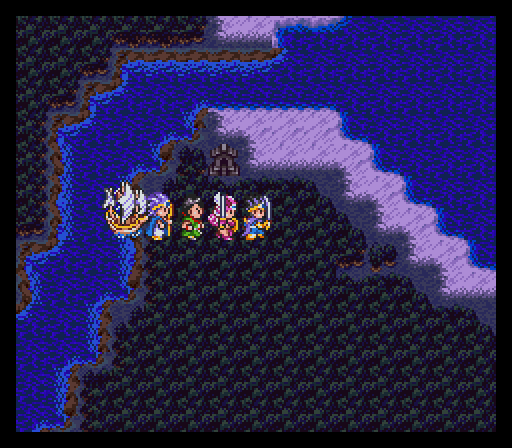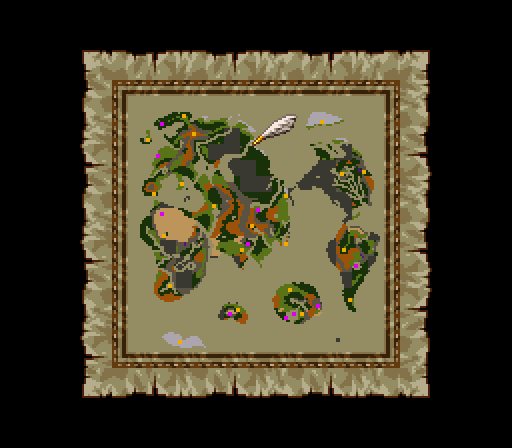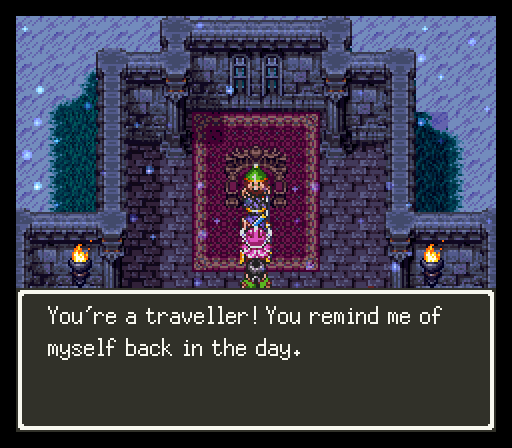 I once fought at the side of the hero, Ortega. They say he died by falling into a volcano, but I know the truth...

(Kidd) But you won't tell us, eh? Well, there's still something important near here.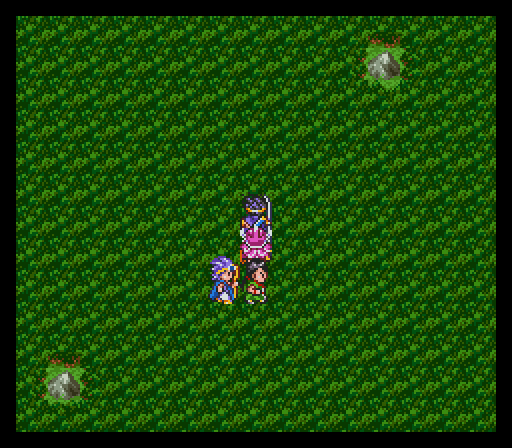 Oh! I've heard of this. There's a set of mountains that form a cross, and at the center, a special tree grows.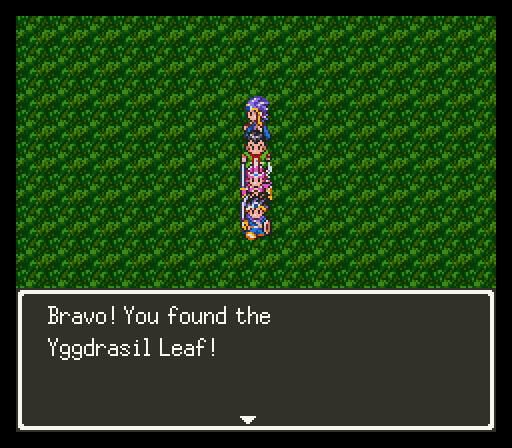 (Magal) This leaf can bring the dead back to life. Other than that, only powerful Clerical magics are the only things that can do so. So, if you only have one healer, you need one of these in case he goes down.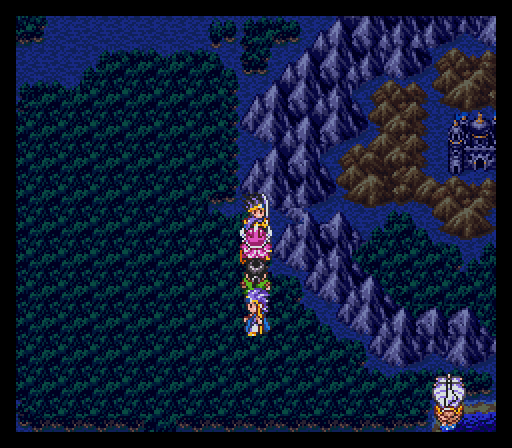 (Kidd) We can't get to that castle yet. But we will one day!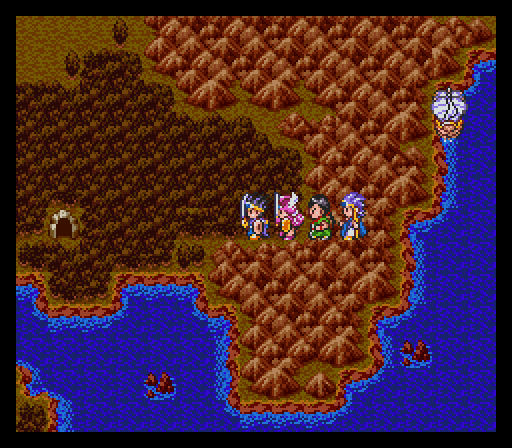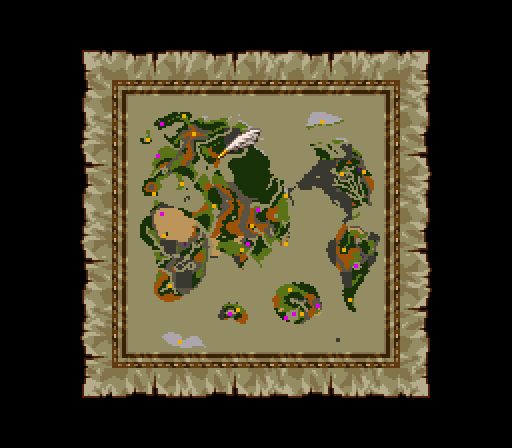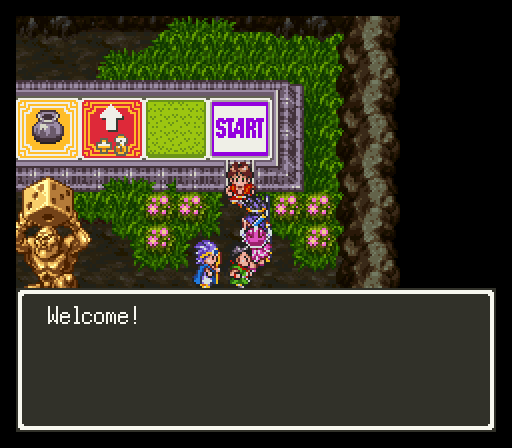 (Kidd) Behold! The legendary Last Pachisi Track on Earth! There certainly can't be any more of these!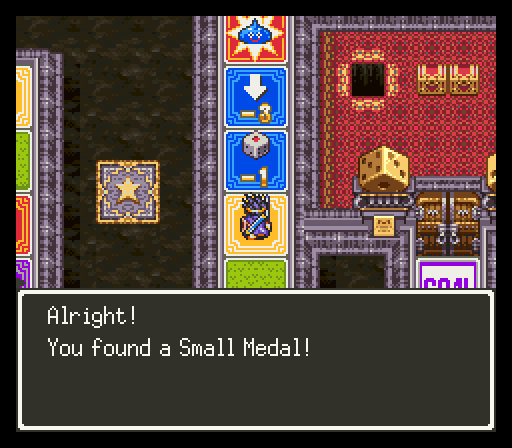 (Kidd) #32 - On the third Pachisi track, in a pot.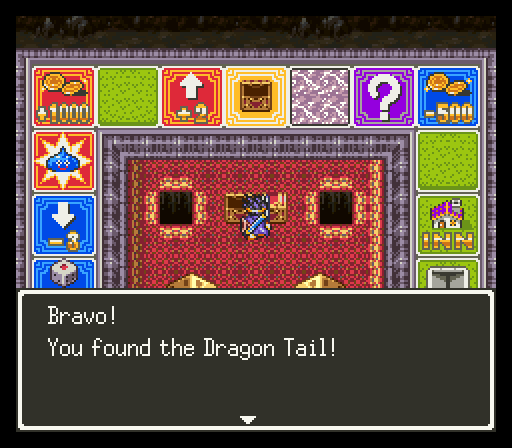 (Kidd) The Dragon Tail is a very nice whip. Probably the best we'll find in some time.

(JOKEBOT) BEEP BEEP BLIP BEEP. CRAZY HIDDEN SMALL MEDAL DETECTED. HOW THE HELL ARE YOU SUPPOSED TO FIND THIS STUPID THING.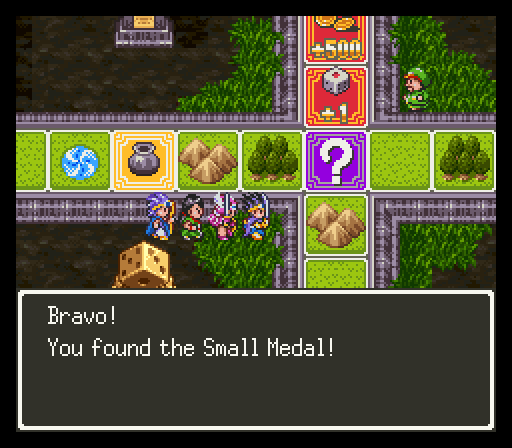 (Kidd) #33 Hidden in a patch of grass next to the third Pachisi track.

(JOKEBOT) THERE'S ALSO ANOTHER ONE ON THE FIRST FLOOR.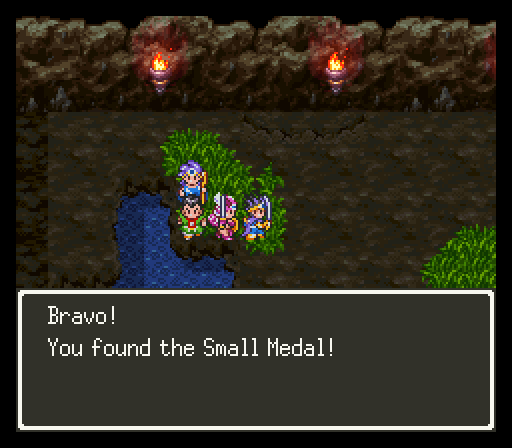 (JOKEBOT) WHAT A DICK MOVE.

(Kidd) I agree, Jokebot! But that's 34. But it's time to move into this cove for real now.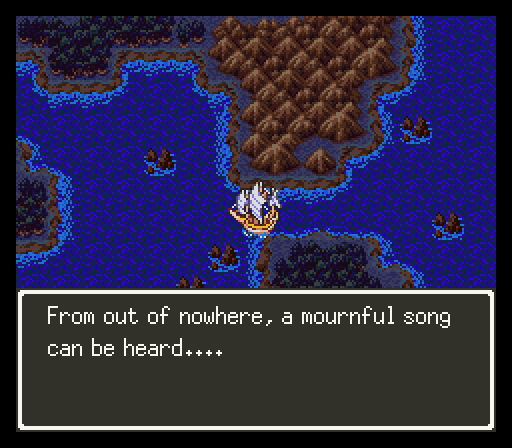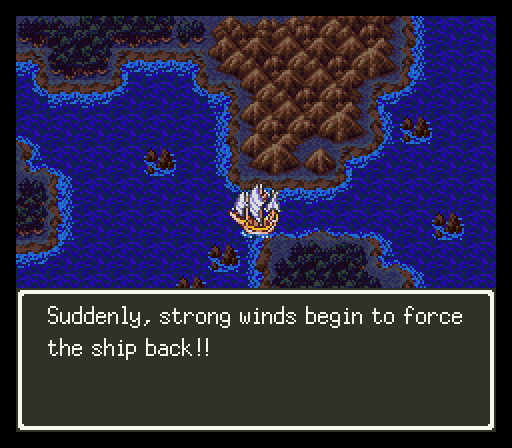 (Kidd) Egads! We cannot progress! I wonder if that nearby inn can cast any light on the situation.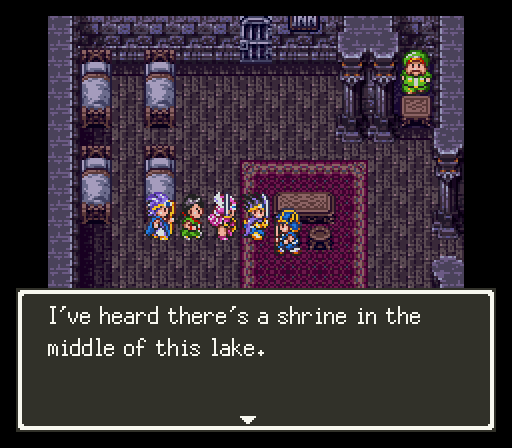 The souls of the prisoners are still trapped inside.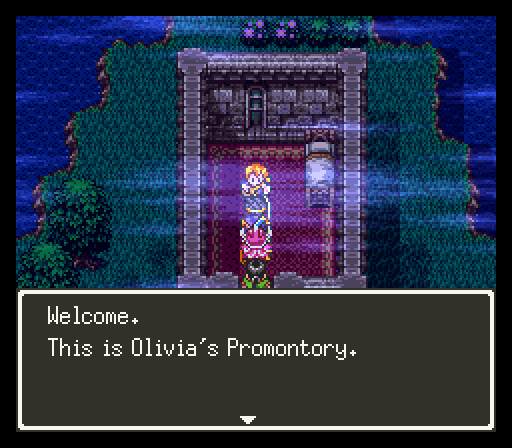 Out of despair, Olivia threw herself off a cliff after losing her beloved in a storm at sea. They say that sometimes her voice can still be heard in the wind, calling out to her beloved. If only somebody would offer her a momento of her beloved Eric... Surely Olivia's spirit would finally be able to rest in peace. Supposedly, Eric's soul is stuck on board a ghost ship somewhere lost at sea...

(Kidd) Then we just need to find a way to track down that ship... but how?

(JOKEBOT) DON'T YOU HAVE A SPOOKY BONE OR SOMETHING TO SPIN AROUND?

(Kidd) Well, I suppose.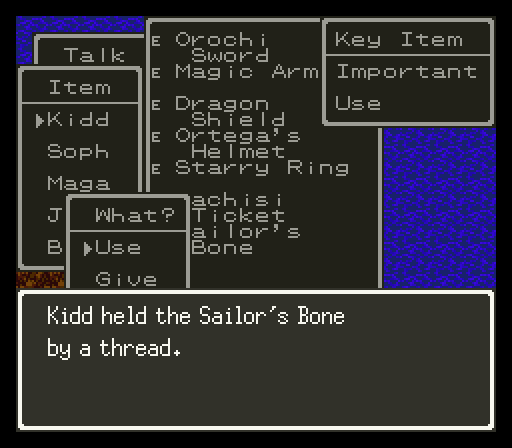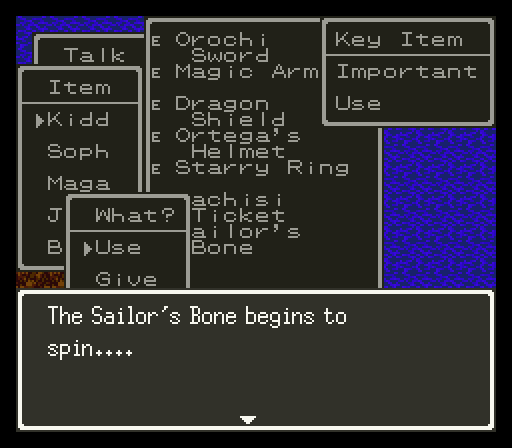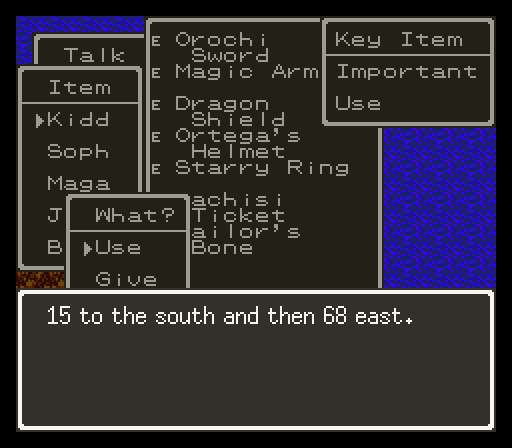 (Kidd) This thing infallibly points to the ghost ship! Neato!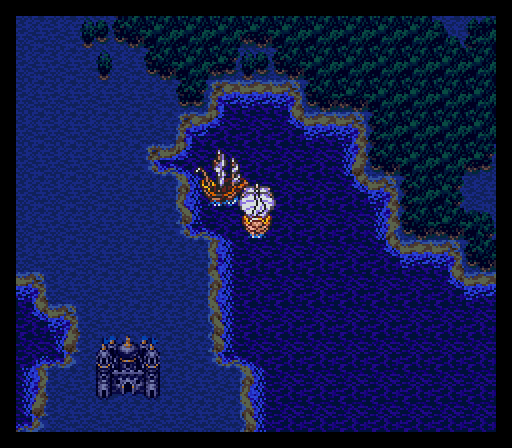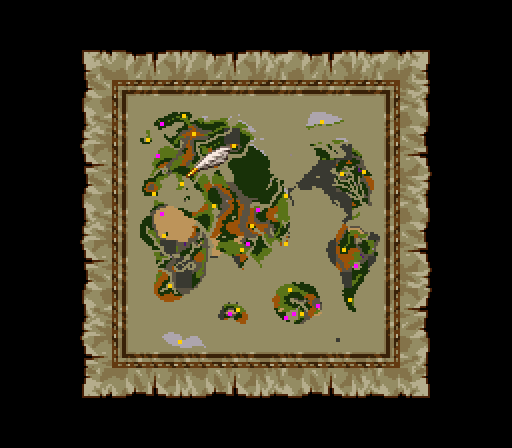 (Kidd) Here it is! Practically on top of Romaly. How did we miss this thing?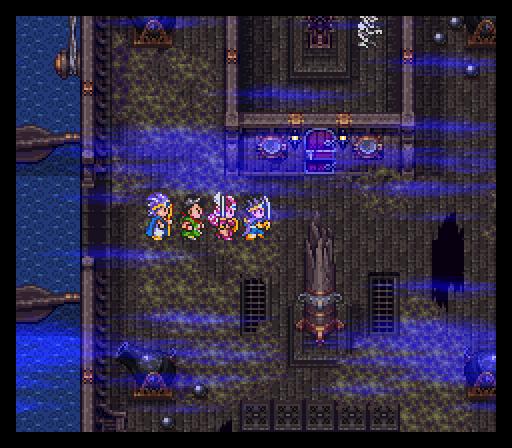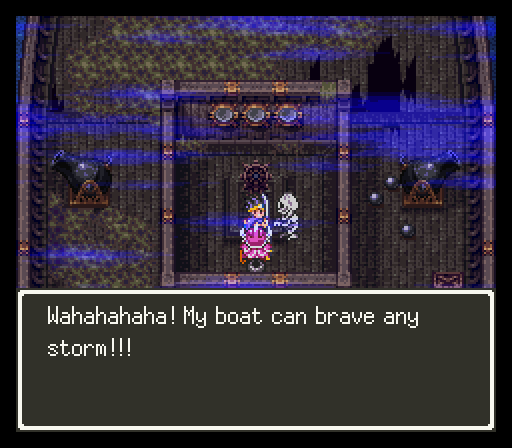 Excuse me, sir - we're looking for an... Elric.
(Magal) Star-crossed lover, hung out with Olivia?

Elric? Ohhh, you mean Eric. I'm pretty sure he died.

(Kidd) ...Really?

Or something. I think he's around here somewhere, though.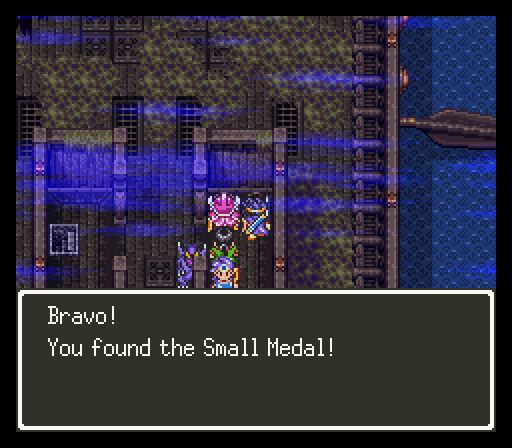 (Kidd) Another small medal can be found in a barrel on the top deck of the ghost pirate ship, bringing us to 35.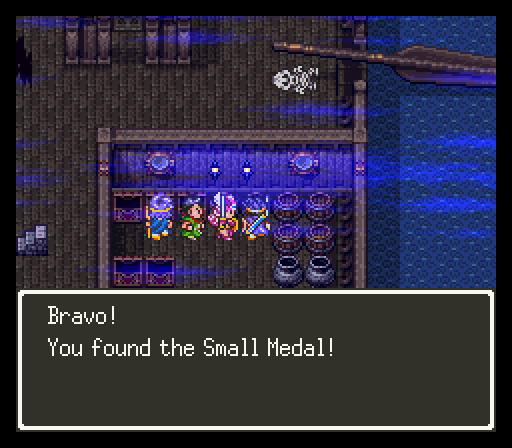 (Kidd) And another can be found belowdecks. #36.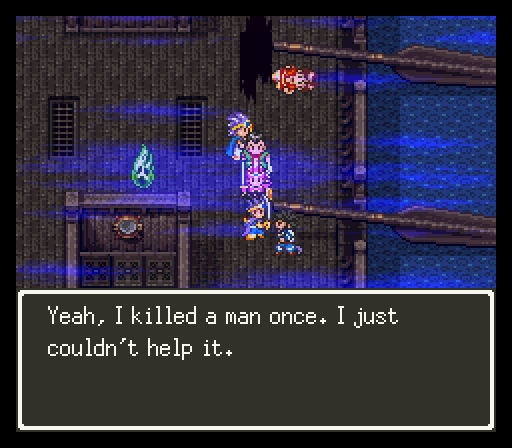 I surely deserve a spot in this crew! But that poor guy Eric was innocent...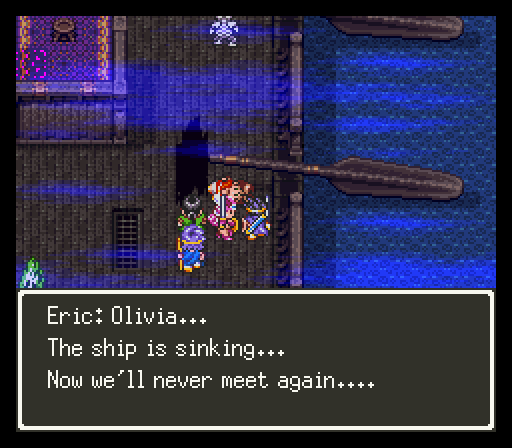 (Eric) But I'll never forget you... nor our love... I just hope you... somehow you find happiness.

(Kidd) Well, I can do something for you. Anything you want me to tell her?

(Eric) Urgh... check my chest... in the stern...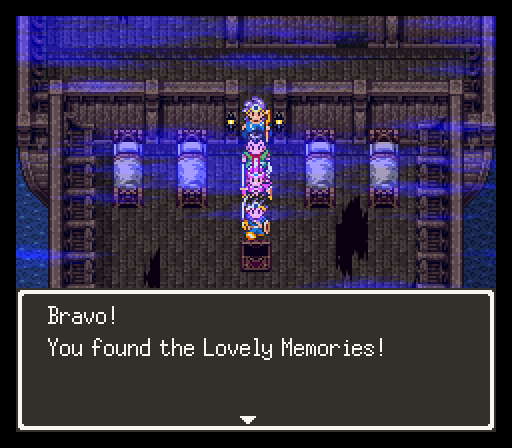 (Kidd) Let's get these to Olivia!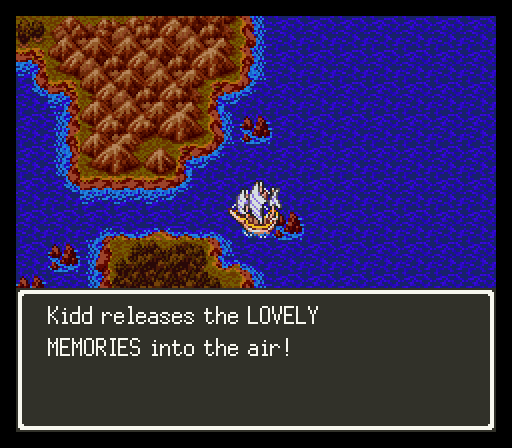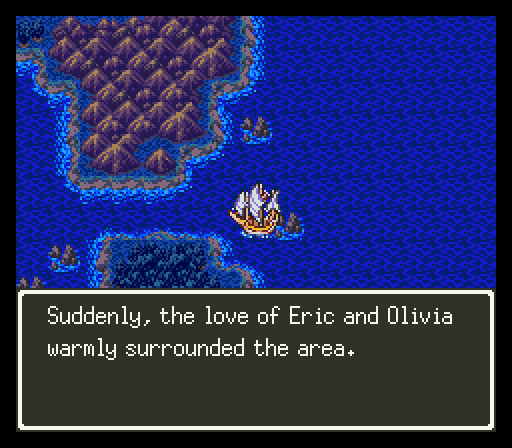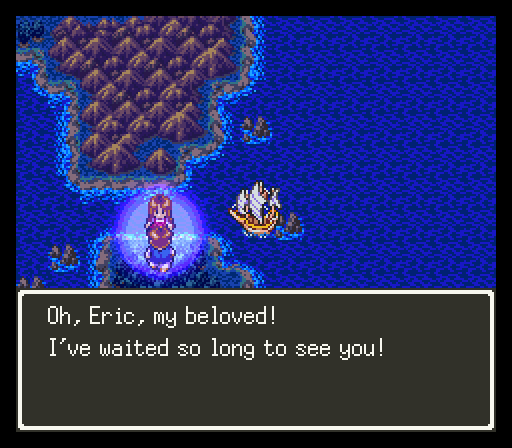 (Eric) My dear Olivia! Never again shall we be apart!

(Olivia) Oh Eric!!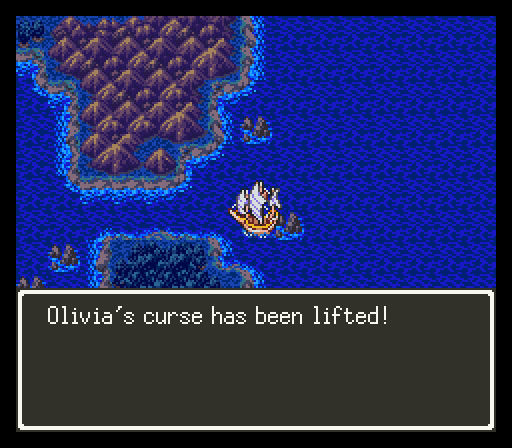 (Kidd) Let's drop off these Medals, then check out what's in here, shall we?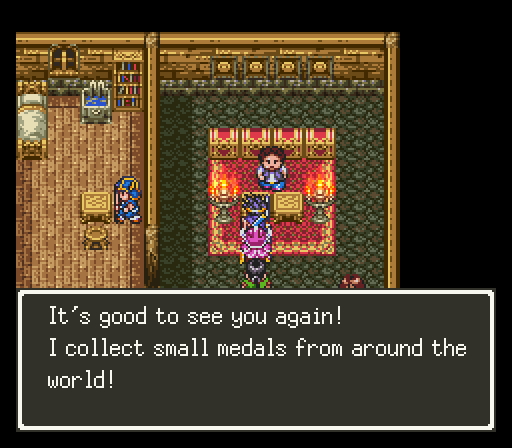 You've found more medals! I'll hang onto those for you! Please, accept this Strength Ring and these Smart Glasses! Come back with 50 and I'll give you this Ninja Suit.

(Kidd) Ooooh.... Ninja stuff. We'll be sure to pick that up soon.
Next time:The Necrogond! Really!
# of In-Game Days:112
# of Small Medals:36