Part 36: Werewolf? Okay. Werewolf.
Werewolf? Okay. Werewolf.
Hi, everybody! I'm not dead.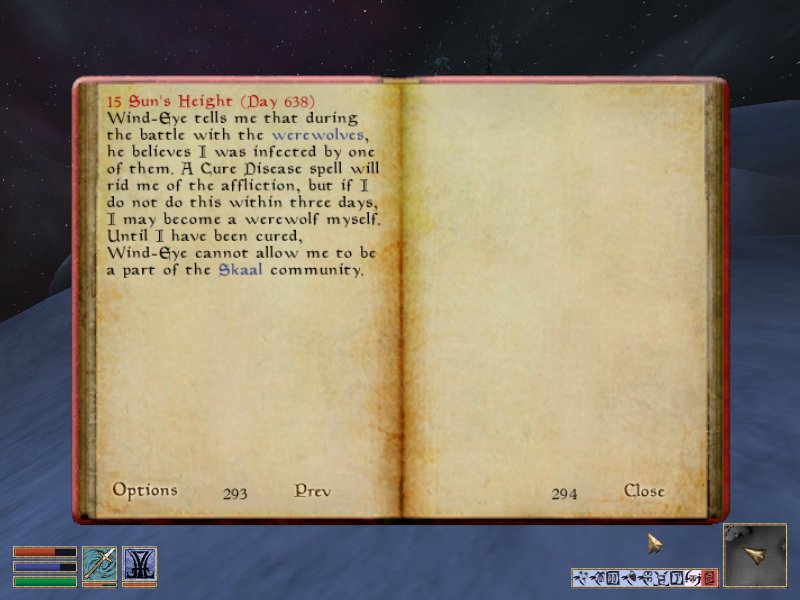 As you may recall, last time we were left stricken with a horrible disease that will turn us into a monster. Today we're going to get it cured right away an-
What's that? Its own questline, you say?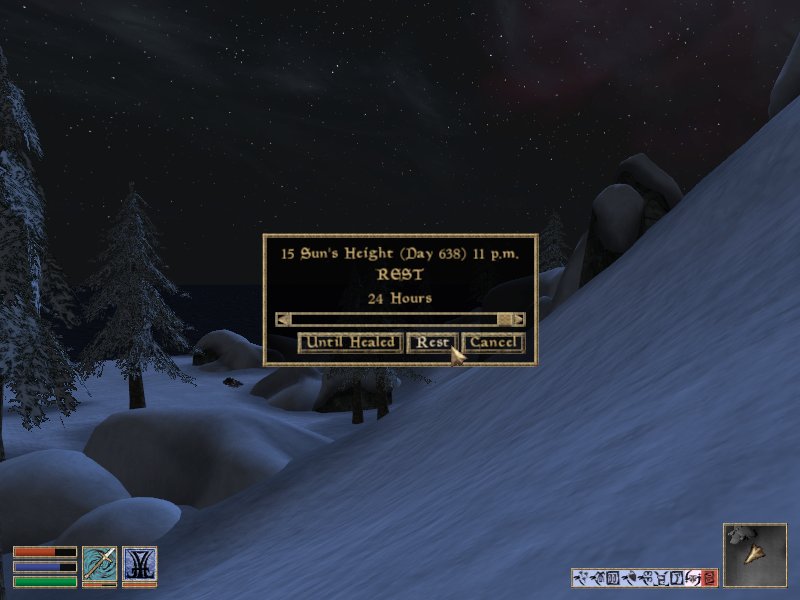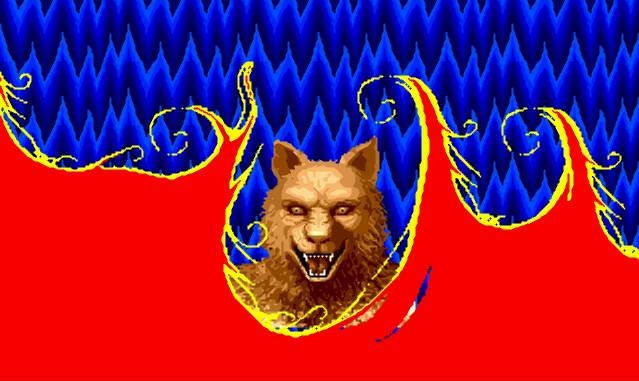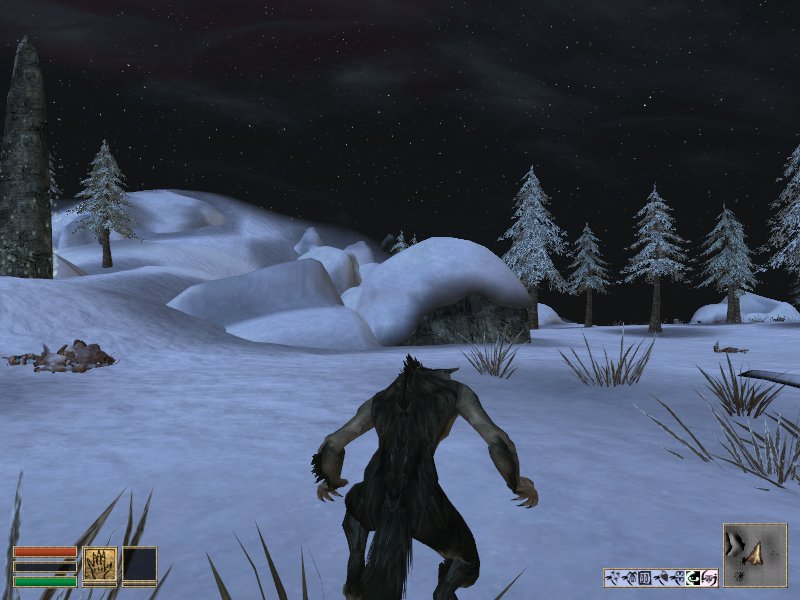 So...yeah. I guess we're a werewolf now. What does this mean for gameplay? Well, we can't loot shit, we can't use spells, we also can't use weapons or armor, and a good number of our skills and stats have been drained. On the other hand, our strength, agility and endurance are set to
150
, and our acrobatics, hand-to-hand, athletics and unarmored skills get a boost. And we have some Night Eye, too. How's that for an infodump?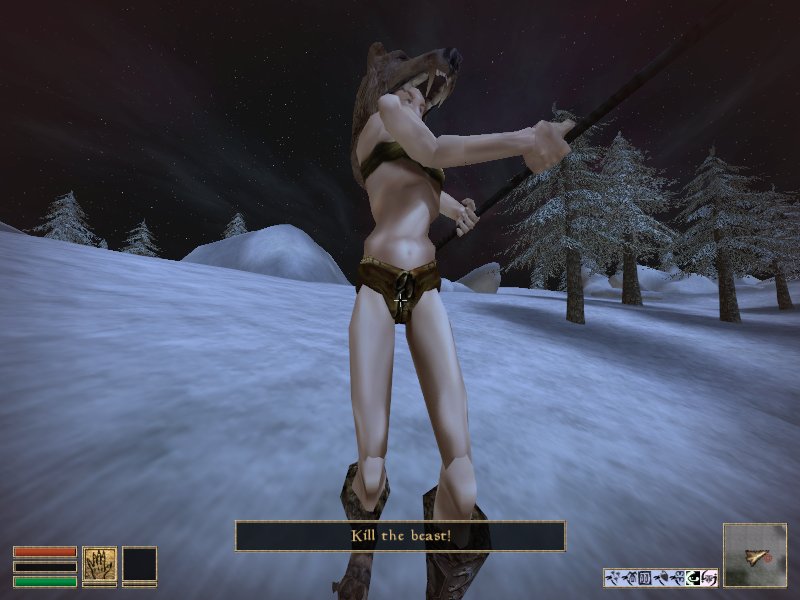 Oh, and another quirk of being a werewolf: NPCs will attack you on sight. Granted, she'd attack us anyway, but it's a pain in the ass.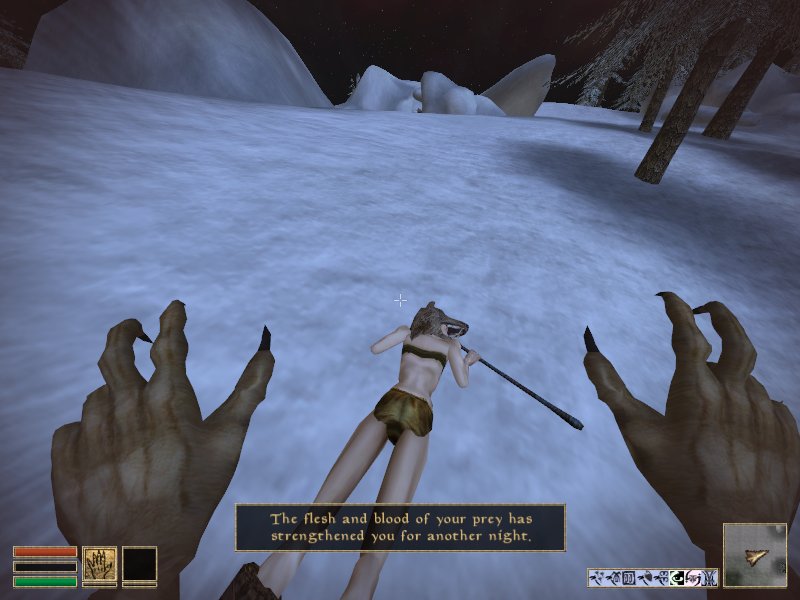 Fortunately, this is
kind of
a good thing. As long as we kill an NPC every night, we won't take an arbitrary amount of damage during the night due to bloodlust.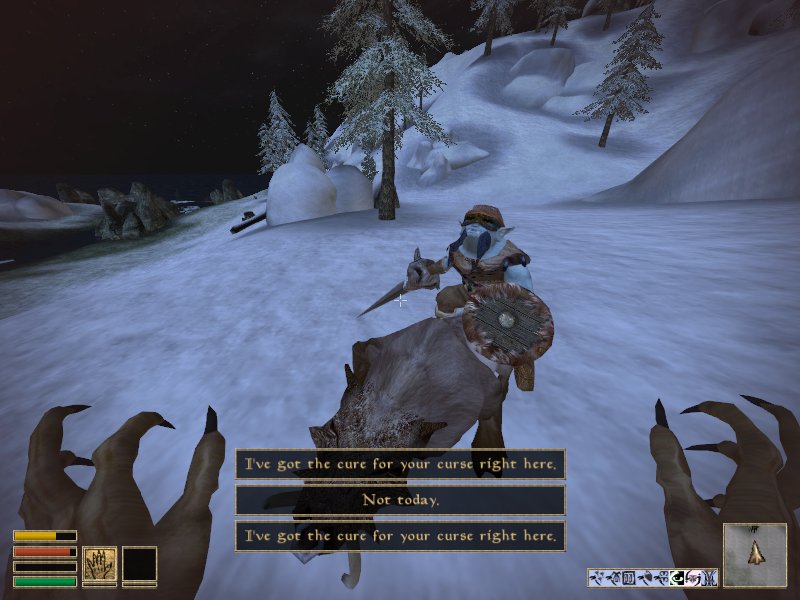 Also, NPCs will shout insults at you from a fucking mile away as a werewolf as if in combat.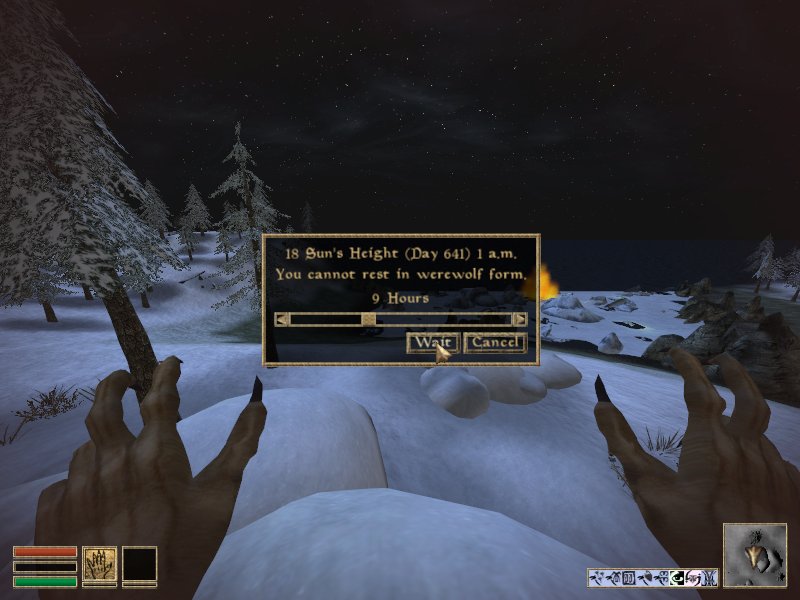 It's a pain, so I decide to wait it out.
9-xsScd.png Drafty.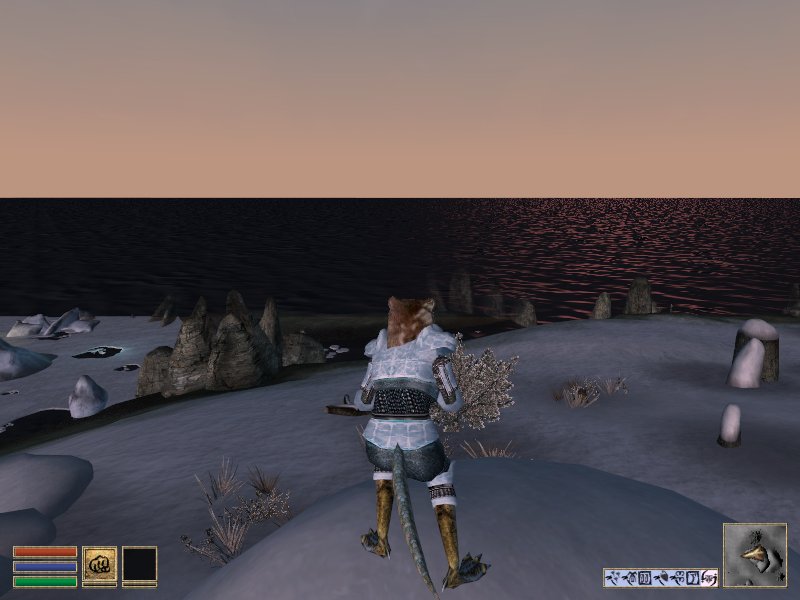 That's better. Now to try and hunt down this questline.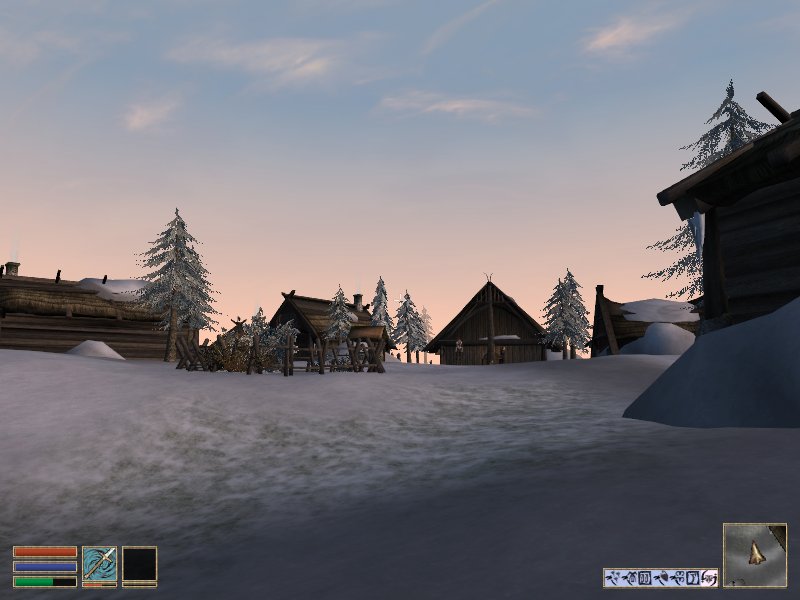 Probably something we missed in the Skaal village.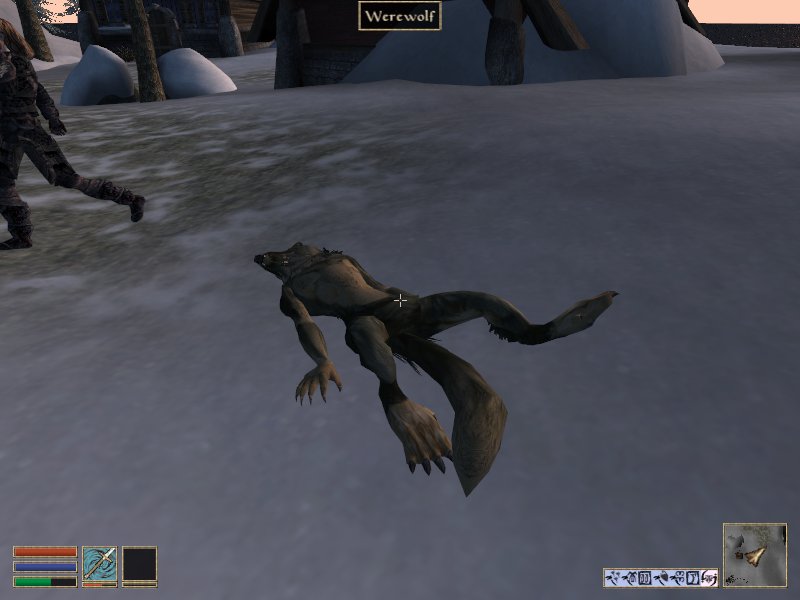 Okay maybe not, bye.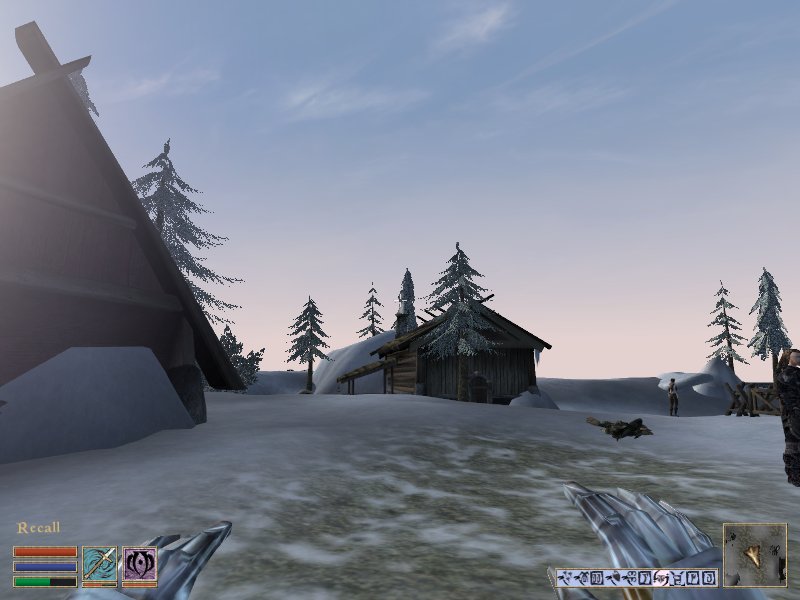 Oh, hold on.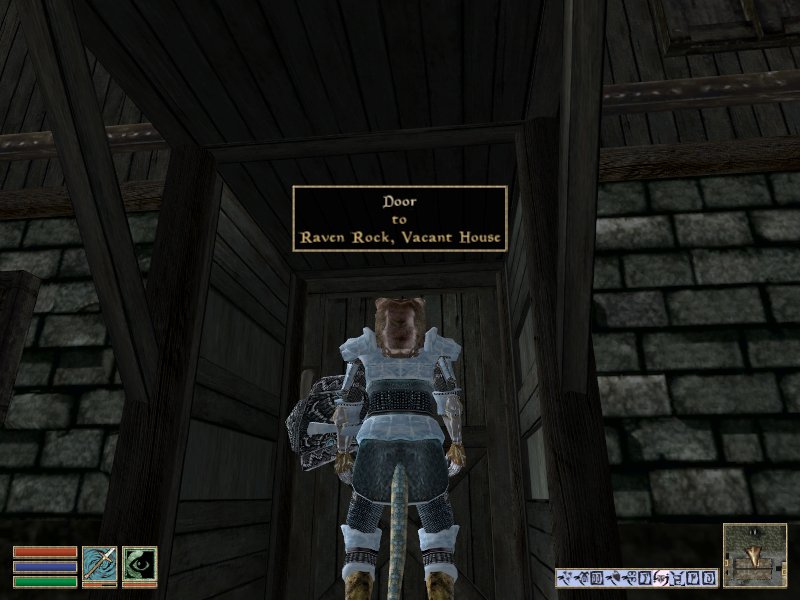 I've got an idea.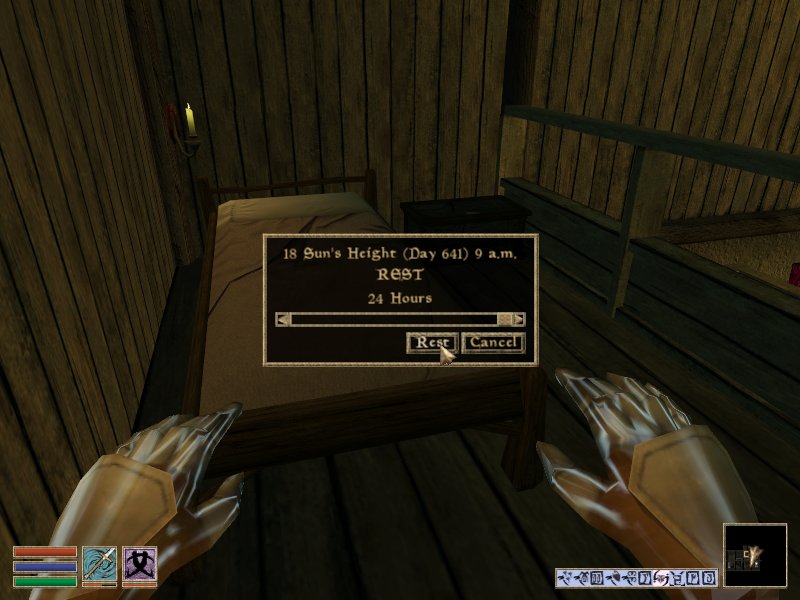 Maybe we should just do what every other quest in this goddamn expansion has required.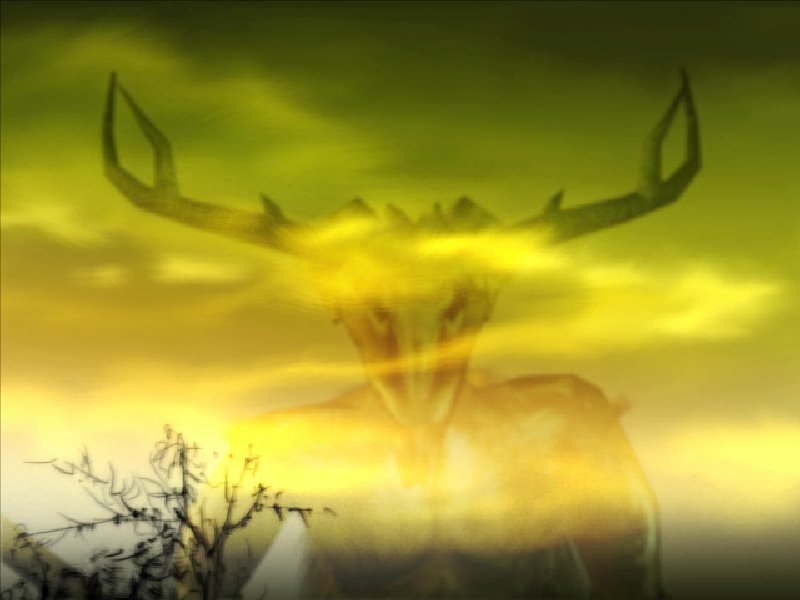 SUP BRO, I'M THE DAEDRIC PRINCE OF WEREWOLVES. GO PROTECT MY WEREWOLF CHARM FROM THOSE SKAAL ASSHOLES. IT'S IN SOME CAVE TO THE NORTHEAST, IDUNNO.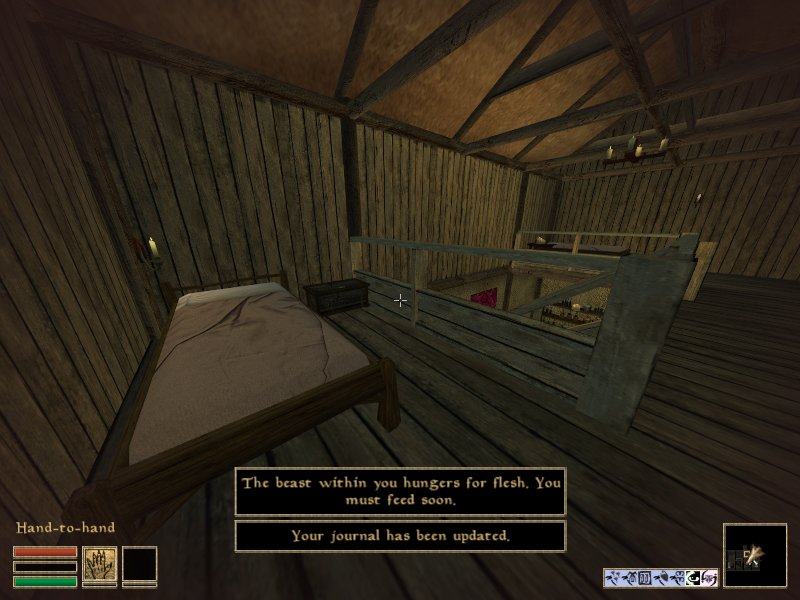 Welp, better go do that.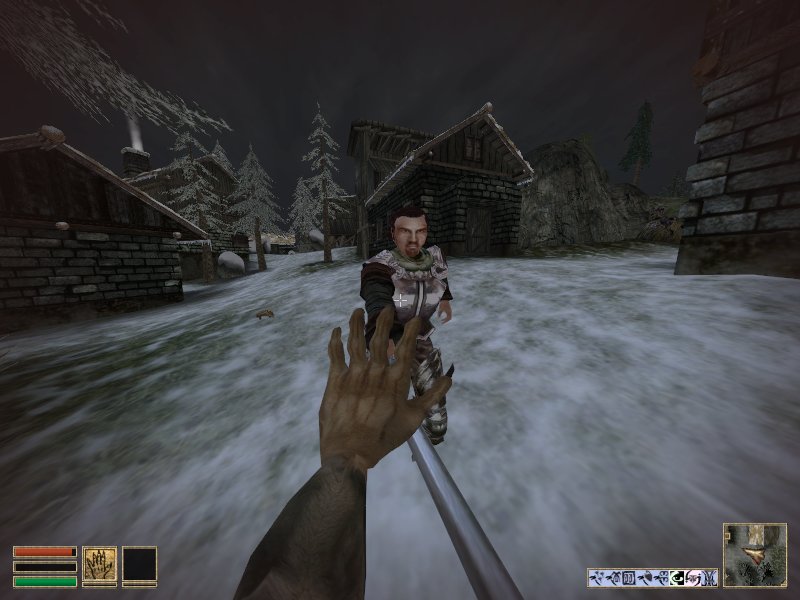 BLOOD!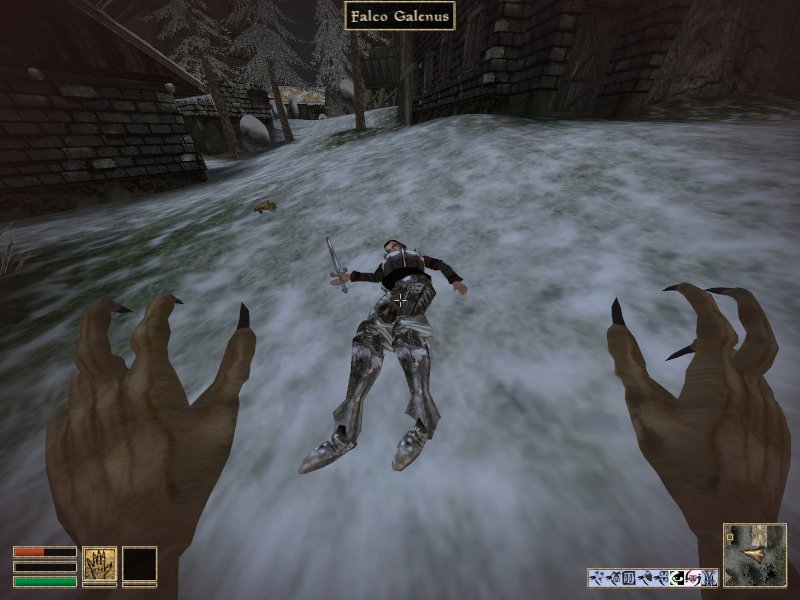 BLOOOOOOOOOOOO- I feel bad now.



Let's...let's just go.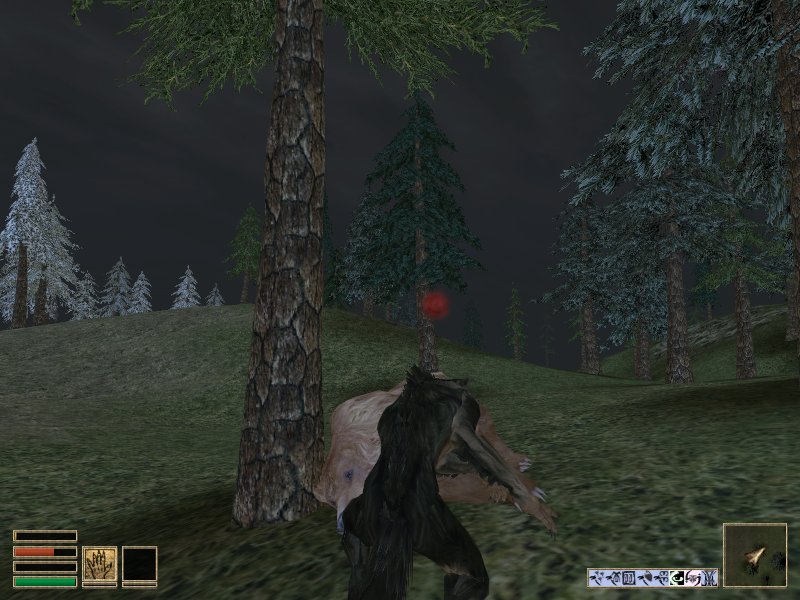 The claws aren't great, but they can kill bears decently.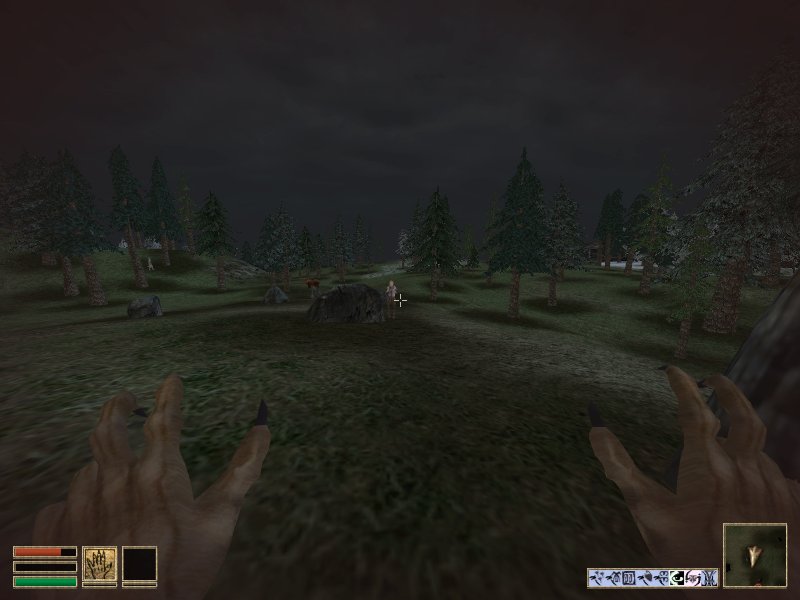 Oh hey, it's a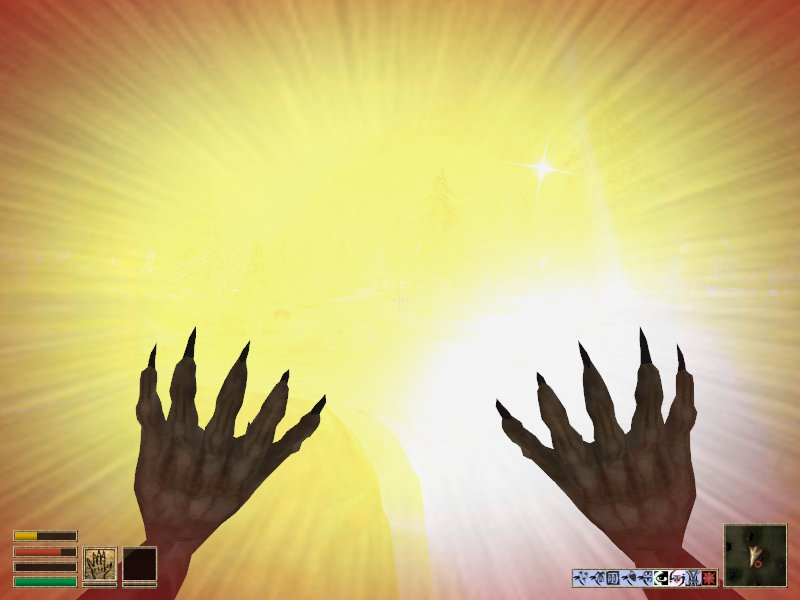 ...Fryse Hag. Note the icon in the lower right indicating that we're taking frost damage.

We kill her and move on.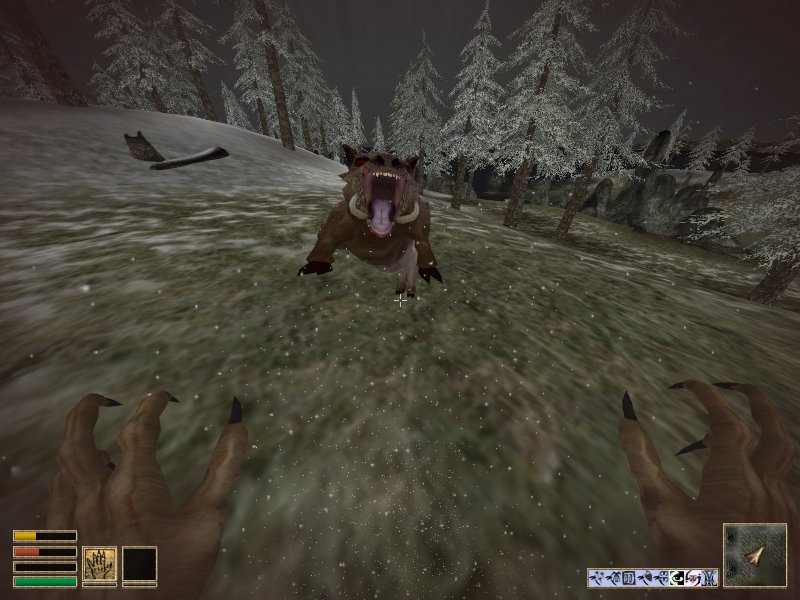 Mandatory horrifying screenshot of the update. Seriously though, I'm always surprised at how Fraps always manages to produce one of these per update.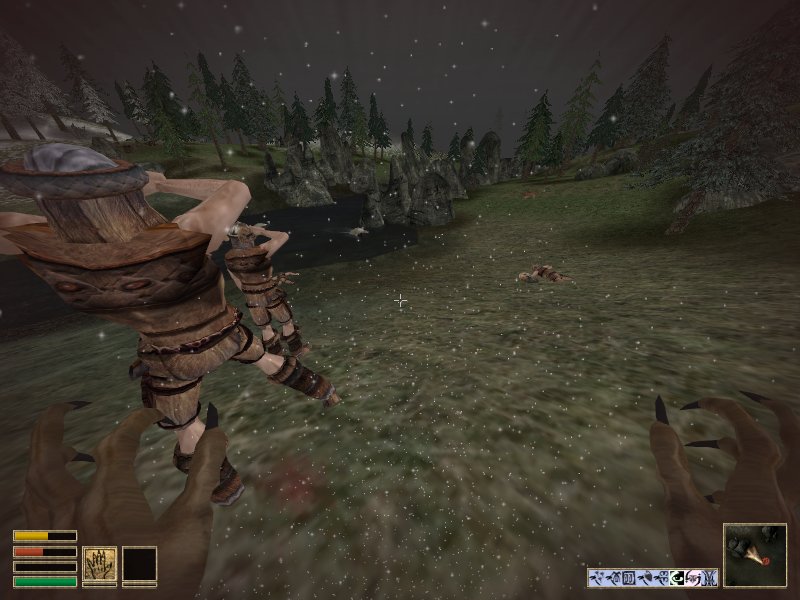 Perhaps unsurprisingly, bandits are quick to run from Werezard Lizard. I have no idea if it's due to the lycanthropy or just my level, but there you have it.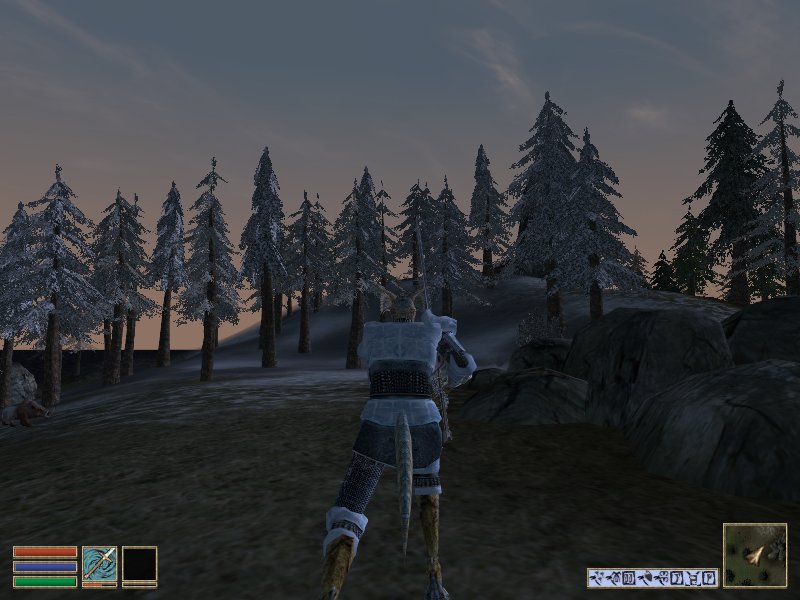 I decided to wait the night out and go human just to be sure my health was intact.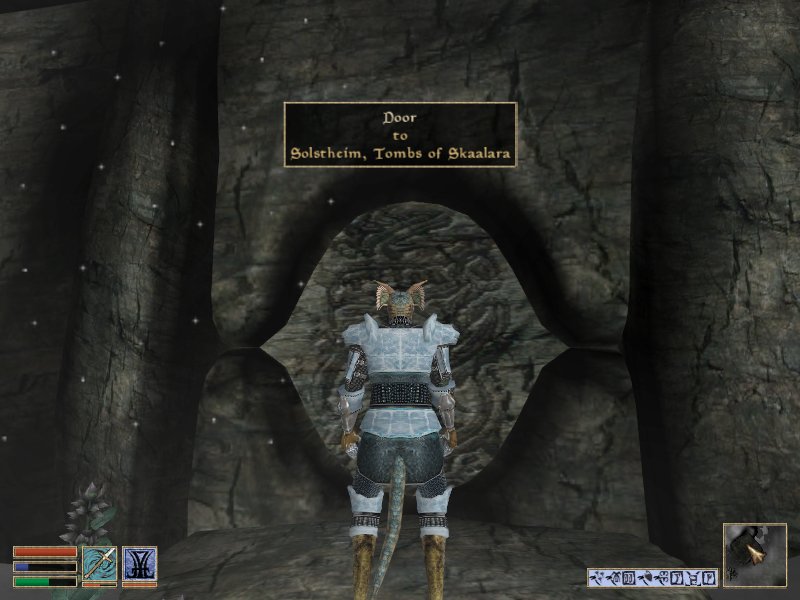 And here we are!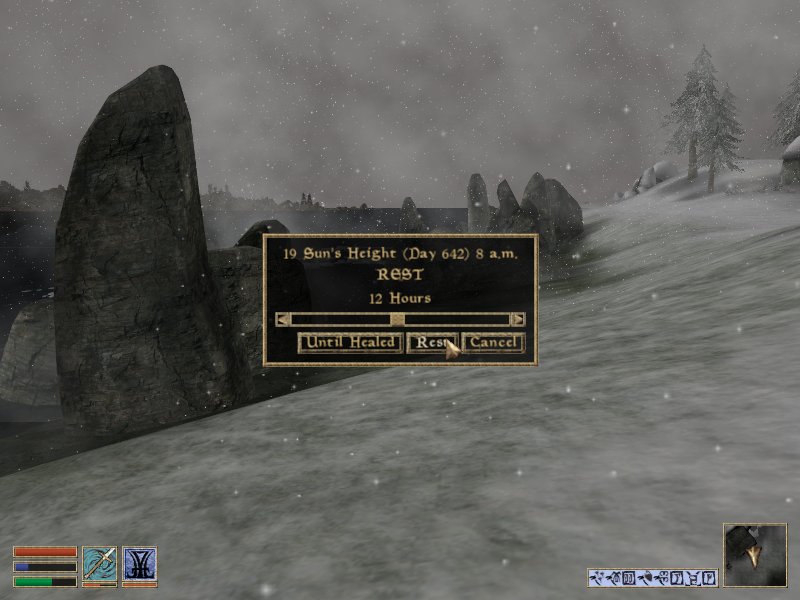 But I figure hey, Idunno, maybe I oughtta be a werewolf for this quest, so I rest until 8pm. Werewolf time is 9pm. This is important.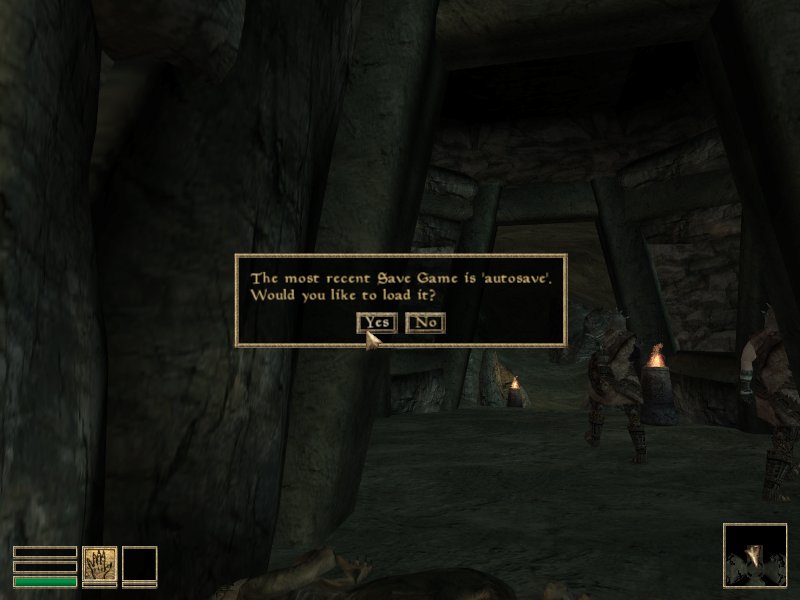 But no, werewolfing is not a good idea for this quest. These guys hit like trucks, so I reload my save. Which is stuck at 8pm.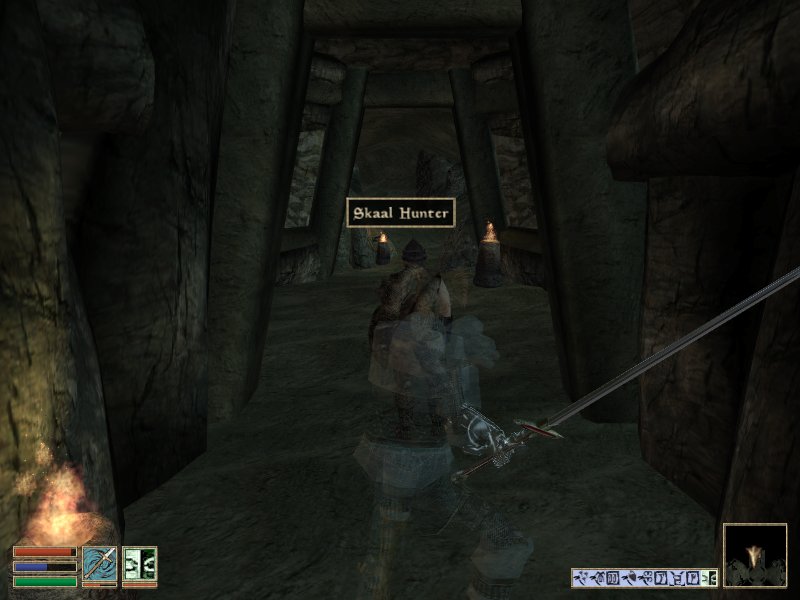 Even with my armor, though, these guys hit like fucking trucks, and they have way too much HP, so I'm forced to resort to my wizard tricks and-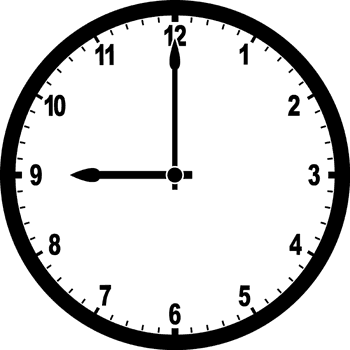 Uh-oh.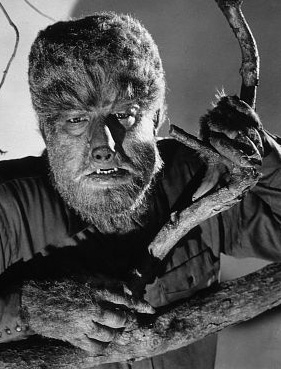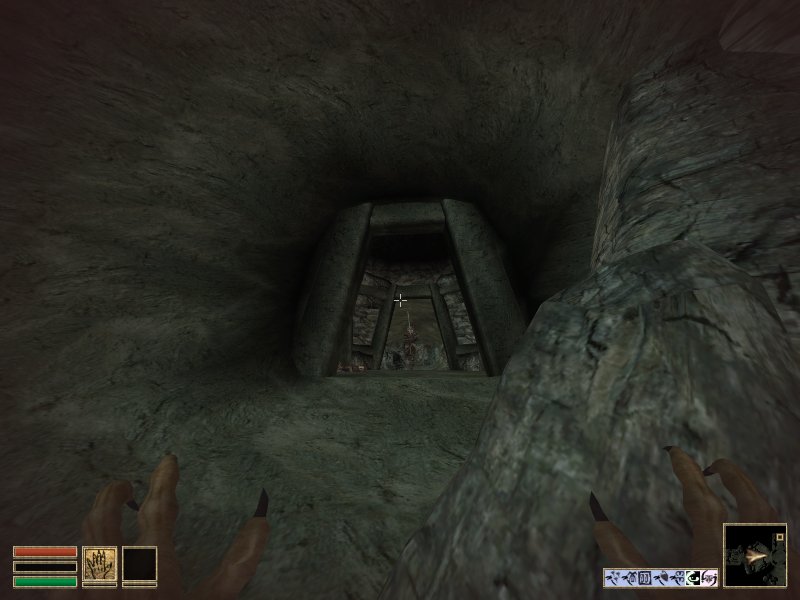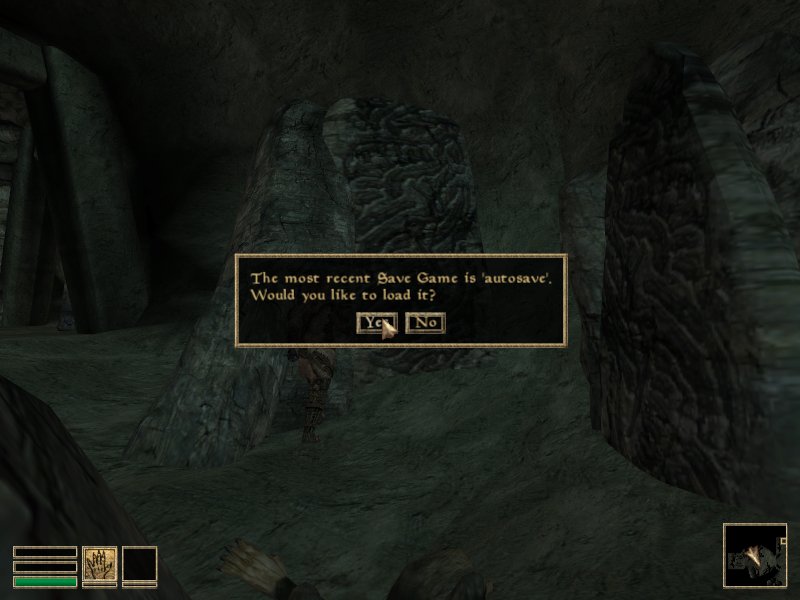 So yeah, we have roughly a minute and a half of cave time before turning into a werewolf. Fun!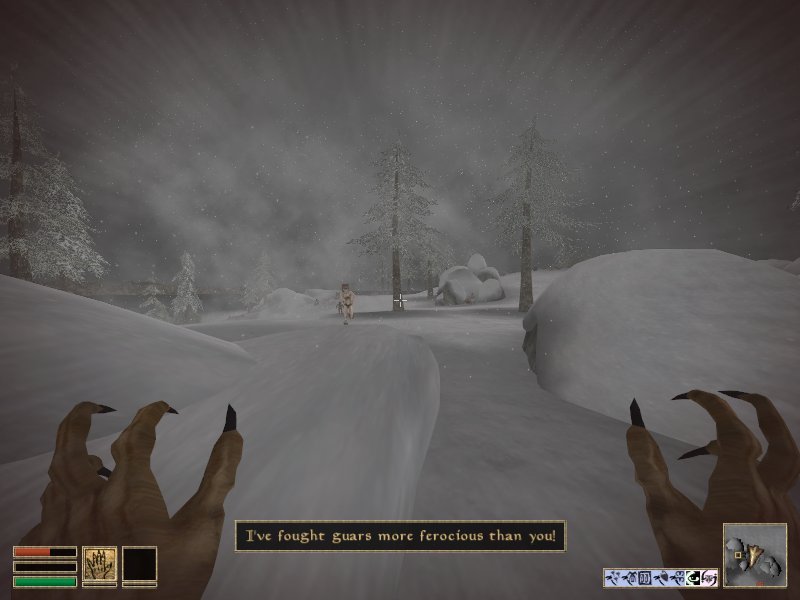 This time Lizard Wizard ain't no fool.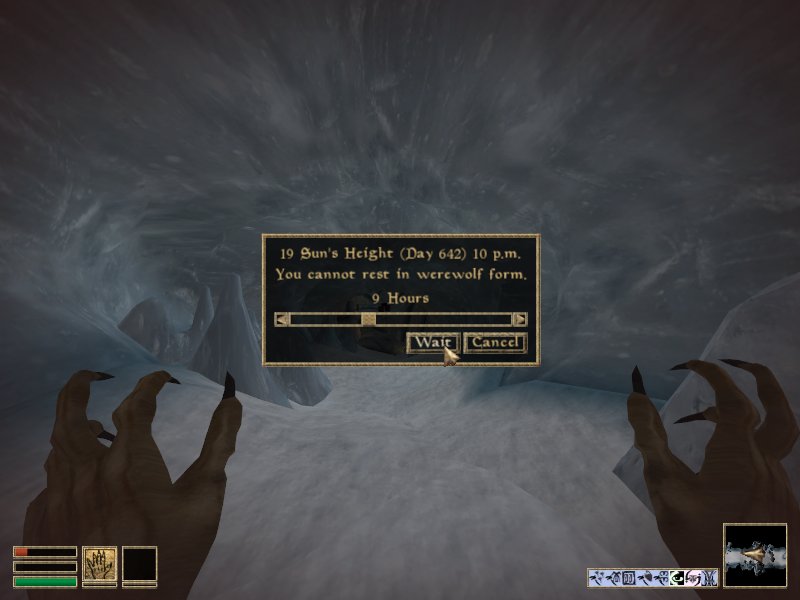 I get my bloodlust taken care of for the night and wait for the morning.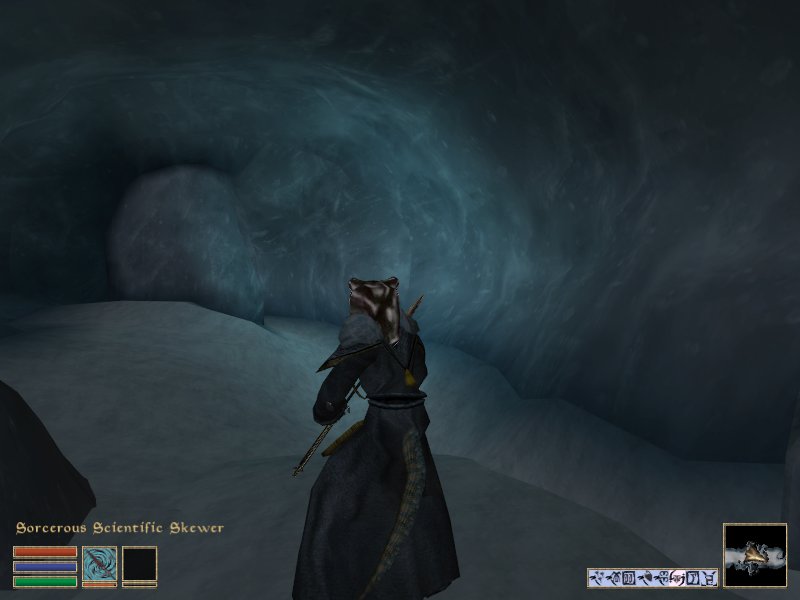 Got my spear, got my gear, it's go time.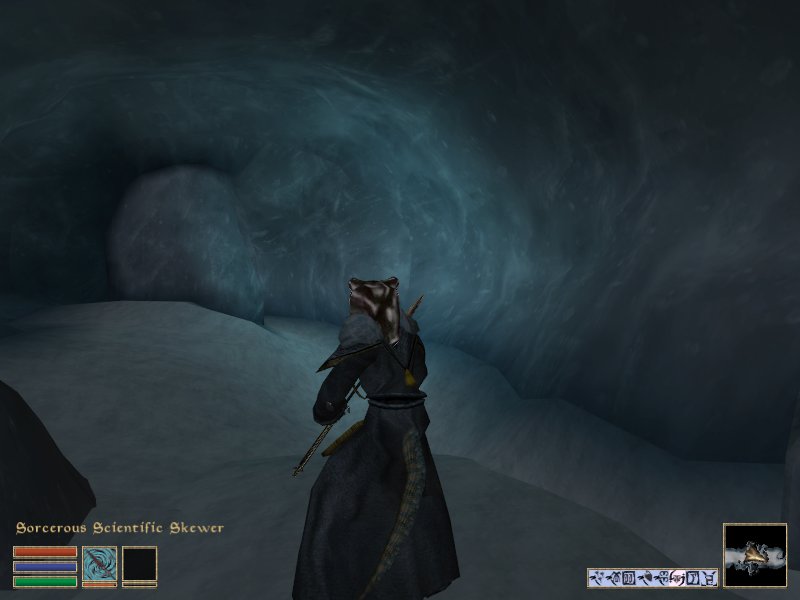 They're damn tough, but I can gradually chip away at them with the spear. More importantly, the spear hits for long enough to stun-lock them. Just for reference, these guys are level 50, so...yeah.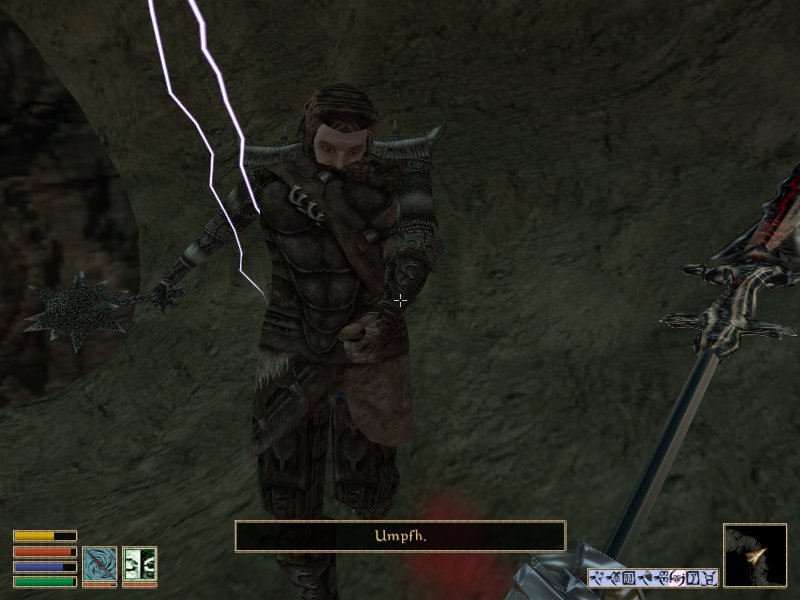 Umpfh.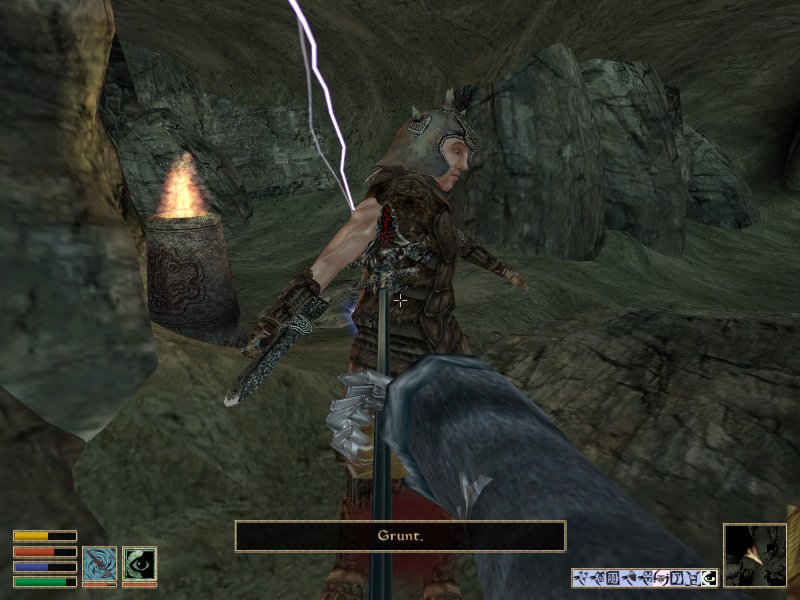 Grunt.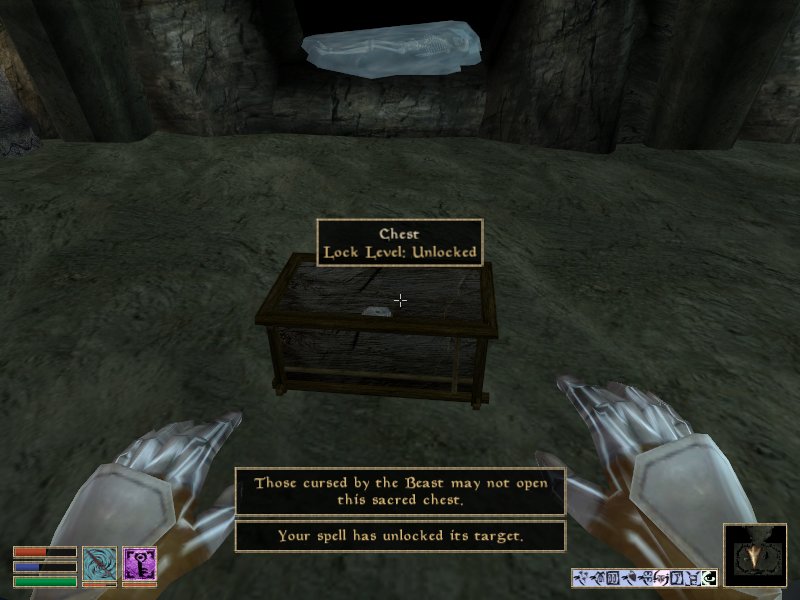 Eventually we come to a chest that must belong to Hircine because his servants can't open it.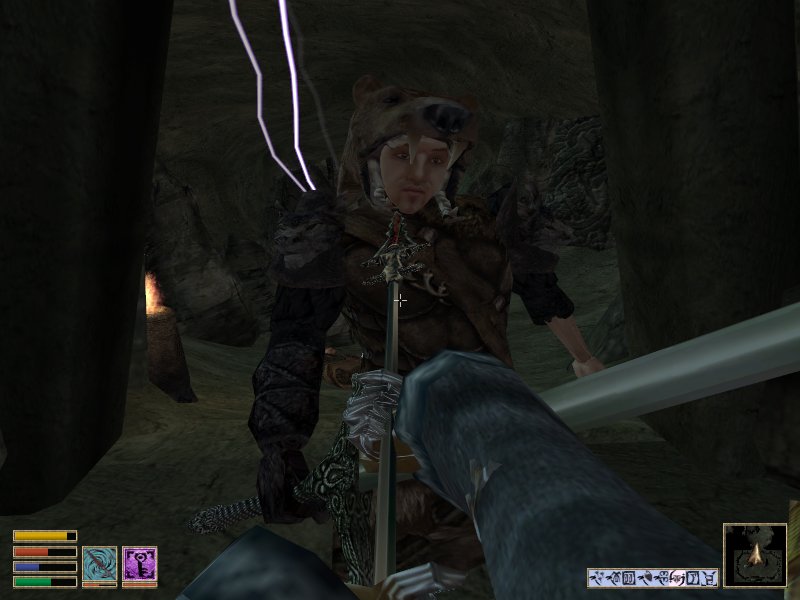 So then it's a matter of finding all the Skaal and killing them.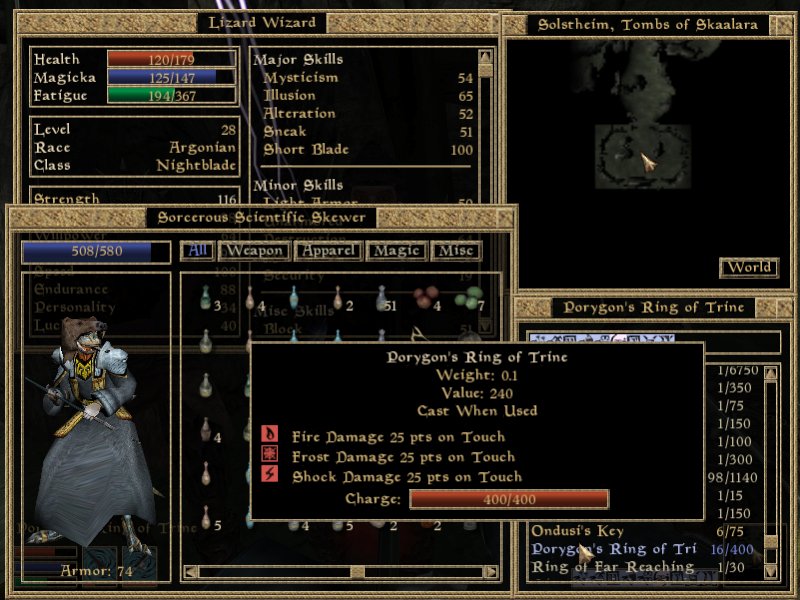 This magic ring of mine shall do the trick!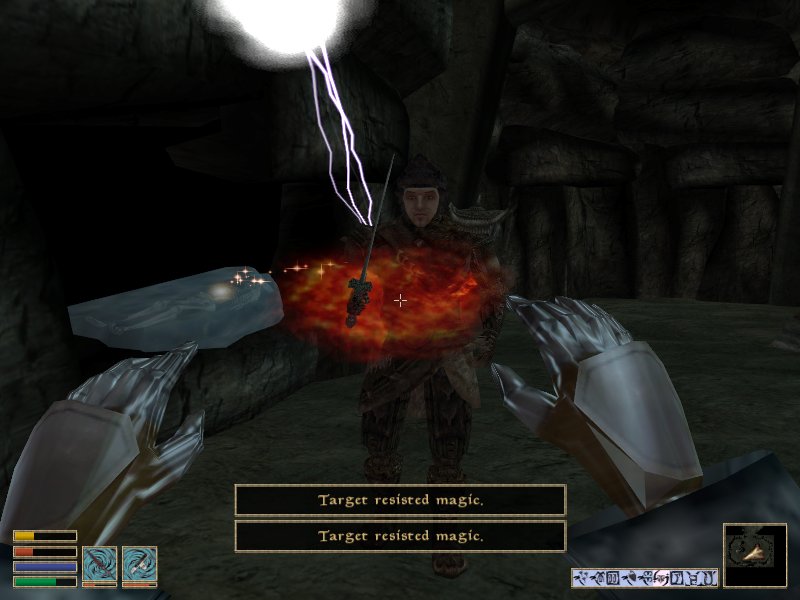 Uh-oh.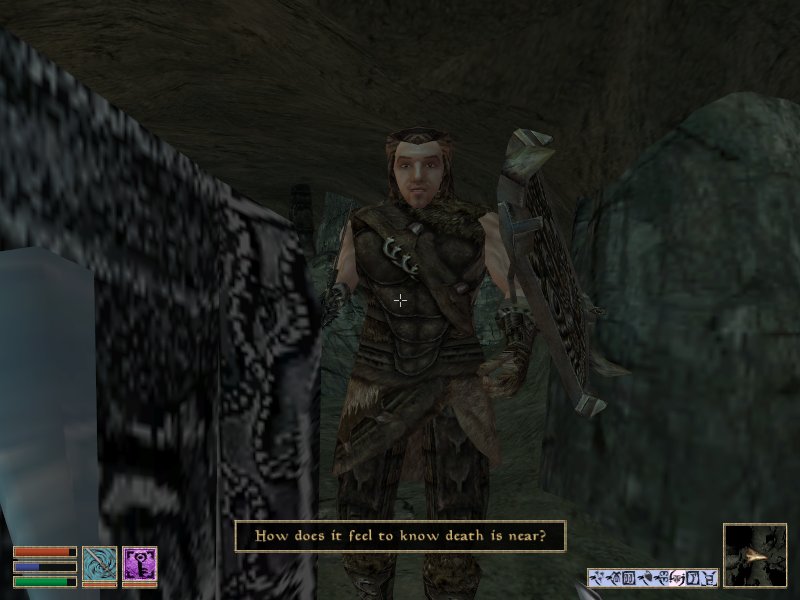 What can I do?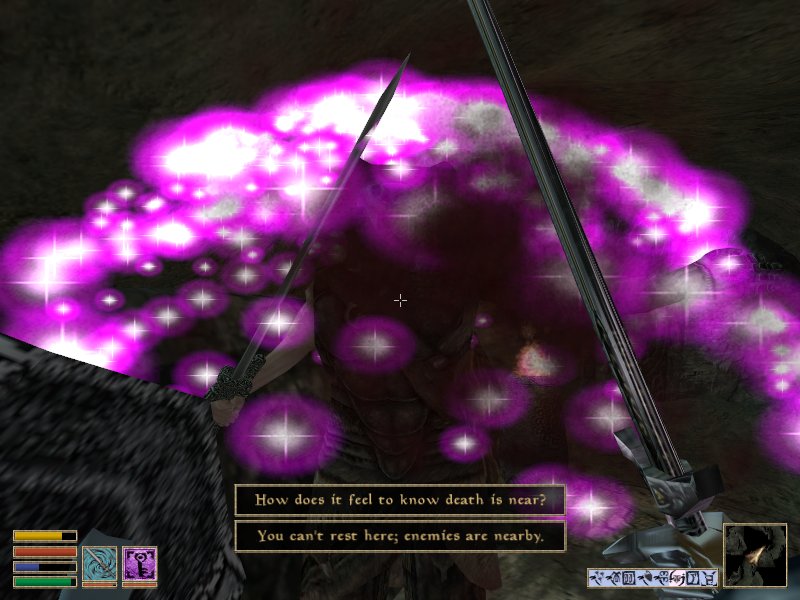 Oh, right. I have a magic sword.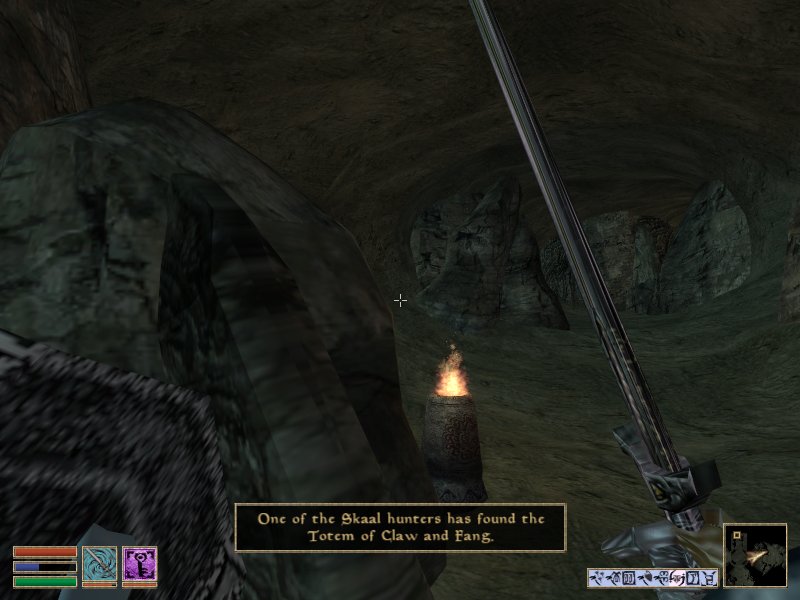 Whoops. Guess I better go kill that guy, huh quest text?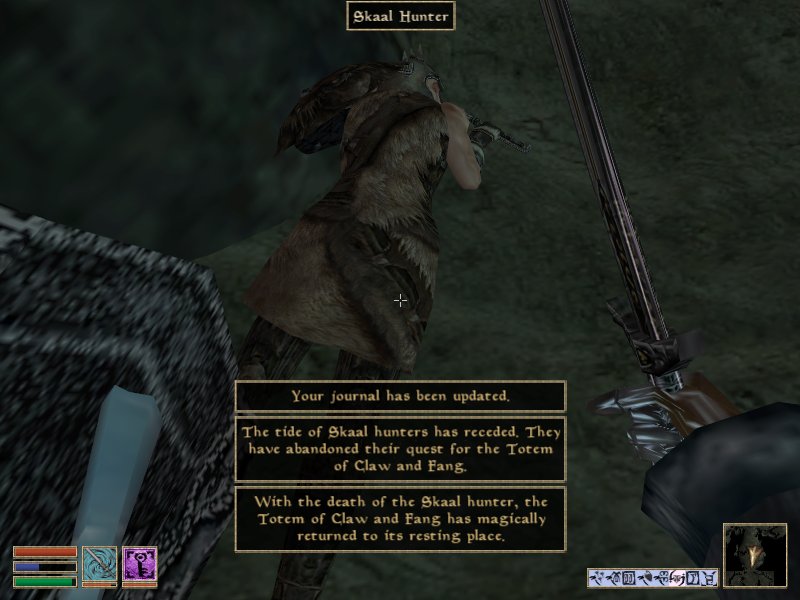 Well, that's convenient. Makes me wonder what kind of goodies the chest has, but it's convenient.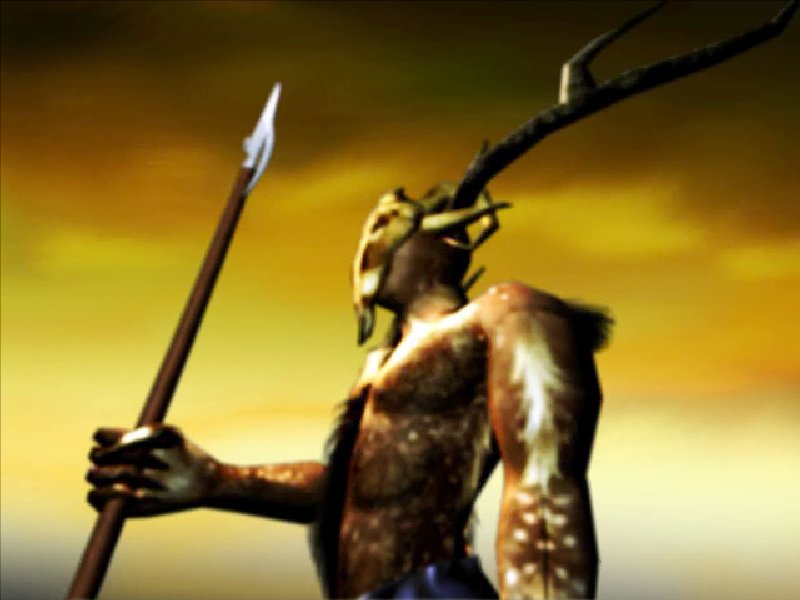 YO GOOD JOB WITH THAT NECKLACE, HAVE AN ATTACK BUFF. HIRCINE OUT.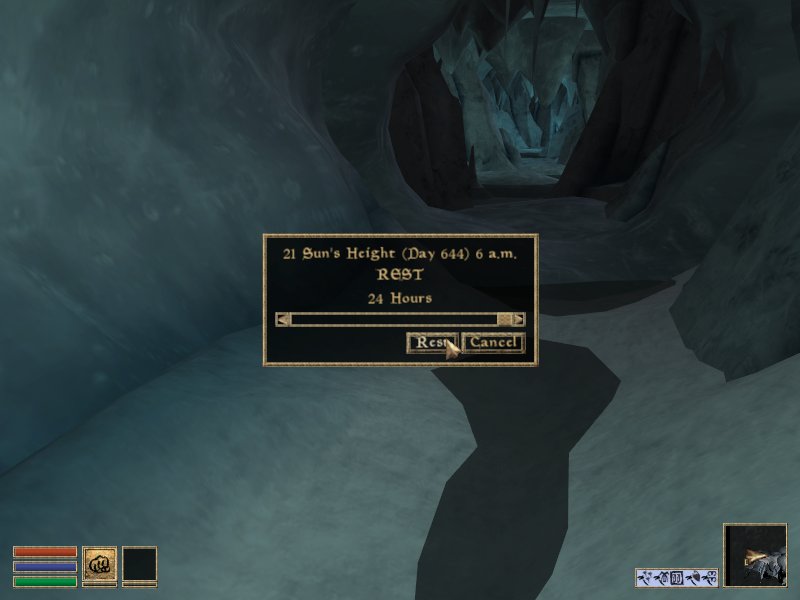 Then we duck back into the cave, because who needs NPCs to be part of a quest when you can SLEEP?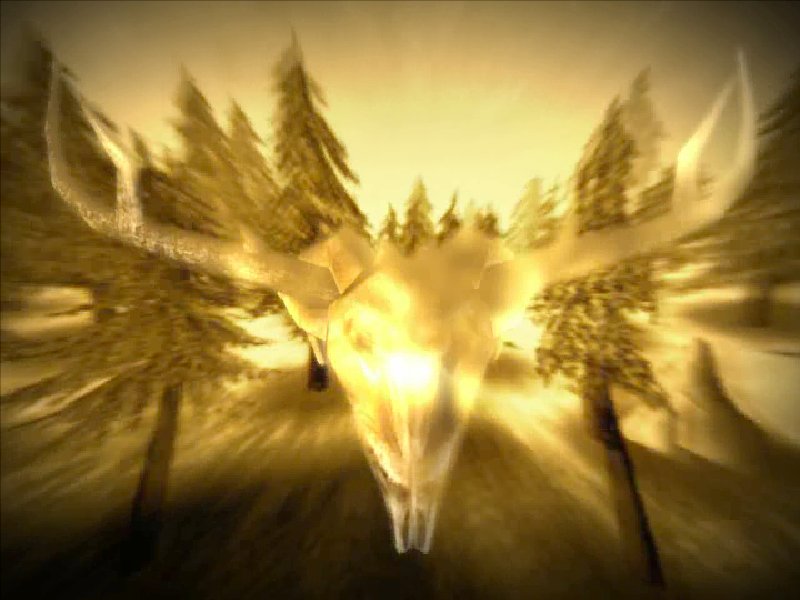 THOSE SKAAL DOUCHEBAGS ARE TRYING TO HUNT SOME SPIRIT BEAR BY LAKE FJALDING. MURDER 'EM AND KILL THE BEAR. IT'LL BE FUNNY. AND DO IT AT NIGHT, GODDAMMIT.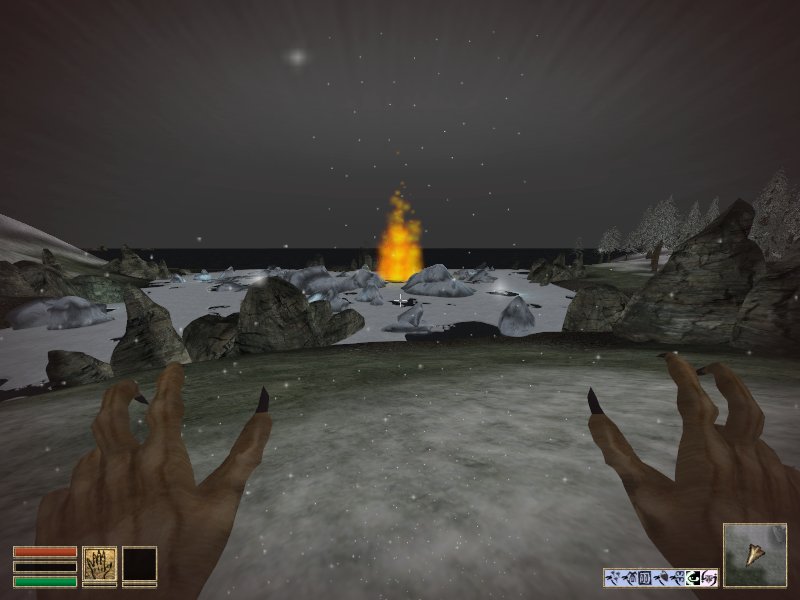 Well, Lake Fjalding is still easy enough to find. Thought we fixed that.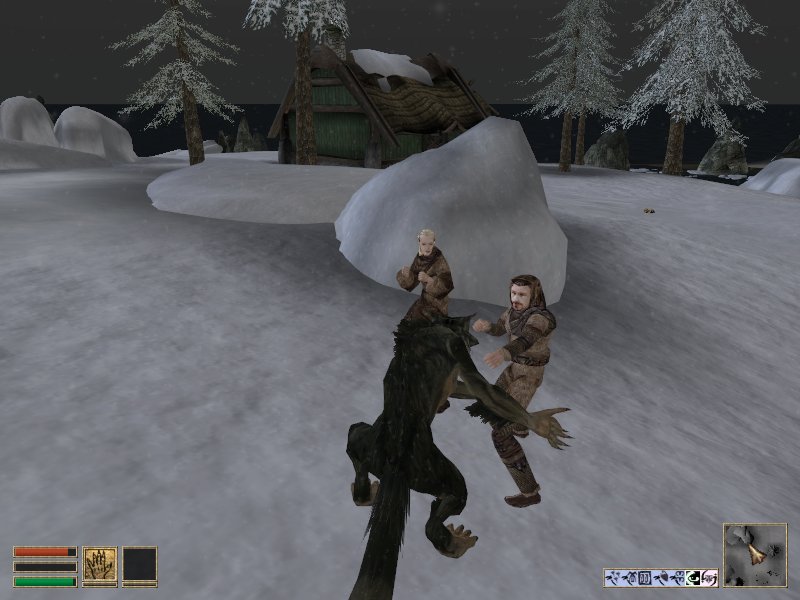 Might as well sate my bloodlust with these guys first since I already got 'em to make all the sweet ice armor I'll ever need.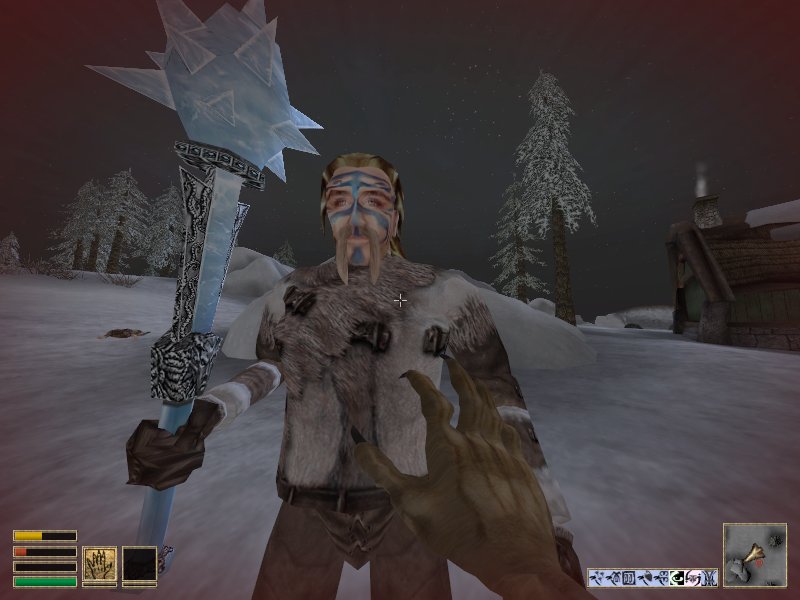 Good ol' What's-His-Face doesn't go down so easily, though.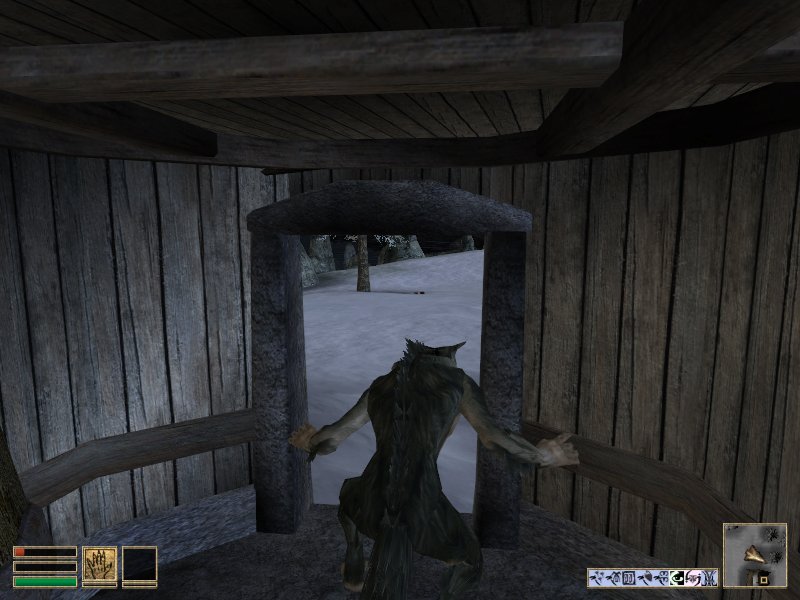 So I have to go hide in this shed. As a werewolf, my health pool is doubled, so I've got 358 health to play with. However, my health regenerates at 1 per second. It was at this point that I decided to go check the mail, go to the bathroom and pet my cat.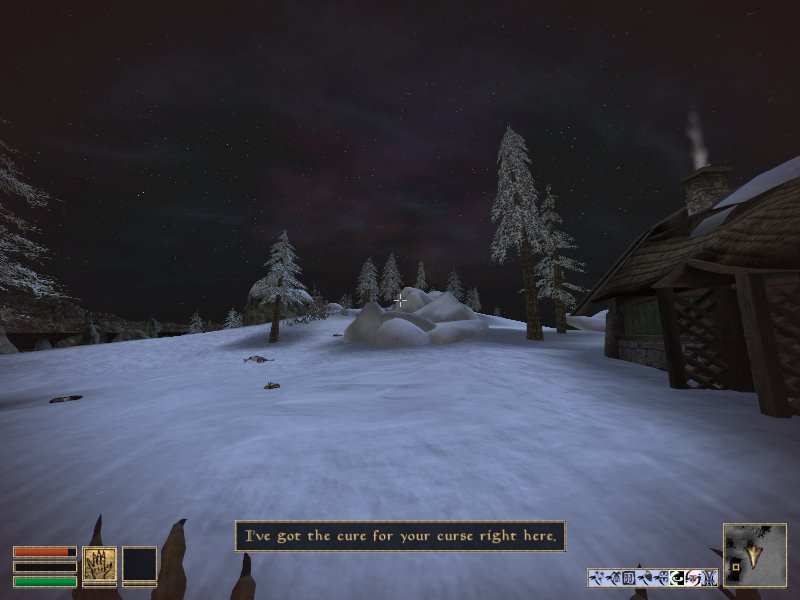 Eh, close enough. Now where are those hunters?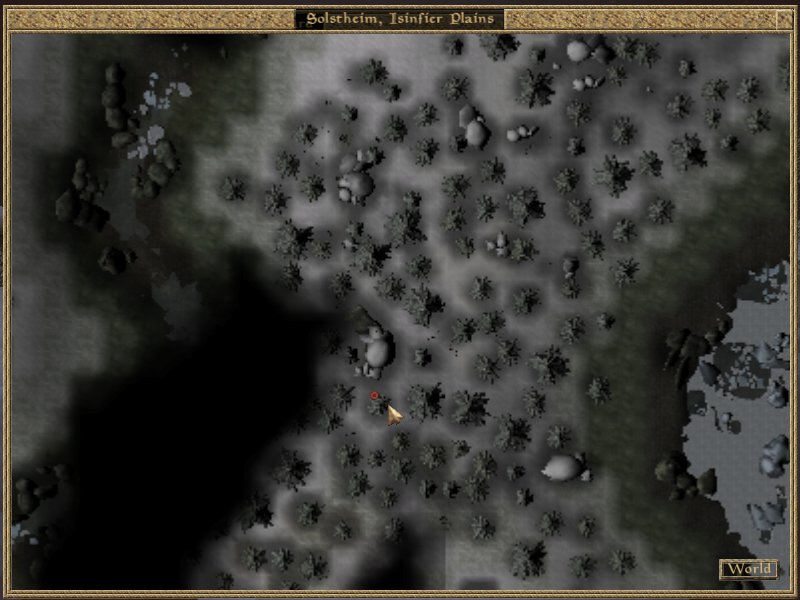 Fortunately, werewolves have a certain ability. The ability to detect NPCs!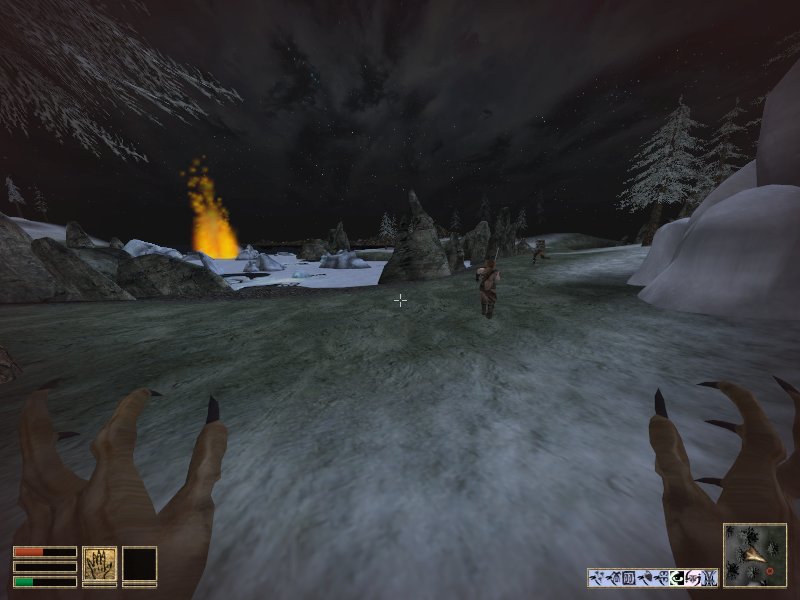 Now, I can't really take these guys head-on, but while evading them and jumping around like a silly I discovered something. As a werewolf with 150 STRENGTH and maxed acrobatics, I jump like a motherfucker. For whatever reason, Skaal are afraid of mad air and they freak the fuck out, allowing me to chase them down and claw them to death.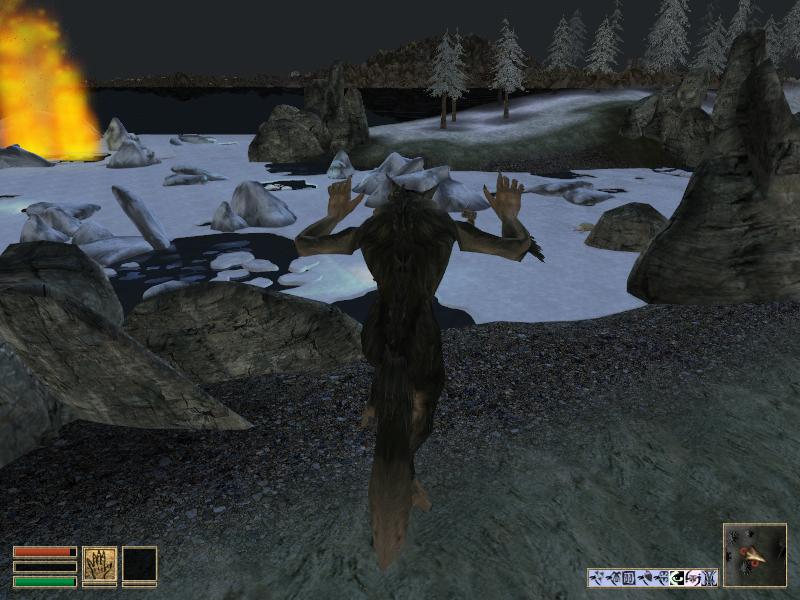 Morrowind.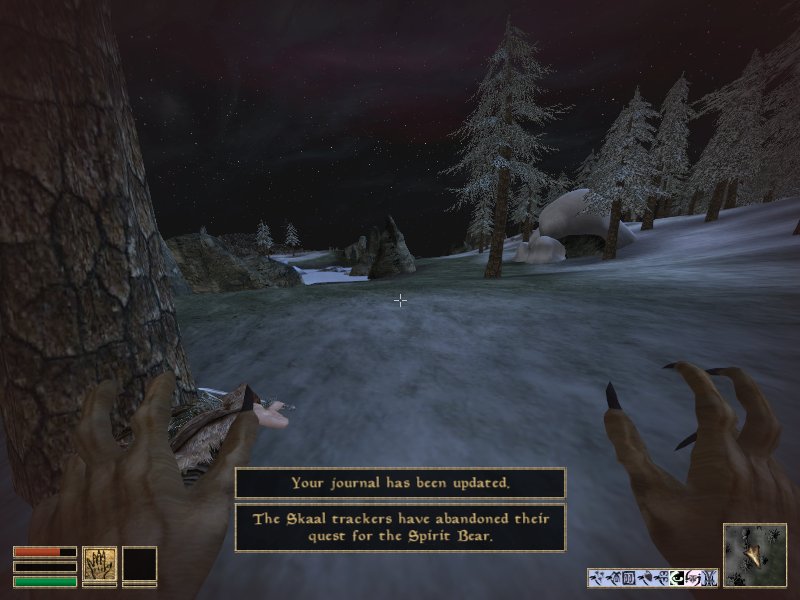 There we go. Now to find that spirit bear.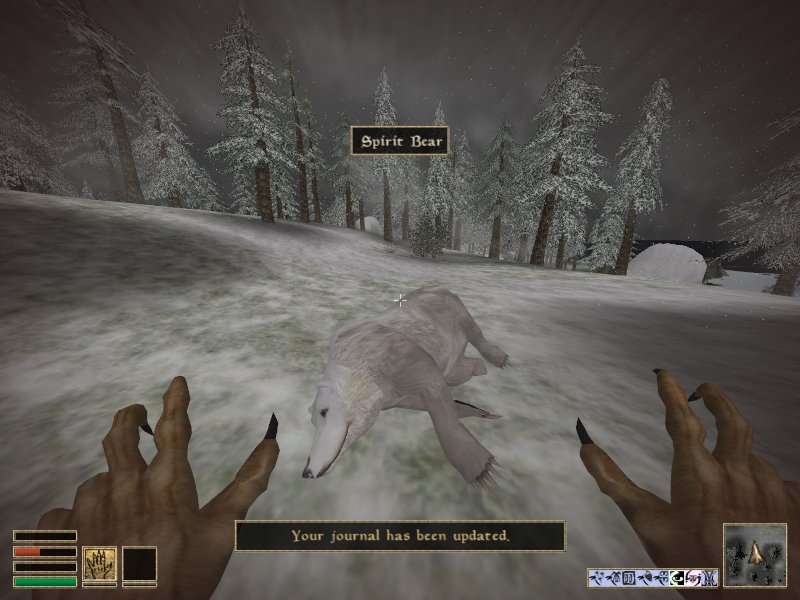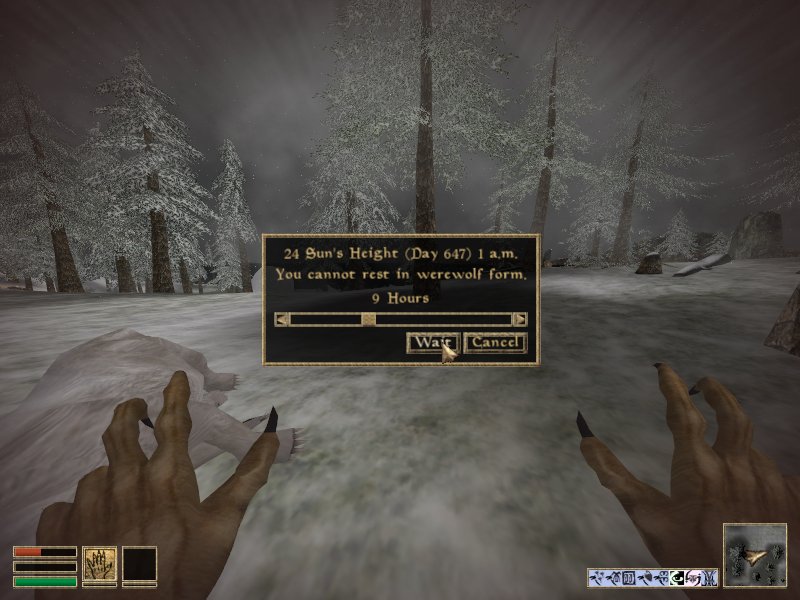 Quest time is over, sleep time is now.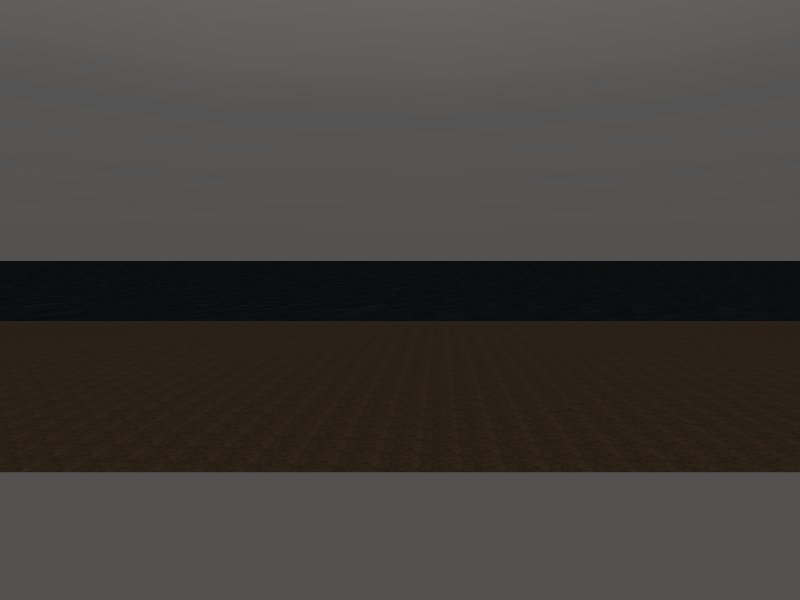 The cutscene is broken, but we can now summon a bonewolf in the day - y'know, when we need it the least - and we have to do something about some guys at a castle? Idunno.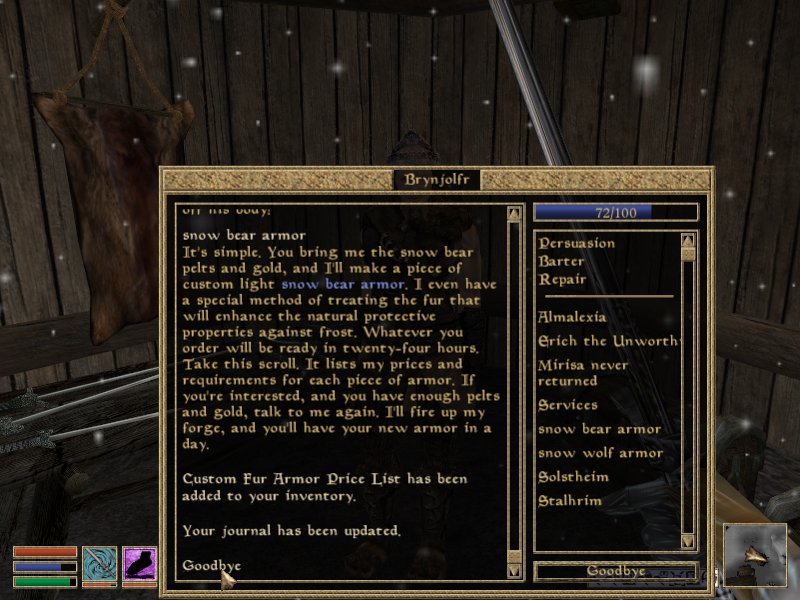 On our way north, we run into some blacksmith who can make us some stupid bear armor if we give him pelts.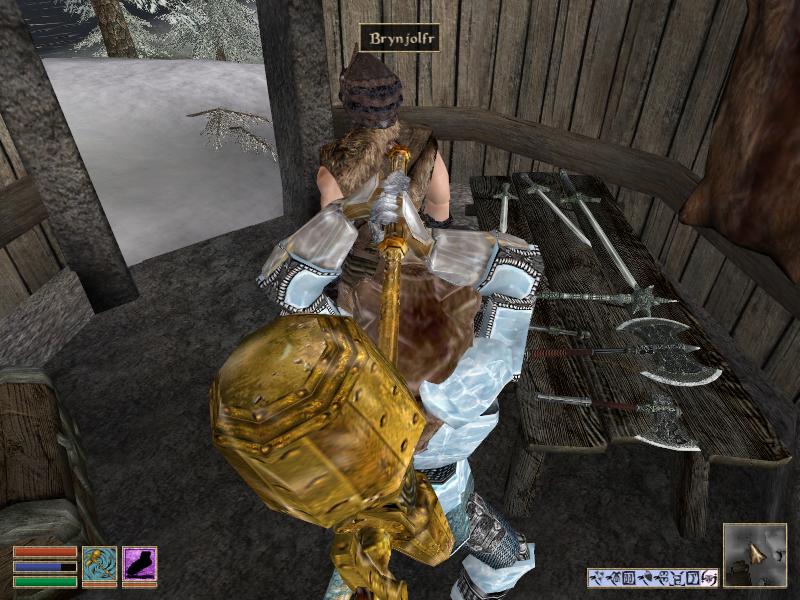 I've got a better idea.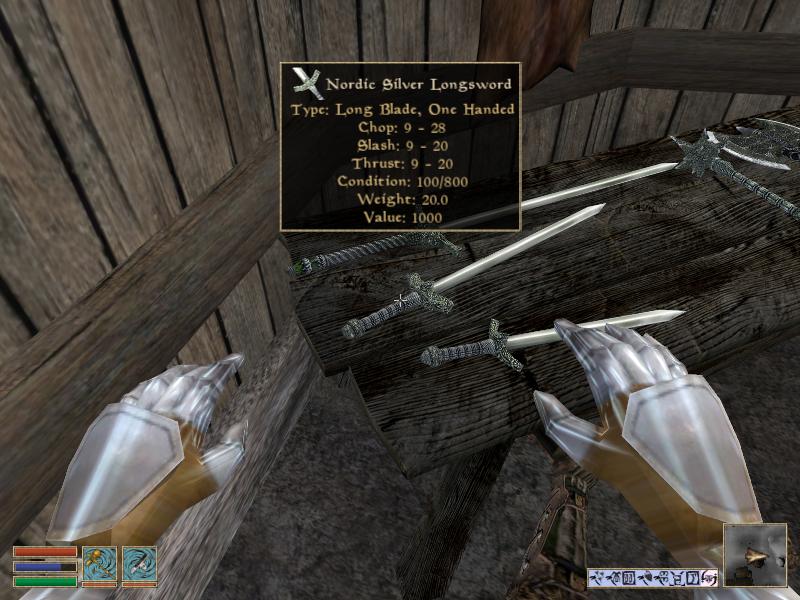 This will do nicely.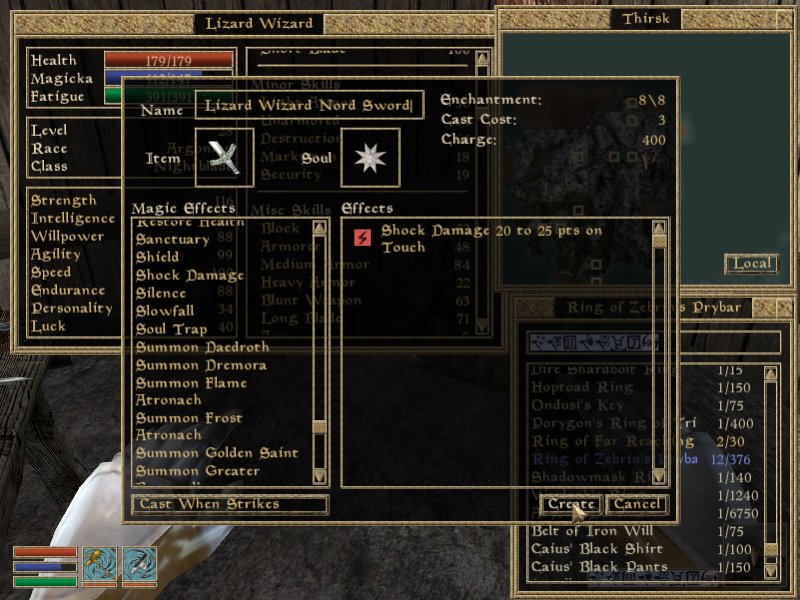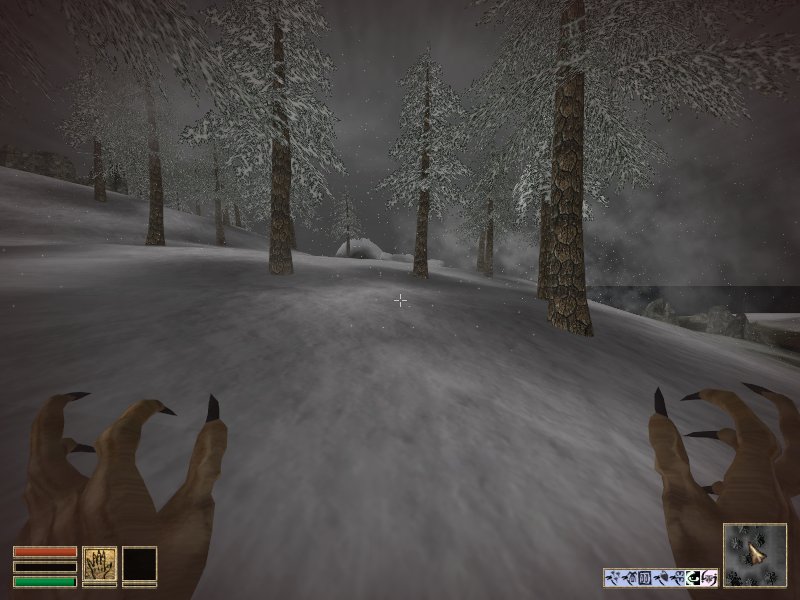 Can't be much farther.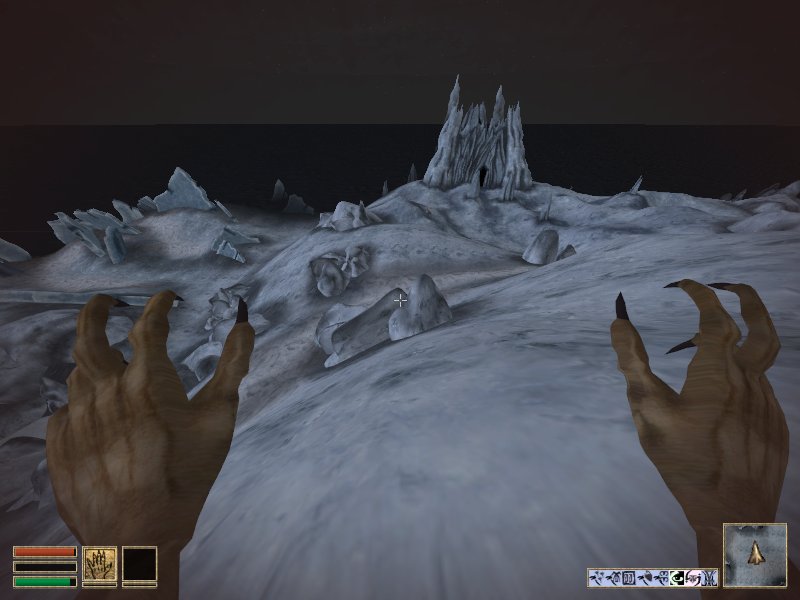 This is what my brain sounds like right now.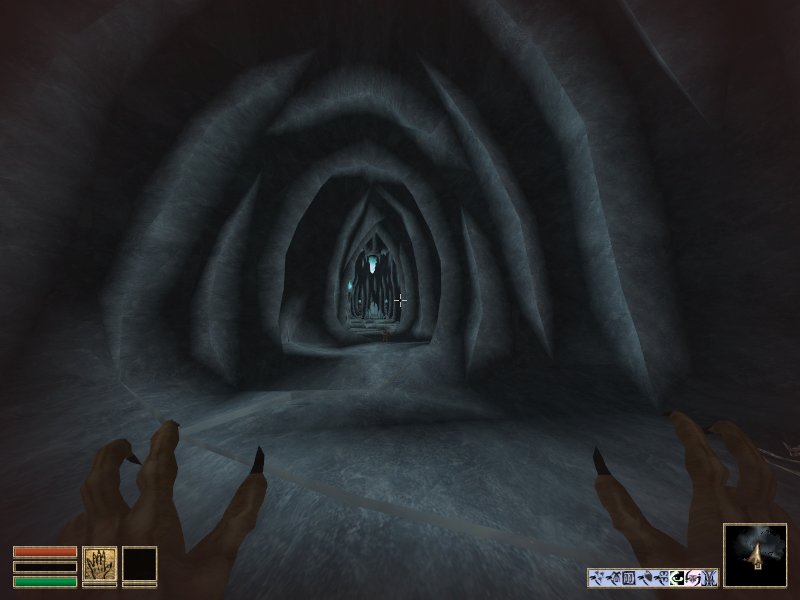 Oh hey, a Rickling. I must be here to kill it.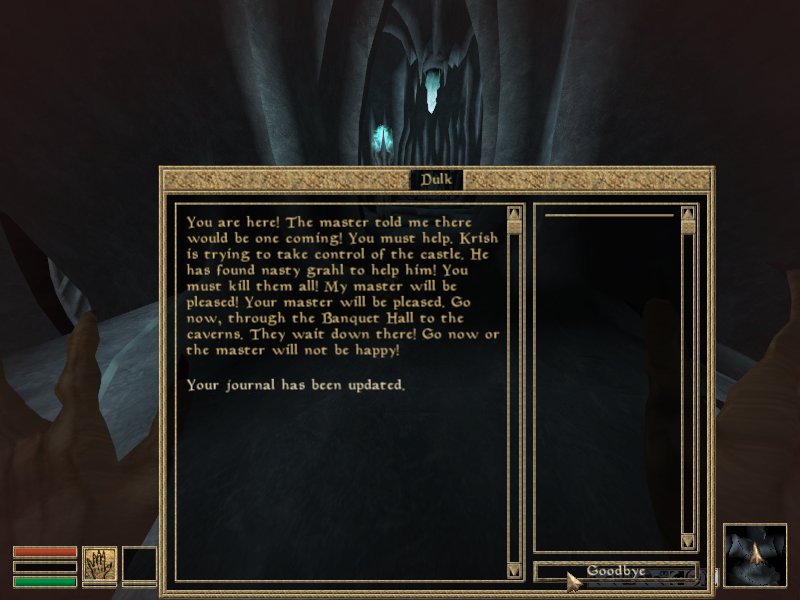 HOLY SHIT IT CAN TALK.


Okay, let's see here. Kill Krish, kill Grahls. I can do that.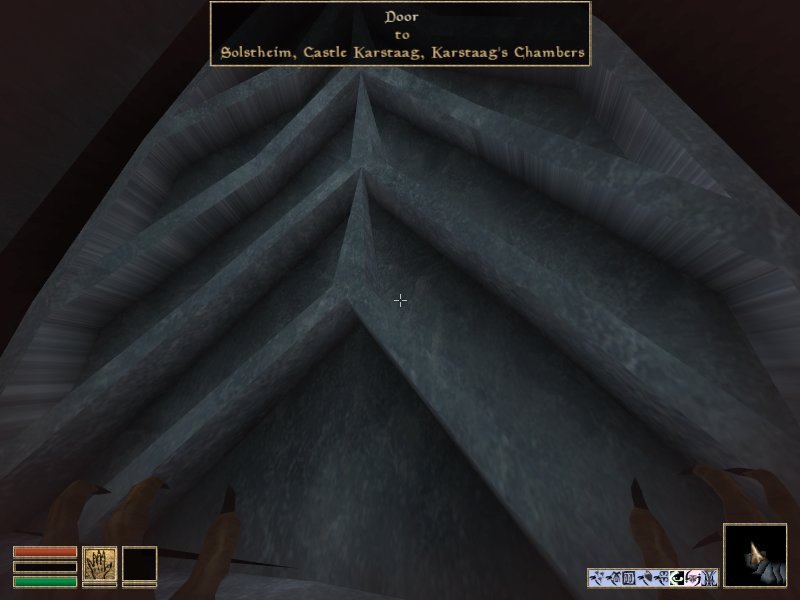 What's in here, then?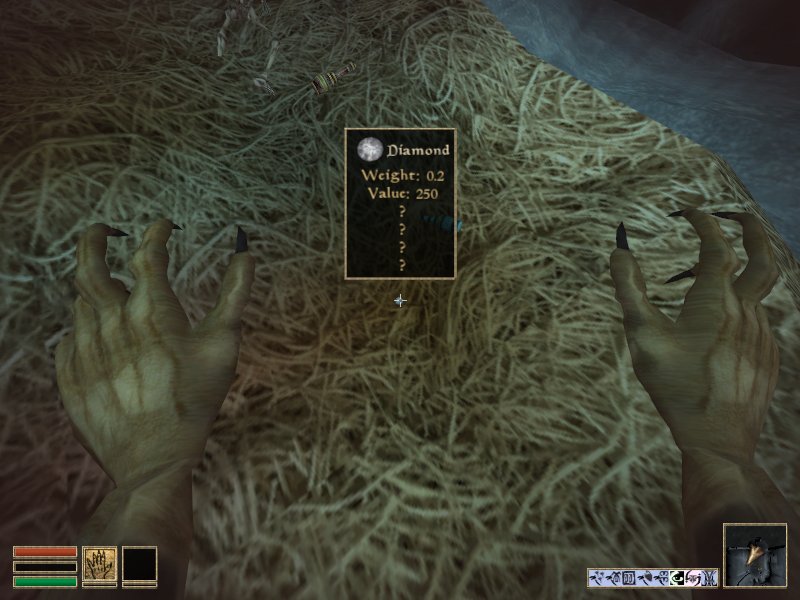 Eh. Nothing I gotta have. I do like the way that our deformed brain can't detect alchemy effects. It's a nice touch.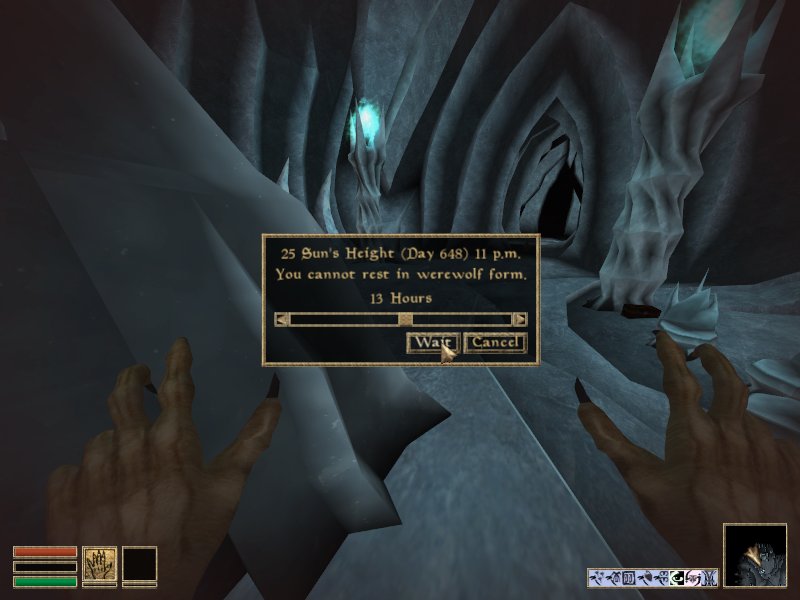 I think I'd feel a lot better being human...sorry, ARGONIAN for this quest.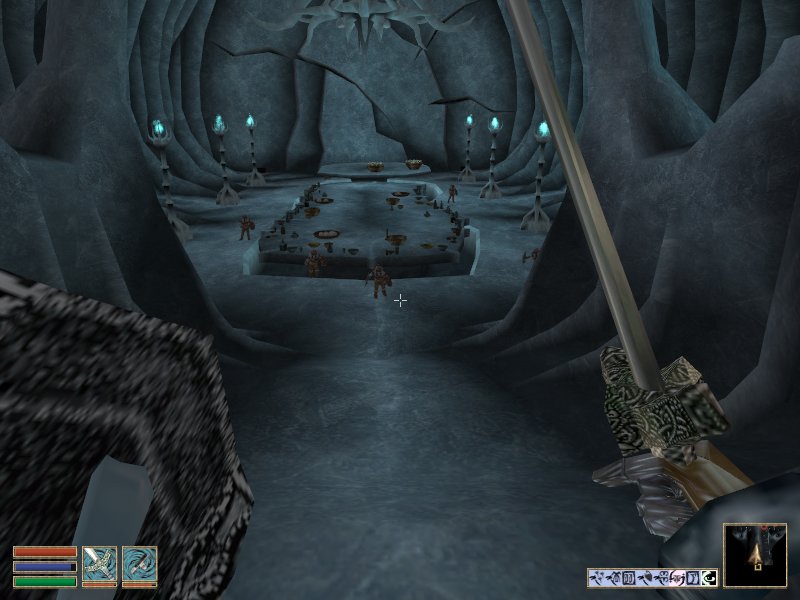 Rioting rickling rebels!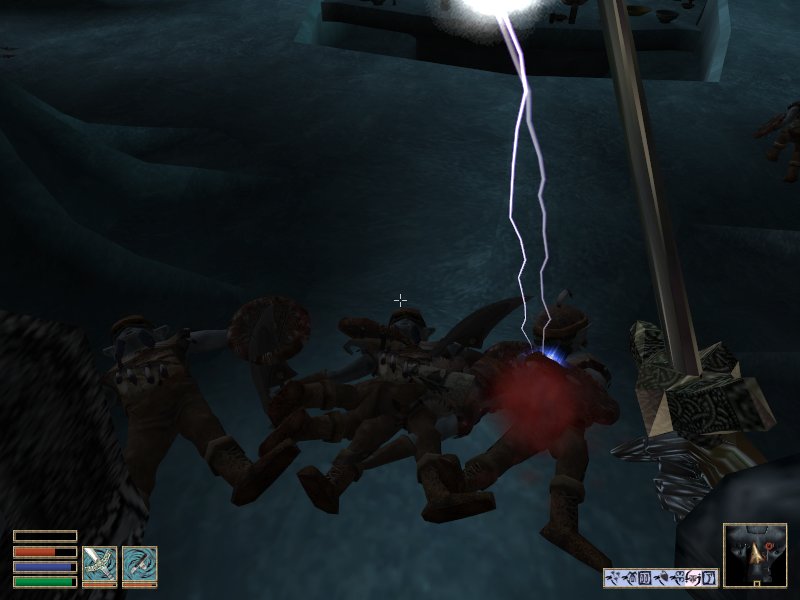 Time to dispense with the science!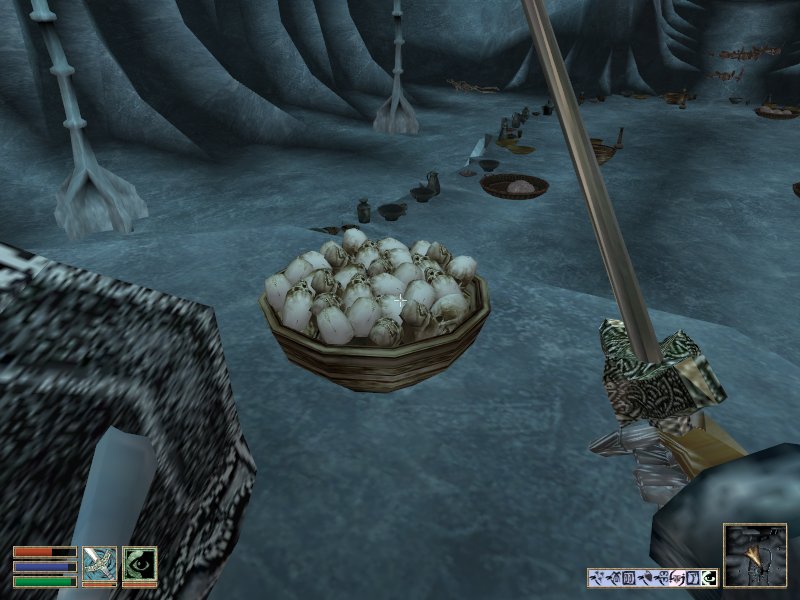 Man, I really hope those're just marzipan.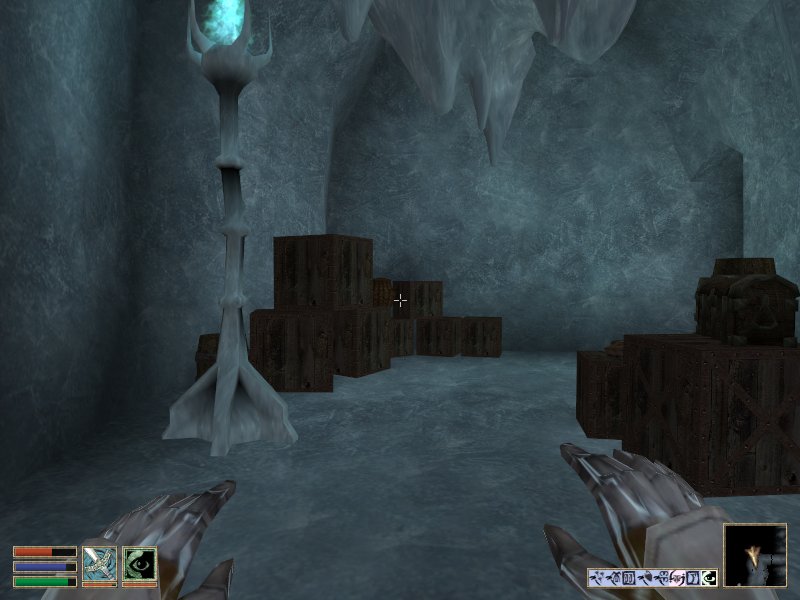 And what's this in the back of the pantry?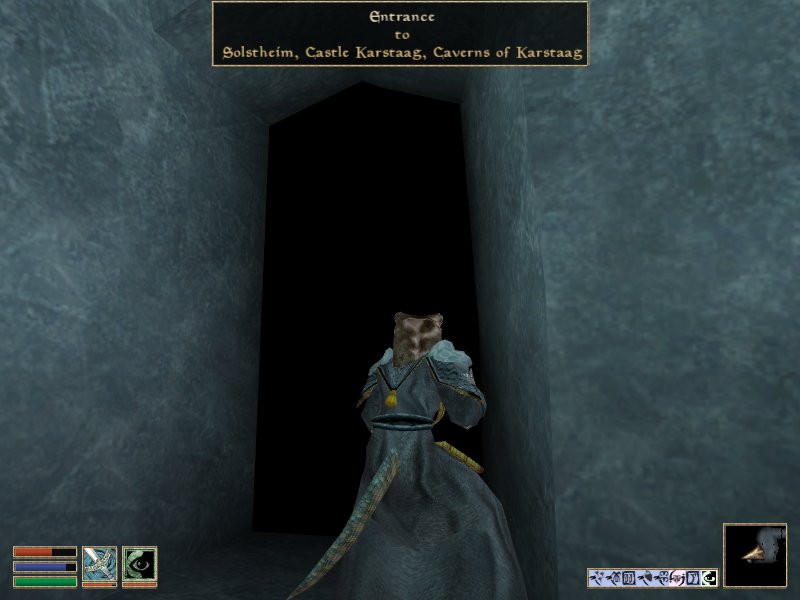 CAVERNS OF KARSTAAG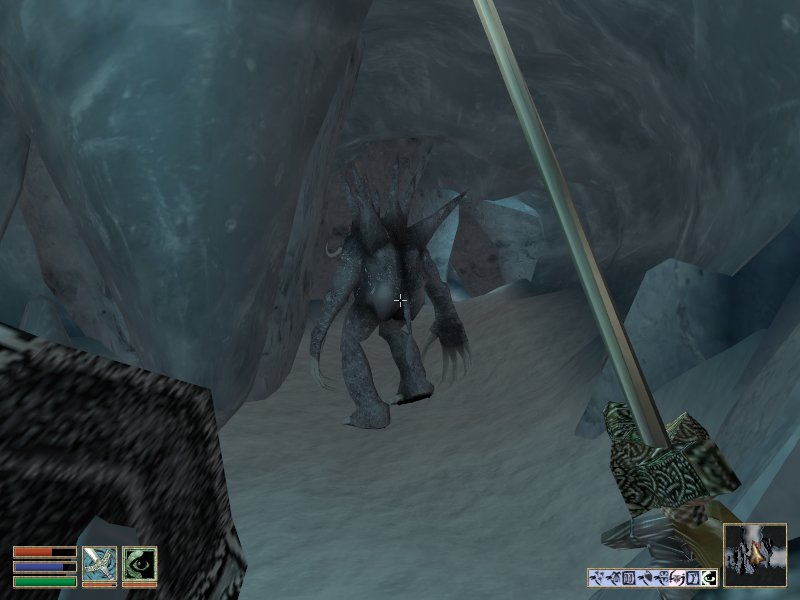 Gee, whaddyaknow. Grahls.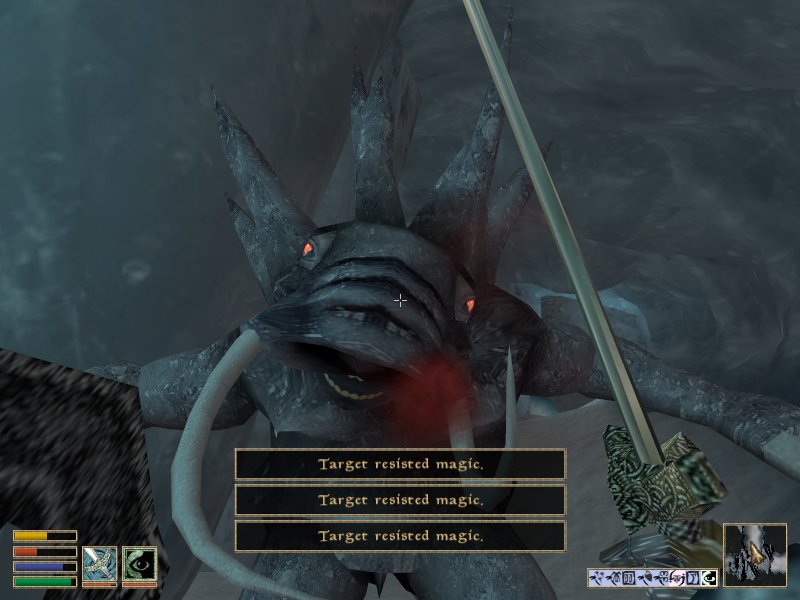 Who happen to be resistant to shock damage.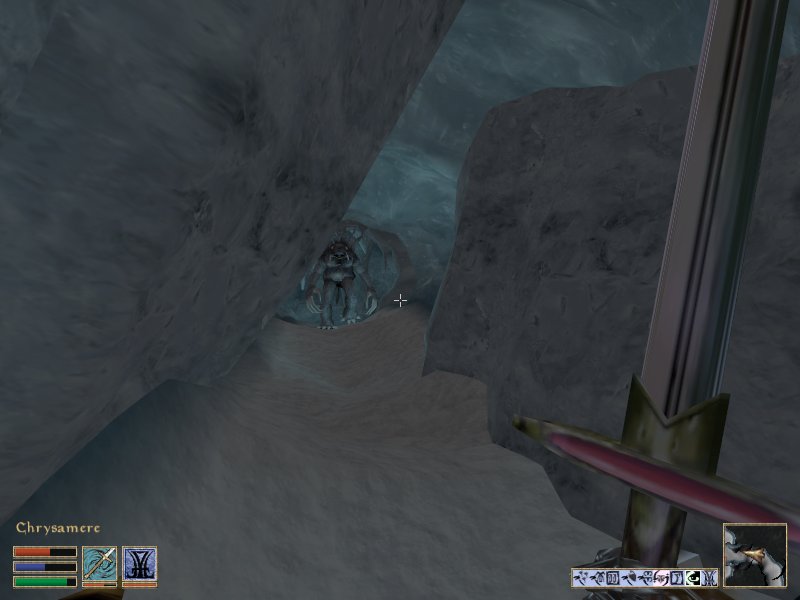 Chrysamere it is, then!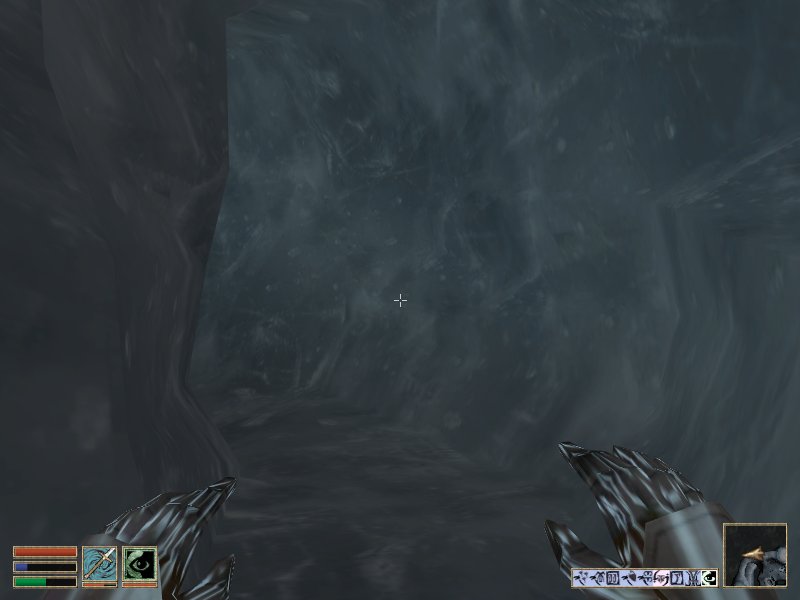 It's a convoluted cave, and I'm not a fan of it, but hey, gotta play by the game's rules I guess.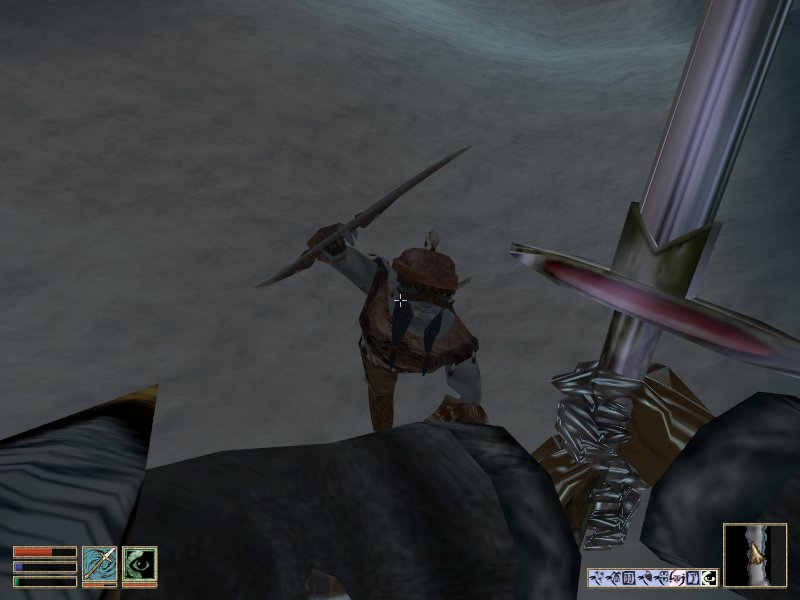 There's Mister Head Rickling Rebel! Guess how the fight goes.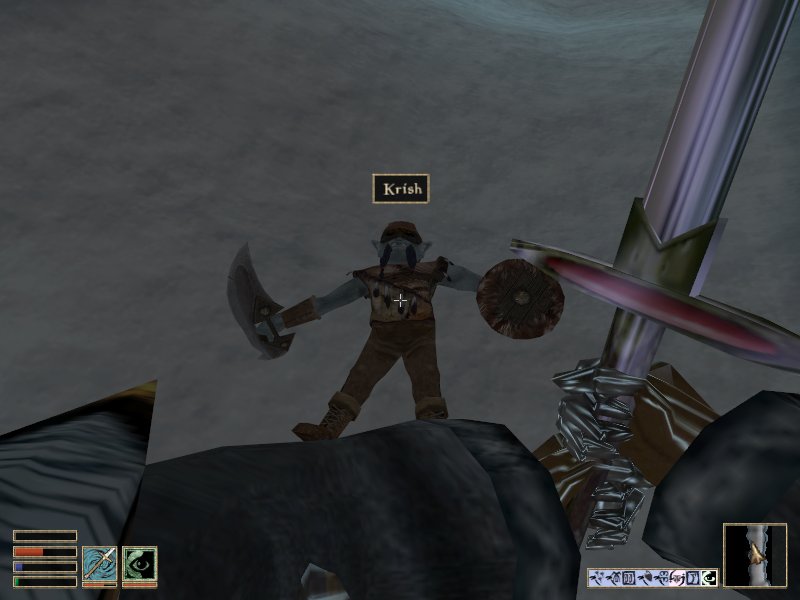 Good guess! You may notice that my fatigue is desperately low, as I forgot to put on my belt in the morning. More pressingly, we're running out of mana and it's dark in here!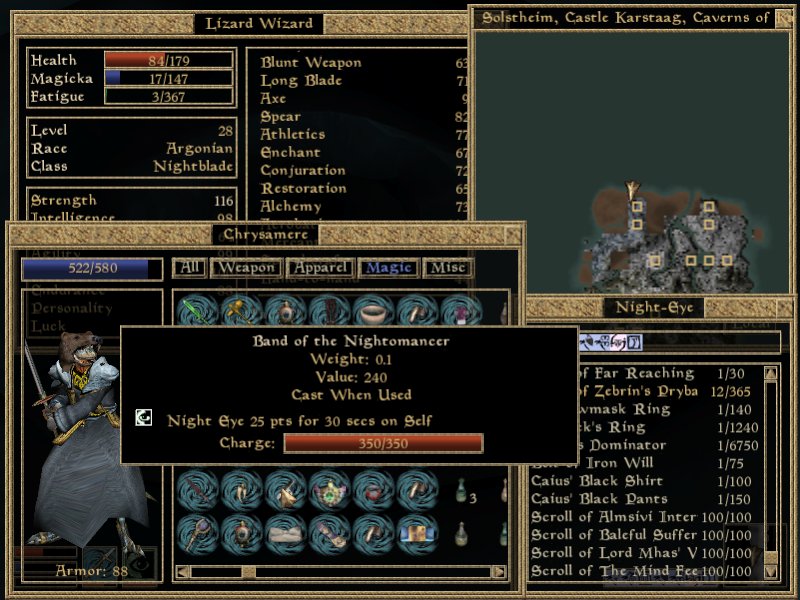 Thank science for the enchanting arts!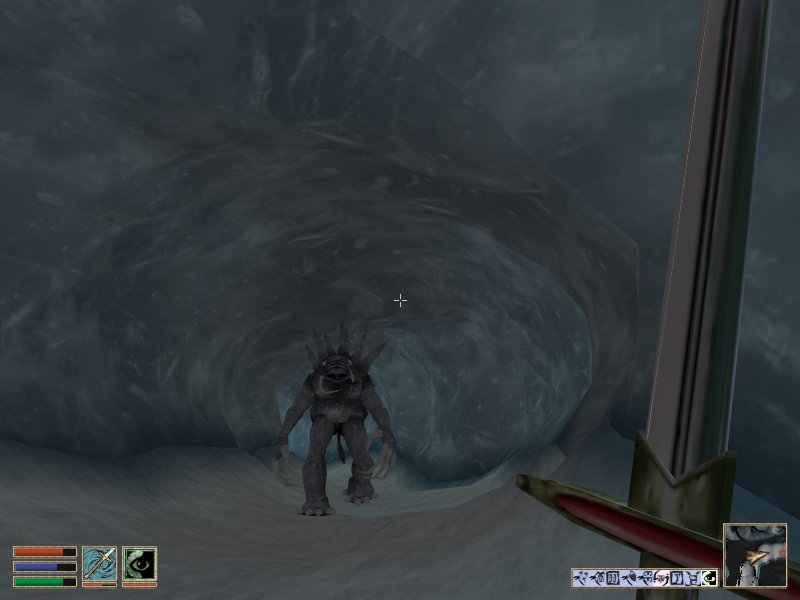 Hello, last Grahl of the dungeon!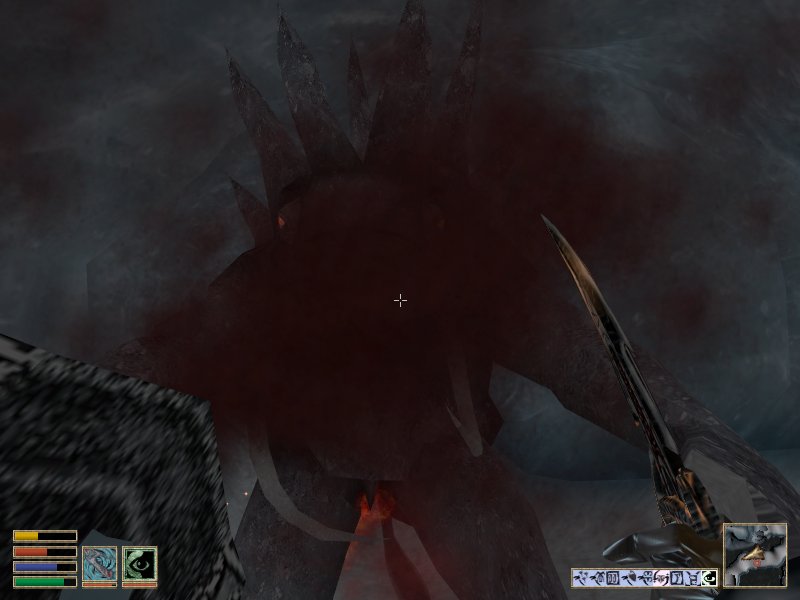 Thanks, Fraps!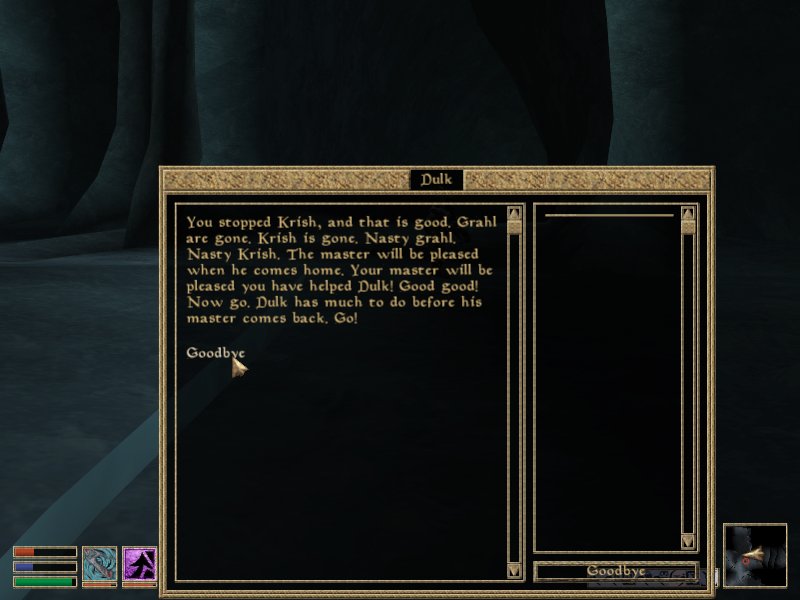 You're welcome! Hey, I'm gonna need to sleep here a bit.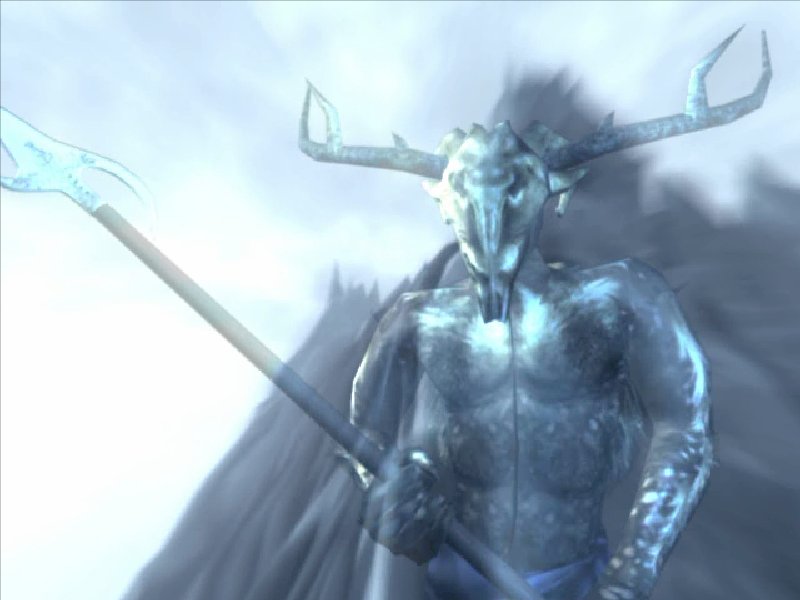 COOL, YOU DID IT. HAVE A DAILY FULL-HEAL SPELL.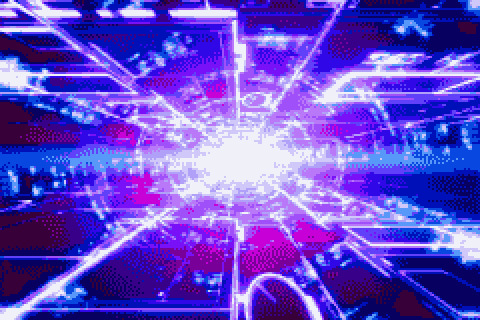 GET ON IN HEEERE!

See you next update! Hope you don't mind me stealing a screenshot from one of your LPs, Epee Em!