Part 10: Battle Primer: Barbariccia's Gimmick
Battle Primer: Barbariccia's Gimmick
[Music: Boss Battle]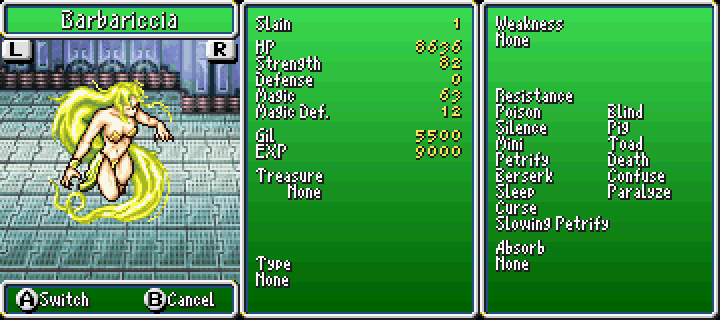 So... Barbariccia's kind of an unreasonably difficult fight for Rydia on account of the obvious gimmick she has. She doesn't
seem
that difficult on paper, but there's something quite important that's never going to come up in this fight under normal circumstances. Everyone knows that when she goes into her tornado form, hitting her all but necessitates Kain (you can get around that by grinding forever). What about her normal form?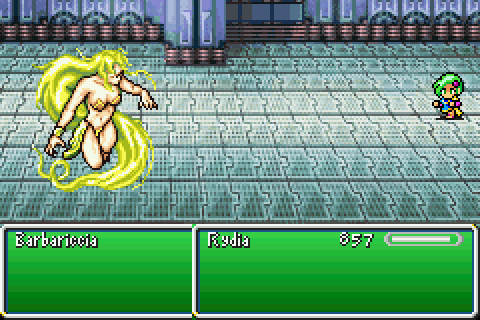 Oh, you can still hit her with physical attacks... but not magic. Magic does not work at all in this fight. No spells connect, no summons connect.
Well, with two exceptions.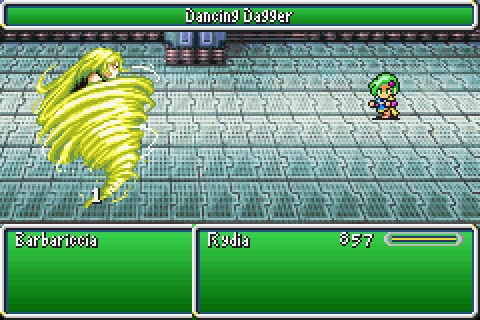 Dancing Dagger and Magic Arrow still hit. Of course, they both deal a whole 1 damage at a time, so it's not exactly ideal by any means.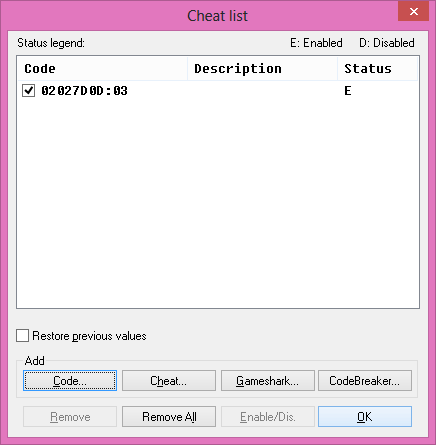 The obvious alternative to this that isn't "grind for eleventybillion hours" is to just replace one of Rydia's commands with Jump (in this case it'd be White Magic but you can replace anything you want, even the regular attack command).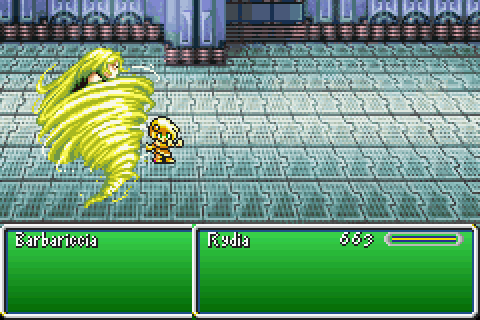 It works actually quite well, since Valvalis' gimmick revolves around being only hittable with Jump normally.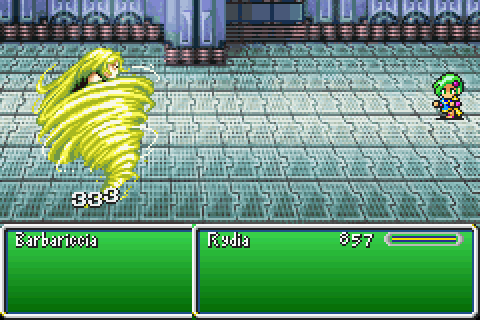 The damage is quite nice even with a dagger. Since Rydia obviously can't use spears, she'll never get that sweet bonus damage that'll speed things up even more though. This still kind of keeps it in the spirit of things, whilst also making the fight not take all the time in the world.
The obvious alternative to
that
is to just leave Kain in until after the fight and use him exclusively to nullify the Tornado, which is the one option I'm much more inclined to do, but I'm sure someone somewhere will complain about that.
But that's dumb, random hypothetical internet person. If you have time to complain about that, go
do it here
instead where the person playing isn't even using Rydia in their alleged Rydia solo.