Introduction

Hello, my name is Devious Vacuum, and I am a roboticist. But when I decided I wanted to LP some games, I thought I should focus on what I'm REALLY good at: having a vagina. Let's Play Games for Girls!
All of us are aware that "Girl Games" exist online, and that there are a lot of them and they're all pretty shitty, both in terms of messages they send and how well they are implemented. Why are Girl Games so terrible? How many of them are actually out there? WHY DO THESE GAMES EXIST?? These are the hard-hitting questions I would like you to help me answer!
In each episode, I'm going to look at a collection of Girl Games, mostly from free-to-play websites, but also some games full of terrible messages that you have to actually pay money for. This is by NO MEANS the full extent of girl games out there! There are so many of them. So many. That's why I need you!!
Would you like to play along at home?
Everyone is encouraged to go find Girl Games of their own and post evidence of them here! Whether it be video, screenshot, or even just an image of your finished product, any and every contribution is encouraged. How deep does the rabbit hole go? Join me and find out!
How serious of a discussion is this, you ask?
There are plenty of opportunities to be serious and to be funny when discussing these games. I want to first and foremost make fun of them, but also we should take every opportunity to point out problematic aspects of all of these games and the very serious cultural issues they reflect. That said, please don't come in looking for a fight! THIS IS A FUN THREAD ABOUT LOVE AND FRIENDSHIP. And remember:
EVERYONE IS GIRLS.


with AsteriskAsterisk
Blog post linked from The Guardian:
Games for Girls?

with BeamsplashX and Helmetcondenser

with OatmealRaisin

with Panzer Skank

with Siren

with Ragny and Psychedelic Eyeball

with Kaubocks

WARNING: EYE SURGERY


with Midnight Voyager

with AsteriskAsterisk and HelmetCondenser

with Dyslexiactic

with Gharbad

with EntranceJew

with Chuuurls and HelmetCondenser

with Sweet and Awful

with Voidburger

with Charkie

with Panzer Skank

WARNING: NOSE CLEANING



with AsteriskAsterisk

with DurpTwoTwo

with Fat Larry

WARNING: BABY MUTILATION








Fat Larry Streams an Anime (VOD)

by Senerio

by Senerio, With EntranceJew, Heavy Sigh, Miniature Moose and Yapo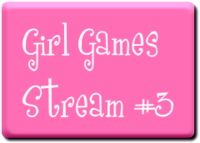 by Senerio