Part 47: AI Harem, day 2 - Take a little bit of sisterly advice, okay?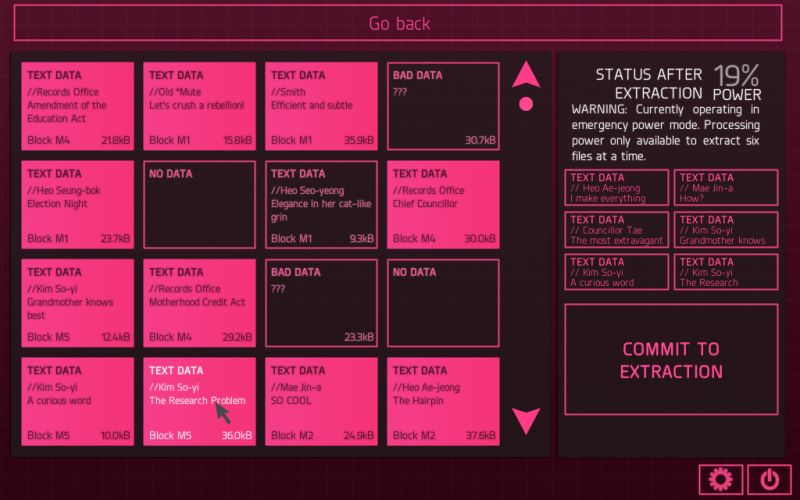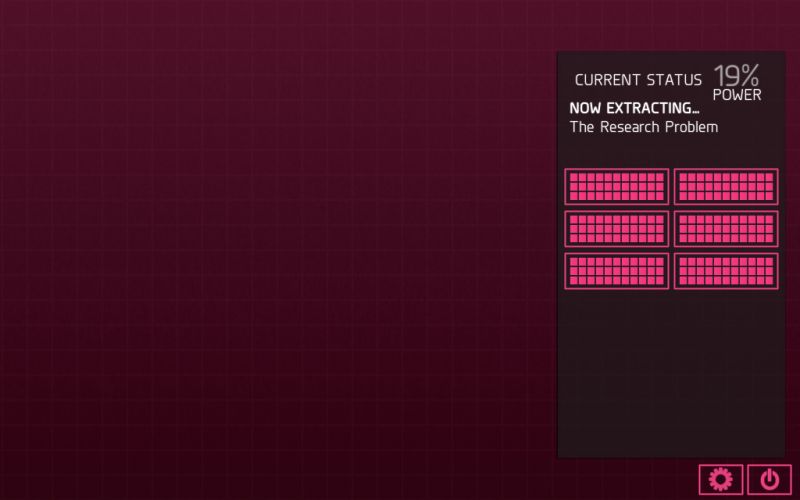 Today's rolls: M2 and M5.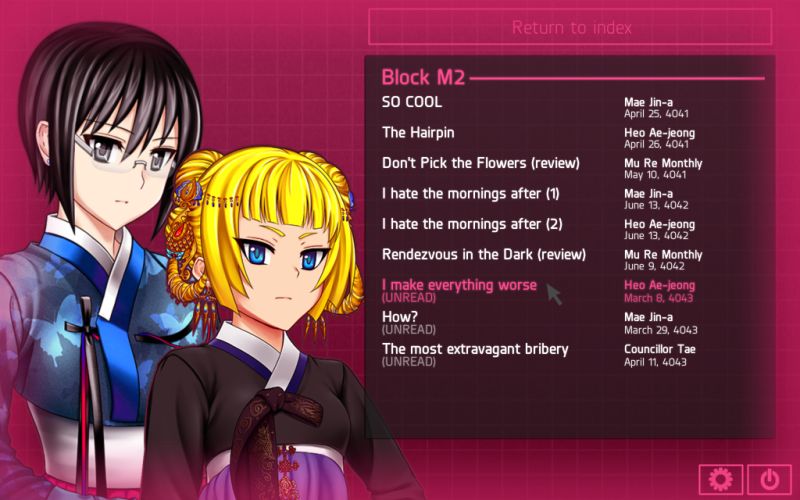 I make everything worse - Heo Ae-jeong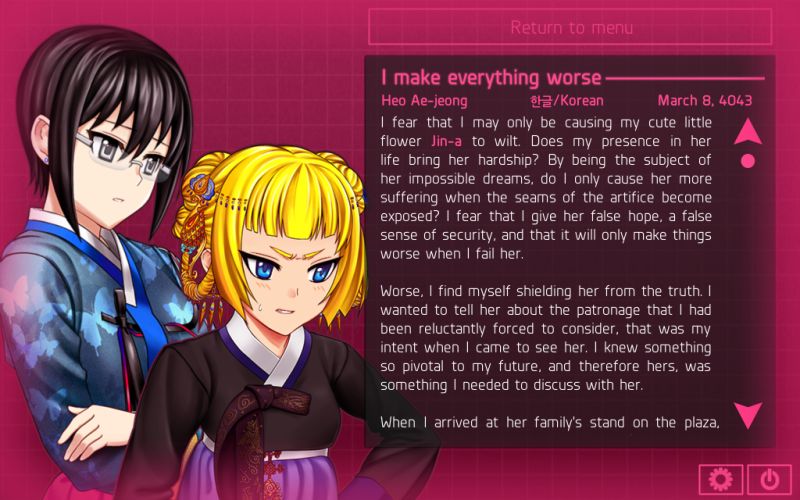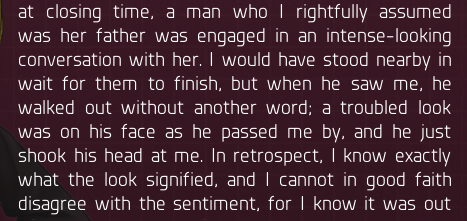 She's so poetic about everything...

...please raise your standards, *Hyun-ae.


...well, fathers don't always know what's right...

YES THEY DO. This is
not
the same thing as yours!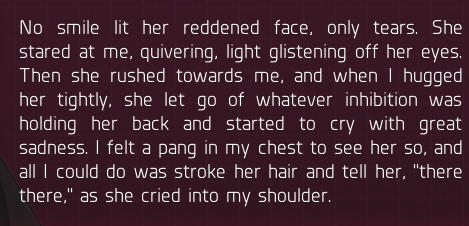 ...fine...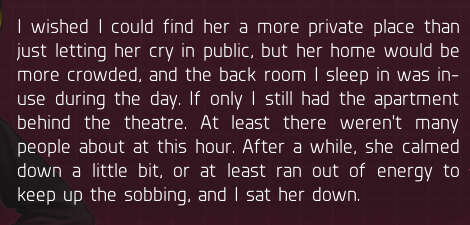 ...sorry. That was a little to harsh.

Let's just pay attention to the log, it's fine.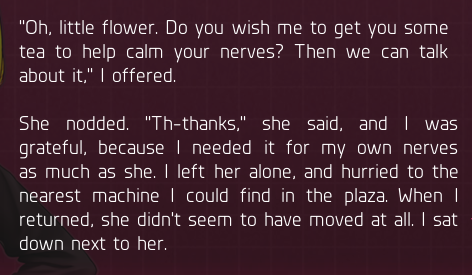 ...canned tea...?

Yeah! You get it from a vending machine, and it can be either hot or cold! It's really good!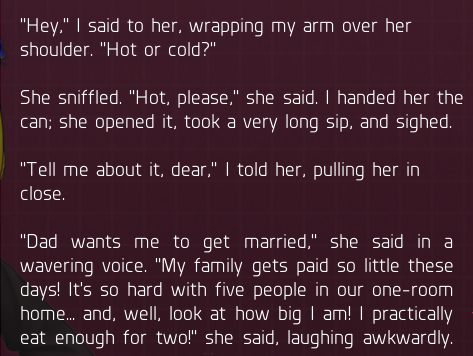 Oh
finally
her parents take some responsibility in getting her married!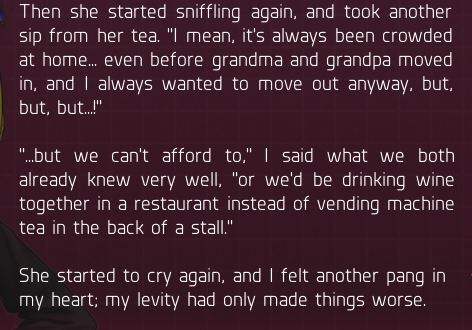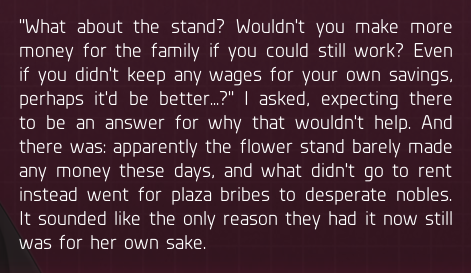 ...see, this is why hta kind of relationship isn't just harmless!

But...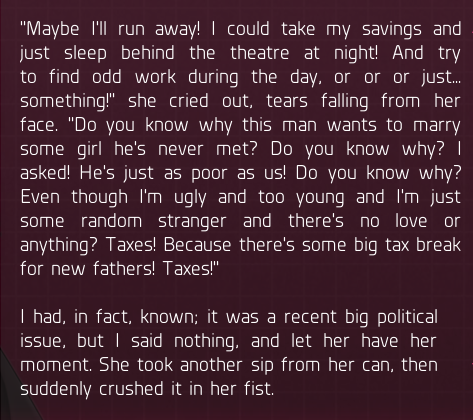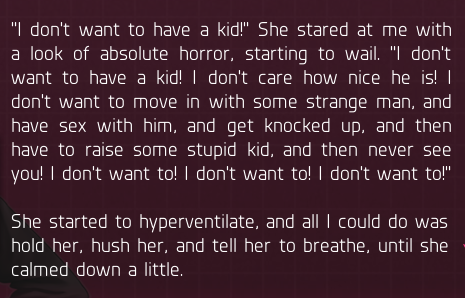 ...it'd be so much easier for her if she was more reasonable about it...

...but wouldn't it be better if they could just be in love...?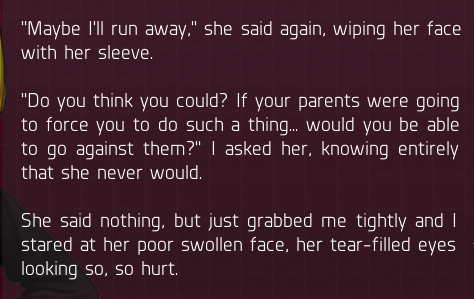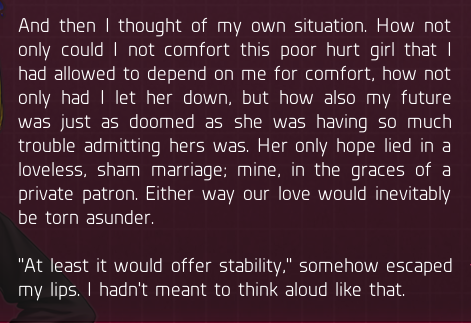 That's now how love works!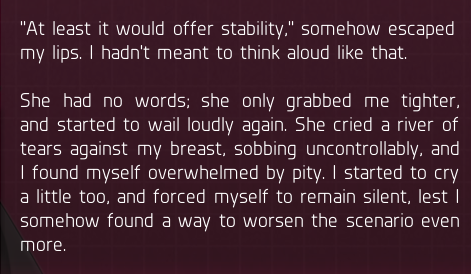 What monster taught these women to expect love to come before marriage instead of after?!

But... but...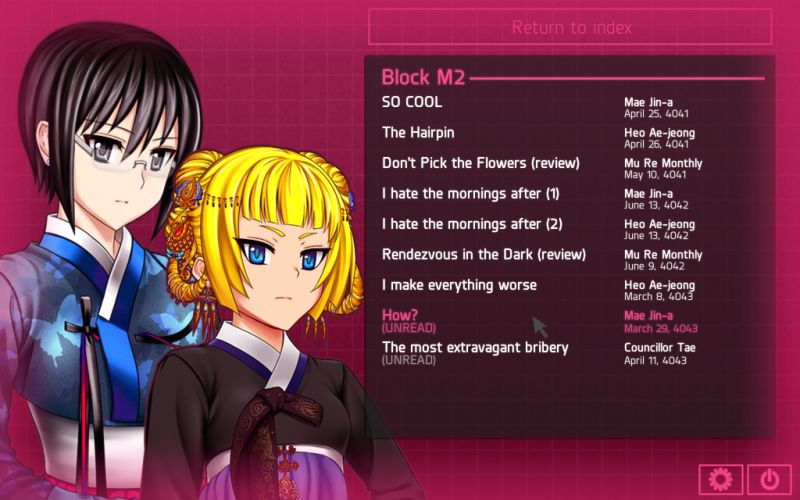 How? - Mae Jin-a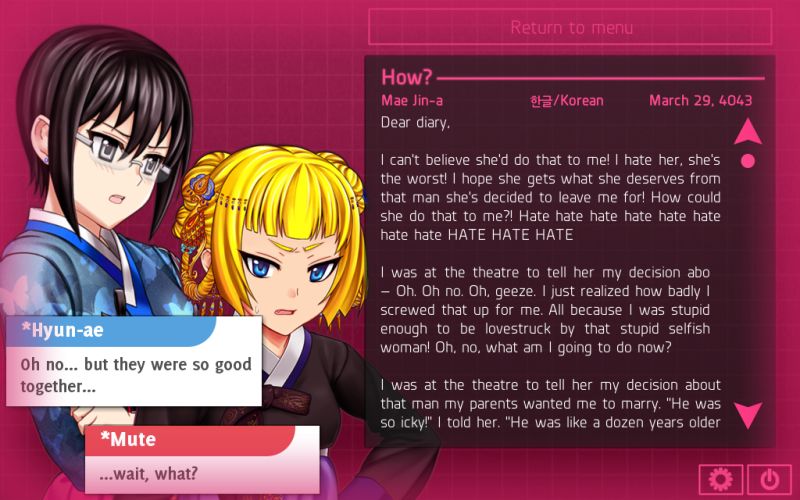 ...oh... I think I know how this ends...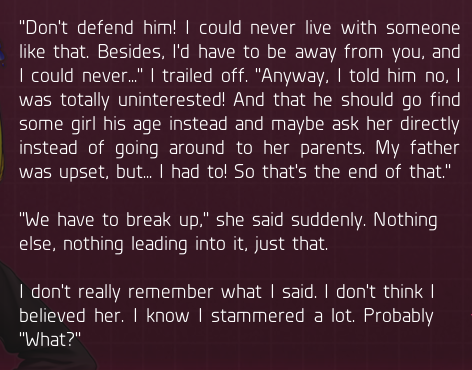 ...didn't she realize this was bound to happen?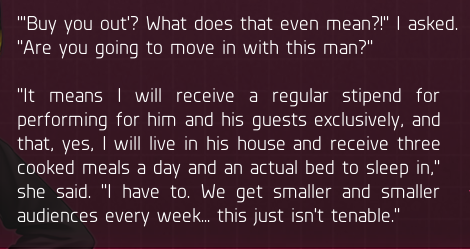 ...it's a generous offer! Jin-a needs to be more rational...

But... she's in love...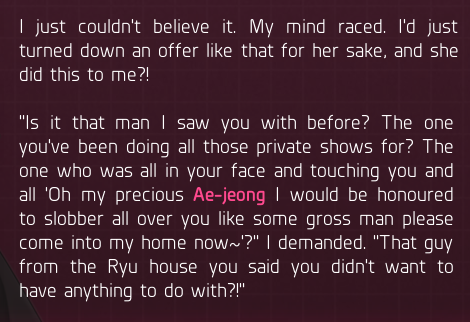 ...sorry...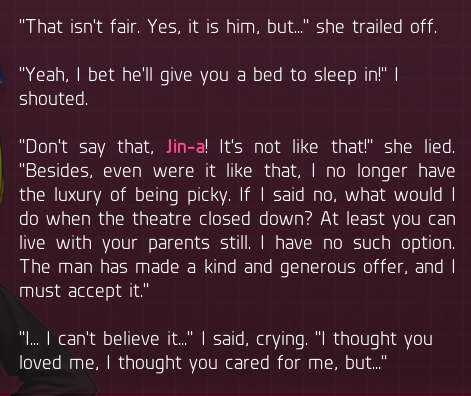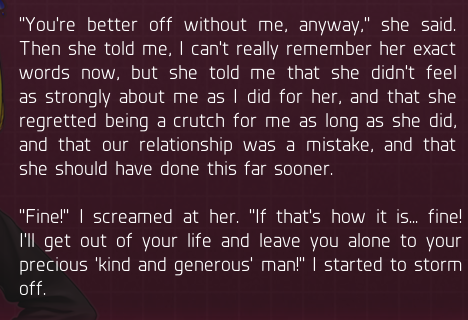 This is painful...

We can agree on that...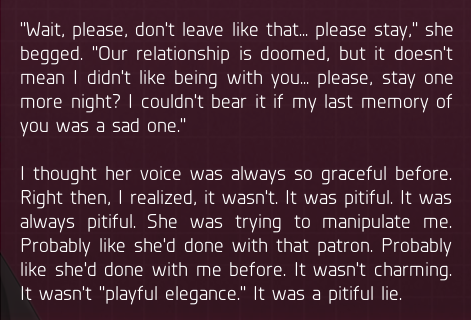 ...but Ae-jeong did the right thing! How can she be so unappreciative of that...?!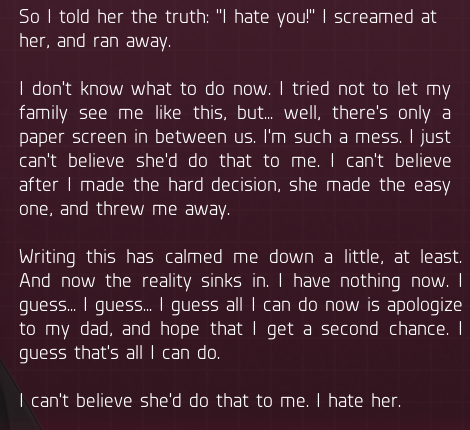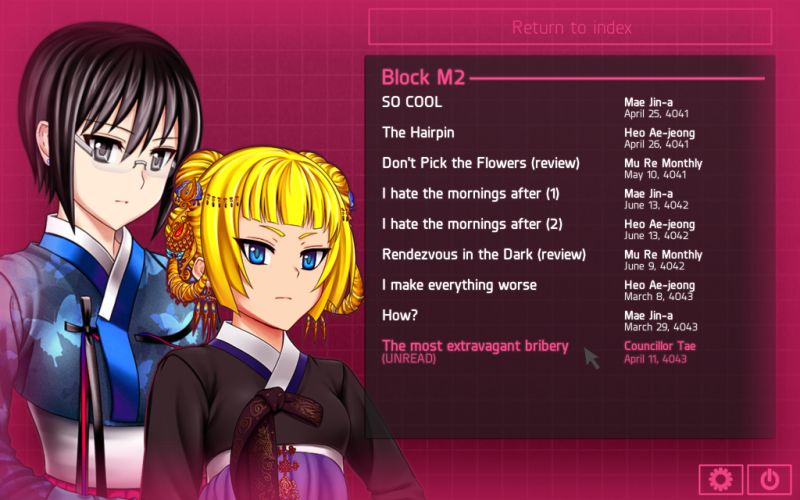 The most extravagant bribery - Councilor Tae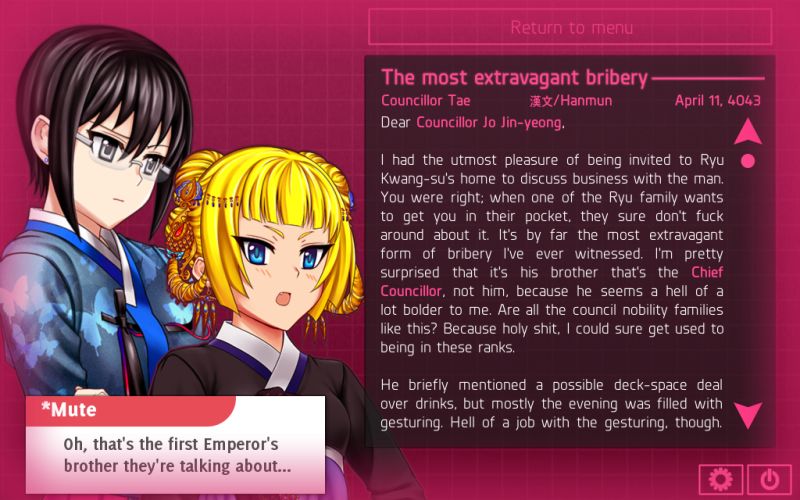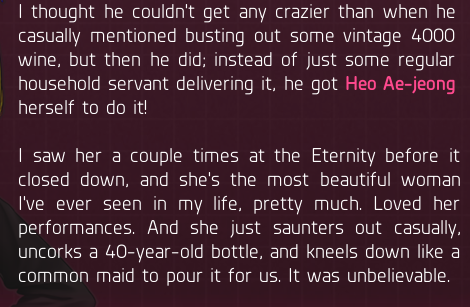 ...so I guess she ended up working as a courtesan, then.


That sucks for her...

Yeah. For once, you're right. But it's the best possibility, considering...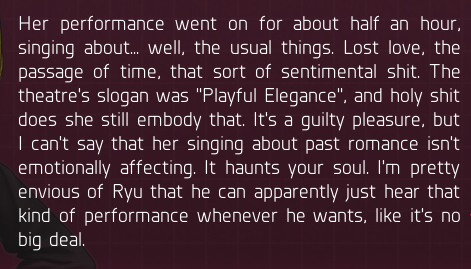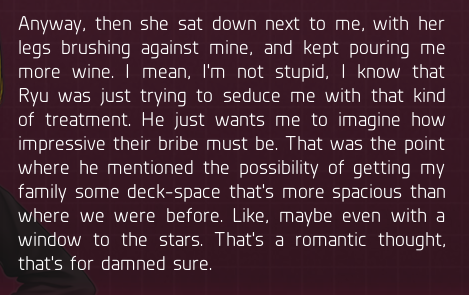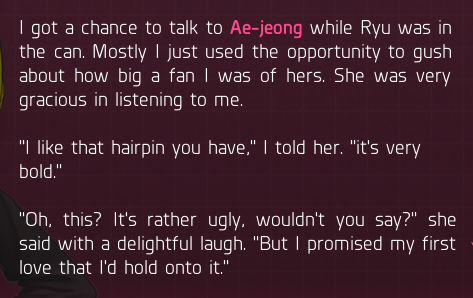 Awwww... she kept the hairpin! Wow...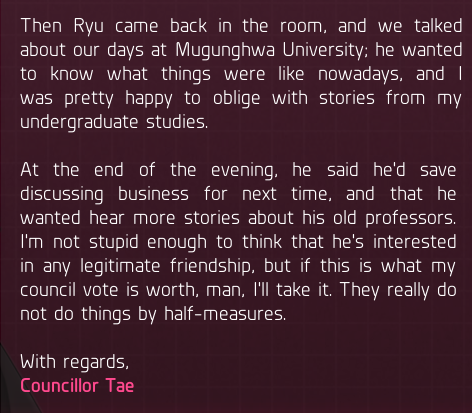 ...well, I guess it ended well for everyone, at least? Even if there was heartbreak...

I don't know... it just really makes me feel sad...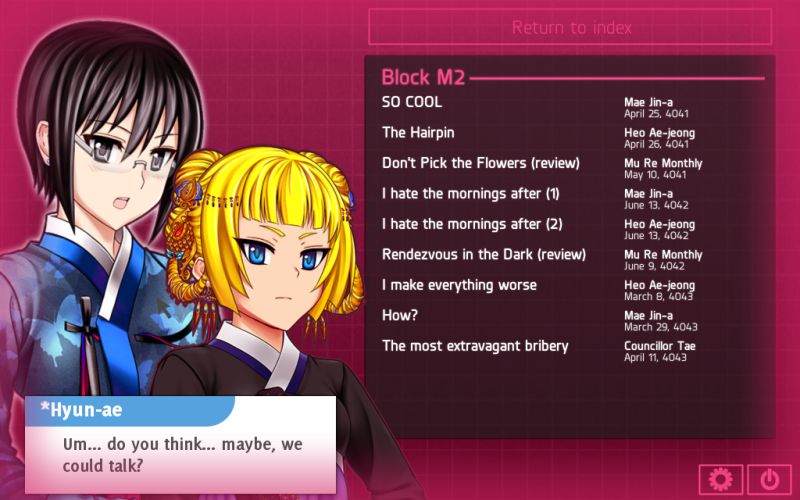 Break time!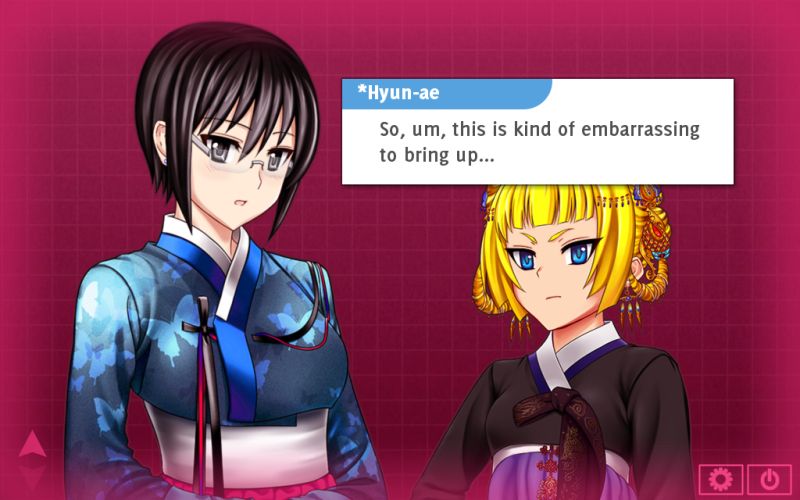 ...but that's not going to stop you, is it.

Well...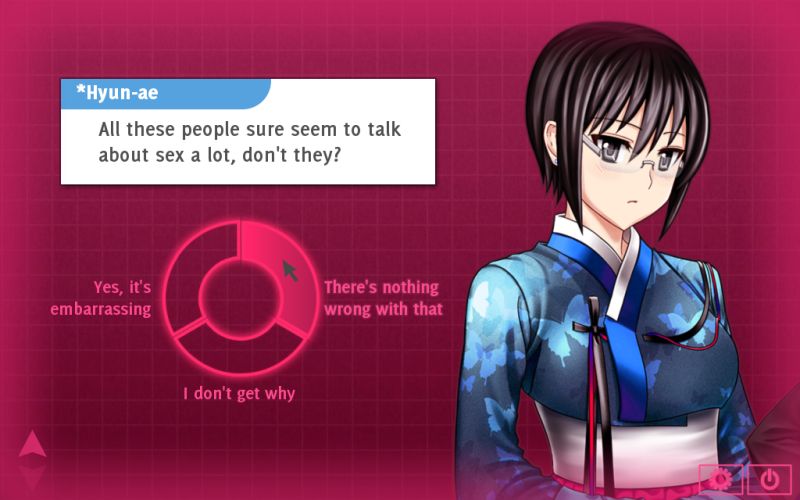 Um, no, it's not okay!

Geeze, what a thing for a woman to say... I don't get why women would be fixating on this sort of thing.

Um, well...

...it just makes me wonder...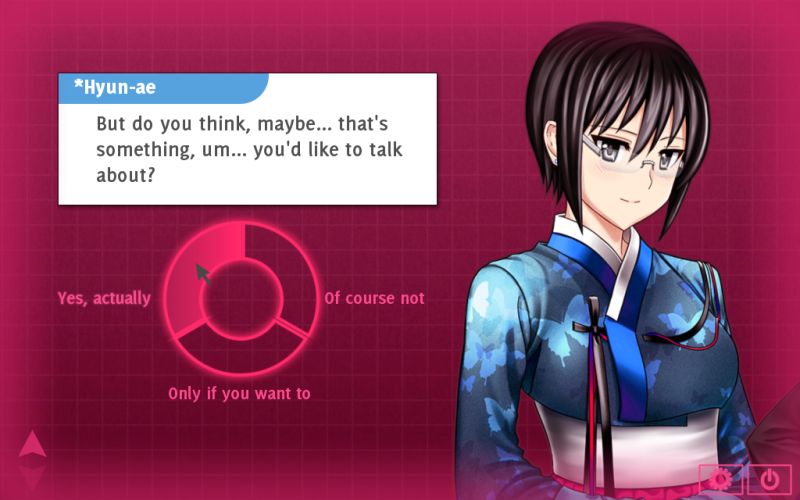 Ah, well, if it's talking about it with you, I'm sure it's fine...

...but is that really okay...?

I just find it really surprising that everyone pre-year zero talks about that so directly!

Plus, reading about Ae-jeong and Jin-a makes me realize that I have no idea what it's like to, um... be with a woman like that!

HOW IS THIS A PROBLEM.

Um, well... it's...

...never mind.

I just feel like... um....

...yes?

...oh, geeze, I'm sorry, I can't say it!

It's just too embarrassing...

Forget I said anything, let's just go back to reading together...!

No! This embarrassing tsundere act needs to stop, like, right now.

Say what you were thinking!

...I can't, it's too embarrassing.

Well, I don't know...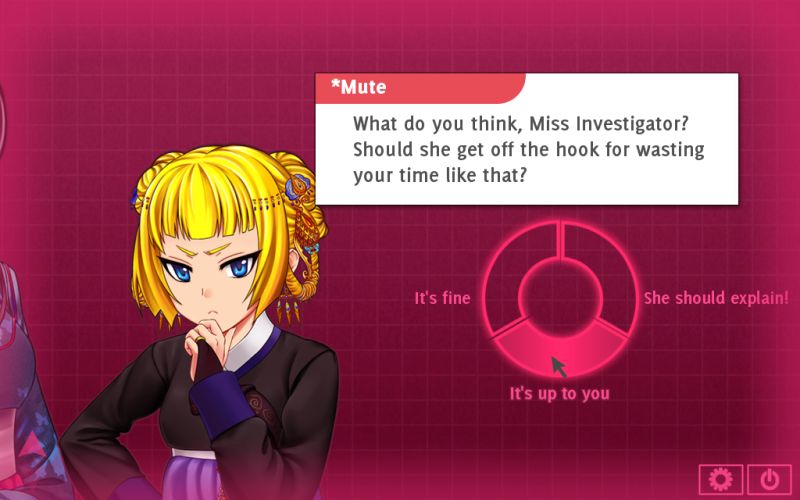 Good enough for me!

What were you going to say, *Hyun-ae?

Um...

...well, I was just going to say...

...geeze, *Mute, you're just going to chastise me for what I wanted to say!

Only if you deserve it.
\

(But I'm pretty sure it's going to be something really misguided and embarrassing, yes.)

...well, fine.

You know how I was only ever with my husband while I was alive, right...?

Yes, of course, who else would you have been with?

...I thought you were the one who wanted me to say it, but you keep talking over me...

Okay, sorry. Go ahead. I'll save the chastisement until after you're finished talking.

...thanks, I guess...

Well, I, um, really enjoyed being with my husband at the time! It was... um... it was really nice.

But now that I think of it... I don't really remember why.

Maybe it's something you need to have a body to understand... I just... don't remember what it feels like at all.

But, um, reading about all of these things... all these people and their relationships... it makes me believe in romance again!

...and it makes me want to experience... well, you know..

...being together with a woman.

Agh, geeze, *Hyun-ae! Just... stop!

Look, I know you think I'm judgemental, but take a little bit of sisterly advice, okay?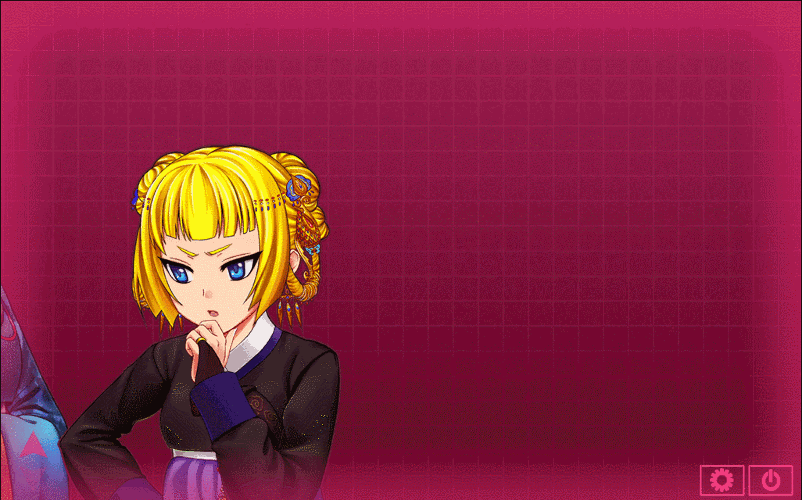 ...alright, if you say so, *Mute.

I'll keep that in mind...

...sorry, Miss Investigator, it's a secret.

I'm sure you understand!

Well... anyway.. I guess I'd like it a lot if I could get back to reading about these sorts of things with the person I like!

*Hyun-ae, what did I
just
finish telling you? Geeze!

Sorry...

...but let's get back to it, then~?

Yes, please.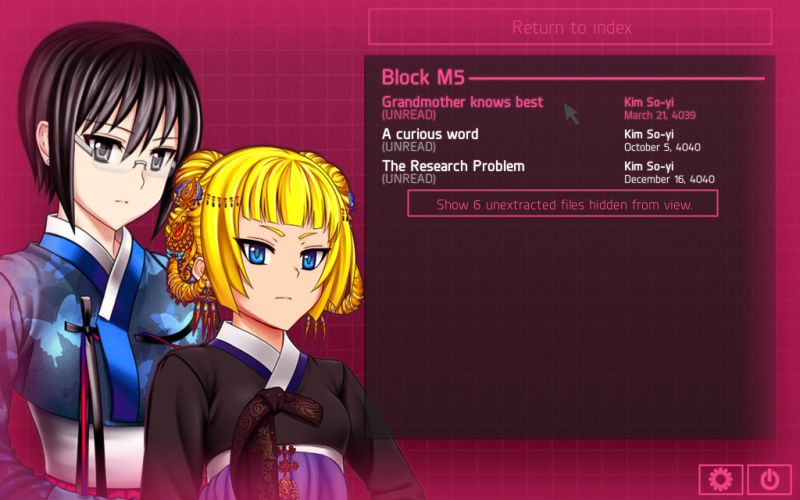 Grandmother knows best - Kim So-yi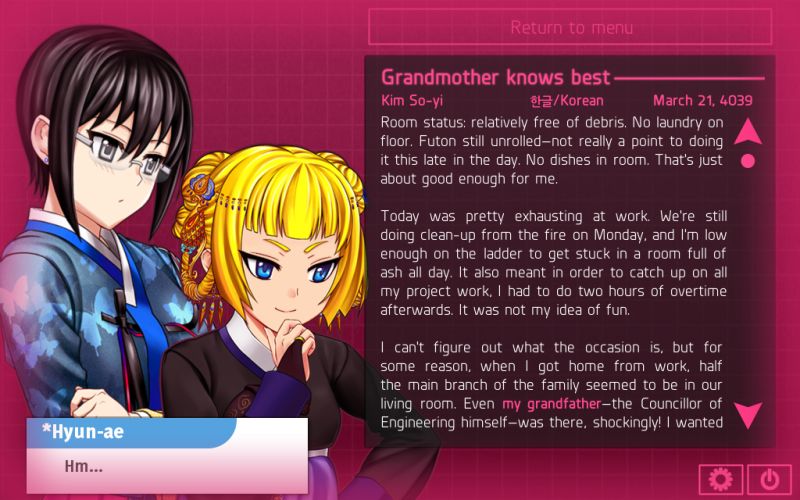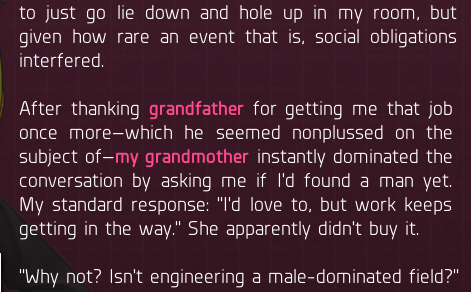 Oh! She's an engineer! That's nice...!

...why would a Kim woman need to have a job...?


Yeah! That was exactly what I wanted to grow up to be like, too...! She understands...!

Well, like, I don't!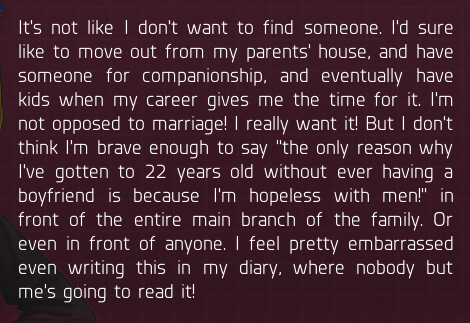 Wow, still unmarried at 22? That poor woman...

I really don't think that's unusual...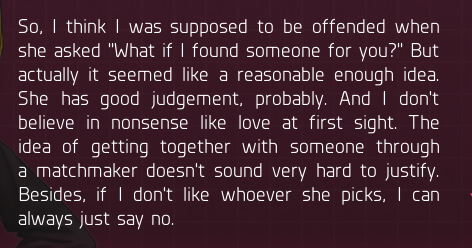 ...her grandmother sounds like a good woman, at least! Even if it's late...

...I'm just jealous that she was able to say "no".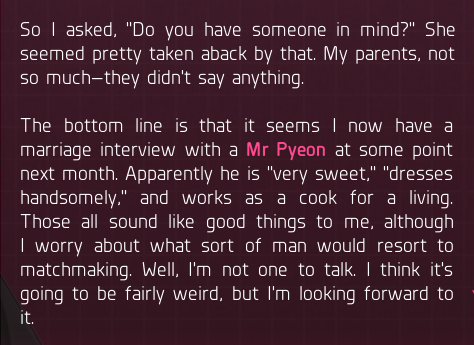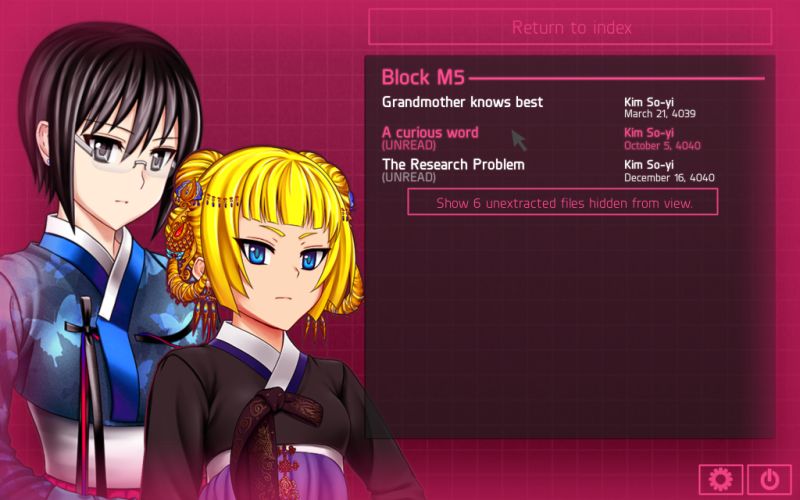 A curious word - Kim So-yi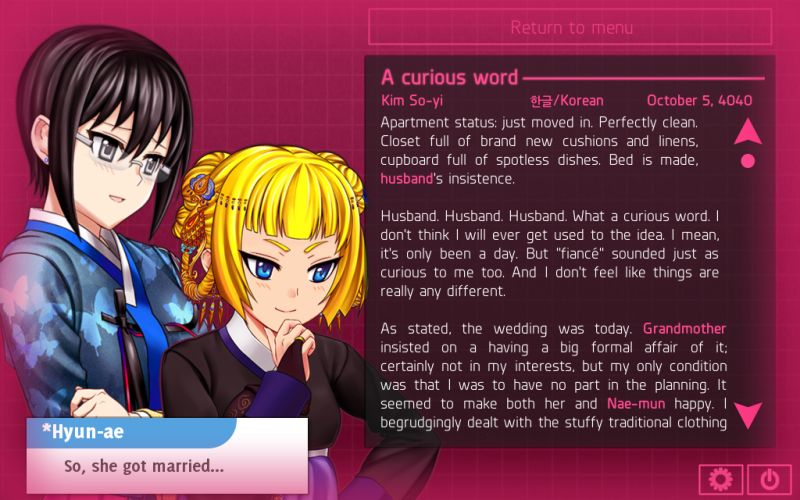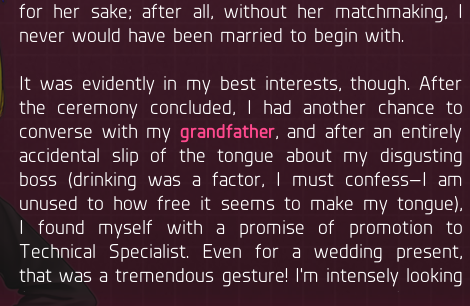 ...ah, that's really romantic, though...

For once we're in agreement!


...but she's a married woman! A newly married one, even!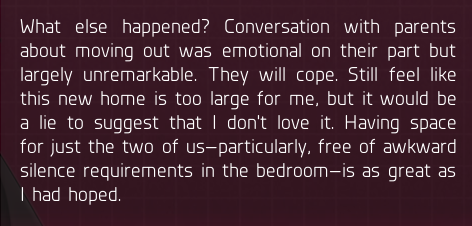 That's nice, but... I don't get what "silence requirements" means...

Um... like... not everyone is silent during marital affairs, *Hyun-ae...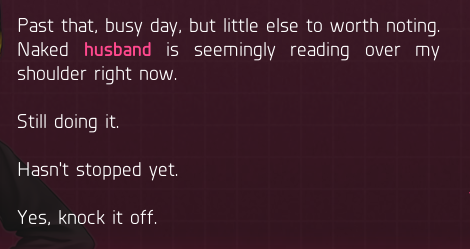 I don't know what that means...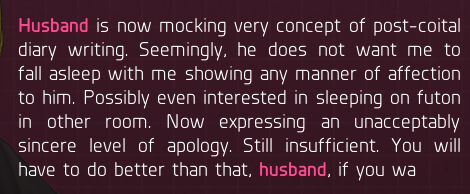 OH. Never mind, I get it now...


Aw, they sound like a cute couple... I'm happy for them!

Ha, serves her right for teasing like that!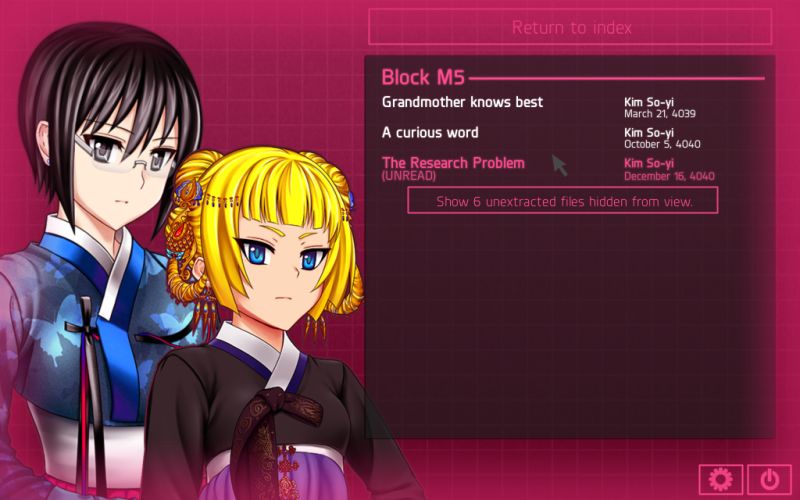 The Research Problem - Kim So-yi
Same warning as previous runs - discussion of sexual assault follows.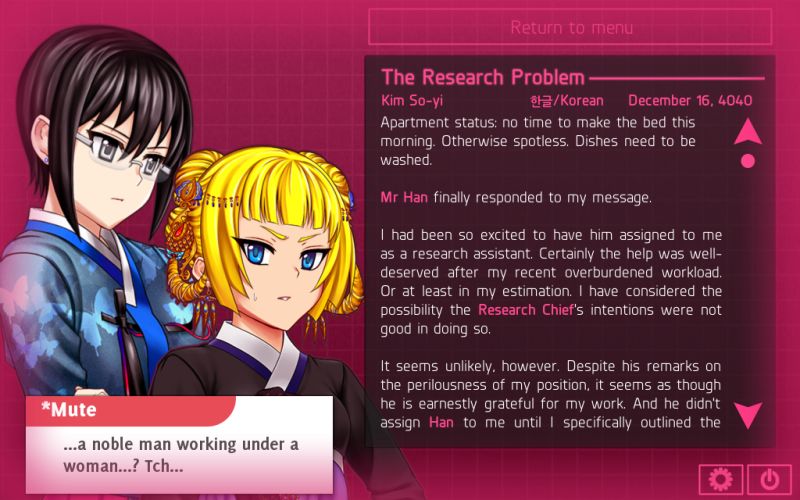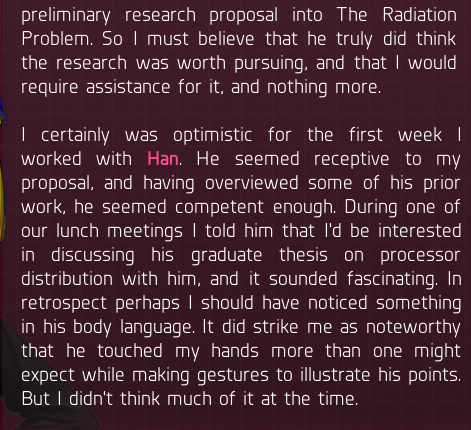 I don't know, I'd really like it if someone touched me like that...

...not your husband? Do you not realize...?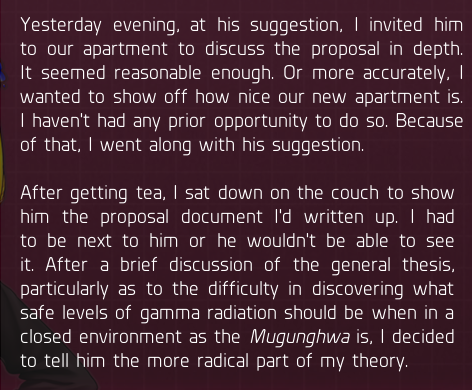 Whoa! Really? I mean... I remember, that was a really big problem in my time...!

Yeah... it was, but was that really why?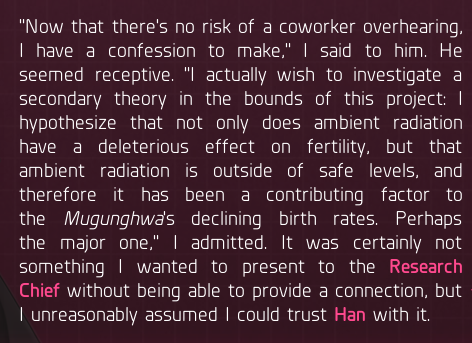 ...like, that's a fascinating theory, but. don't invite an unrelated man alone into your home...!


...now do you see what I was getting at?

Yes... oh, geeze...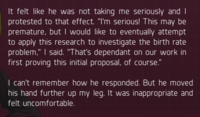 Oh no!

Ugh, no, of course he did...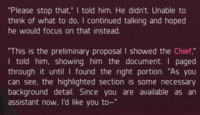 ...you led him on, So-yi... oh no...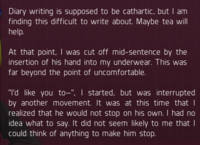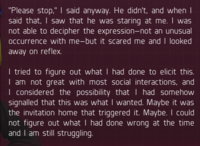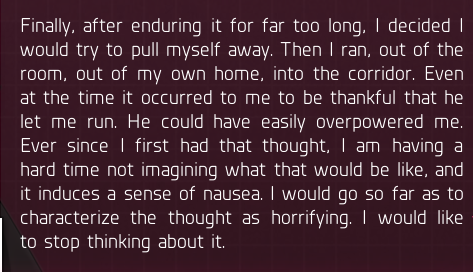 ...that sounds so scary...

...I'm so sorry you had to read this *Hyun-ae.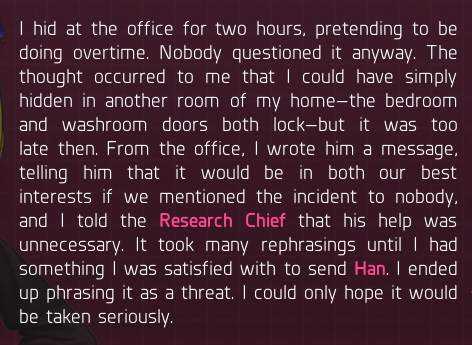 Tell your husband! It's his
duty
to protect you...!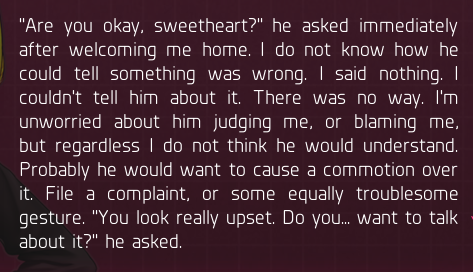 Ugh...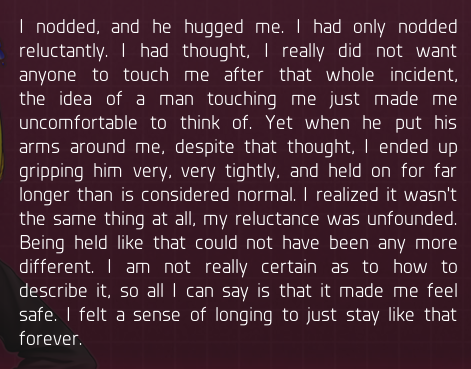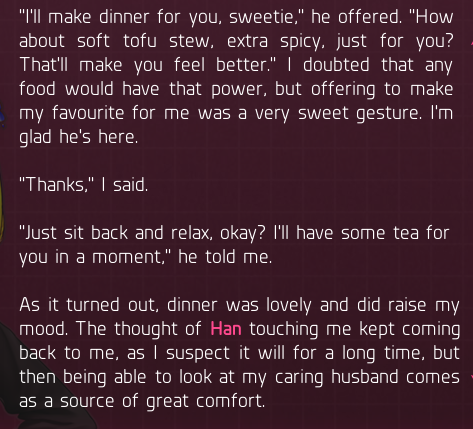 See? This is why it's bad for women to work... things like this happen!

I... I had no idea... that's horrible!