Part 240: 1349: Bad Omens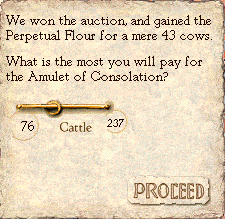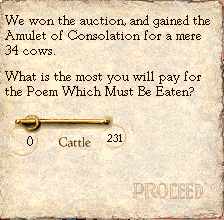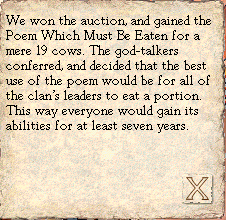 Missing File: BigSale001.png
We'll get this as soon as we can — however it might just be gone forever, sorry! If you know where we can find it, please
get in contact
Rich! Rich, I say! Hahahahahaha!

I've already forgotten what that poem does, though. Oh, well.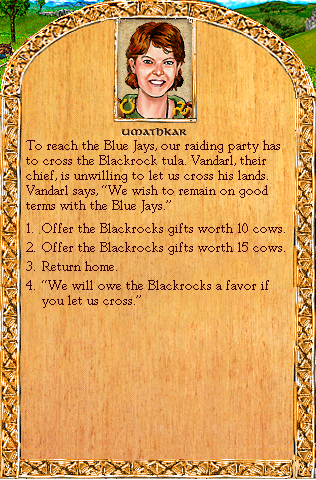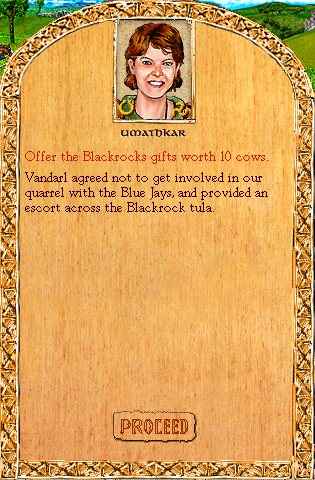 We pay the bitter price in cows and hit the Jays again.



Missing File: BigSale010.png

We'll get this as soon as we can — however it might just be gone forever, sorry! If you know where we can find it, please

get in contact


This time, I give the order to burn their homes.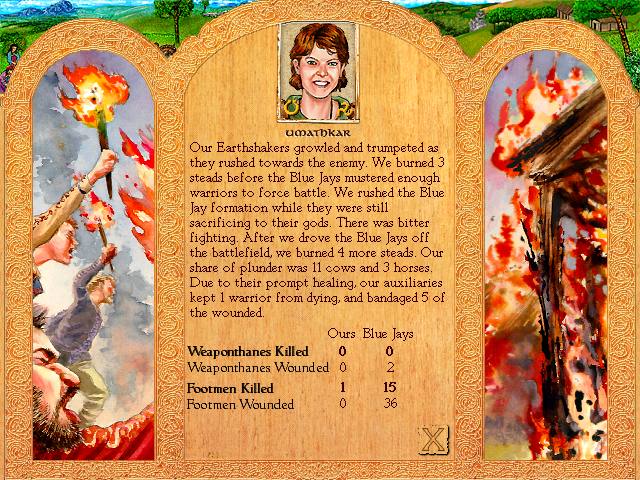 As always, it is successful.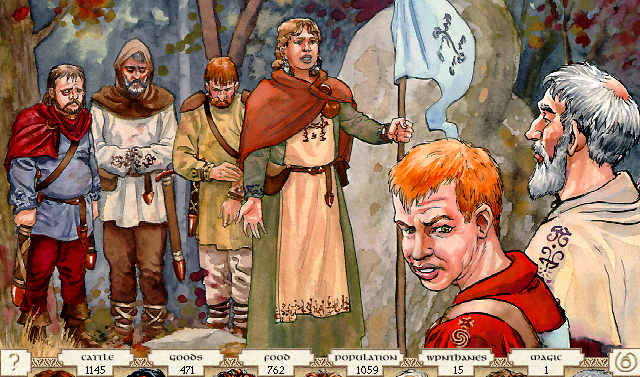 And it achieves the wanted effect, surrender. I ask for tribute--not so much because we need the cows, but so that we know when they think they can take us again. When the tribute stops rolling in, it's time to step fiercely on their stead.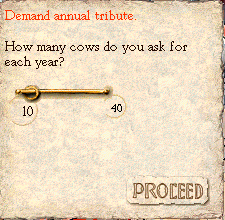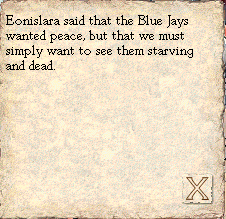 They think they can get a better deal somewhere else, which is foolish. But because fire is over and they're way too far away to raid during storm, they're safe for now.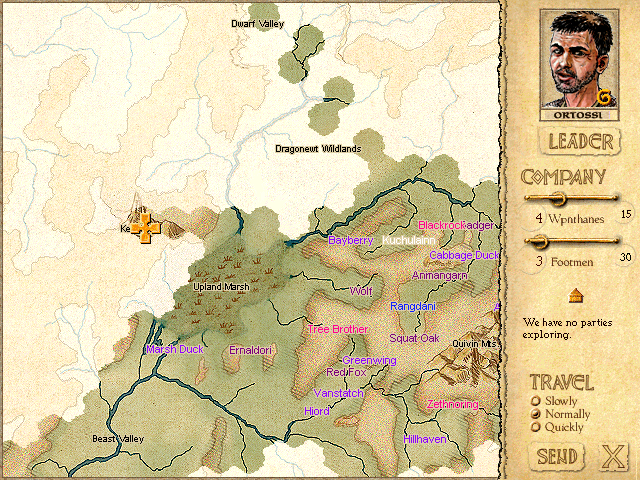 Time to stop looking for the gray net and start searching Kero Fin some more.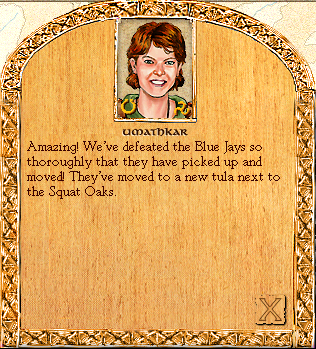 Where could they go? They were already the most remote clan in all of Dragon Pass!

Maybe they moved to Prax.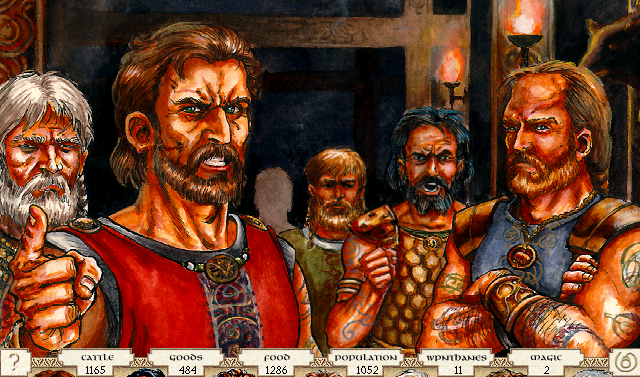 Then the weaponthanes complained that the eleven of them weren't enough to protect the tula, ignoring the four that Ortossi took with him.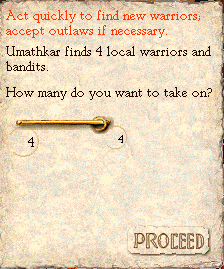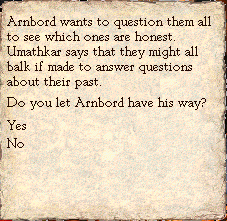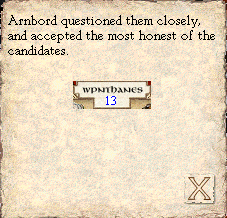 At least it was a good opportunity to get a few easy thanes.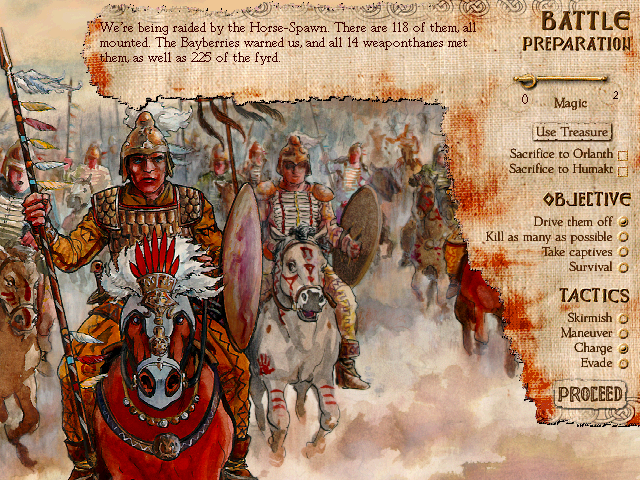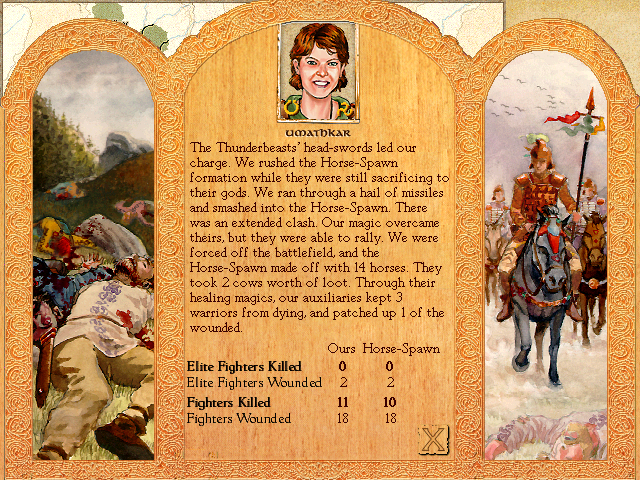 It's official... we can STILL LOSE BATTLES. Damn shame, that, the raid hurt.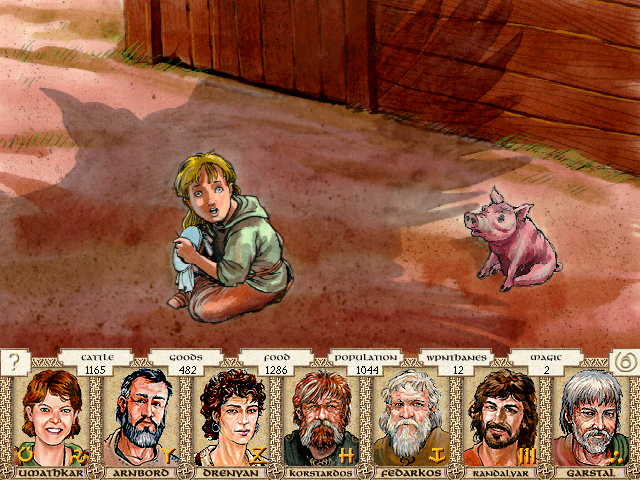 Beneva, a young, unmarried women of your clan, sees a terrible omen. As she is sitting doing needlework, the shadow of a bird passes over her. When the people hear of this, they are very troubled; this omen means that some grave disaster looms. It might mean death or illness for the girl or one of her kinfolk, or trouble for the entire clan.
Do nothing.

Sacrifice to the gods for luck.

"This is not a bad omen."

"We are strong enough to face any misfortune."

Send her to a distant clan, where a relative can raise her.

Once everyone is talking about an omen, they have a way of coming true. Reassurance is most needed here.

We should let a distant relative take her in. Her fate won't affect us, then., and they might escape it, too.

Birds are bad because they serve Orlanth's enemy, Yelm, the Emperor.

Sacrifice to Shalana Arroy; we have many suffering people, and she will show us mercy.

We are doomed! There is nothing we can do!