Part 7: A Joel Schumacher Film
Update 7: A Joel Schumacher Film
Last time, Muhammad spread his message far and wide and gave us some new duds.
Also, I finally realized I'd been misspelling Muhammad with an e and went back to edit all the previous posts. Whoops!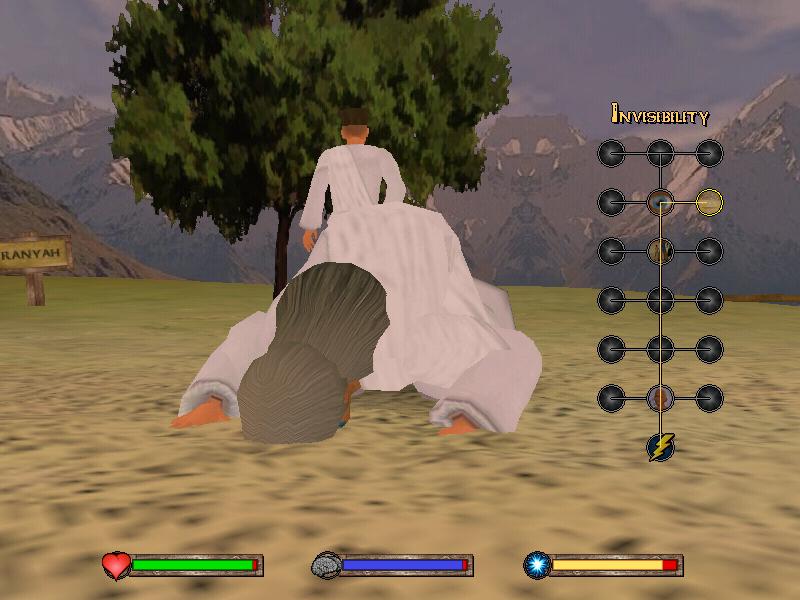 I neglected to show off Invisibility last time, so let's do that now.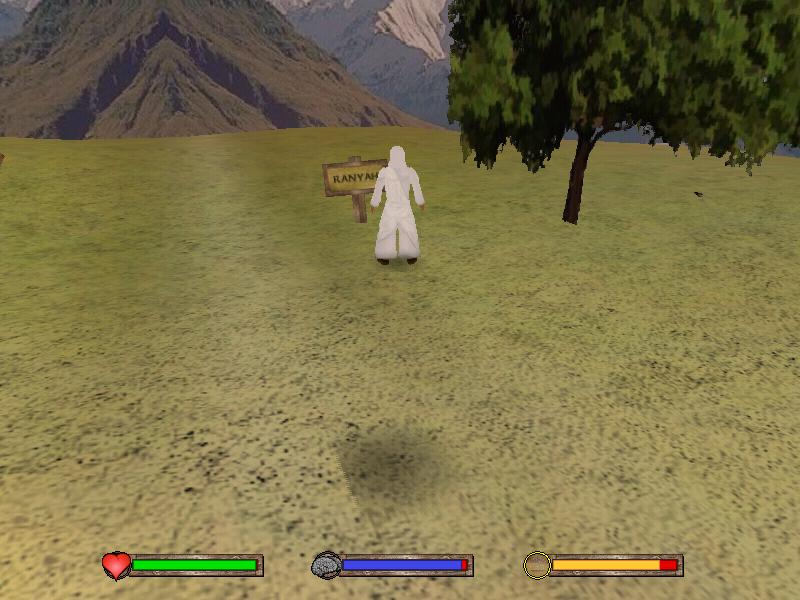 It makes us invisible, naturally. Drains our spiritual energy to keep it up, and we're counted as pseudo-incorporeal while invisible so we can walk straight through people.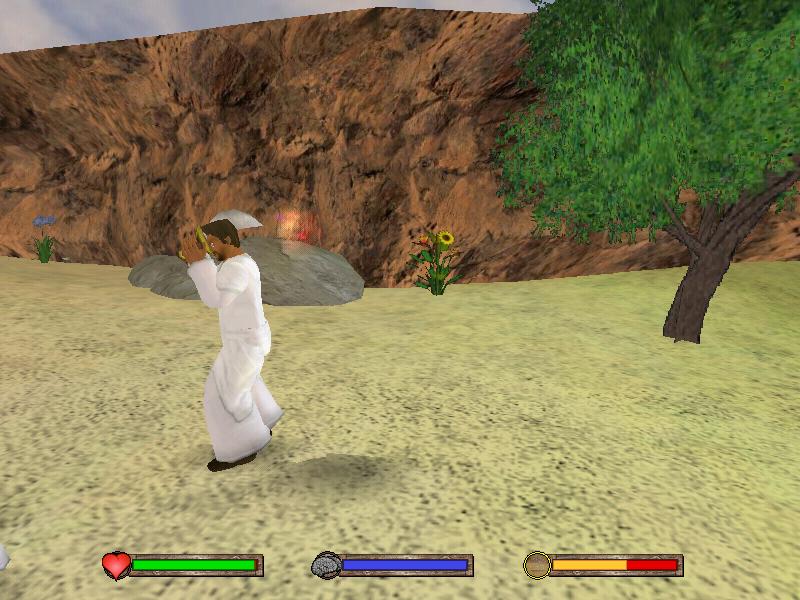 However, we can beat the shit out of people while invisible! This doesn't give us any crimes so we can merrily brutalize anyone we want.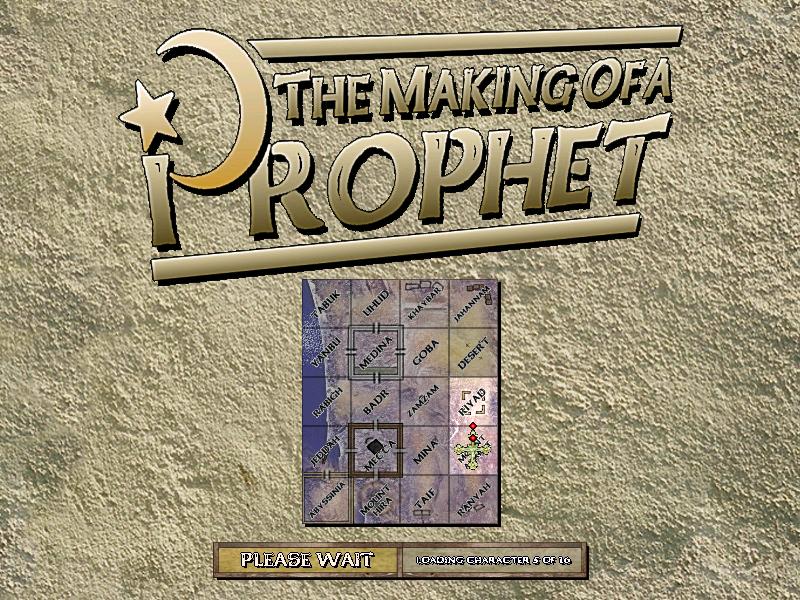 God damnit, there was another event? I was dicking around for five minutes and nothing happened!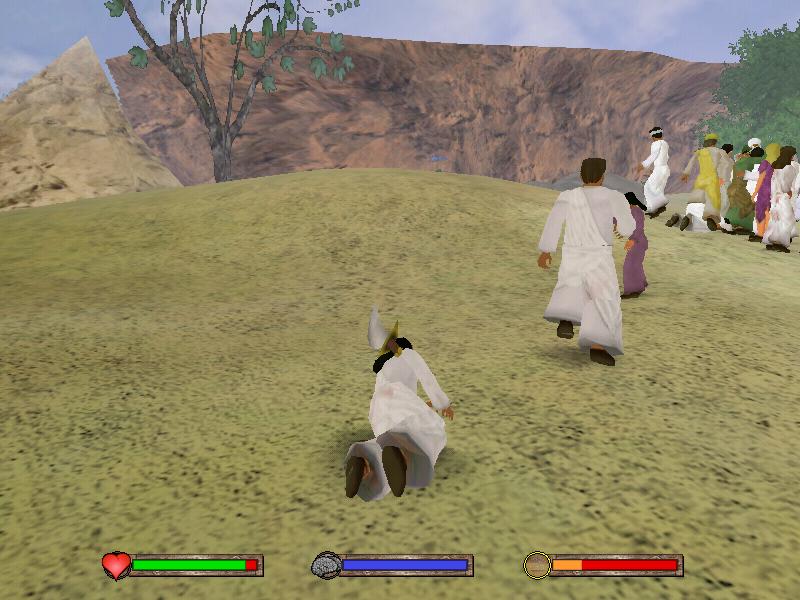 The frustration of two unnecessary loading screens led to me discovering you can also pick up and use weapons while invisible, still without arousing suspicion. This is going to be fun. Anyways, let's see what The Big M has to say this time.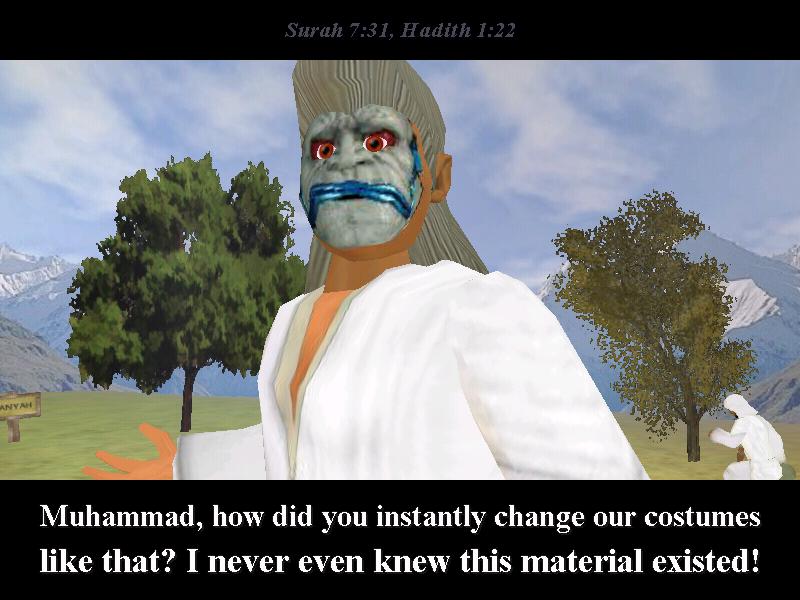 These are the same citations as last update.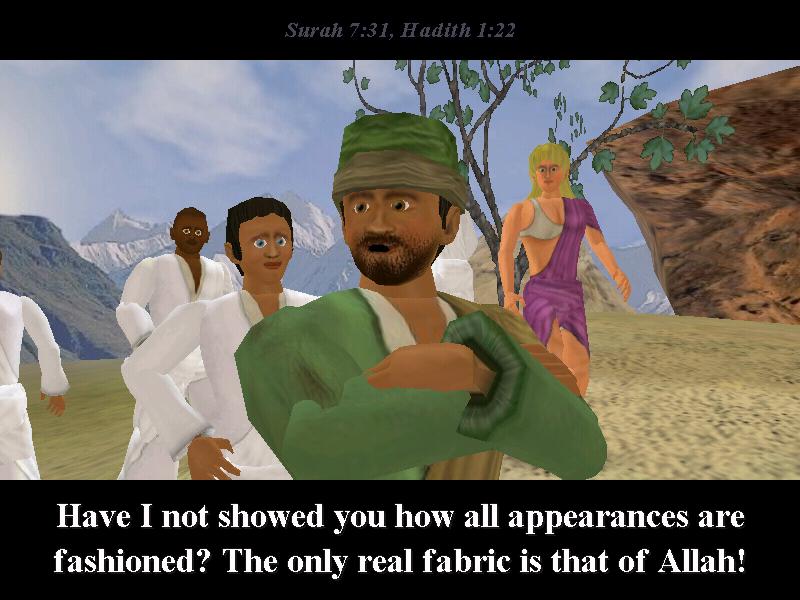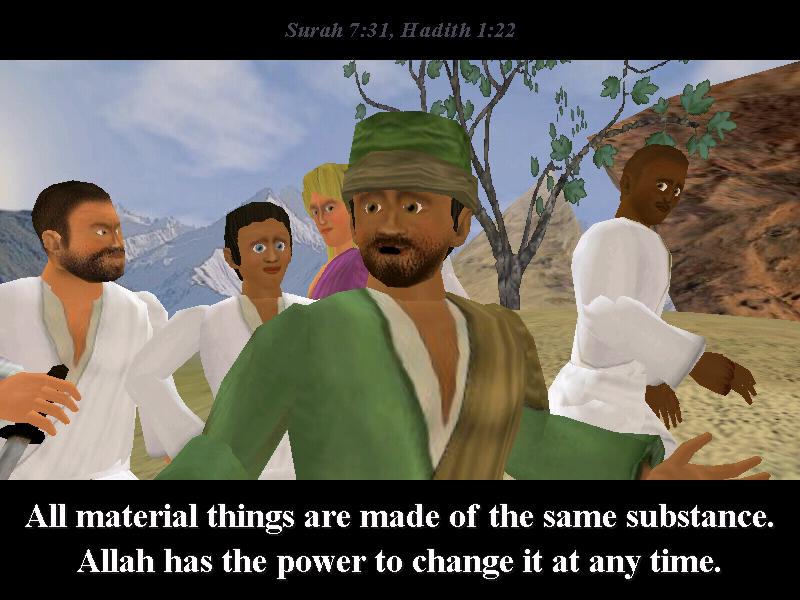 Taken seconds before the assassination of Muhammad.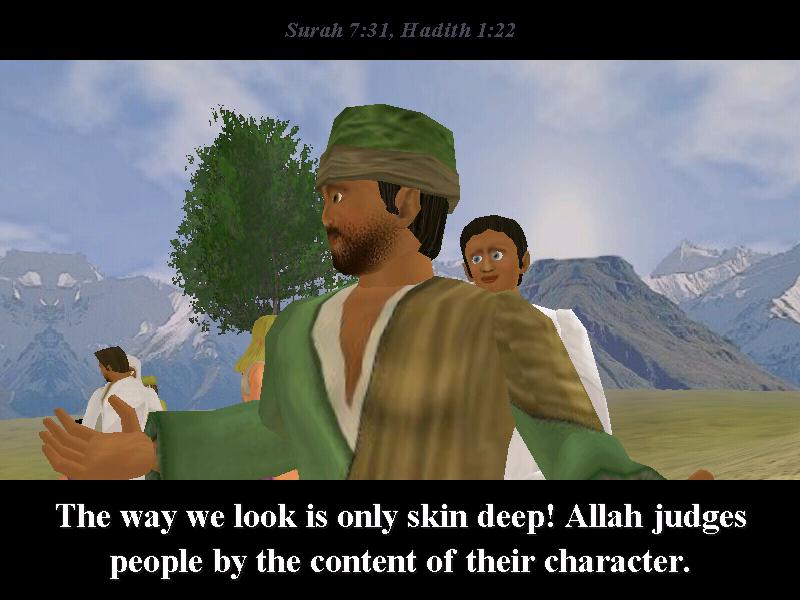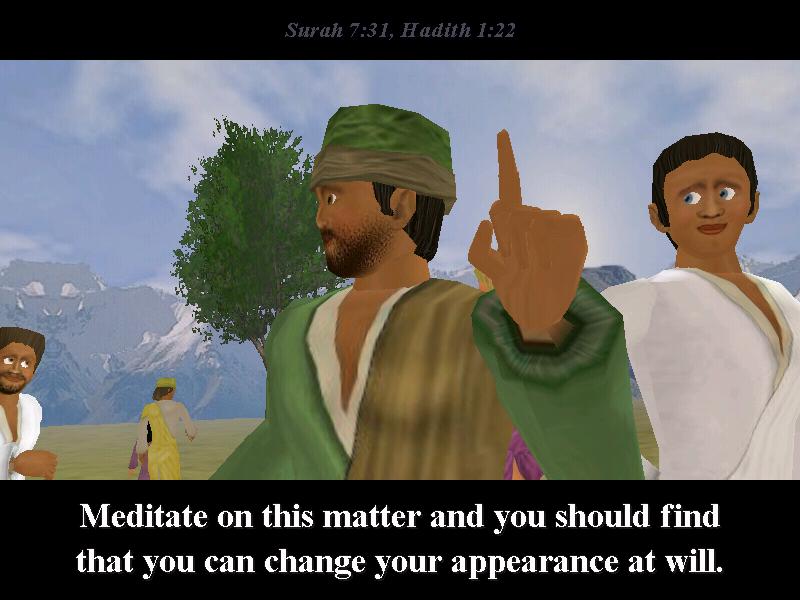 What is that guy doing?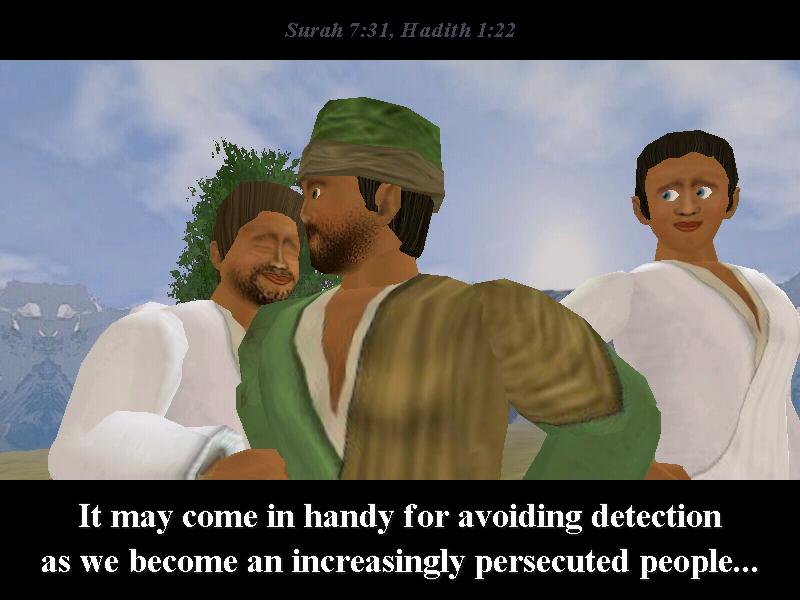 BAD TOUCH
Let's check out our new mirac-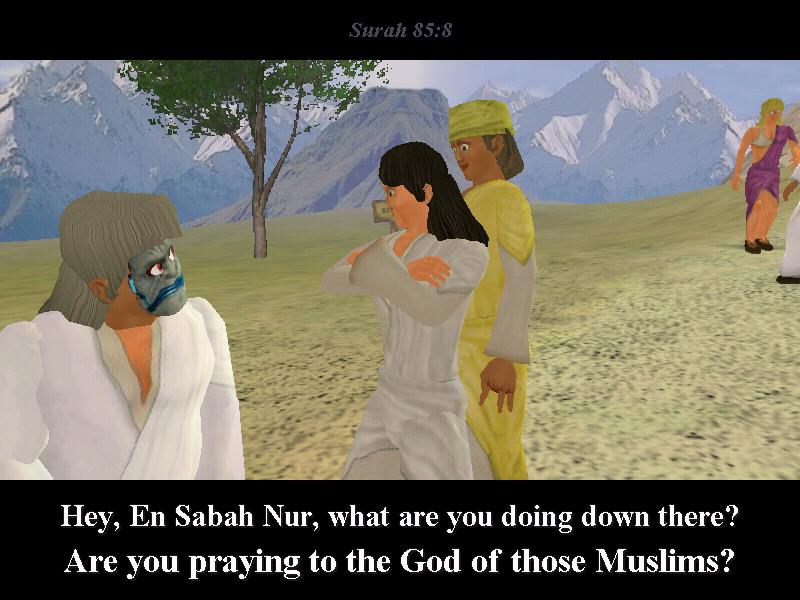 SHUT UP AND GET BACK IN THE KITCHEN WOMAN
Anyways.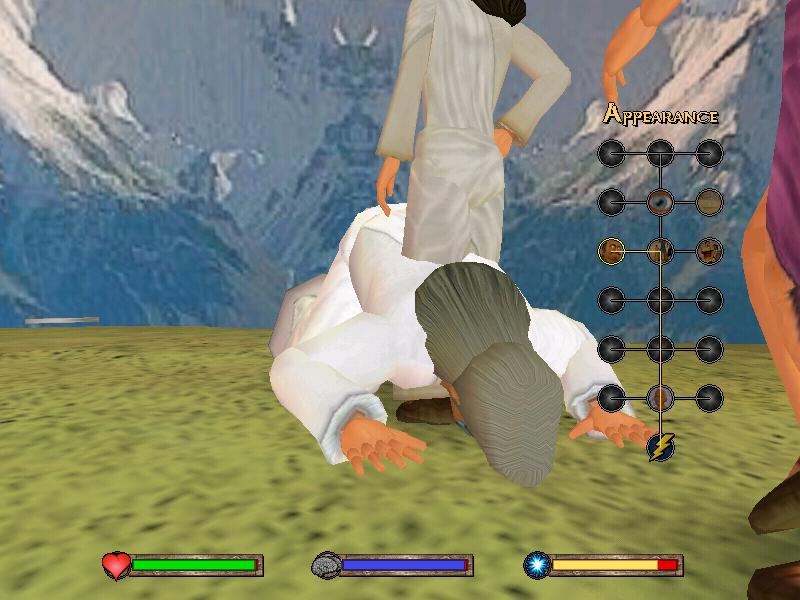 So, Appearance, like in the last game, lets you change your hairstyle and face. However, unlike in the last game, your face is fucking embedded in the ground while you pray, making knowing what you will look like COMPLETELY IMPOSSIBLE.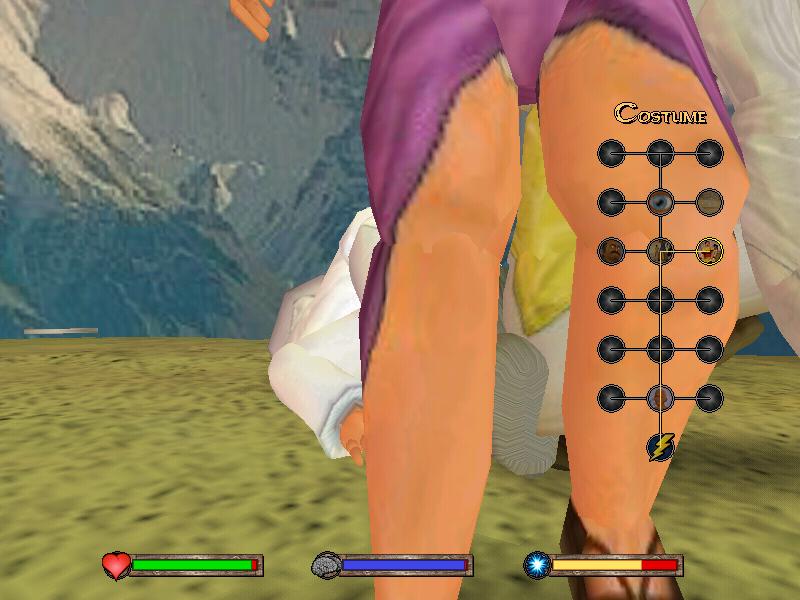 Appearance lets you change what your clothing looks like, to a certain extent. It's not as flexible as the character creation's clothing selector.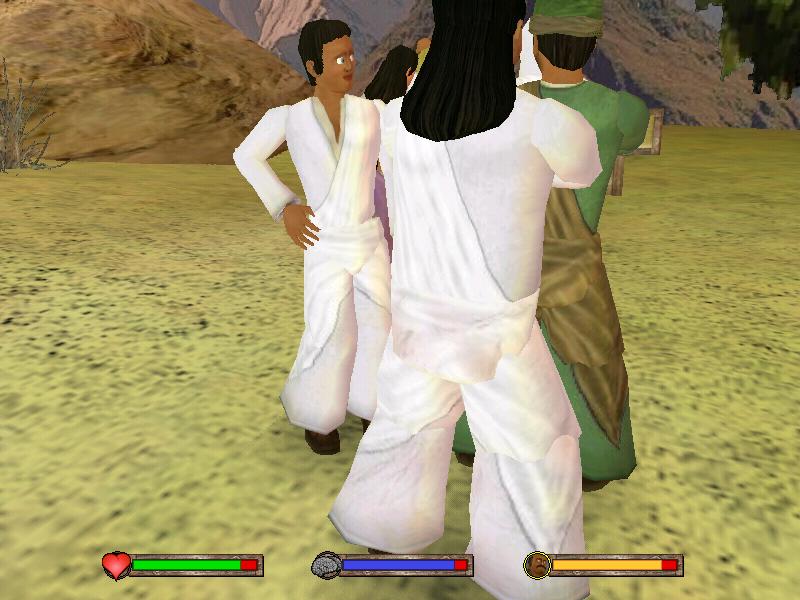 In other news, MY WIVES WON'T LEAVE ME THE FUCK ALONE WHEN I'M PRAYING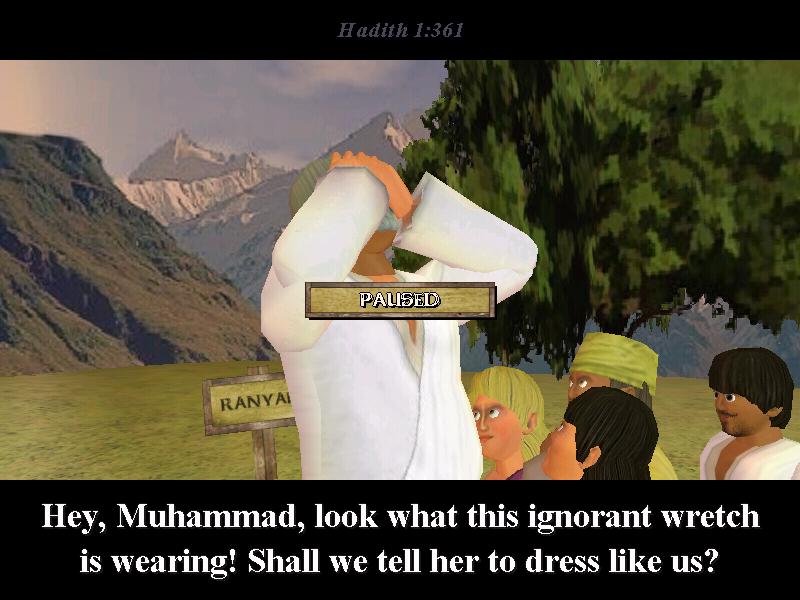 I got up when one stomped me in the face, and immediately triggered a conversation.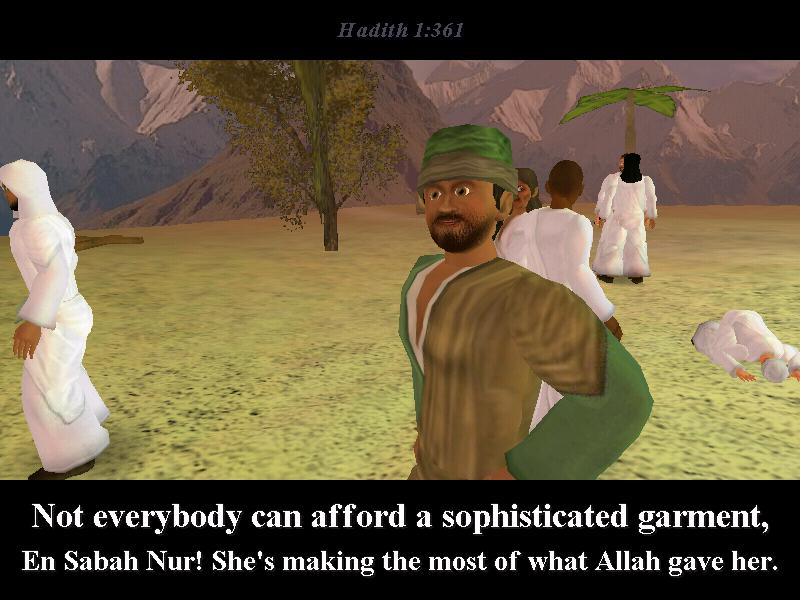 I'd be much more concerned if she was wearing the garment of faith incorrectly! You may want to consider it is YOU who is naked in the eyes of Allah...
Take a shot. And aren't we wearing the damn faith garments?
Hadith 23:361 posted:
The Prophet was shrouded in three pieces of cloth which were made of Suhul (a type of cotton), and neither a shirt nor a turban were used.

Uh, okay. Muhammad appears to be wearing a shirt AND a turban. And this has nothing to do with proper dress.
So, let's demonstrate an unspoken power that Appearance and Costume have: mimicry! Activate the power, stand up, and press S when facing the person you want to steal the identity of.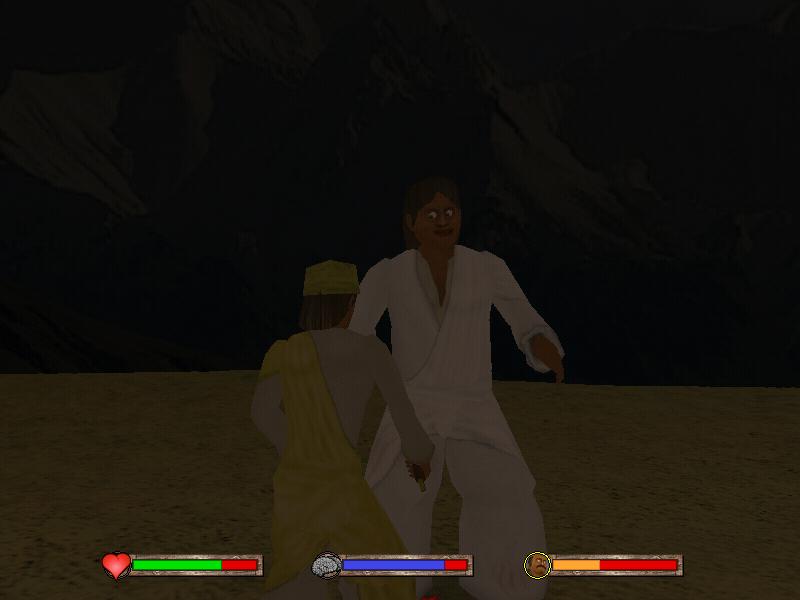 Booya. Combining Size, Appearance, and Costume's secondary abilities means you can become the exact clone of somebody if you have the same general body build (normal, slim, chubby, fat, woman). However, stealing somebody's face (or even their duds) gets them incredibly pissed and they will beat on you constantly until you change to something else.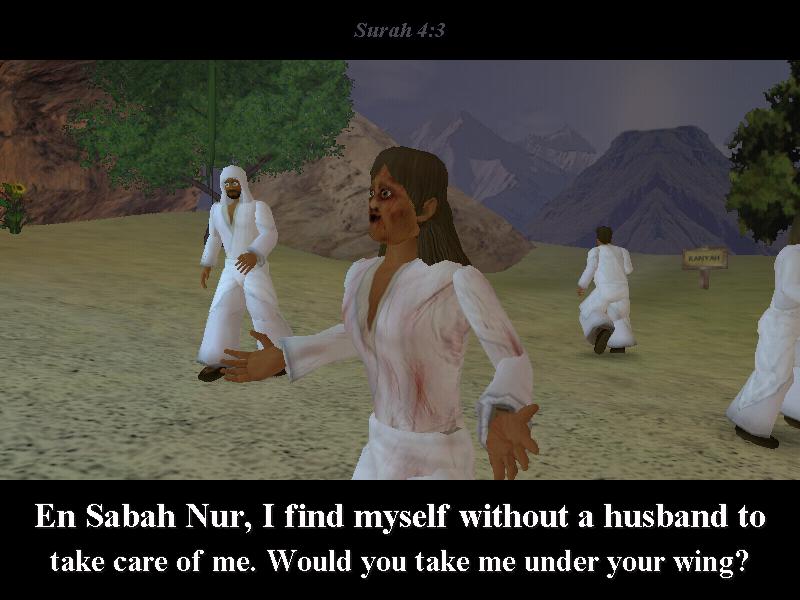 The horrifically abused woman that used to be married to Molestro asks us to marry her. Err, okay, but as soon as things get creepy I'm out. And I am not putting my dick anywhere Molestro has been in fear of some sort of self-aware seed-evolving STD.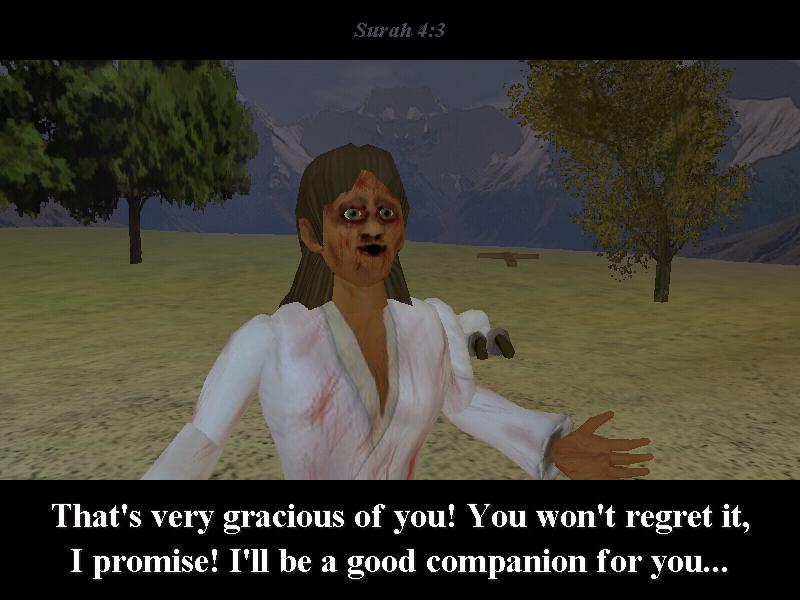 Surah 4:3 posted:
3. If ye fear that ye shall not be able to deal justly with the orphans, Marry women of your choice, Two or three or four; but if ye fear that ye shall not be able to deal justly (with them), then only one, or (a captive) that your right hands possess, that will be more suitable, to prevent you from doing injustice.

So, pretty accurate, I think.
Almost immediately, Muhammad comes up to En Sabah Nur to talk about the new wife.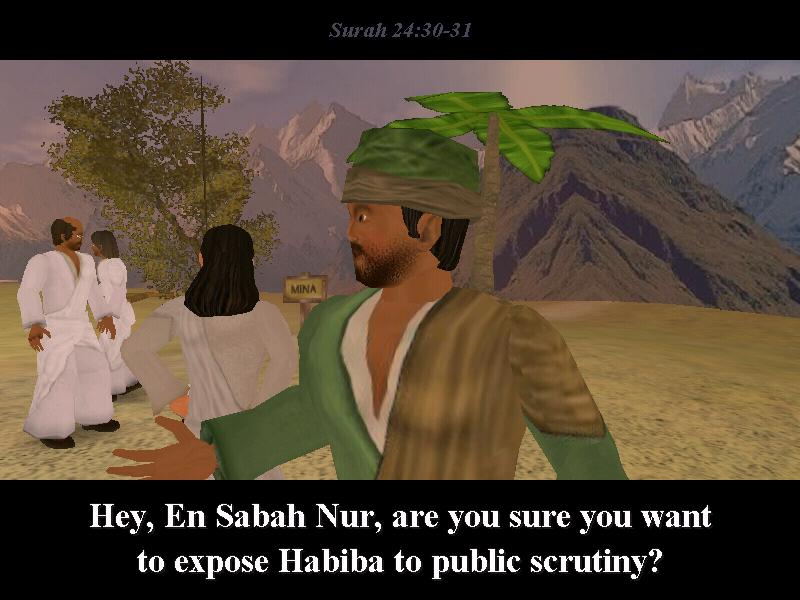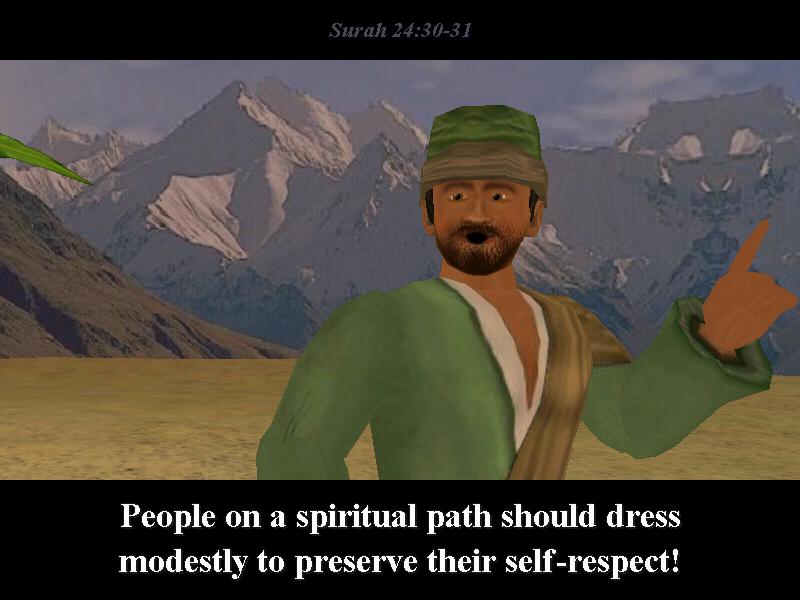 Well, I suppose she sort of has a bit of a plunging neckline and is covered in blood, maybe we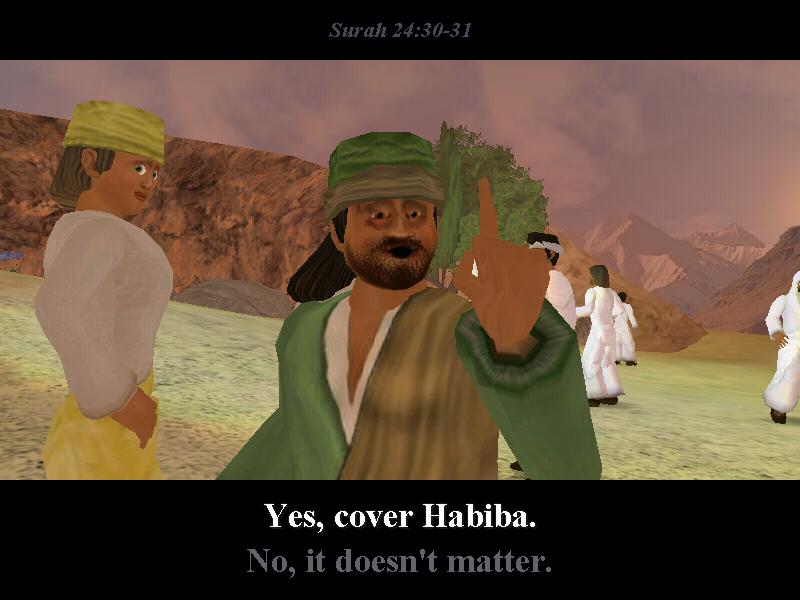 OH SHIT SON IT'S MUHAMMAD 2: MUHAMMAD HARDER
Yes, while we still collapse to the ground and lose stats when we target Muhammad, I wanted to show that it was entirely possible to clone Muhammad via miracles and play as his body double. We, however, are too fat to do it properly.
So, let's get Habiba some nicer, not bloody clothes.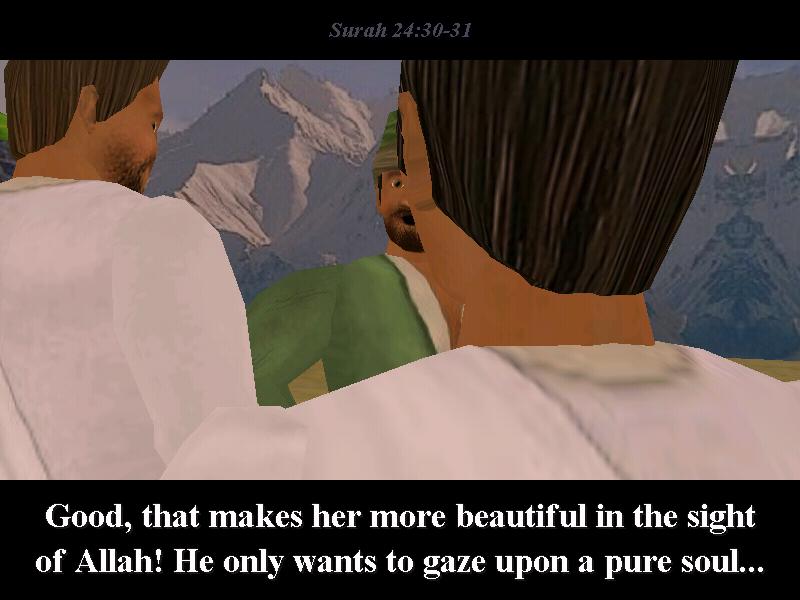 Take a shot. And yeah, I doubt that Allah likes looking down at a bleeding wreck of a human being.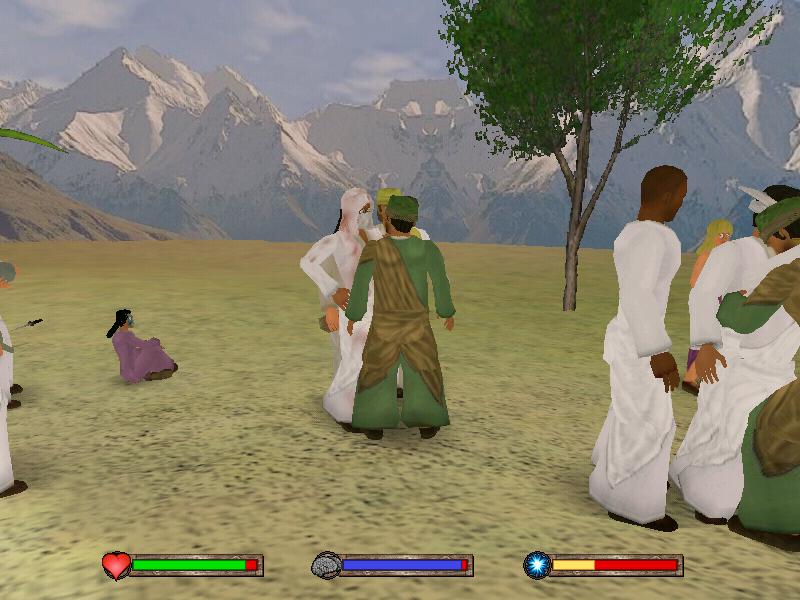 Oh. He gave her a niqab. A bloody, white niqab. With a fucking 3 foot long neckline.
Surah 24:30-31 posted:
30. Say to the believing men that they should lower their gaze and guard their modesty: that will make for greater purity for them: And Allah is well acquainted with all that they do.
31. And say to the believing women that they should lower their gaze and guard their modesty; that they should not display their beauty and ornaments except what (must ordinarily) appear thereof; that they should draw their veils over their bosoms and not display their beauty except to their husbands, their fathers, their husband's fathers, their sons, their husbands' sons, their brothers or their brothers' sons, or their sisters' sons, or their women, or the slaves whom their right hands possess, or male servants free of physical needs, or small children who have no sense of the shame of sex; and that they should not strike their feet in order to draw attention to their hidden ornaments. And O ye Believers! turn ye all together towards Allah, that ye may attain Bliss.

Let's just move on and never talk about this again.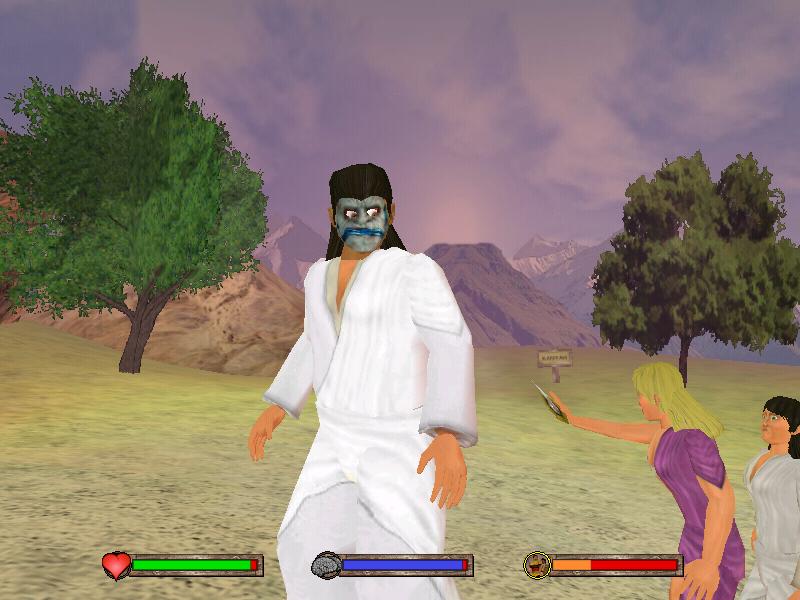 After a bit of finangling, I got back to my old look, or at least as close to it as I could. My eyes and hair are the wrong color, but hey, it's a new look for a new man. Also Barbra is trying to stab me because I hugged one of my other wives.
So, let's go to the next story spot and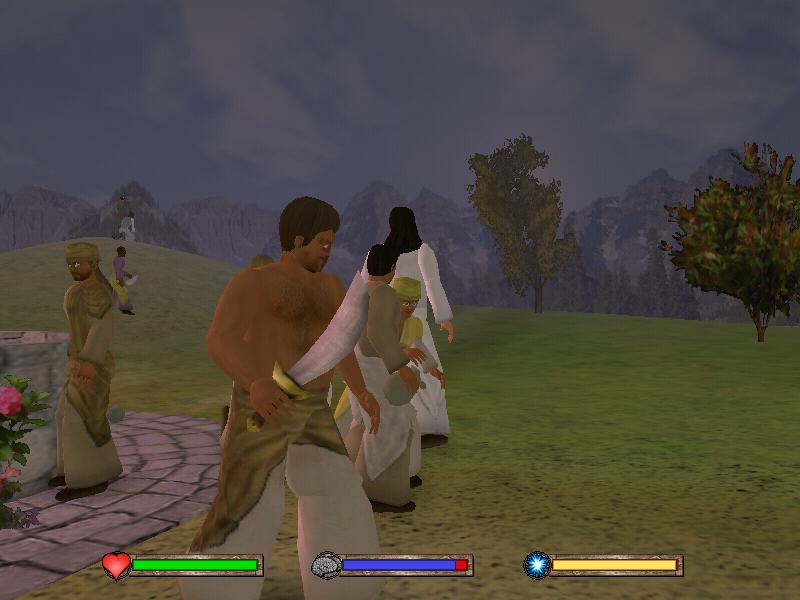 YOU.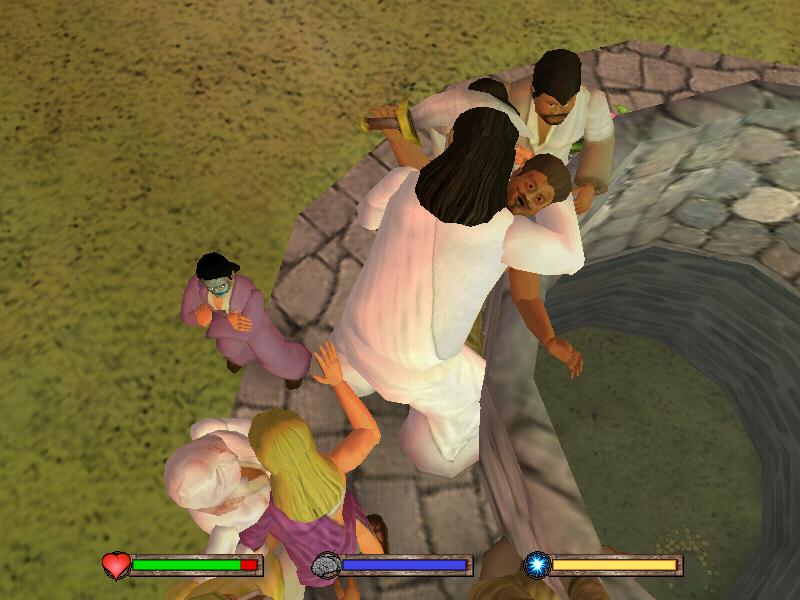 HOW DOES IT FEEL TO BE THE VICTIM!? HOW DOES IT FEEL!?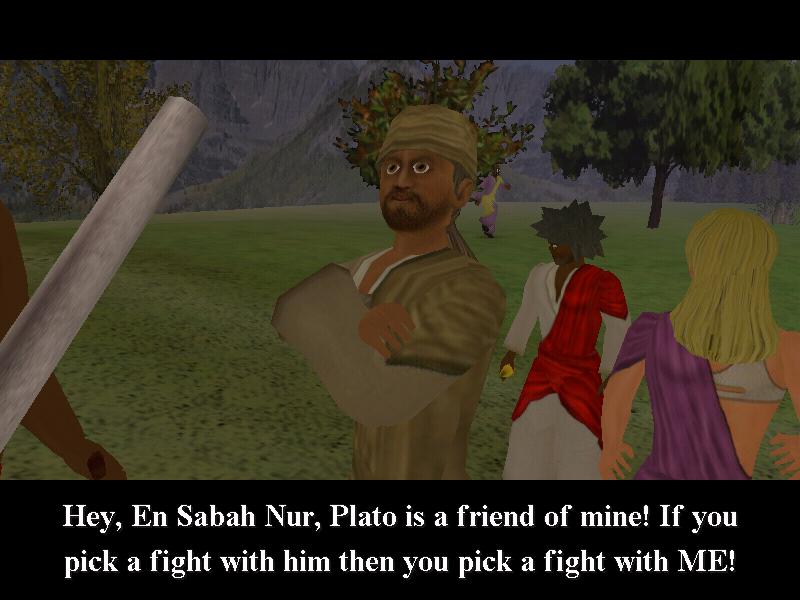 Wait. That's supposed to be
Plato?
The Greek philosopher Plato? The one who was born
a thousand years before Muhammad?
Okay. That's it. I've had it with this game.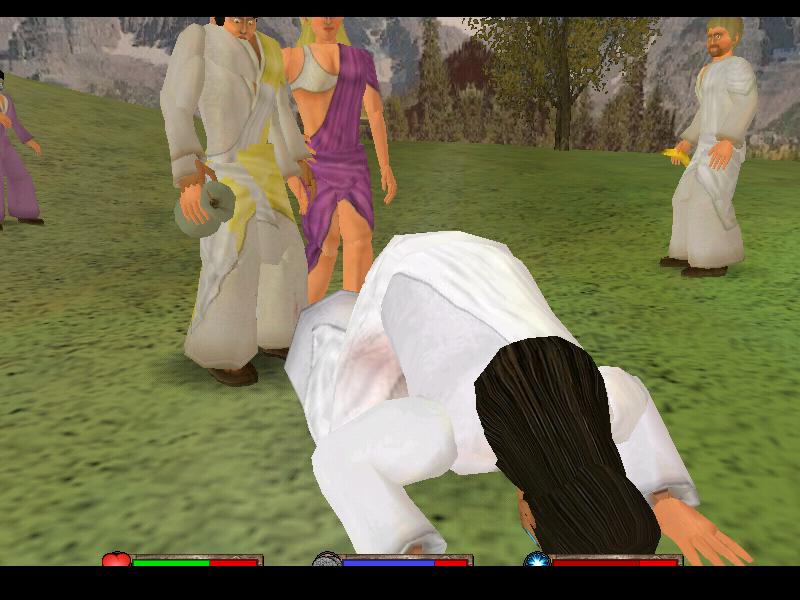 My wives constantly interrupt me when I pray. People beat the shit out of me for no reason. Random historical figures from the wrong fucking continent keep showing up.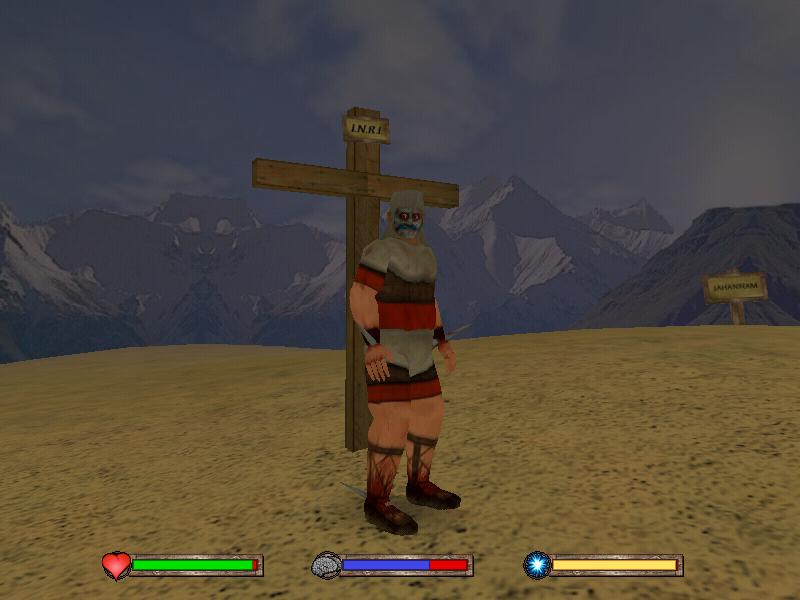 It's time to do something about all this.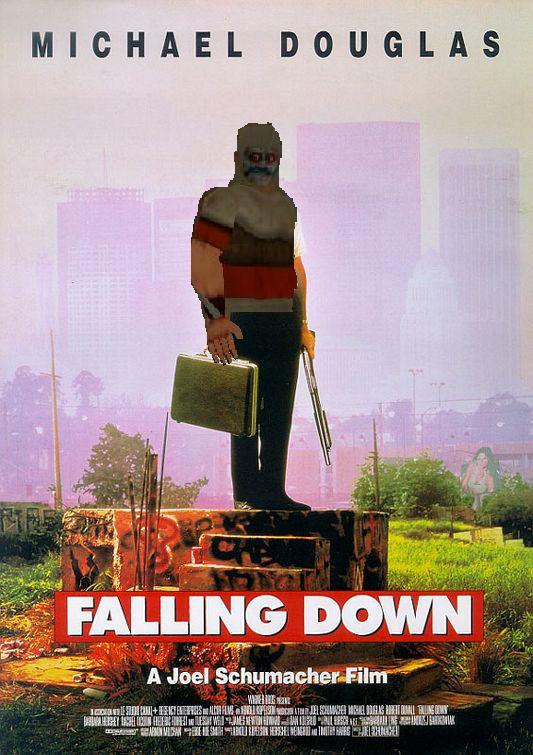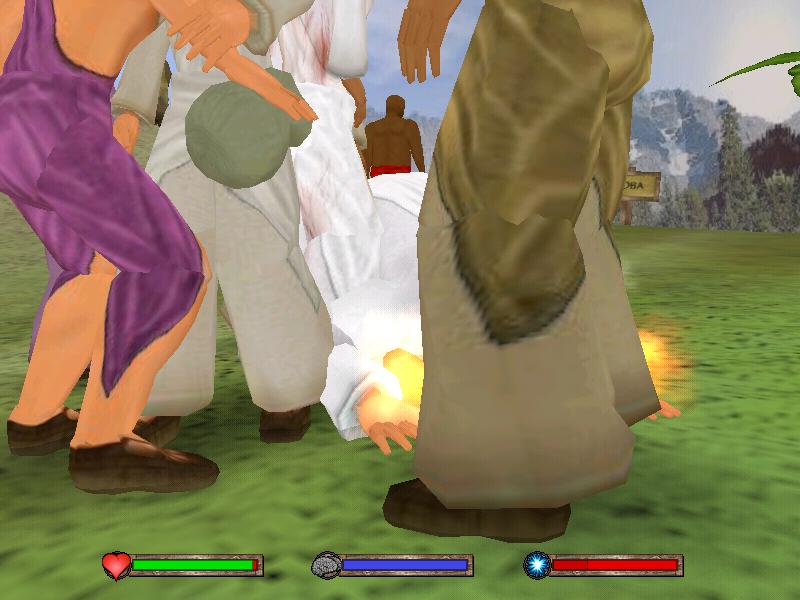 I AM THE GOD OF HELLFIRE! AND I BRING YOU...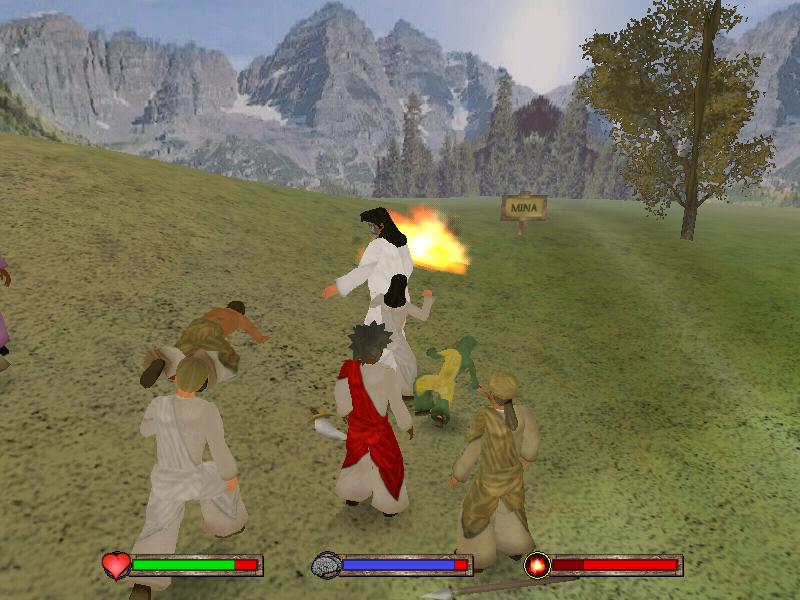 FIRE!
To destroy all you've done!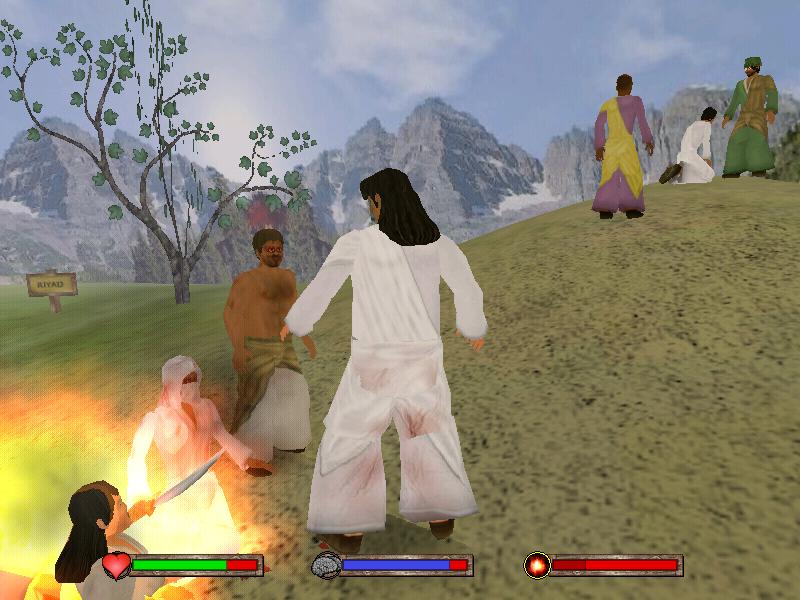 FIRE!
To end all you've become!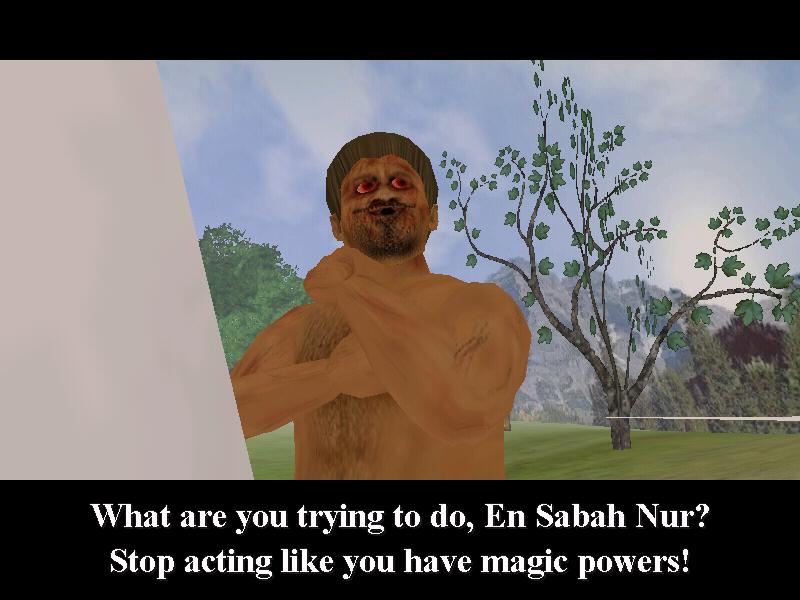 Wait what.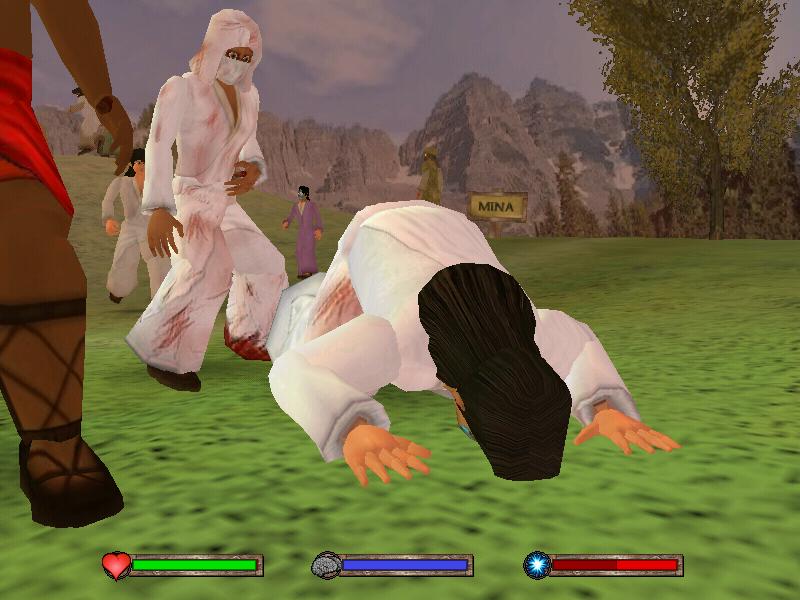 So yeah, here's the only legitimately fun thing in this entire game. The secret Satanic Fireballs. To get it, you build up a ton of bad karma and pray for a while. Your hands light on fire when it activates, and once you get up, you can hammer the S key and explode people with the power of your mind. People scream, light on fire, and explode into a pile of mangled, charred limbs after repeated use. It's absolutely fantastic for relieving stress. Habiba's pictured with a missing foot. I tried to avoid hitting her though. She's the only wife who doesn't pester me.
Didn't pester me.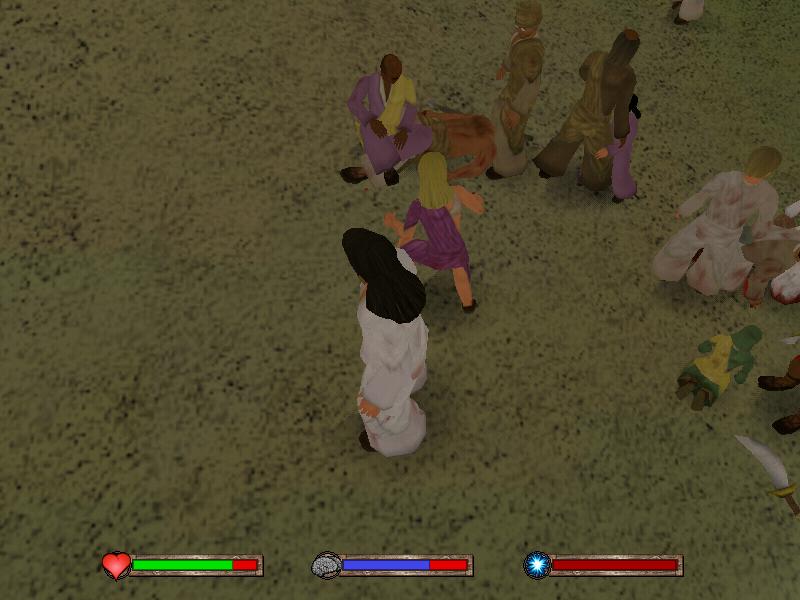 After another round of explosions, Molestro falls to the ground and lets out a death rattle. It's over. It's finally over. We've won.
Let's go talk to Muhammad.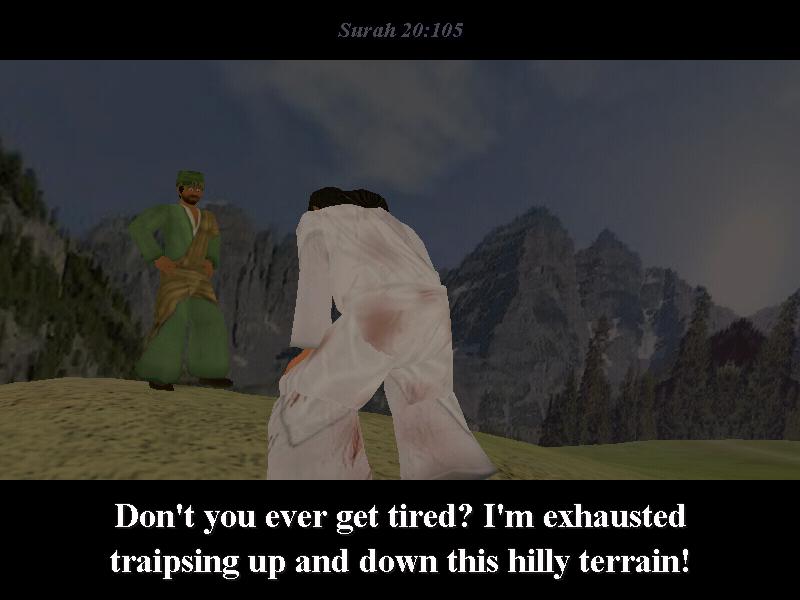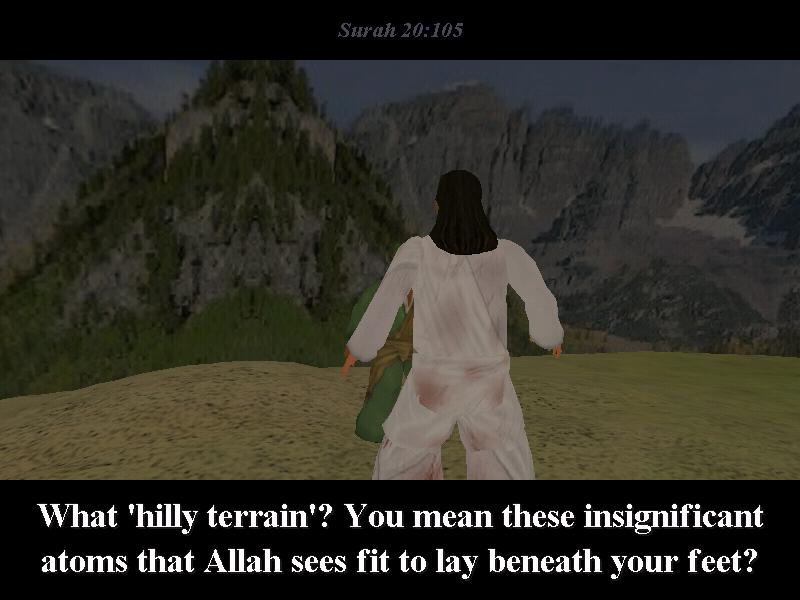 He forgot to remove this mention of atoms so it sticks out even more than it did in the last game.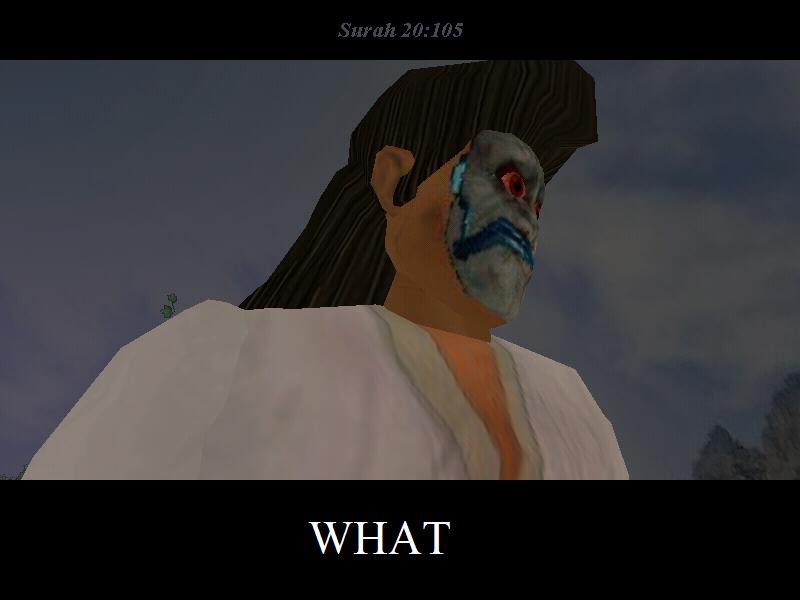 Subtitles didn't take with this one. In resubbing it, I made an image that accurately sums up my entire reaction to the game almost as well as that picture of En Sabah Nur on the cross.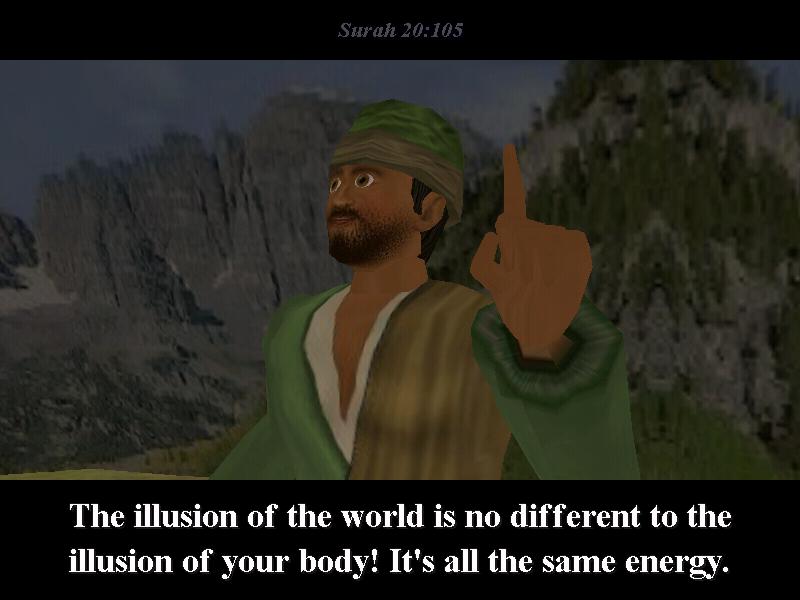 Don't let an illusion hinder your progress. We must learn to use it to our advantage...
Surah 20:105 posted:
105. They ask thee concerning the Mountains: say, "My Lord will uproot them and scatter them as dust;

Take a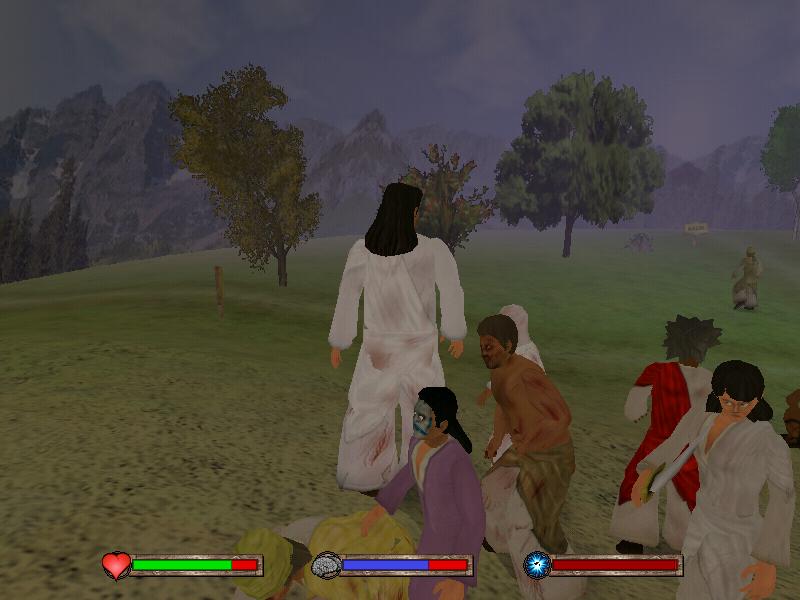 No.
No. No. No.
He has sealed his fate. He has sealed everyone's fate.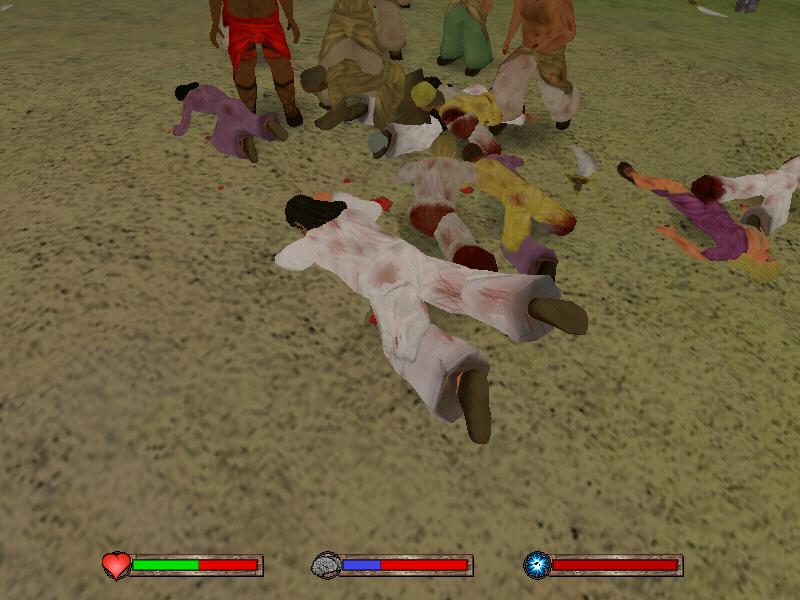 Everyone will burn.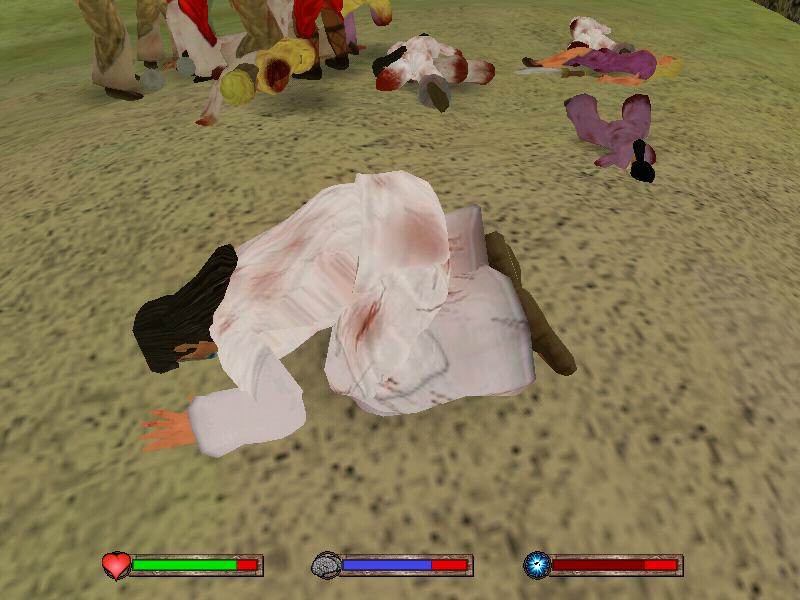 My third wife is now a torso with a single arm. She keeps crawling. She does not last long.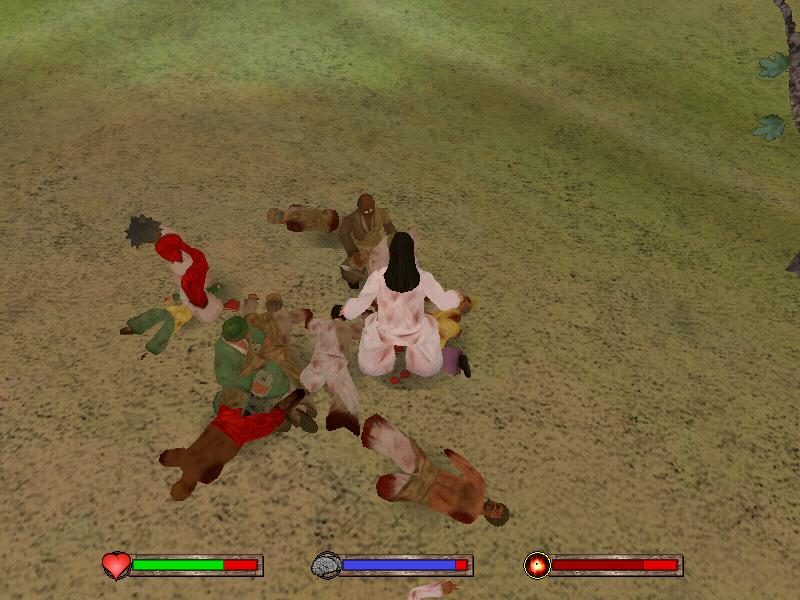 Molestro died slowly. That man with no limbs is somehow bobbing along the ground.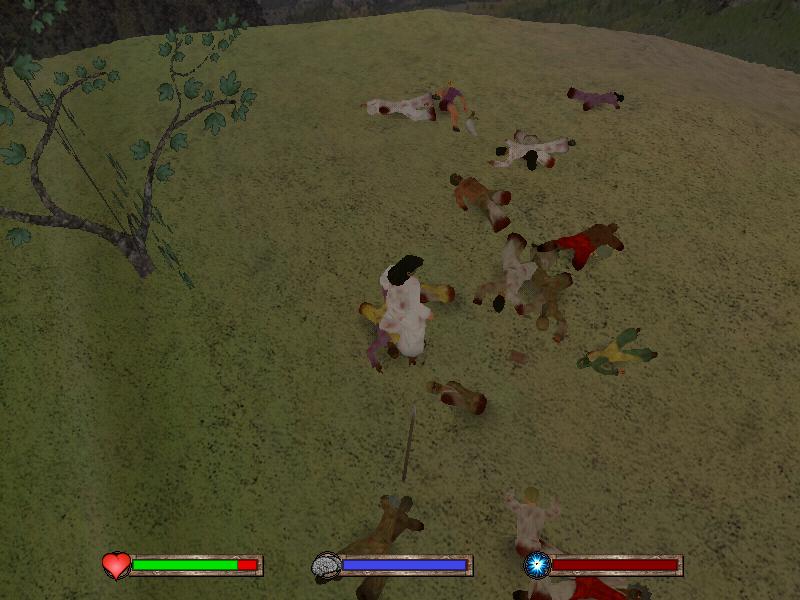 It is done. Everyone in the entire area is dead except for Muhammad, who is immortal. I have murdered the population of a small town with the power of Satan. I killed my four wives and only son because they would not stop bothering me. This is what you have driven me to, MDickie.
...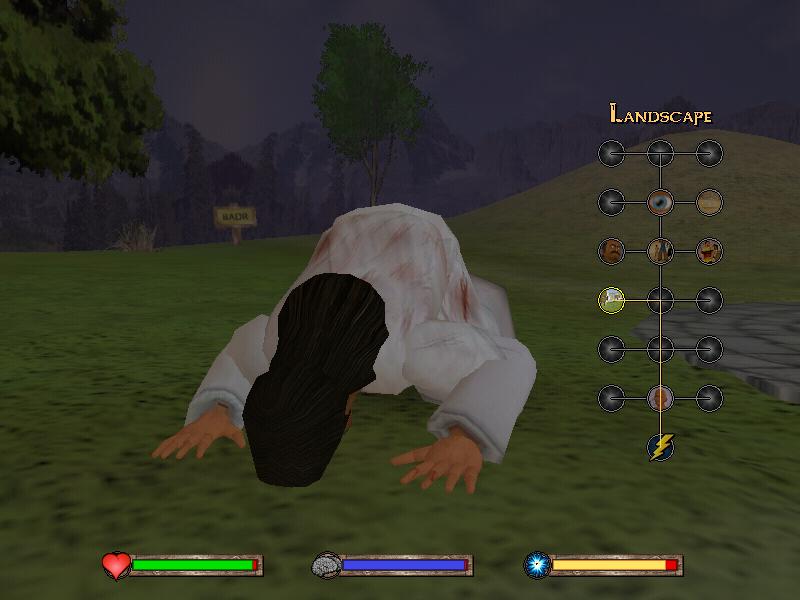 LET'S CHECK OUT OUR NEW POWER SHALL WE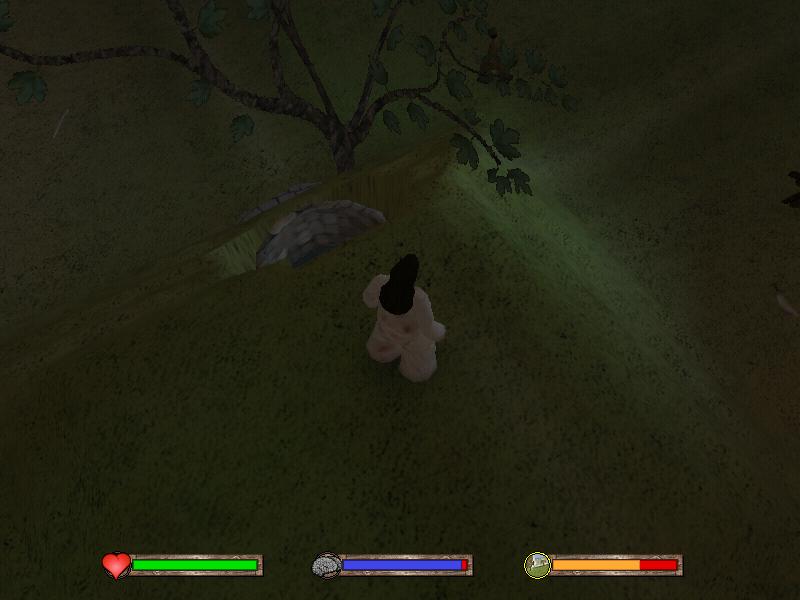 IT LETS US RAISE AND LOWER THE TERRAIN WOW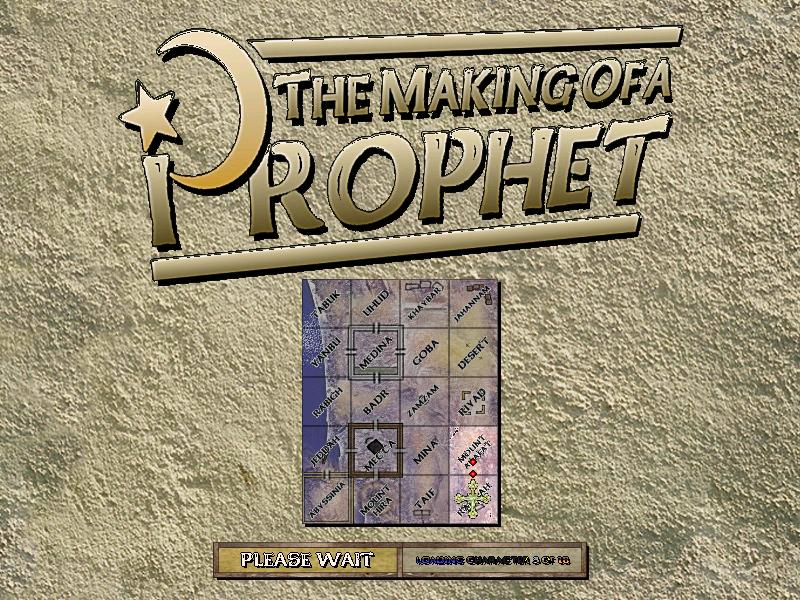 SEE YOU NEXT TIME FOLKS