Introduction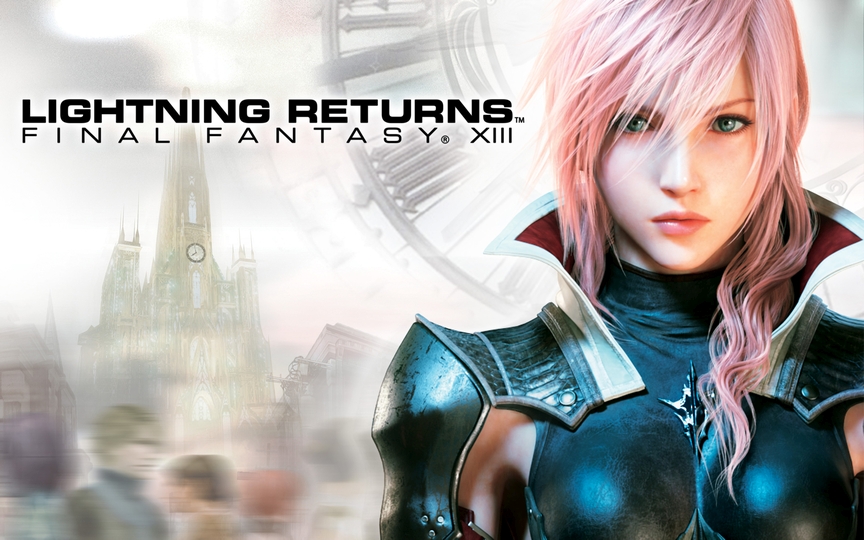 2013 was not a good time for Final Fantasy. XIV had been crashing and burning for years, All the Bravest was reviled on mobile, Versus XIII ceased to be as Nomura was kicked off his own project in favor of the Type-0 director (a game which had already branded itself away from the XIII universe), and anything XIII-related was particularly toxic. Despite the initial good reviews, opinions of XIII itself had soured greatly in the past three years, and XIII-2 was seen as an unnecessary sequel even by those who enjoyed it. Review scores trended around 6-8, and sales were barely half that of the original. The message was clear - it was time to take a break from Final Fantasy, and move on from the FNC universe.
Yet, despite all the signs, Square felt compelled to try again. Maybe they felt that XIII-2 ended on too blatant of a cliffhanger. Maybe they gave too much credence to Motomu Toriyama, who, for better or worse, was the only director of a main FF game in the last decade to actually ship it. Or maybe they simply thought the fans would come around given a proper conclusion to the sub-series. Whatever the case, Square clearly thought they had a compelling case to take one more stab at it, so they called up Tri-Ace and went back to the drawing board.
The Game
Lightning Returns: Final Fantasy XIII
is the third and final game in the XIII sub-series, and it takes the peculiar strategy of throwing out basically everything from the first two games. The world, game design, and even the combat has been completely redesigned to the point where it legitimately feels like someone took Lightning and friends and shoved them into a different game altogether. Which is arguably one of the strangest things of all about LR - this game has clearly had a lot of effort put into it. This is not like XIII-2 where it was blatant asset re-use with minor increments to an existing battle system, this is a labor of love with a completely new world and combat engine, an open world design with a Majora's Mask style schedule for NPCs, and a writing team that did their damnedest to make this game work, even with the weight of all the FNC bullshit leaning on it.
And to their credit, it
does
work. ...Sooooort of. Despite the effort that was clearly put in, there is no getting around the fact that LR can be
a bit
kind of
incredibly janky. At least part of this can be blamed on the Crystal Tools engine, which was never meant to be used for an open world game and it shows. The framerate has regular dips, and at its worst flirts with single digits on console. Additionally, the combat is in dire need of a proper tutorial and somehow manages to frontload far too many
and
not enough abilities to make the system really sing. And while the sidequests are well-written, the actual plot is standard XIII fare, making it seem like there were two writing teams that weren't allowed to talk to each other at all. As a result, characterization can vary wildly from conversation to conversation - One minute Lightning is a cold, uncaring hardass with literally no emotions, and the next she's helping a young woman get medicine for her dying father or breaking into the palace to help Snow because she's the only one who can empathize with his pain. The whole package is still a positive experience, mind you. But it can be hard to overlook a lot of its bigger faults, especially if you're not playing on PC where the framerate is
much
more reliable.
The LP
If you've seen my
XIII
and
XIII-2
LPs, you already know what you're in for. The editing will be a bit heavier this time around (such is the nature of an open world game), but it's commentary over cutscenes and all that jazz like usual. What
will
be different is our dynamic this time around. My partner in crime,
Fedule
, is quite fond of this game, whereas I am...not. This isn't XIII-2 where I hated pretty much everything about it, but suffice to say that I like the ideas and intentions behind a lot of the design decisions a more than the actual execution of them.
That said, I intend to show as close to 100% of the content off as I can. My first playthrough I did everything except the two superbosses and barring some kind of catastrophe, I see no reason why I won't repeat that. Additionally, I will occasionally be splicing in footage from my NG+ save to show off mechanics and fights that the main LP won't explore. And if all else fails, maybe I'll convince Fedule to go record a few boss runs or something. There may even be some audience participation once we get the first few days under our belt, but we'll see how things go.

SPOILERS

Don't. If there's a mechanics question we'll answer it as best we can, but I expect black bar discussion to be kept to a minimum. The game itself picks up pretty much right where XIII-2 leaves off (...sort of. You'll see), so anything from XIII and XIII-2 is fair game - Caius and Serah are dead, the world is flooded by chaos, and Fang and Vanille were rescued from the crystal pillar. If any of that is a surprise to you, turn back now and at least watch the last chapter or two of XIII-2 and the Requiem of the Goddess DLC. Otherwise you're probably okay, so sit down, turn your brain off, and enjoy the ride because it isn't getting any more coherent from here.
Table of Contents

Thanks Crow!
The following is a list of all our garbs (that we acquired, anyway) as well as a description of what they do and their general role. That's not to say you
have
to use them this way, but it's probably going to take more effort than it's worth.
Note: All descriptions will be from left to right in the following format
Garb Name
Max ATB
: How much the garb affects your max ATB. Baseline is 100, 0 means no change
Default ATB
: How much of the ATB bar you start with at the beginning of the fight. This is generally more important later on, when your main offensive move costs 50 ATB and your garb starts empty.
Abilities
: What combat abilities the garb comes with (and their ATB cost)
Special Ability
: If a garb has a special ability, it'll appear here with a description. Most have at least a token stat buff, but not always
Commandos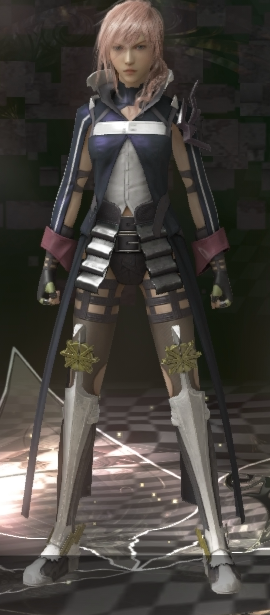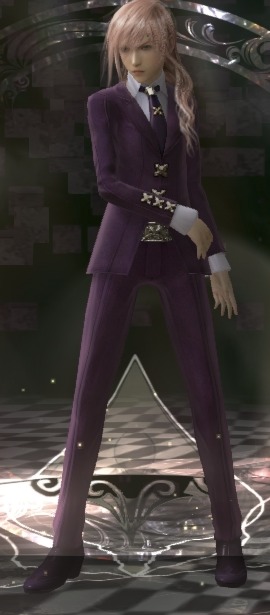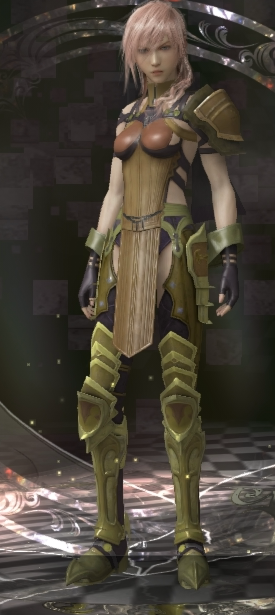 Nocturne
Max ATB: 0
Default ATB: 100%
Abilities: Attack L2 (10)
Max HP +15%, Strength +40
Velvet Bouncer
Max ATB: 0
Default ATB: 100%
Abilities: Blitz L2 (20)
Strength +10%, Strength +80
Vengeance
Max ATB: +30
Default ATB: 50%
Abilities: Beat Down L3 (30)
Stagger Drain (restores some HP when you stagger a foe)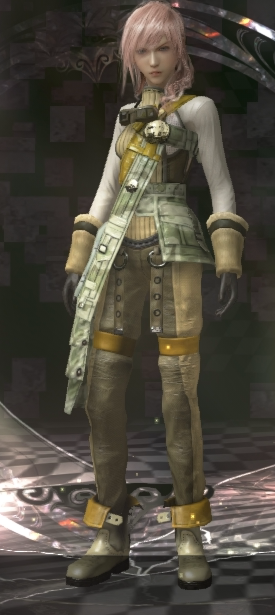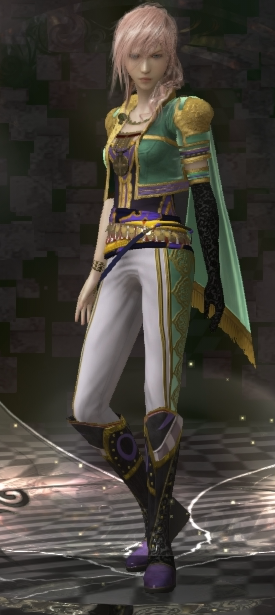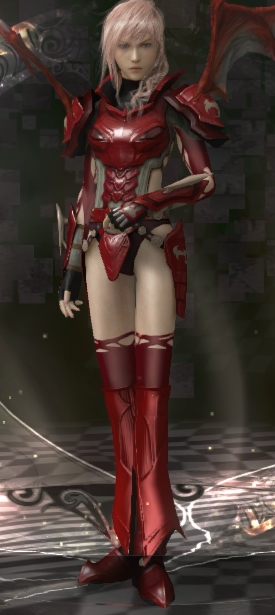 Hunter of the Wild
Max ATB: +30
Default ATB: 50%
Abilities: Heavy Slash L3 (40)
Victor Drain (restores some HP when you kill an enemy)
Primavera
Max ATB: 0
Default ATB: 100%
Abilities: Area Sweep L2 (5)
Strength +10%, Strength +80
Dragon's Blood
Max ATB: 0
Default ATB: 50%
Abilities: Heavy Slash L3 (40)
Climactic (Inflicts more damage if ATB is below 30)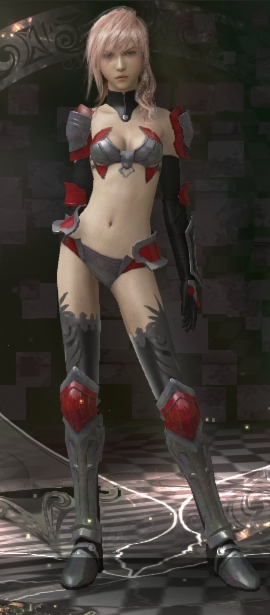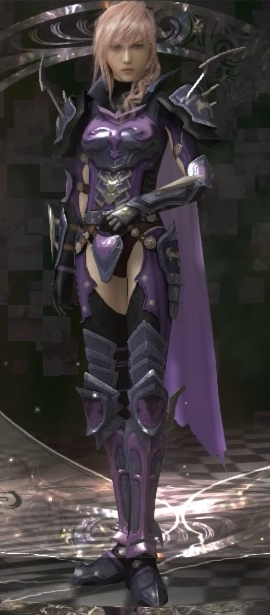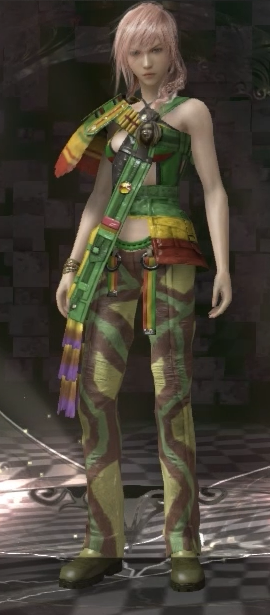 Amazon Warrior
Max ATB: +20
Default ATB: 50%
Abilities: Guard L2 (10), Speed Slash L2 (10)
Soul of the Warrior (Max HP +5%, Strength +10%)
Dragoon
Max ATB: +20
Default ATB: 50%
Abilites: Lancet L3 (10) [Drains a small amount of HP from an enemy]
Soul of the Dragoon (Faster Staggering +5%, Physical Res +10%)
Soldier of Peace
Max ATB: +50
Default ATB: 0%
Abilities: Shadowbind L3 (150) [Inflicts Daze on enemies]
Soul of the Hunter (Phys Damage +5%), Artemis's Arrows (Converts Heavy Slash into Artemis's Arrows)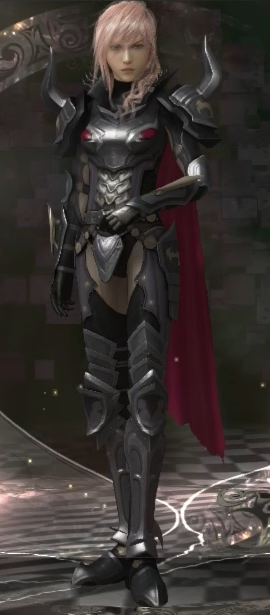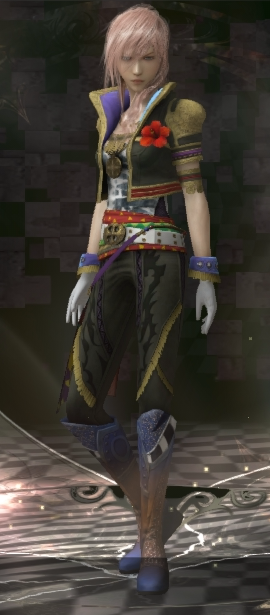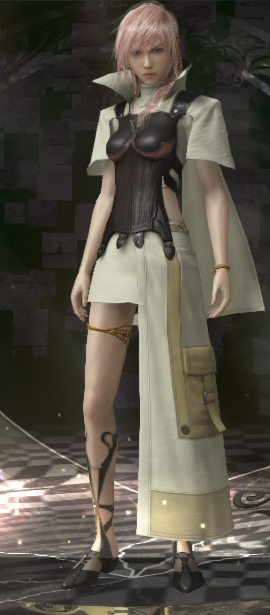 Dark Knight
Max ATB: +20
Default ATB: 50%
Abilites: Darkness L3 (20), Ashura L3 (50) [These are more powerful versions of Blitz and Heavy Slash respectively, but cost HP to use]
Soul of the Dark Knight (Phys Damage +5%, Magic Res +10%)
Heartstealer
Max ATB: +20
Default ATB: 50%
Abilities: Leaping Rush L2 (20), Evade L2 (15)
Soul of the Thief (ATB Recovery +25, Stagger Capability +5%)
Innocence
Max ATB: +30
Default ATB: 50%
Abilities: Attack L3 (8)
Transform Protect (Gain Protect when switching out of this garb at low ATB)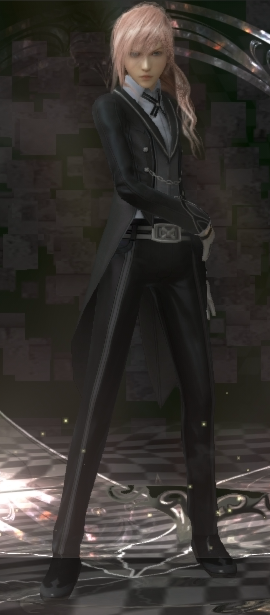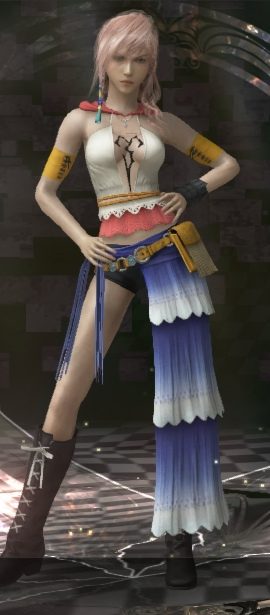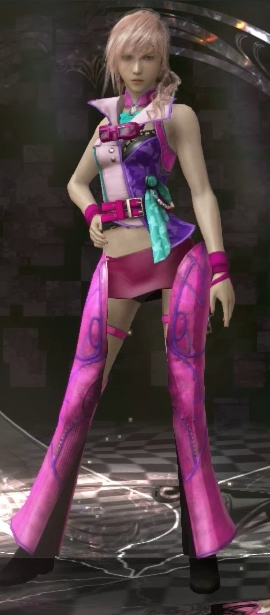 Loyal Servant
Max ATB: +30
Default ATB: 50%
Abilities: Ruin L3 (8)
Transform Shell
Sphere Hunter
Max ATB: 0
Default ATB: 70%
Abilities: Crashing Waves L0 (15)
Candy Raver
Max ATB: +30
Default ATB: 50%
Abilities: Blitz L3 (16)
High Voltage (Inflict more damage at high HP)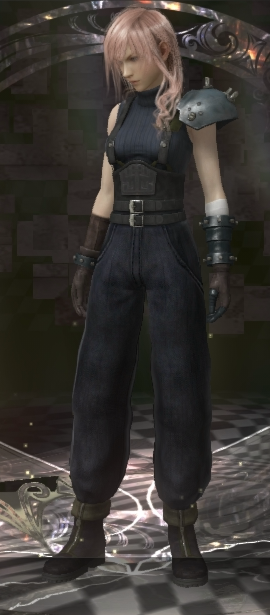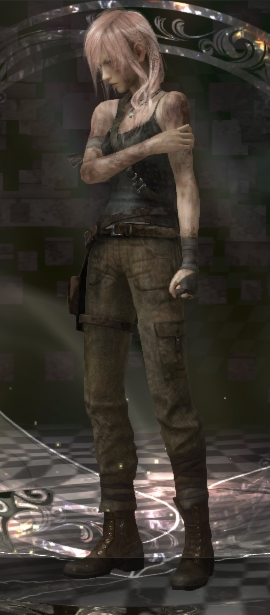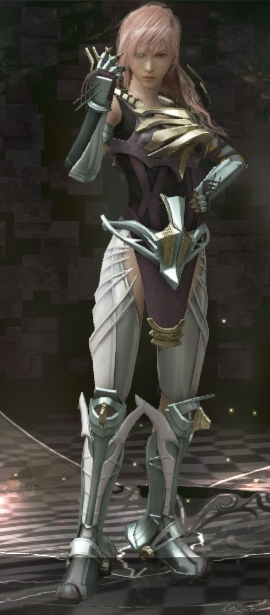 SOLDIER 1st Class
Max ATB: +30
Default ATB: 50%
Abilities: Heavy Slash L2 (40)
Phys and Magic Res +10%, Slayer (Transforms Heavy Slash while an enemy is staggered)
Tomb Raider
Max ATB: 0
Default ATB: 100%
Abilities: Fatal Sweep L3 (16)
Celestial Body
Max ATB: +20
Default ATB: 100%
Abilites: Cross Blitz L0 (10) [three Ruins followed by a powerful physical attack]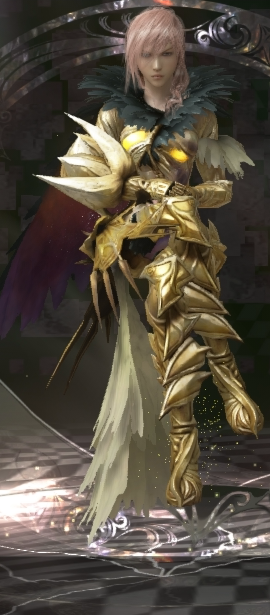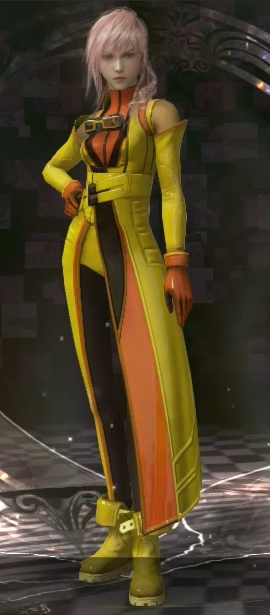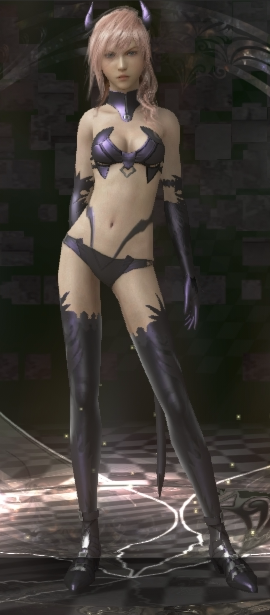 Cosmocrator
Max ATB: +50
Default ATB: 50%
Abilities: Cosmic Arts L0 (15) [three Attacks followed by a Ruinga]
Martial Monk
Max ATB: +20
Default ATB: 50%
Abilities: Punt L2 (5), Charged Strike L2 (10)
Soul of the Fighter (Max HP +10%, Phys Damage +5%), Whirlwind Kick (Converts Punt into Whirlwind Kick)
Nightmare
Max ATB: +20
Default ATB: 50%
Abilities: Siren Strike L3 (10)
Soul of the Devil (ATB Recovery +10, Ailment Resistance +10%)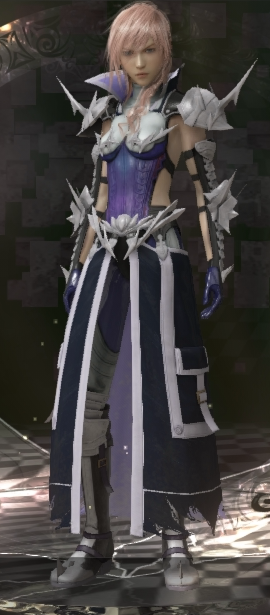 Ultimatus
Max ATB: +50
Default ATB: 30%
Abilities: Ultima L0 (100) [Inflicts a ton of magic damage but has no combo potential]
Ravagers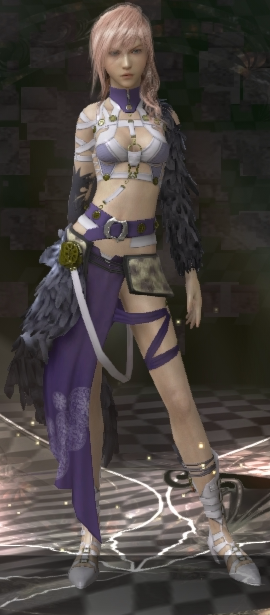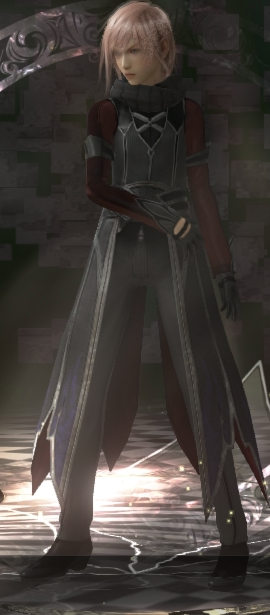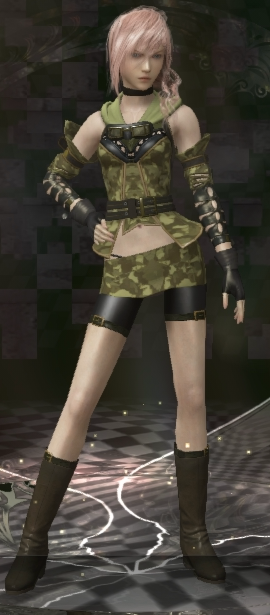 Mist Wizard
Max ATB: 0
Default ATB: 50%
Abilities: Thunder L1 (15)
Cold Rebellion
Max ATB: 0
Default ATB: 100%
Abilities: Blizzard L2 (15)
Max HP +15%, Magic +40
Woodland Walker
Max ATB: 0
Default ATB: 100%
Abilities: Aero+ L2 (15)
Magic +10%, Magic +80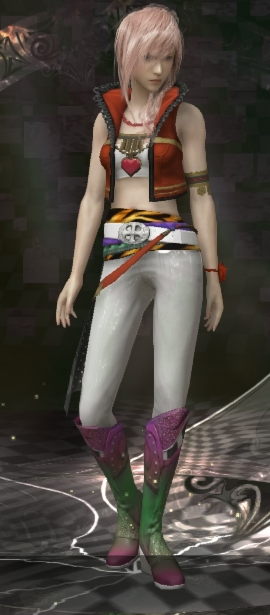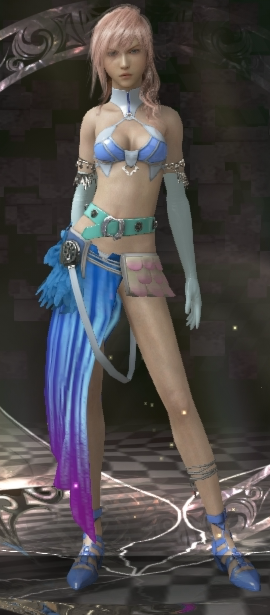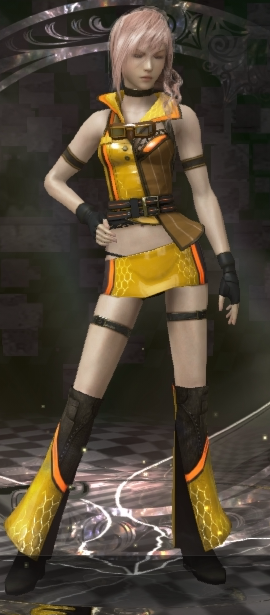 Ignition
Max ATB: 0
Default ATB: 100%
Abilities: Fire+ L2 (15)
Magic +10%, Magic +80
Watery Chorus
Max ATB: 0
Default ATB: 100%
Abilities: Blizzard+ L2 (15)
Magic +10%, Magic +80
Electronica
Max ATB: 0
Default ATB: 100%
Abilities: Thunder+ L2 (15)
Magic +10%, Magic +80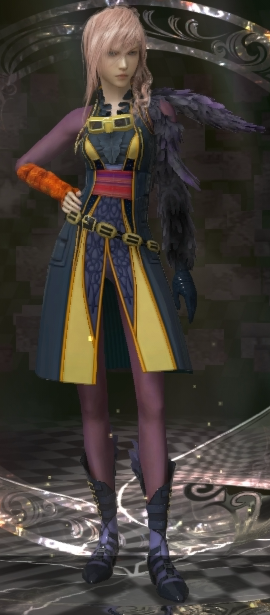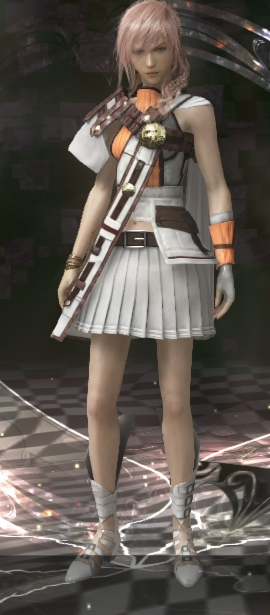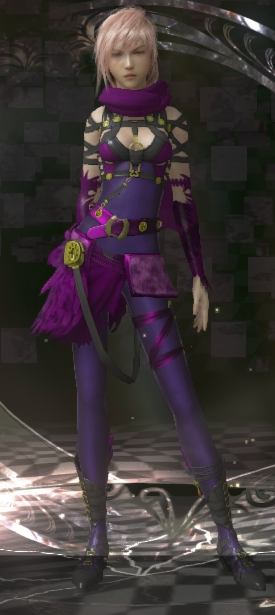 Black Mage
Max ATB: +50
Default ATB: 75%
Abilities: Rapid Fire L2 (15), Quick Freeze (15)
Soul of the Black Mage (Magic damage +10%)
White Mage
Max ATB: +20
Default ATB: 50%
Abilities: Dispel L2 (33), Quick Ruin L2 (15)
Soul of the White Mage (Max HP +5%, Magic damage +10%)
Purple Lightning
Max ATB: +75
Default ATB: 50%
Abilities: Flame L3 (40), Flood L3 (40) [These are basically physical versions of Firaga and Blizzaga; they do physical damage and run off your strength but are otherwise identical to the spell (stagger, cost, etc)]
Soul of the Ninja (ATB Recovery +25)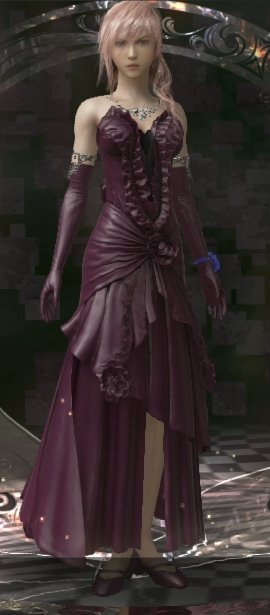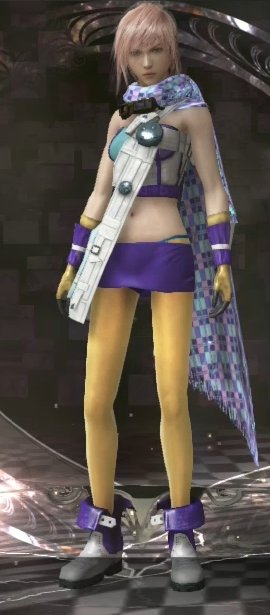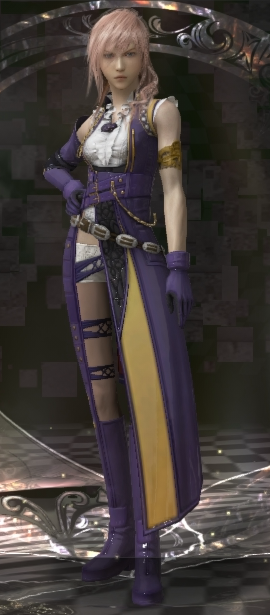 Midnight Mauve
Max ATB: +30
Default ATB: 100%
Abilites: Fira L3 (21)
Blue Mage
Max ATB: +20
Default ATB: 50%
Abilities: Lightning L3 (40), Wind Slash L3 (40) [See Purple Lightning, these are Thundaga and Aeroga]
Soul of the Blue Mage (Magic Damage +5%, ATB Recovery +15)
L'ange Noir
Max ATB: 0
Default ATB: 100%
Abilities: Thunder L2 (15)
Max HP +15%, Magic +40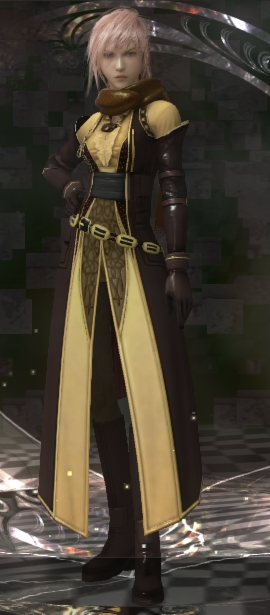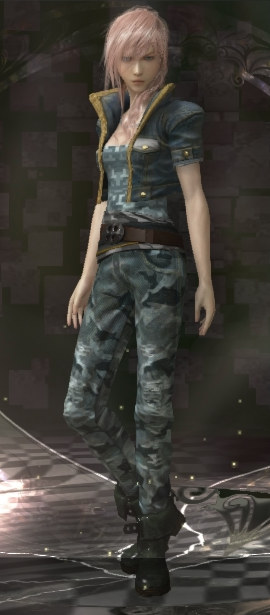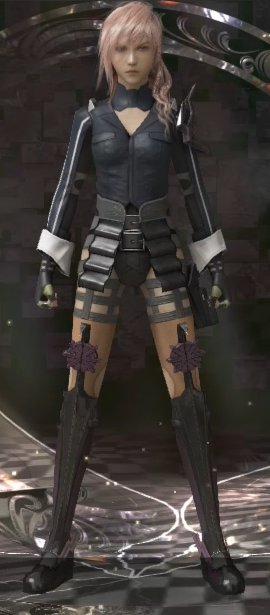 L'automne
Max ATB: +30
Default ATB: 50%
Abilities: Thundara L3 (21), Aerora L3 (21)
Stagger Siphon (Restores ATB when you stagger a foe)
Urban Outlaw
Max ATB: +30
Default ATB: 50%
Abilities: Fira L3 (21), Blizzara L3 (21)
Victor Siphon (Restores ATB when you defeat an enemy)
Danse Macabre
Max ATB: +30
Default ATB: 50%
Abilities: Flamespark L2 (20), Icestorm L2 (20)
Sweet Spot (Inflicts bonus damage if you hit an enemy's weakness)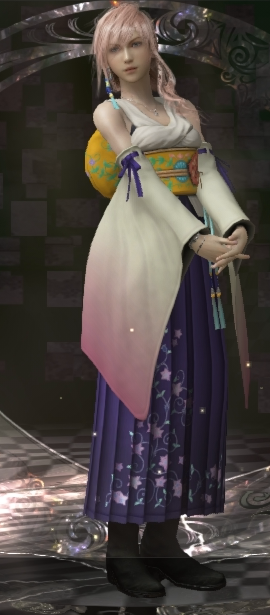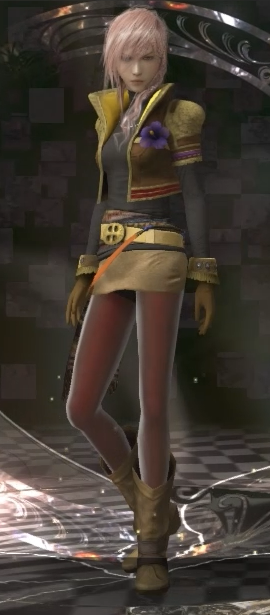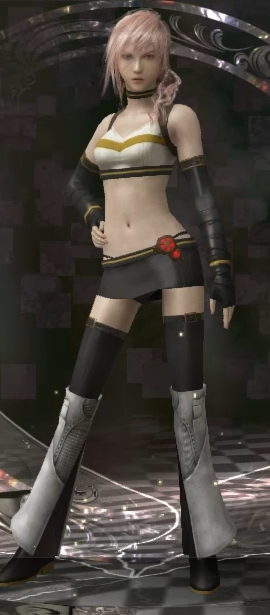 Spira's Summoner
Max ATB: 0
Default ATB: 70%
Abilities: Elementa L0 (40)
Hidden Justice
Max ATB: +30
Default ATB: 70%
Abilities: Flamespark L3 (16)
Magic +250
Witching Hour
Max ATB: +30
Default ATB: 70%
Abilities: Icestorm L3 (16)
Magic +250
Mixed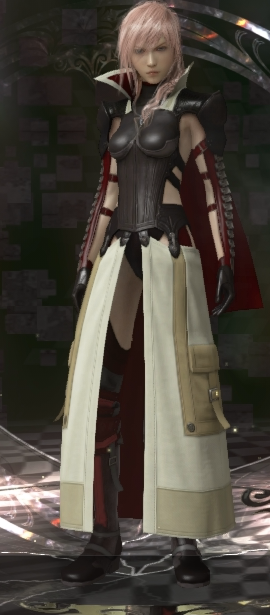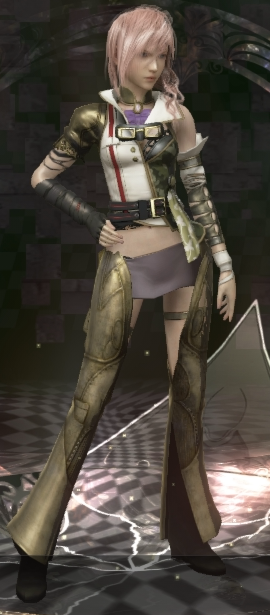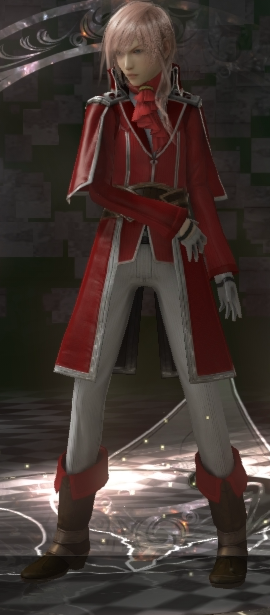 Equilibrium
Max ATB: 0
Default ATB: 100%
Abilities: Attack L1 (10)
Dark Muse
Max ATB: 0
Default ATB: 50%
Abilities: Attack L1 (10)
Red Mage
Max ATB: +20
Default ATB: 50%
Abilities: Light Slash L2 (5), Buster Ruin (15)
Soul of the Red Mage (Increases physical and magic damage by 8%)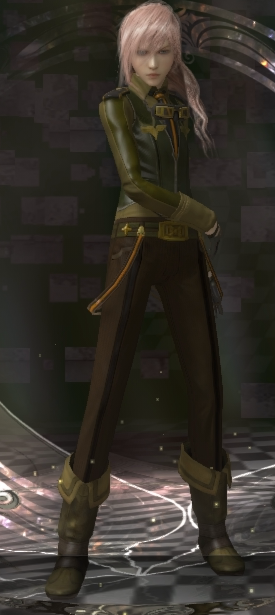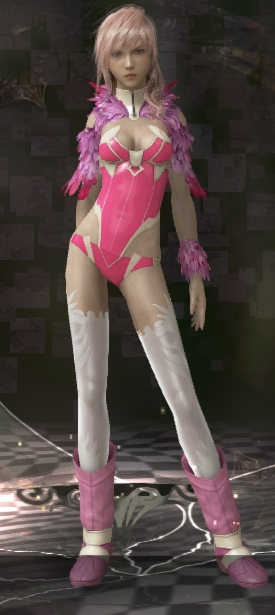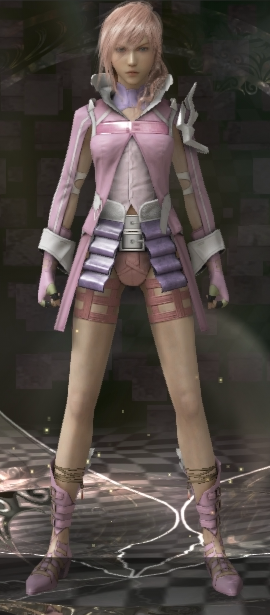 Brave Vanguard
Max ATB: 0
Default ATB: 100%
Abilities: Blitz L2 (20)
Ailment Resistance +33%, ATB Recovery +10
Rhapsody in Rose
Max ATB: 0
Default ATB: 100%
Abilities: Light Guard L3 (4)
Energized (Inflicts more damage if ATB is above 70)
Deja Vu
Max ATB: +30
Default ATB: 50%
Abilities: Mediguard L3 (8)
Strike Back (Inflict more damage at lower HP)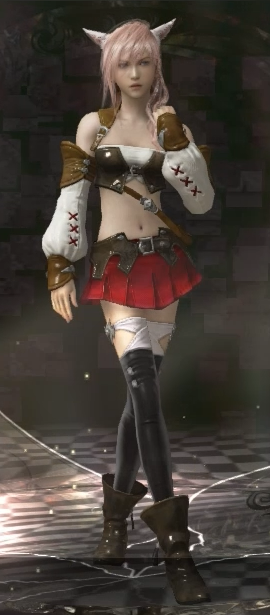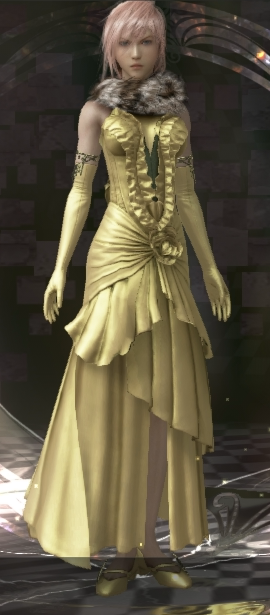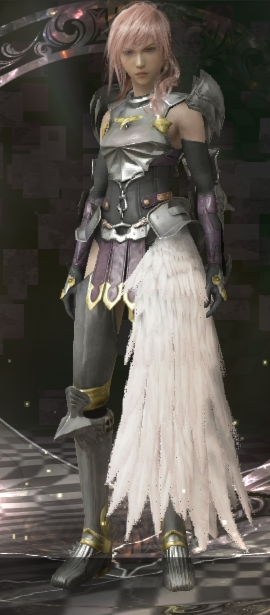 Miqo'te Dress
Max ATB: 0
Default ATB: 75%
Abilities: Mediguard+ L0 (15), Magic Slash L0 (10)
Esuna Guard (Mediguard heals a status condition if you guard long enough)
Champagne Gold
Max ATB: +50
Default ATB: 50%
Abilities: ATB Charge L3 (4)
Max HP +1500
Knight of Etro
Max ATB: +20
Default ATB: 100%
Abilities: None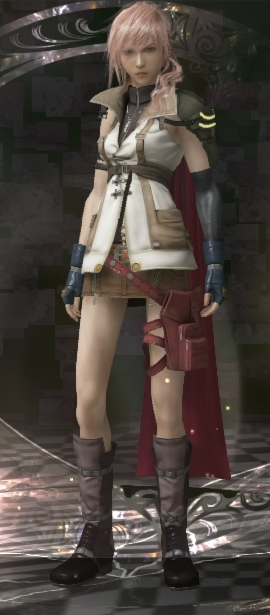 Guardian Corps
Max ATB: +20
Default ATB: 100%
Abilities: None
Sentinels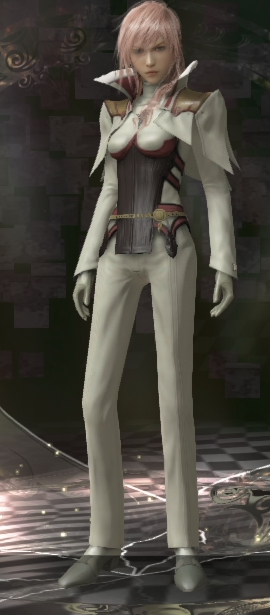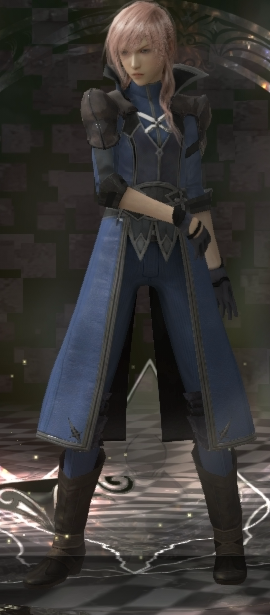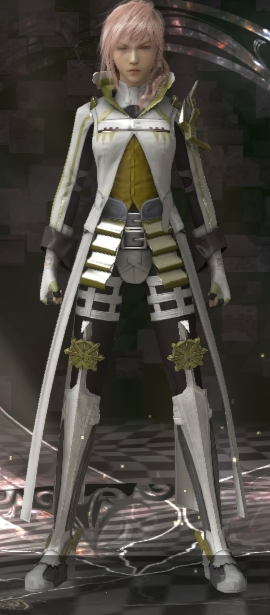 Providence
Max ATB: 0
Default ATB: 100%
Abilities: Guard L2 (10)
Max HP +15%, Strength +40
Quiet Guardian
Max ATB: 0
Default ATB: 100%
Abilities: Heavy Guard L2 (15)
Strength +80, Physical and Magic Res +15%
Paladin
Max ATB: +30
Default ATB: 50%
Abilities: Heavy Guard L3 (11)
Soul of the Paladin (Magic Res +10%, Debuff Res +20%), Ruinga Guard (Casts Ruinga after guarding for long enough)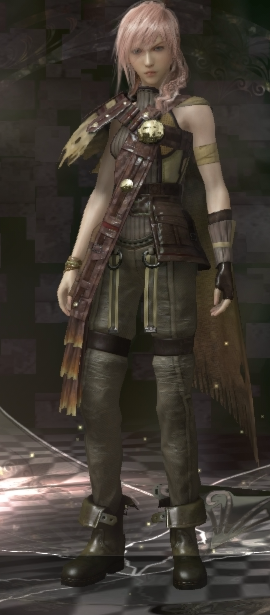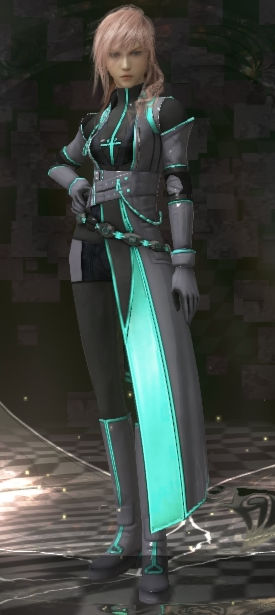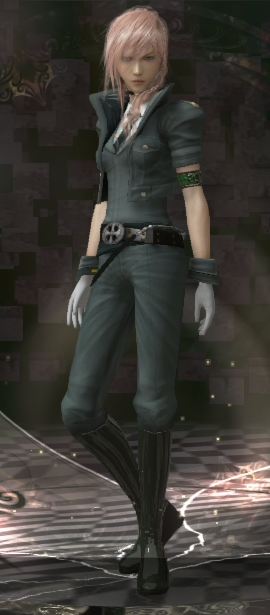 Dust and Shadow
Max ATB: 0
Default ATB: 100%
Abilities: Guard L2 (10)
Ailment Resistance +33%, ATB Recovery +10
Cyber Jumpsuit
Max ATB: 0
Default ATB: 100%
Abilities: Dispel L2 (33)
Strength +80, Physical and Magic Res +15%
Intruder
Max ATB: 0
Default ATB: 70%
Abilities: Guard L3 (8)
Transform Faith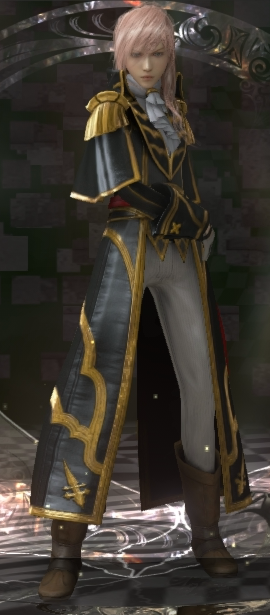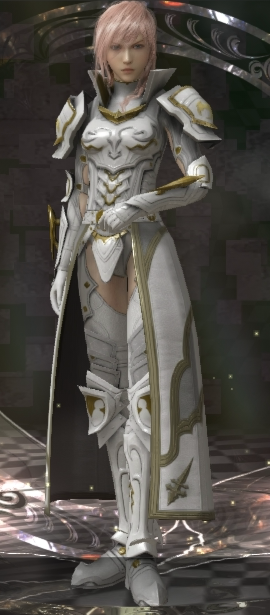 Splendid Admiral
Max ATB: 0
Default ATB: 70%
Abilities: Guard L3 (8)
Transform Bravery
Sacred Knight
Max ATB: +20
Default ATB: 50%
Abilities: Defensive Strike L3 (10) [Allows you to attack while guarding]
Soul of the Knight (Max HP +5%, Phys Resistance +10%), Defensive Position (Light Guard, Guard, and Heavy Guard block more damage)
Saboteurs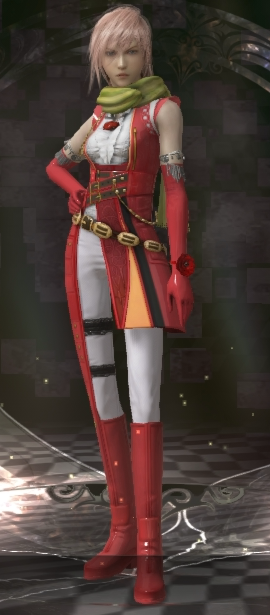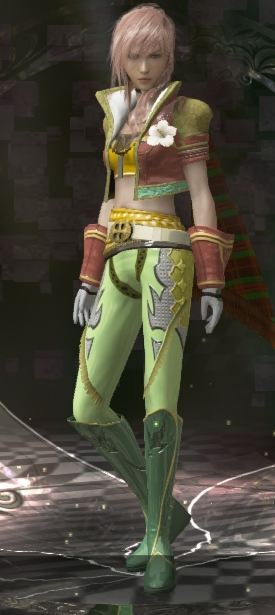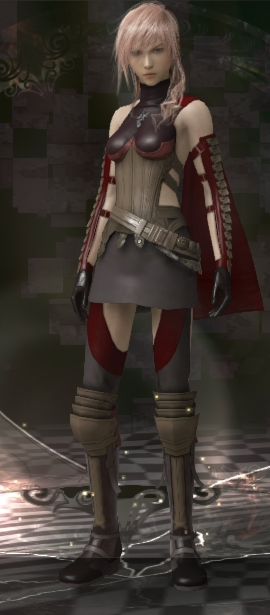 Passion Rouge
Max ATB: 0
Default ATB: 100%
Abilities: Deprotect L2 (25), Deshell L2 (25)
Ailment Resistance +33%, ATB Recovery +10
Dangerous Blossom
Max ATB: 0
Default ATB: 100%
Abilities: Debrave L2 (25), Defaith L2 (25)
Ailment Resistance +33%, ATB Recovery +10
Divergence
Max ATB: +30
Default ATB: 50%
Abilites: Debravega L3 (25), Defaithga L3 (25)
Saboteur Drain (Restores HP when attacking an enemy with a status ailment)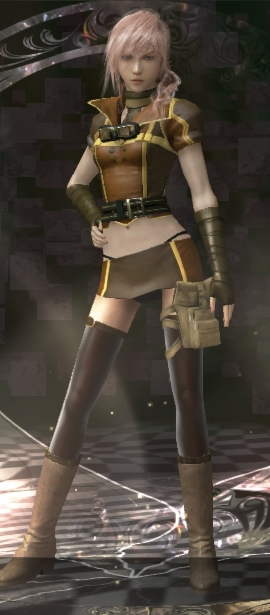 Sand Fox
Max ATB: +30
Default ATB: 50%
Abilities: Deprotectga L3 (25), Deshellga L3 (25)
Saboteur Siphon (Recovers ATB when attacking an enemy with a status ailment)