Introduction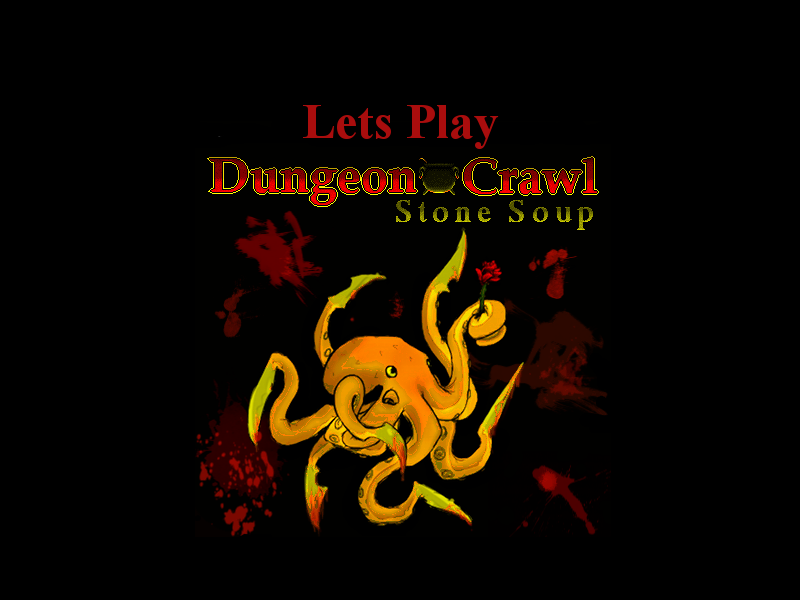 So, with the recent release of Dungeon Crawl Stone Soup version .10 (not .1) Were going to be starting a new Let's Play of it. The following are real questions posed by real people, or fictitious ones that made sense.
What is Dungeon Crawl Stone Soup? How do you win?
DCSS, for short, is a video game falling into the "roguelike" category, that is to say it's similar to rogue, an old ascii based game from a bygone era. The main draw to these games is their randomness, the variety of options available to a character, and the general difficulty of the game. Every once in a while somebody will post that they just won the game for the first time after playing for two or three years. Crawl, as it's affectionately known, is quite different from other roguelikes, however, as the developers have decided to forgo *most* cheap deaths and make it possible to avoid or escape most any situation.
You win this lovely game by retrieving the Orb of Zot, a Mcguffin located deep in the dungeon, and getting out of the dungeon.
What makes the game so hard?
Crawl is not a kind mistress, there are a number of enemies who can do insane things like halving your current hitpoints, hitting you when you can't hit back and worst of all being too damn fast for you. To elaborate, the game works on a turn-based system and as soon as there are a few enemies in your sight, they typically get many more turns than you do, which can snowball into an insurmountable advantage. Also, death is permanent, once you've lost that last hit point, the character is dead forever, no coming back.
Then why not just memorize the dungeon and breeze through

Because it's random, sometimes you'll see Sigmund on D:2, sometimes never. The layout and loot are all different every time you play a new character and you can't be guaranteed much.
So how will this LP work?
My plan is to work through a character, one of the more simple ones, and explain the basic mechanics of the interface along with a general outline of the game proper. After that, I'll put the second character up to a vote and open other players to displaying their own runs. Important things like which deity to take and what branches to do will generally be left up to you, but sometimes I'll decide on something to demo it.
Where can I get more info on this lovely game?
The thread for .10 started up recently and is available
here.
It has a number of links that can help and has pretty fast answering speed for any questions you might have. There's also
The DCSS page
which has links to the download and Knowledge Bots, a handy tool to pull up info on stuff.
Tiles or ASCII?
I'll be playing tiles, thank you. If others want to demo games in ascii, that's fine too though. For those not in the know, ascii uses symbols to represent everything, whereas tiles uses...tiles to... represent things.
Also, thanks to Heteroy for the thread title idea. If you'd like to contribute a run, feel free, but I would like to know in advance to ensure minimal toe-stepping-on.
Keep spoilers to a minimum
(but I've a pretty easy definition of a spoiler, just don't ruin the fun), the general thread is for spoilers, but for many viewers it may be their first time seeing further than their best character who made it to L:2 and I don't want to ruin the initial surprises for them (the few that crawl has.)
Table of Contents
Testy, TrBe Done
Ran-dum, DsCK Done
MinoMax, MiMo Done
Adolph Hissler, NaCj Done
Solid Snake, NaSt
Matchstick, MuWz
Doctor Rocktopus, OpTm
Tuna Taint, MfVM
Lilli, MfSk
LillSA, TeAE
Chakan, DDAr Done
GreatZebu, SpEn
Totes, HOPr
Mr. Ed, CeHu
Tollymain, SpAs Done