Introduction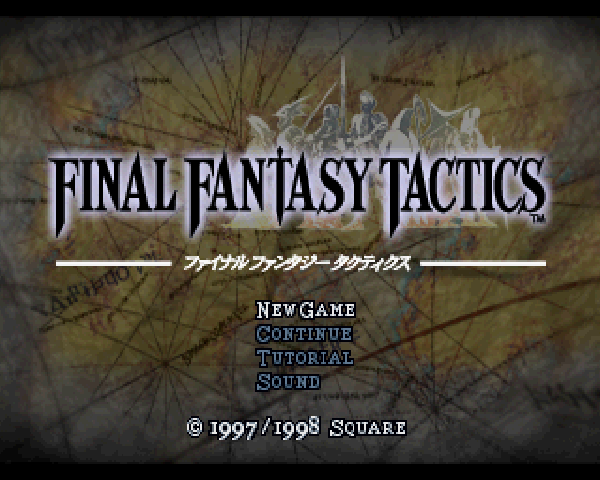 Okay, I'll be honest here, Final Fantasy Tactics is my favorite game. It's the best SRPG available because... I have no idea what makes it so good. It's also a fantasy War of the Roses and that makes it more awesome. I love this damn game so much. That is why I sometimes desire to smash it to bits.
This will be the PS1 original, completely patchless and otherwise unaltered.
Table of Contents
Chapter 1 - The Meager
Chapter 2 - The Manipulator and The Subservient
Chapter 3 - The Valiant
Chapter 4 - Somebody To Love
Fanart!
Some of these contain spoilers! Click at your own risk!
Shaezerus accurately depicts Ramza's journey, right down to the use of miters. Why yes, I will be fording Finath River.
Zieker shows off Mustadio's amazing ability to snipe with his fists.
Did you know that you can use Break Weapon with bags? Artist unknown!
Zieker depicts the wonderful events of part 33.
The dramatic conclusion of the duel in part 6! Artist unknown!
T.G. Xarbala's dramatic reenactment of Flying Jumping Magical Gun Ninja (inspiration below)
Epee Em made a thing nobody should have to see. But I still named Worker 8 after it.
man listen, thieves, i am TELLING you (by Doomfunk)
Epee Em has significant issues if he made... this. Maybe he should stop making these things.
At least Rafa has self-confidence. By T.G. Xarbala.
Ramza has the Spear of Longinus, and finally uses it! By Taciturn Tactician.
Please do not click on this image by OurLivesOnline unless you have finished the ENTIRE LP. It's that big of a spoiler.
Maybe the fire gun is the Glacier gun in the same way that an Elephant gun shoots elephants? By Zeikier.
GET OUT OF HERE WITH THAT ZODIAC STONE! SHEEEESH! By Zeikier,
based on this clip.
Perhaps you should look at the title of the book before throwing it? By Ziekier.
Job Dissections!
Here, I post the inner details of every job and discuss their strong points, weak points, and give blatant examples of my bias.
For the stats, the first number is Multiplier, the higher the better. The second number is Growth, the lower the better.
It came from a hack!
FFT has a very active hacking community, with assorted patches and hacks about. Though I am playing unaltered FFT, here's a spot for things from these hacks.
Dis Astranagant fights RICHARDS! For THIS GREAT UNITED STATES OF AMERICA! In LFT.
Dis Astranagant fights another LFT battle full of things that hate you.
Other stuff!
Sometimes, the things we do don't make a damn bit of sense.