Introduction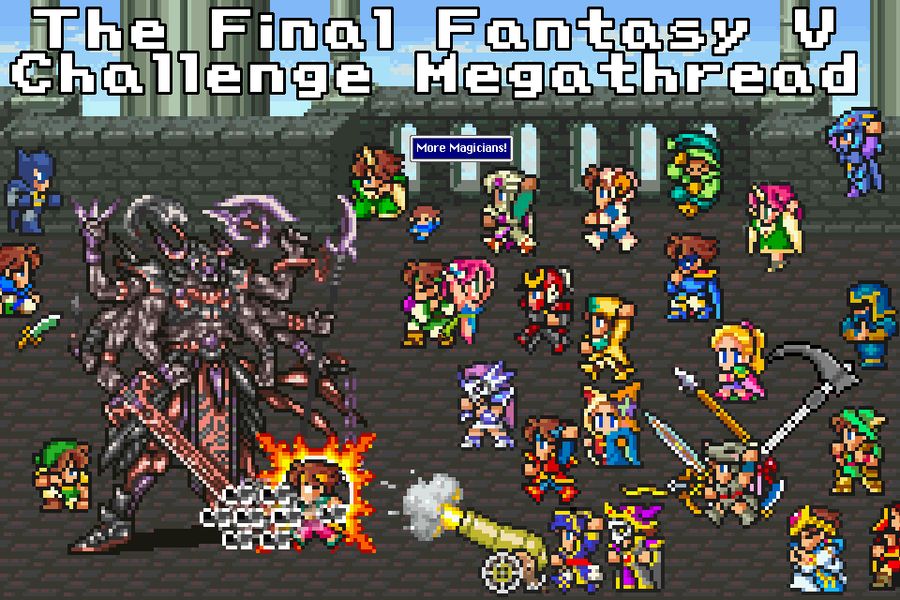 Monk sprite by A_Raving_Loon.
"Magicians" sprite original by azren, redone by Abyssal Lurker.
"Ikaruga" Black/White Krile sprite by fits.

QUICK GUIDE TO DOING YOUR OWN CHALLENGE RUN

Original OP by Mega64
This is the Solo Omniserker Challenge.
It started as a run of myself doing a Solo Omniserker Challenge but it evolved into a megathread of various FF5 challenges, mostly (but not all!) of the solo variety. You're completely welcome to do your own challenges in this thread!
As for my run, it's "Omniserker" because it's a Berserker that has access to all abilities, though as you may expect it'll mainly be the passive abilities that come in handy.
Kyrosiris
came up with the clever name and I stole it and ran with it.
As for why I'm using abilities? Because the whole point of Final Fantasy V is mixing and matching abilities. In the
Four Job Fiesta
Berserkers are welcomed because they can take advantage of so many wonderful abilities to be good (and because people are crazy). Also, a solo Berserker run is essentially impossible. Hell, I don't know if I'll even be able to complete this, but why not.
If you haven't played/seen FF5 before,
I've already LPed it so that's probably a better starting point
.
Orange Fluffy Sheep also did a great LP
where he does his trademark game-breaking. And of course
Dr Pepper did a great low-level run LP
that's also worth reading. And
The Wu-Tang Secret
did a very early LP that shows off some neat tricks as well.
As for stuff about Berserkers, here's
Orange Fluffy Sheep's run with four berserkers
. More related to my run is
Sulla's Solo Berserker run
, which broke his spirit and his mind. Recommended reading.
Finally, if you want a nice RPG challenge without going to insane lengths like me,
the 2015 2016 Four Job Fiesta is currently up for registration
, so jump in on that.
This is the awesome thread for it by Kyrosiris, seriously check it out
Here is the 2016 SA thread by Kyrosiris
.
Obligatory Twitter feed link.
COMPLETED RUNS
INCOMPLETE RUNS
-----
Fan Art
Shaezerus
makes the tedious grind for two Death Sickles worth it.
Leraika
sums up everyone's feelings (heh) on Karlabos.
Rigged Death Trap
captures the latest Mime run.
Camel Pimp
sums up Zerky!'s (and my) feelings post-run.