One year following The Secret of Monkey Island...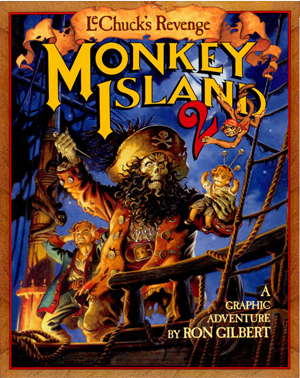 Monkey Island 2: LeChucks Revenge
The same team, led by Ron Gilbert that brought us the first game return in style with the direct sequel a year later. Following the release and subsequent success of the first game, they dove straight into the second installment, refining the interface and the style even further. I am of the opinion that it is superior in every way to its predecessor and one of the best games ever made. It also has the best/worst ending to a game ever.
I'll be following pretty much the same format as my
Secret of Monkey Island LP
. But I'll also be adding optional music from the game for some scenes (depending on if I think it's worth it) because the music in this game really does add a lot of atmosphere. Don't think it necessary or anything to listen to it though.
Now then, I believe we have treasure to hunt:
Part 1 - The Largo Embargo
Part 2 - Four Map Pieces
Part 3 - LeChucks Fortress
Part 4 - Dinky Island